This free birthday interview printable is such a great birthday tradition for kids! It will be fun to see how the answers change every year!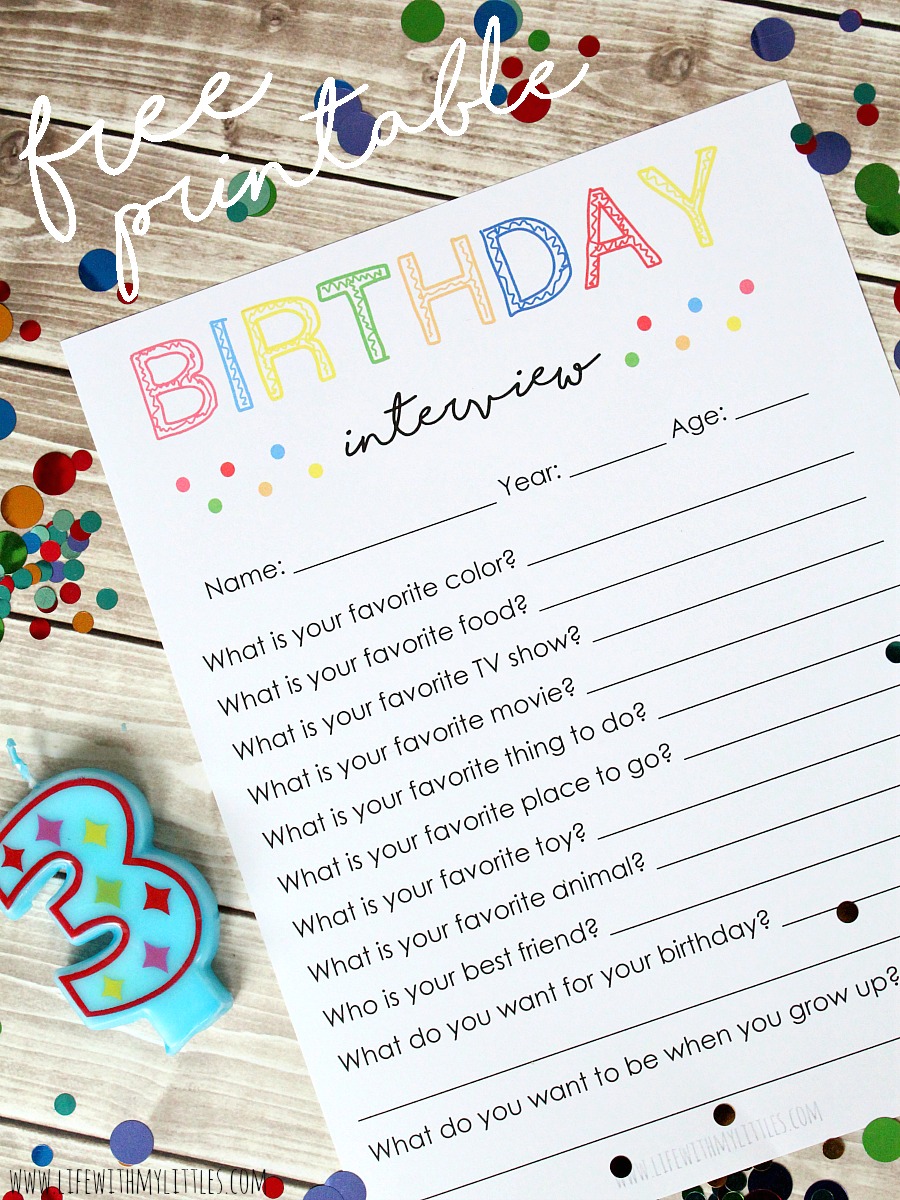 On Sunday my son turns three.
It feels super weird to have a three-year-old, because I seriously feel like he was just born. And it makes me sad because I just want him to stay this same age forever! I'm sure every mom can probably relate, but I don't want to forget anything about how he is right now.
Some fun facts about Little J:
He loves Thomas the Tank Engine, Lightning McQueen, and Bob the Builder
He is super active and loves running around our little apartment
He makes us laugh all the time with the funny things he says
He doesn't eat a lot, which makes me wonder sometimes how he is still alive
He talks nonstop and loves to sing and dance
He loves any crafts that involve painting, but he hates playdough
His most requested foods are chicken nuggets, fruit snacks, and waffles
He loves playing with hair
He has been potty-trained for a few months, and rarely has accidents
Seriously, he's my favorite. I am so glad that I get to be his mommy, because it's the best job I've ever had.
To celebrate his birthday, I decided to make a birthday interview printable so I can ask him the same questions every year as he gets bigger. It will be fun to see how his answers change, and how some stay the same.
And because it turned out so well, I thought I would share it with you guys! I know you wouldn't be able to do this with a one-year-old, but maybe a two-year-old could answer it! And definitely a three-year-old!
To download this free birthday interview printable, click here. And PLEASE, PLEASE, PLEASE do not use this for anything other than personal use. You can share it on Pinterest all you like, but don't try and sell it or distribute it. I worked hard on it!
I hope it comes in handy and if you want, you could even print a few out and save them so you have them for the future! I can't wait to do this again next year and see how Little J's answers have changed!
Happy birthday to my little man and to all the other littles out there celebrating!