A sneak peek at the LEGO Americana Roadshow at the North Star Mall! It's the perfect outing for family members of all ages!
This is a sponsored post written by me on behalf of North Star Mall, your GGP shopping destination. All opinions are 100% mine.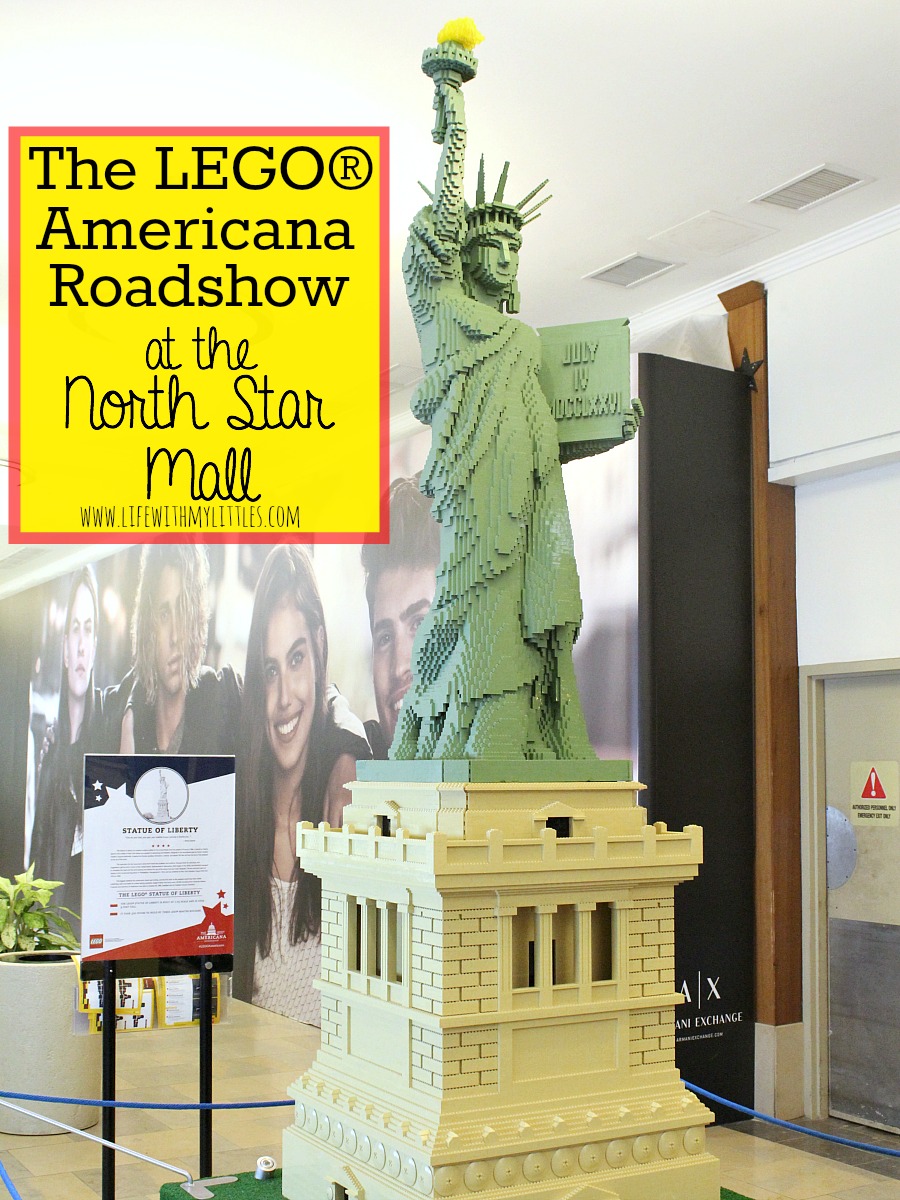 On my son's first birthday he got his first set of LEGOs®. He learned how to stack them, build them, and of course, knock them down. Ever since then, he has loved LEGOs®. And I love watching and helping him build new things. I think he asks to get them out at least once a day, and he's almost 3 1/2 now.
So when I heard about the LEGO® Americana Roadshow that was coming to the North Star Mall in San Antonio, I knew I wanted to take him. And seriously guys, it's amazing and I am so glad we went! We might actually go back before it's done because it was so well done and great for any age!
The LEGO® Americana Roadshow is a free exhibit that is open to everyone. It's spread throughout the North Star Mall, so it's a great chance to go check out the mall if you haven't been there before. The exhibit features 10 monuments based on iconic buildings and architectural structures that are built entirely of LEGO® bricks. And none of the bricks were custom-made either, which I thought was super impressive. All of the pieces used can be found in a set that already exists! The exhibit is a really fun way to learn about American history and get to check out some awesome LEGO® buildings at the same time! And I'm not going to share pictures of everything because I want you guys to be surprised, but I will share some of my favorites!!
Like I said, my son LOVED it. He's 3 1/2, and every time we walked up to a new monument, he hopped off the stroller and ran over to get a closer look. My husband and I also loved it, and I was super impressed with the attention to detail and size of all the monuments. As we walked from each exhibit I saw school-age kids and teenagers stopping to look, as well as older people pulling out their phones and taking pictures! It really is a great, free activity in San Antonio that is perfect for everyone.
The LEGO® Americana Roadshow is currently at The North Star Mall (7400 US 281 Access Road, San Antonio, TX 78216) and will be there from August 20-September 5, but it has been traveling around the country since 2014, and will be heading to two more cities this year. So even if you aren't in the San Antonio area, there are other places you can see it!
And seriously, I had such a great time at the event. My favorite monument was the U.S. Capitol Building. It's the biggest one they have, and it ix 26×13 feet. They have a contest right next to the monument for people to guess how many LEGO® bricks it took to build. The winner gets  $200 mall gift card, and the runner up gets a $100 LEGO® gift card. I honestly have no idea how many bricks it took, but I know it took 17,000 hours to build and that is enough for me!
Another cool thing about the exhibit is that all the monuments were developed in Connecticut at the LEGO®  headquarters by master builders. They used a special program called Bricklayer that lays out the models one layer at a time so that they get instructions once they are designed on how to build it. Crazy, right?
And the detail that goes into these monuments is incredible! A lot of the monuments have little statues or tiny words or really small details that are so cool to look at. And since they don't use any custom bricks, it is fun seeing what they come up with! I'm pretty sure the U.S. Supreme Court Building had croissants on it!
There are little signs next to each monument that give you real facts about the actual monuments, so you can learn a little history while you're exploring the event. They also have maps with questions about each model (the answers can be found on each sign) and if you fill out all the questions you can take it back to the LEGO®  store and get a free LEGO® Americana Roadshow poster!
Inside the Lincoln Memorial building is a little statue of Abraham Lincoln (like the real one of course), and it has become a tradition at each mall the exhibit travels to for people to throw pennies inside the monument. LEGO® gathers up all the money and donates it to the Children's Hospital at the end of every year! How cool is that?
One of the coolest monuments is the Liberty Bell. It's the only one without a rope around it, so you can get up close at take pictures and even feel it. Something cool about this monument is that it is built on a 1:1 scale, so it's the same size as the real Liberty Bell! I've never seen the Liberty Bell in person so it was cool to see how big it really is.
Like I said, the exhibit is perfect for adults and little kids alike, and one thing that both of my kids loved was the little special LEGO® Brickscapes throughout the mall. They aren't on the map so you get to find them on your own, and each one features different characters from different LEGO® sets. There was one based on The LEGO® Movie, one with Mt. Rushmore, one based on a mall (with tiny LEGO® Americana exhibits and Star Wars characters in it), one with a snowman being built by tiny LEGO® figures, and one that was based off of the LEGO® Duplo sets. Little A loved seeing Cinderella inside the Duplo one, and Little J loved all of them!
The last thing we did at the exhibit was the LEGO® Play Area. Upstairs in front of the food court there is an area for kids to build with traditional LEGO® bricks and Duplo bricks. It's fully staffed and open any hours that the mall is open, and it's the perfect way to end your trip throughout the exhibit. Little J had fun trying to build a car to race down the tracks, and Little A just had fun building random things.
We had a great time walking around The North Star Mall and we also went into the LEGO® store when we were done. Little A found a Sofia the First Duplo set that she didn't want to let go of, and my husband found some sweet motorized LEGO® sets that he told me he wanted. We also explored a few other stores while we were there. It's a huge mall and there are so many different kinds of stores and lots of great food options available, both fast food and sit-down. Even though The North Star Mall isn't the closest mall to us, we will definitely be back soon!
And in case you weren't already packing up the kids to go check it out, I have two more exciting things to tell you about the exhibit. LEGO® is also hosting a sweepstakes for a $25o LEGO® gift card while the exhibit is here. You can enter by taking a photo of the exhibit at the mall and uploading it to Instagram using the hashtag #LEGOAmericana, you can use the online entry form and RSVP before you go, or you can enter by mail (see official rules for details). It's a simple and fun way to enter to win an awesome prize!
The last thing I want to tell you is that next weekend is the special Make-and-Take weekend where a limited number of mini monuments are given away to attendees! On August 27-28 from 12-4pm each day, you can get your very own tiny version of The Liberty Bell! Little J and I built ours together, and it was so fun! I am seriously amazed at the things you can build with LEGOs®. It's almost crazy! Anyway, if you want to go check out the exhibit, try and go next Saturday or Sunday between 12 and 4 because you could get one of the mini monuments!
Our family loved visiting the LEGO® Americana Roadshow, and I would definitely recommend it to anyone with kids or without kids! Go check it out before it moves on to another city! And don't forget to RSVP for the LEGO® Roadshow at the North Star Mall for a chance to win a $250 LEGO® Gift Card!