If you want to try going geocaching with kids, check this out! Nine tips for geocaching with kids that you'll want to keep in mind!
Thank you CLIF Kid for sponsoring this post. Be sure to check out the new CLIF Kid Zbar Filled and encourage your kids to get outside and play!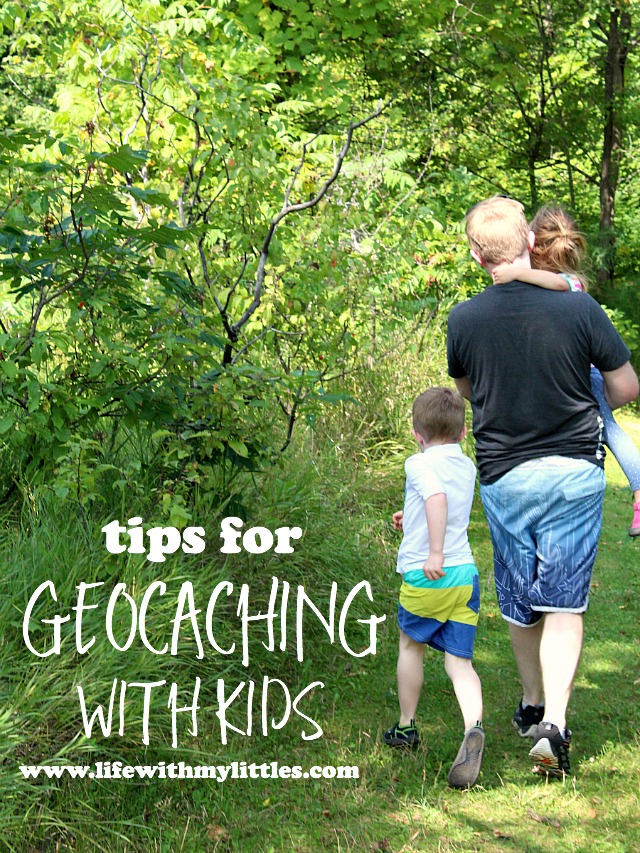 When my husband and I were dating, we used to talk about going geocaching together. Then one day he gave me his phone and we followed the coordinates to a spot where I found a setup of candles and roses. My husband got down on one knee, told me everything he loved about me, and proposed. I obviously said yes, and since then, geocaching has always been a special part of our family.
We've taken our three kids geocaching a few times, and they LOVE it. Since geocaching is basically like a worldwide treasure hunt, they think it's super cool. But if you're not prepared, it can be hard to go with young kids. Today I want to share some helpful tips for geocaching with kids so that you (and they) can have as much fun as possible!
1. Be patient. This is probably the most important tip I can give you. If you're going geocaching with your kids, I'm assuming you're going to let them do some of the navigating and hunting. Be patient, let them try before you help, and don't plan on finding things super fast.
2. Let your child navigate when you get close. They want to be involved as much as they can, so show them what direction to go and then when you get close to the cache, hand them your phone and let them try and figure it out.
3. Bring a snack. Is there anything worse than being stuck somewhere with a hungry kid and no food? My kids get hangry so I always have a nutritious, filling snack in my bag for them when we go places. One that they love is the CLIF Kid Zbar Filled.
Zbar Filled is the first and only organic soft-baked snack bar with smooth, creamy nut butter filling to surprise and delight kids. They taste great and come in several delicious flavor combinations that kids will LOVE, with nutrition that parents can feel good about. Each Zbar Filled is packed with nutritious ingredients like oats and nut butters, is certified USDA organic and non-GMO, and is free from ingredients that parents are looking to avoid, like high fructose corn syrup and artificial flavors. It's the perfect snack for the outdoors and it helps my kids fuel up while we're geocaching together!
4. Bring water. You don't know how long you'll be looking for your cache or how long it will take you to find, so bring some water, especially if you're geocaching on a hot day. You don't want to deal with dehydration!
5. Don't bring a stroller. Since most caches aren't right off of trails or paved sidewalks, you probably don't want to bring a stroller. If you have a baby (or a small toddler), try baby wearing on your adventure. It's so much easier and it will free up your hands!
6. Pick an easy cache, if you can. You don't want to pick a cache that is super small, super hard to find, or in an area that is difficult to get to. So pre-screen the cache you're going to find. Read the comments of people who have found it previously before you head out so you don't get stuck. The few times we haven't been able to find a cache, my kids have been the ones who were the most disappointed.
7. Wear sneakers or water shoes. Don't have your kids wear flip-flops. There's a 99% chance their feet will get super dirty. Just trust me on this one.
8. Check the weather before you head out. Don't go if it's going to rain or be windy. Your kids will complain and nobody will have fun.
9. Wear bug spray and sunscreen. You never know what you're going to encounter when you head out, so make sure you're prepared by wearing bug spray and sunscreen. This is something we've just gotten used to doing when we're outside.
Hopefully these tips for geocaching with kids will help you have a fun adventure looking for treasure! Going geocaching with our kids is one of our favorite things to do, and it's definitely a great outdoor family activity! Good luck!
I was selected for this opportunity as a member of CLEVER and the content and opinions expressed here are all my own.