Going to a restaurant with young kids doesn't have to be stressful! Here are ten tips for eating out with kids that will make it easier!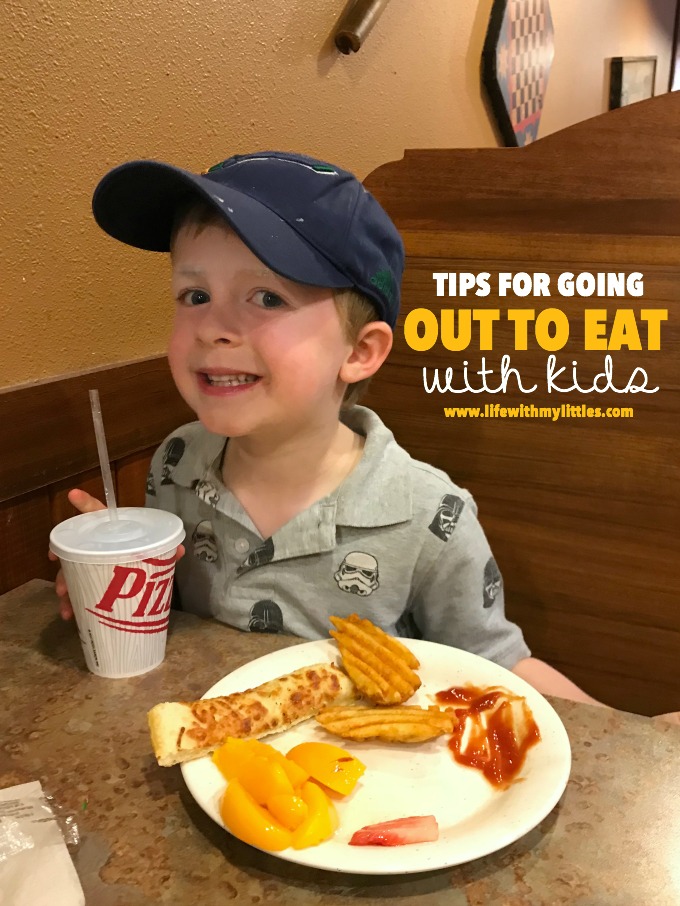 I don't know if we'd consider ourselves "foodies," but we love going out to eat. We love going to new places around town, and we also love going to our tried-and-true favorites. But we also have three kids under six, and that can make things a little complicated. Today I thought I would share some tips for going out to eat with kids, because if there's one thing that's true about us, it's that nothing gets in between us and good food!
1. Go to a buffet. I know what you're thinking. But I promise that not all buffets are barf fests. Buffets are great with kids because they can try a variety of things, they'll usually get some fruit or veggies in, and with most buffets, dessert is included. It's a one-stop shop! We're especially big fans of pizza buffets!
2. Make sure your kids will be entertained. Whether there's entertainment provided there (like TV screens, a show, or kids' menus with colors and stickers), or you bring something from home, make sure there's something to keep them occupied. The times that we've been out to eat and we've had meltdowns, it's been because my kids haven't had anything to do. Even bringing pre-dinner snacks can make a big difference!
3. Share food. Kids meals can be EXPENSIVE, and when you have three kids, eating out can get pricey. So order something they can share, even if it's an adult entree or an appetizer. And especially if one of your kids is a baby or toddler. We didn't start ordering our kids their own kids' meals until they were at least three.
4. Use coupons or deals. Sometimes you can find coupons for free kids meals when you purchase an adult entree, or sometimes restaurants have a day where kids eat free. We take advantage of these any time we find them!
5. Go somewhere where prices are based on age. One of our favorite places is called Pizza Ranch. It's a pizza buffet (but it's so much more!) and instead of having a flat rate for kids to eat, the price is $1 for however many years old they are. Which is fantastic because our three-year-old isn't going to eat as much as our five-year-old, and I love that we really are only paying for how much they are going to eat! I don't know if there are many places like this, but if you find one, let me know and I'll include it here!
6. Get a booth. Any time we go out, we absolutely have to sit in a booth. With young kids who like to move, keeping them contained in a booth is a must. The few times we've had to sit at a table where we've all had our own chairs, by the end of dinner we're not eating anymore, we're just trying to keep them from running around the table and into servers. It's a nightmare. Booths are the best.
7. Sit outside. If it's warm enough, sitting outside is a great way to diffuse some of the unavoidable sound from young kids.
8. Eat somewhere with a playground or play area. When we lived in San Antonio, there were tons of restaurants that had big open yards for kids to play in, or even outdoor seating with giant playgrounds. We felt like we were on a date when we went because the kids would go play and we could just sit and talk. The best! If you find somewhere like that close to you, go!
9. Don't go anywhere fancy or that isn't kid-friendly. I mean obviously, but you don't want to be uncomfortable because you're the only ones there with kids. No bueno.
10. Bring wipes. It doesn't matter if you don't have a baby anymore. I use baby wipes on my older two all the time, and especially when we go out to eat. Sometimes napkins just don't work well enough!
Going out to eat with kids doesn't have to be stressful or painful. We've been going out with our kids for years (like I said, we love good food) and don't plan on stopping any time soon. So try out some of these tips for going out to eat with kids the next time you head to dinner, and I bet that you'll have a much more enjoyable evening!