Here's a fun post from a dad's perspective! Diaper changing tips from a dad of three! A must-read for new fathers!
This post is sponsored by Pampers. I am a proud member of the Pampers Baby Board.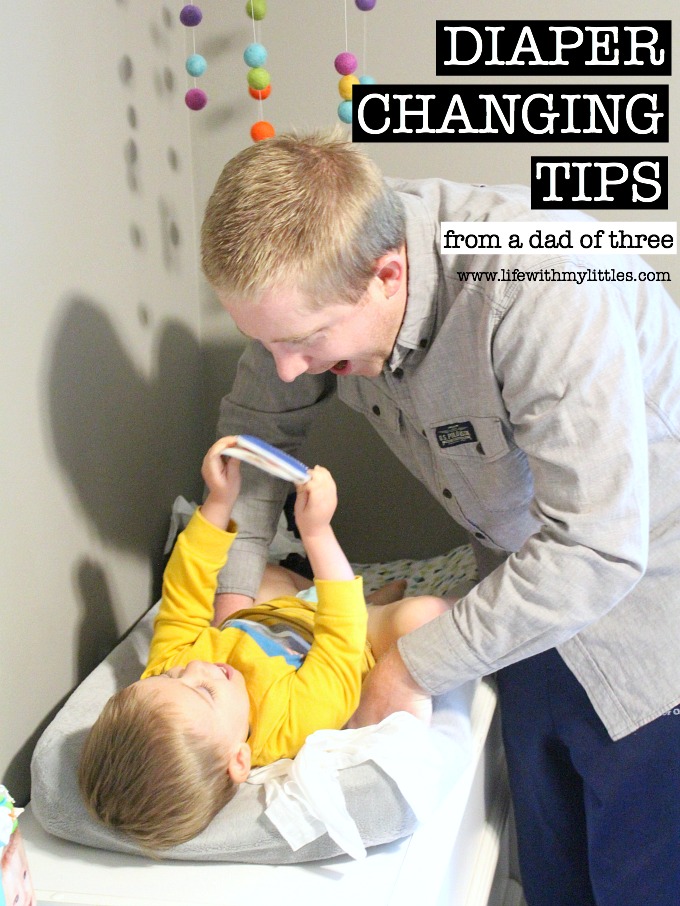 Sometimes dads do things a little bit differently than moms. One area in which that is absolutely true is diapering. As far as I'm concerned, while not always the most pleasant, diaper changes can be a good time to bond with and talk to your baby. As far as my husband is concerned, diaper changes must be dealt with very cautiously and quickly.
With Father's Day coming up this weekend, I thought it would be fun to get my husband's perspective on diaper duty! I write all about pregnancy and parenting from my perspective, and I don't ever have him share what parenting young kids is like for him! So I talked to him all about his diaper-changing technique and am excited to pass on these helpful diaper changing tips from a dad of three.
1. Get everything you need before you start. Clean diaper? Check. Several wipes (my husband said he averages 4-5 wipes per change) pulled from the package? Check. Baby? Check. You're all set.
2. If your baby is bigger, give them something to hold. It can be a small toy, or even a clean diaper! Just keep their hands busy so they don't accidentally (or purposefully!) grab their messy diaper!
3. Breathe through your mouth. I can absolutely confirm that my husband does this with every diaper he changes. I've tried talking to him when he's changing a stinky diaper and you can definitely tell he breathes through his mouth and not his nose!
4. Go time. Once everything is ready, open your baby's diaper, wipe their bum, clean all their folds and their thighs, and then slide the clean diaper under their bum. Try to be fast because if you don't get that clean diaper back on in time, you might get a surprise shower (especially with a younger baby!).
5. Lift your baby's feet up as high as you can. One thing my husband said he hates is getting poop on our babies' feet or on the changing table. So his technique includes lifting baby's feet up as high as he can to make sure he keeps them from touching the diaper. Because once they get poop on their feet, things get a whole lot more complicated.
6. Use Pampers Baby-Dry diapers. No dad (or mom, for that matter) likes to wake up in the middle of the night to change a wet or stinky diaper. And with Pampers Baby-Dry diapers and their Extra Absorb Channels, you won't have to! Ordinary diapers may get wet and bulky through the night, but Pampers Baby-Dry provides up to 12 hours of overnight protection, plus a comfortable fit. We've been using Pampers Baby-Dry diapers ever since our oldest was a baby, and even my husband knows they're the only ones we'll ever buy!
7. Celebrate! You made it! Congratulations! You've successfully used these diaper changing tips from a dad of three to navigate the messy world of diapering a baby or toddler. Now go put your feet up, eat some wings, and watch the game. You deserve it!
Happy Father's Day to all the dads out there! And a special thanks to my husband for letting me get his point of view and take way too many pictures of him changing our son's diaper!