Tips for Better Baby Footprint Art: 11 tips to help get the best baby footprints for your footprint art!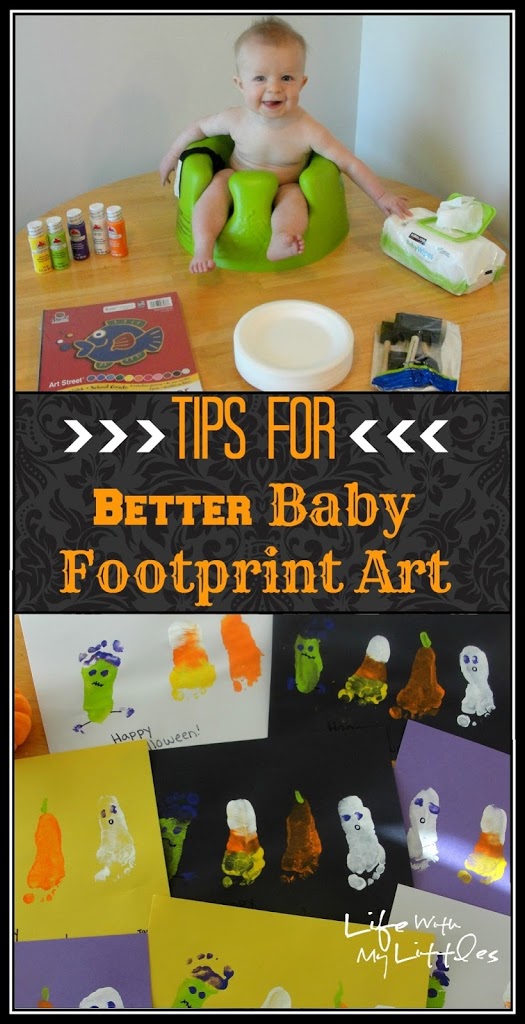 I LOVE Halloween. I love dressing up, I love the candy, I love the monsters, I love the pumpkins. It's very nearly my favorite holiday.
Last year when I was pregnant I went over to one of my friends' houses and she was doing footprint crafts with her kids for Halloween to send to her family. I knew instantly that next year when I had my own little baby it was going to happen. I also knew that I was going to have to find a way to do it with a baby. I mean it's one thing to put paint on a five-year-old's foot, and another to try and do it to a seven-month-old. So while I was making my very first piece of keepsake art for Little J, I also was thinking of how to do it in as simple a way as possible in order to make the best footprints I could. So, now that I have gone through this once, I am going to pass on my knowledge to you so you can make even better baby footprint art.
1. Make baby happy first. In my case, this meant feeding Little J, giving him a clean diaper, and doing this right after he had woken up from a nap. If your baby isn't happy then they aren't going to cooperate, and you are going to have a whole mess of trouble. Quite literally.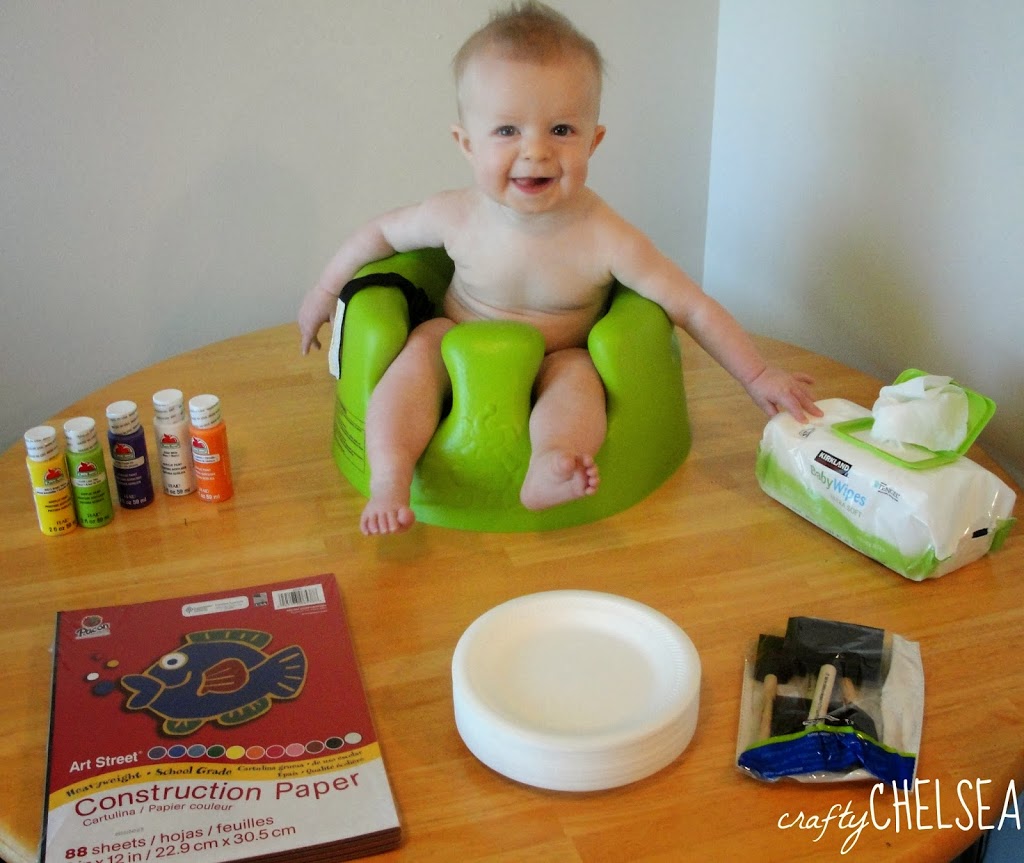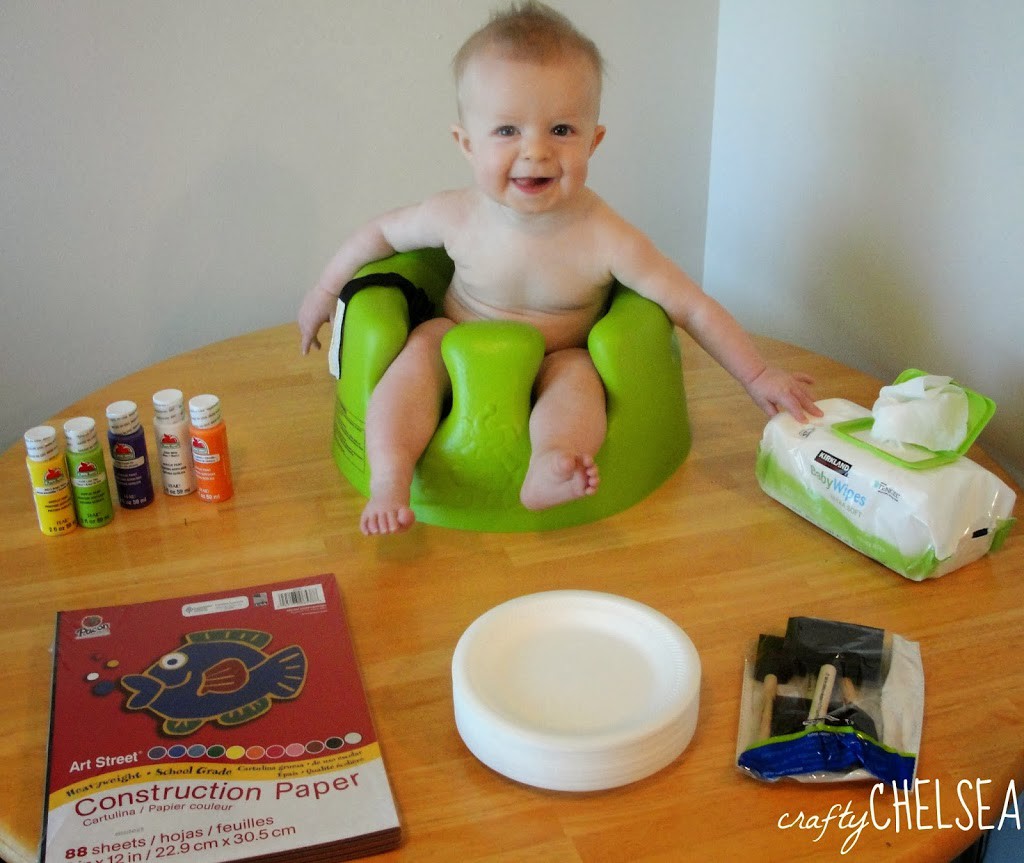 2. Set everything up. Make sure you have all of your materials that you need, ready to go, before you start. You need a baby (obviously), non-toxic paints, something to paint with, paper, wipes (just in case), and paper plates to put the paint on. You want to make sure everything is there so that mid-footprint stamping you don't have to run to the other room to grab something. Bad idea.
3. Strip baby down to his diaper. And keep him that way for the whole process. Somehow, baby will get paint on the side of his stomach, his arms, and the backs of his legs. You want to make clean-up as easy as possible.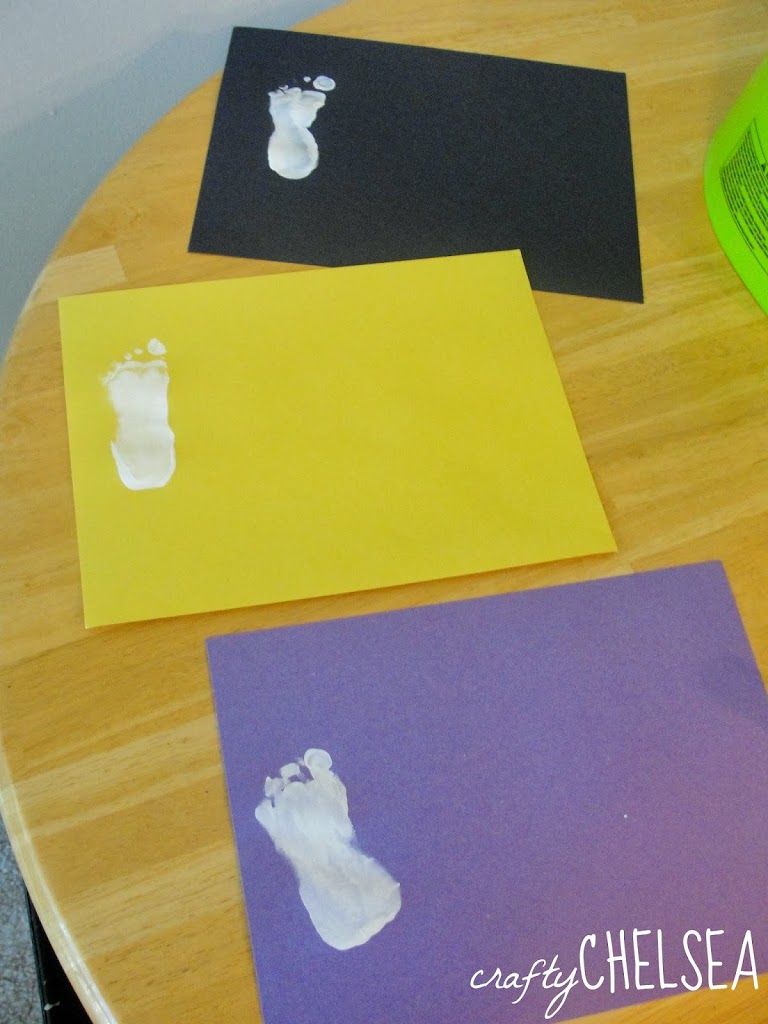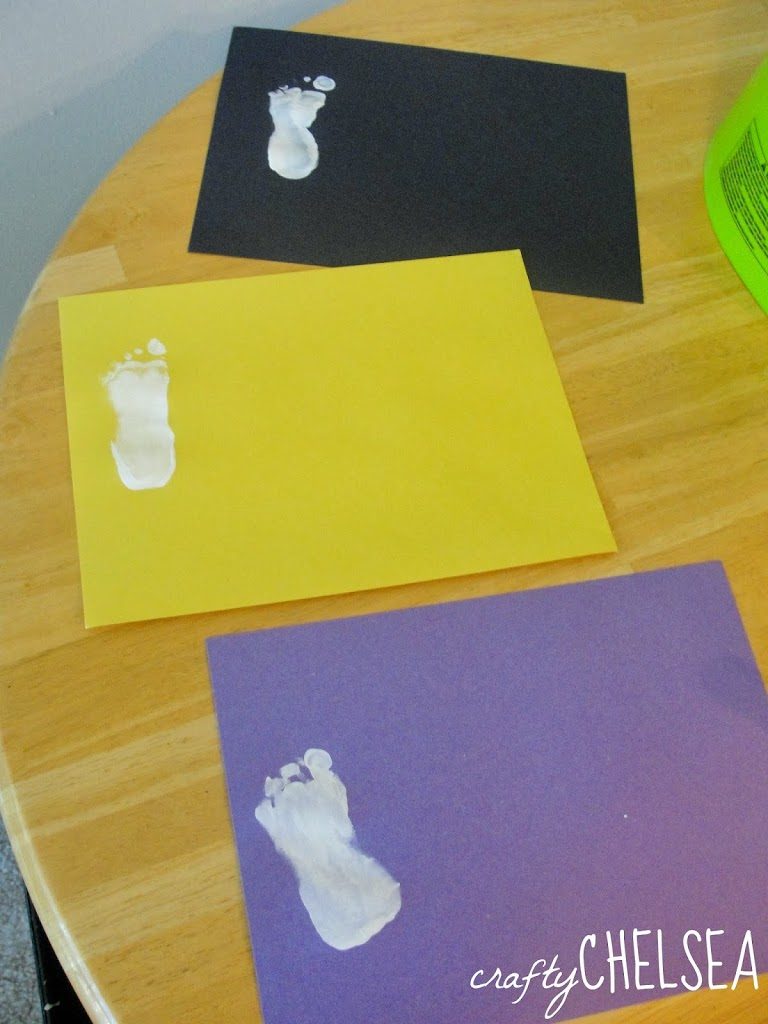 4. Stamp the footprints assembly-line style. I lined up all the papers in a row so I could just scoot down the row and stamp Little J's foot. It worked great, and that way I didn't have to move around very much while my son had paint on his foot.
5. Wear an apron. You will also get paint everywhere. I wore an apron and somehow I still got it on my chest, the back of my arm, and my wrist. You don't want to make a bigger mess than you need to, and an apron is a good solution. Don't have an apron? Wear an old T-shirt and pants you don't care about.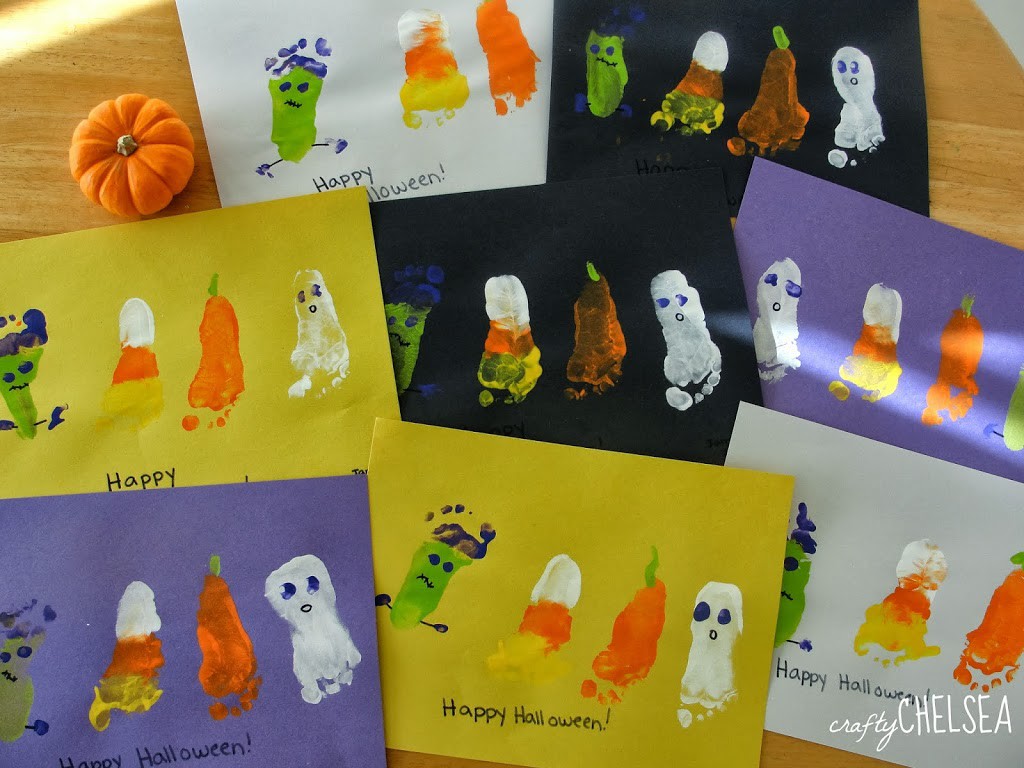 6. Don't do a ton of footprints. I decided I was going to be nice and make footprints for all of Little J's grandparents, great-grandparents, aunts and uncles, and for us. So I made 8 pages total of footprints. That meant stamping Little J's foot 8 times for each color, or 32 times total. It's not that it took a long time, it's just that he wasn't really having a ton of fun getting his foot stamped that many times.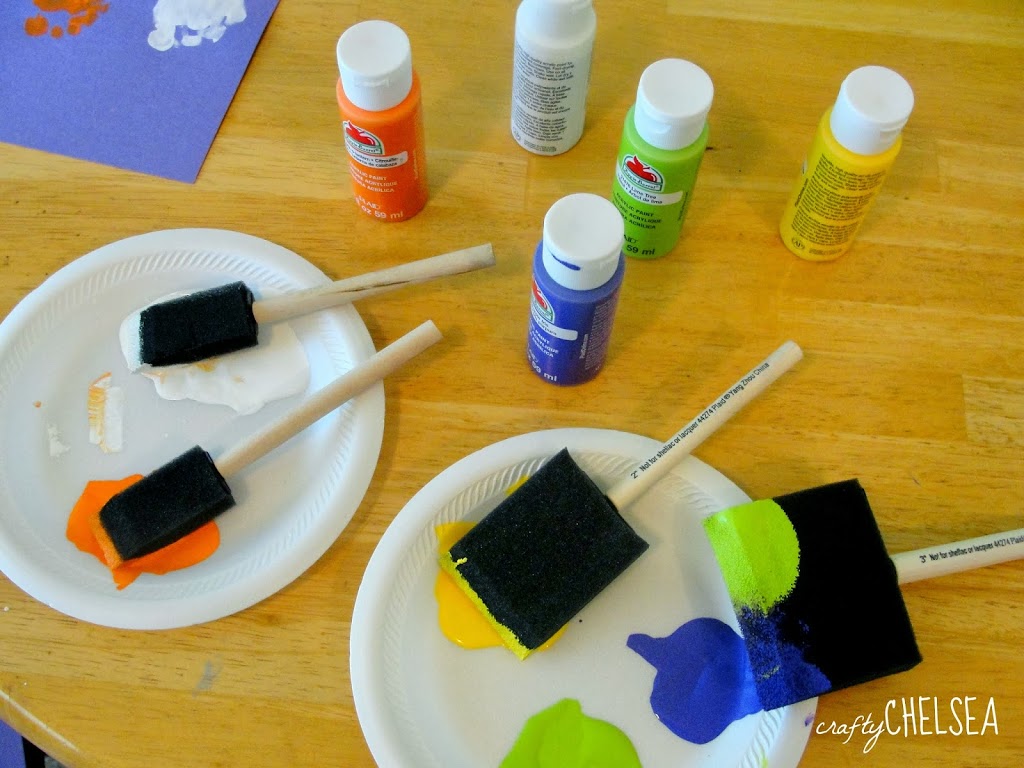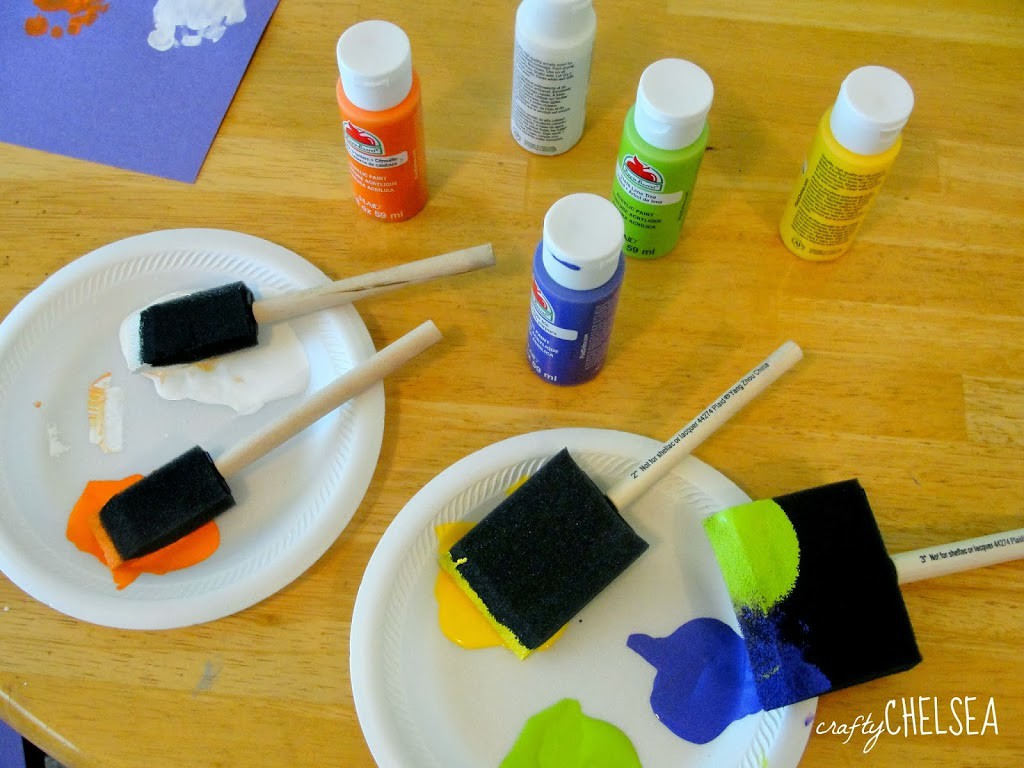 7. Re-paint your baby's foot every two stamps. You want to make sure that the paint will show up on the paper, and if you don't have enough paint on your baby's foot, you may be forced to redo some of the footprints, which is hard and can look bad if your baby is squirmy. So avoid that and just re-paint the foot every two stamps.
8. Wash baby's feet in between colors, and give your baby breaks. Depending on how squirmy your baby is, you will get paint on both feet. And instead of doing one color on one foot and another color on the other foot at the same time, wash your baby's feet in between and then do the next one. It will take longer, but it is way easier. Also give your baby a break in-between footprints. My son didn't particularly enjoy being held the way I held him to stamp his foot, so letting him have breaks in-between stamps kept him happy.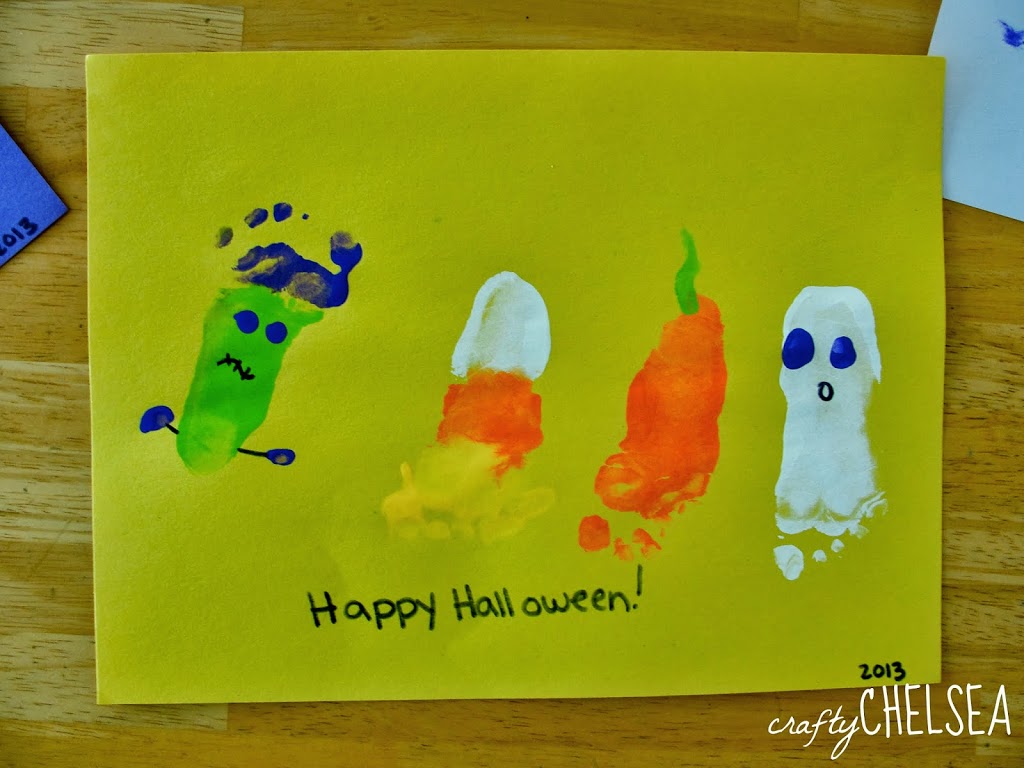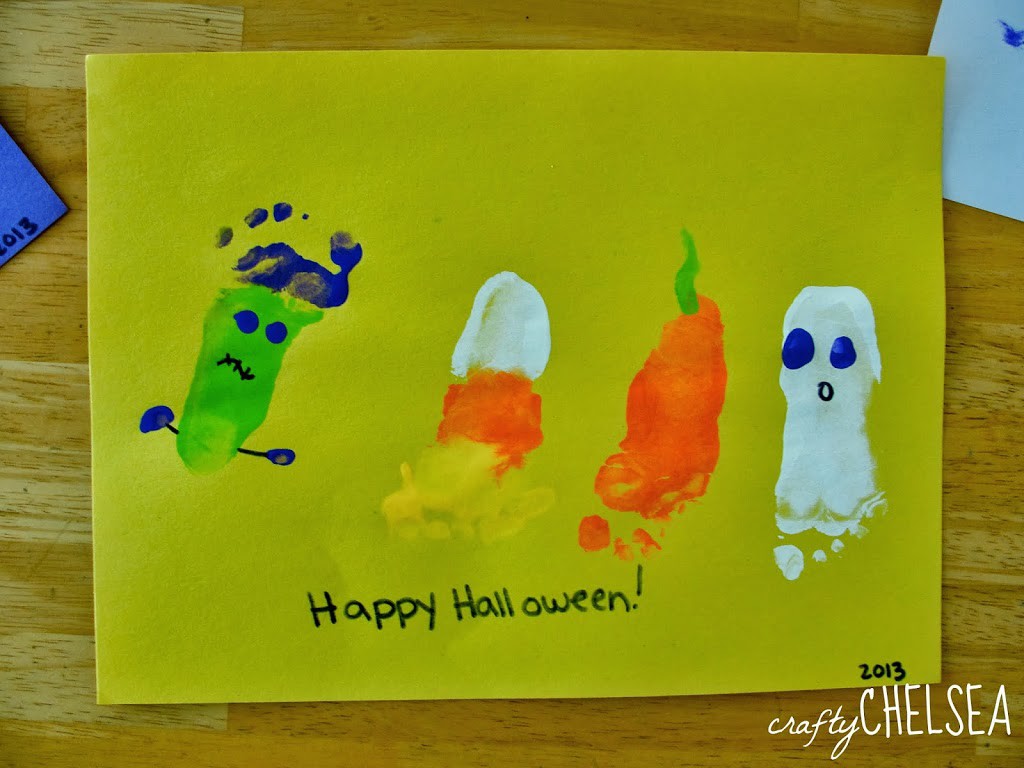 9. Choose paper colors wisely. If you are going to have yellow paint, do not choose yellow paper. It will not show up very well. This should be obvious, but for some people (me) it is not. I thought it would be okay since the shades are different, but it still was hard to see. So maybe do some tests on the paper first, or just be smart and don't do the same colors as your paint.


10. Do the easy stamps first. If you have footprints that are going to be multiple colors, work up to them. You don't want to try and do them first and then discover that you don't know what you are doing. If you do the single-color footprints first, you will get the hang of stamping your baby's foot and your colors won't smudge together.
11. Choose washable paint, or be really careful. I was foolish and put Little J's clothes back on before we did the thumbprint eyes, and it ended up bad because somehow we got a tiny bit of paint on his little baby jeans. And you know what? Even though I washed them right after it happened, you can still see a little bit of yellow on the bottom of one pant leg. And yes, I am very sad about it because baby jeans are the cutest. So choose washable paint, or just keep the clothes far away from the paints.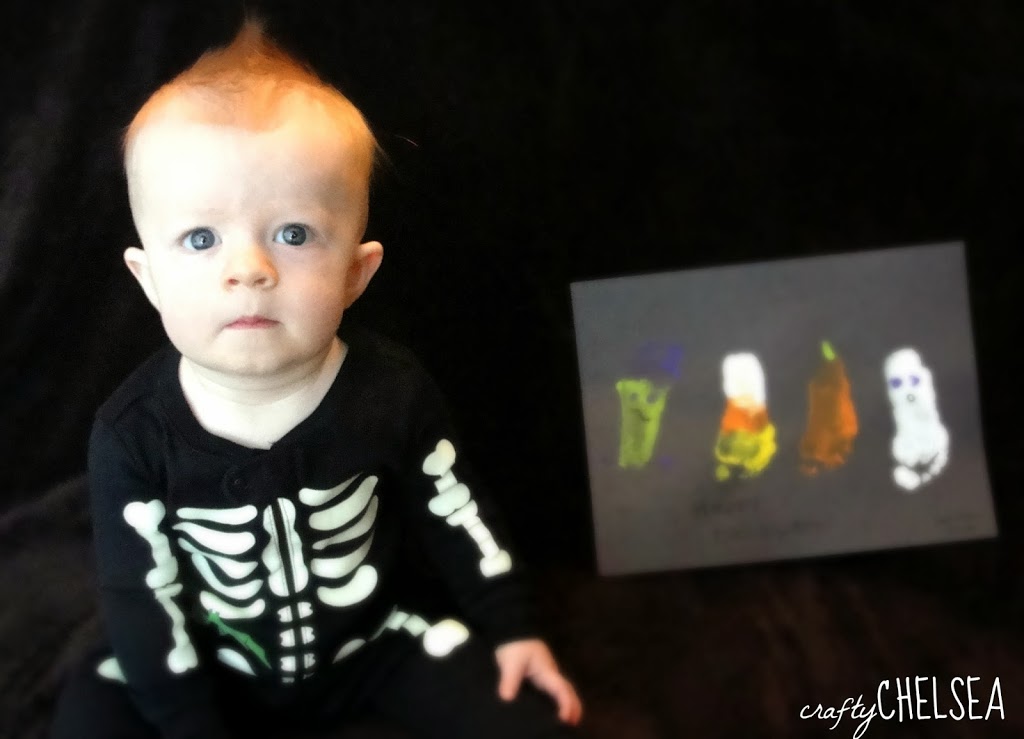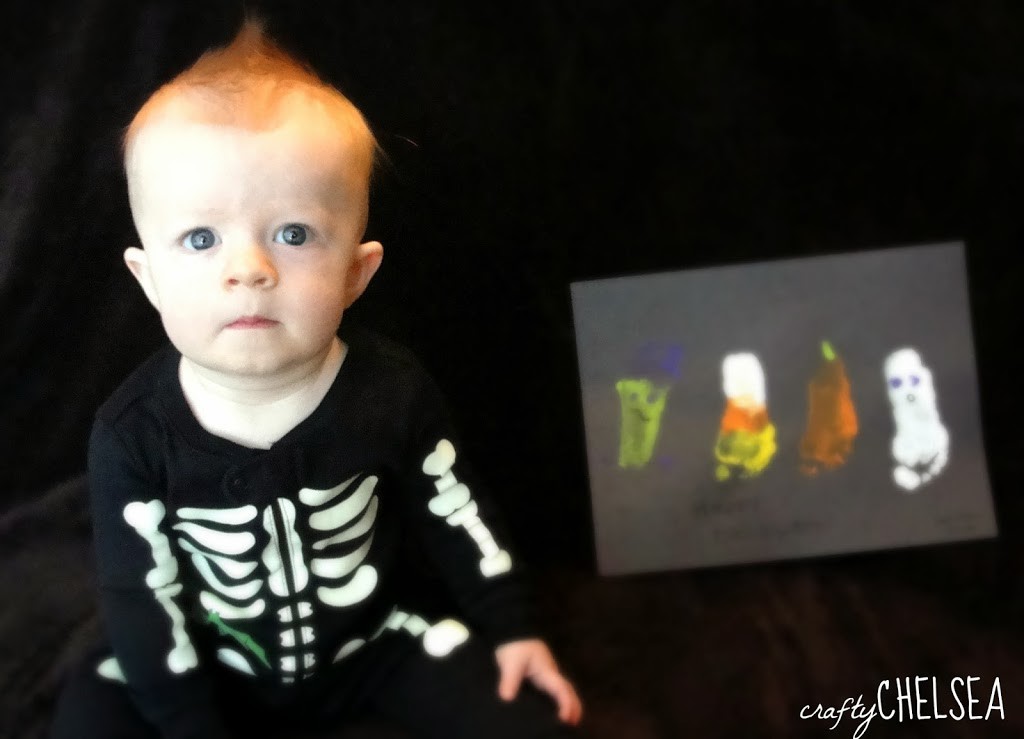 Follow those tips and you should get some adorable, very clean-looking baby footprints that you can save for yourself and send to your family. Good luck, and have fun!