Not sure how to take a good picture of your baby in a pumpkin? These tips from a mom who's tried it will really help make it easy!
Two weeks ago my sister came to visit and I knew exactly what we were going to do while she was here. I love pumpkins, and I love my baby, so it was obvious to me that I had to combine the two.
Yes, I became one of those moms who puts their baby in a pumpkin.
We learned a few things while we were trying to get a good picture of Little J inside of a pumpkin, so I thought I would share!
We had a lot of fun trying to get a picture of Little J inside of a pumpkin, and he actually seemed to like it, too! We even did a few other pumpkin activities afterwards! Here are some tips if you want to get a good picture of your baby in a pumpkin this year.
How to Take a Good Picture of Your Baby in a Pumpkin
1. Pick out a big, but not too big, pumpkin.
You want the diameter of the pumpkin to be big enough to fit your baby's body through, and while you do want them to have a little bit of wiggle room, you don't want it to be too big or they will be moving all around making it hard to get a good picture.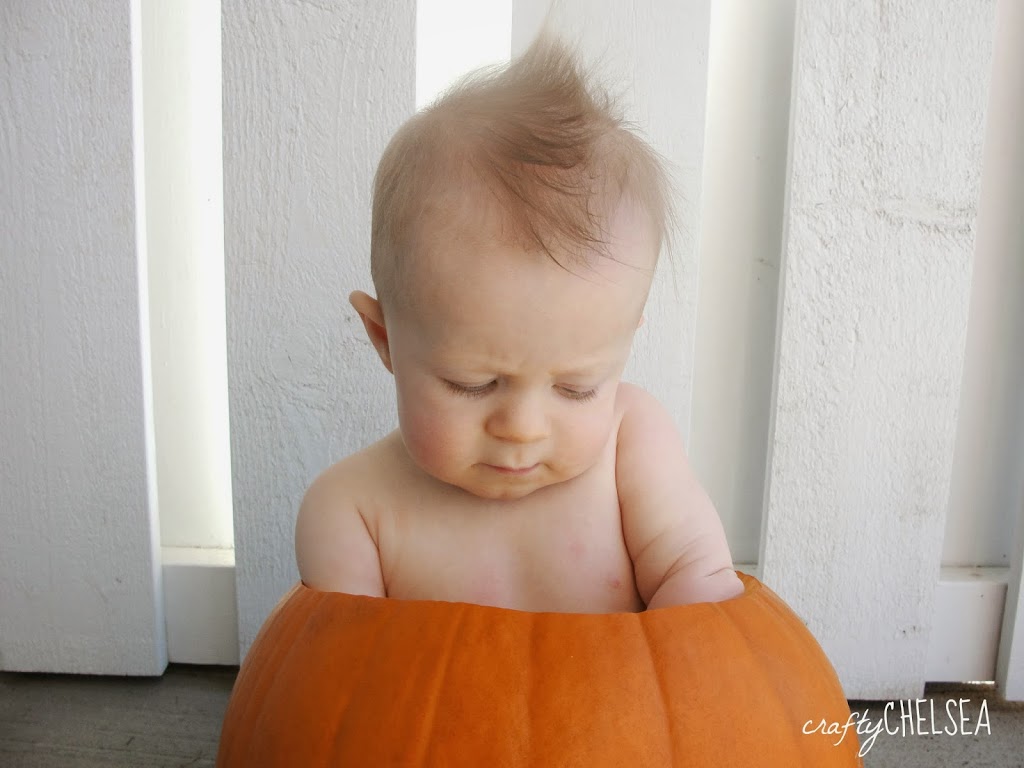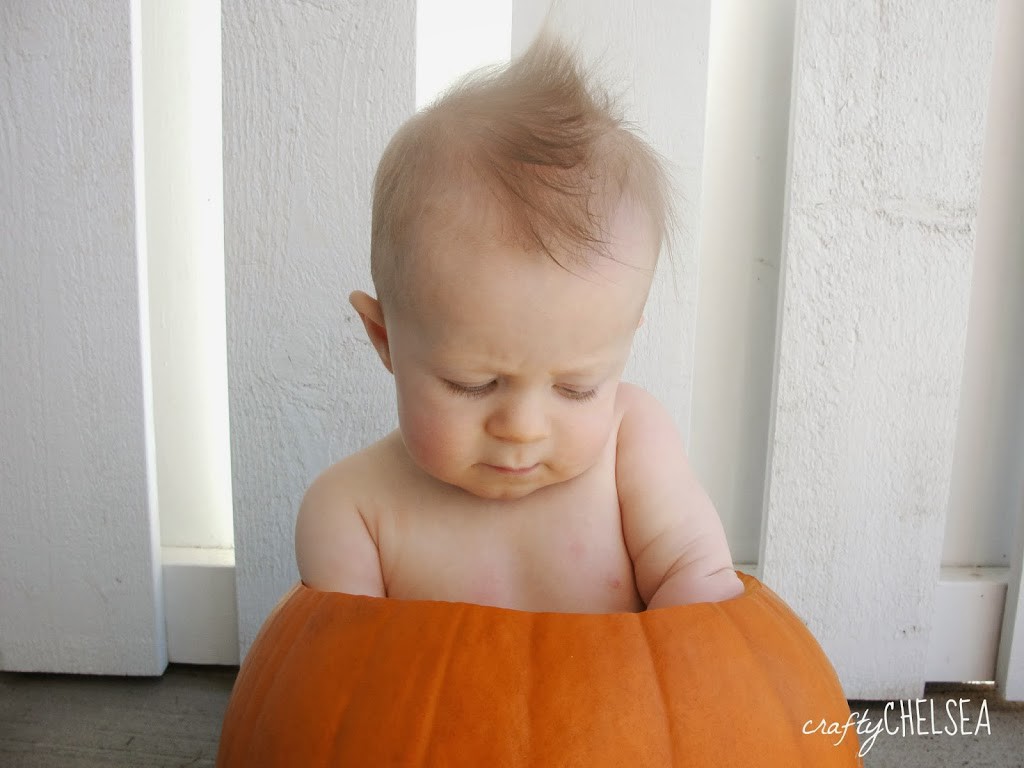 2. Don't make the center hole too big.
Like I said above, you don't want your baby to be able to move around a ton when they are inside the pumpkin, or that is all they will want to do. Also, you don't want them to be able to get both arms and hands inside of the pumpkin easily because once they discover that, it will be all they want to do.
3. Cut the leg holes with some room.
You want your baby's feet to be able to fit in the pumpkin, and you also don't want their legs to get stuck once they are in the holes. Give your baby's legs some room and make sure the holes will be comfortable.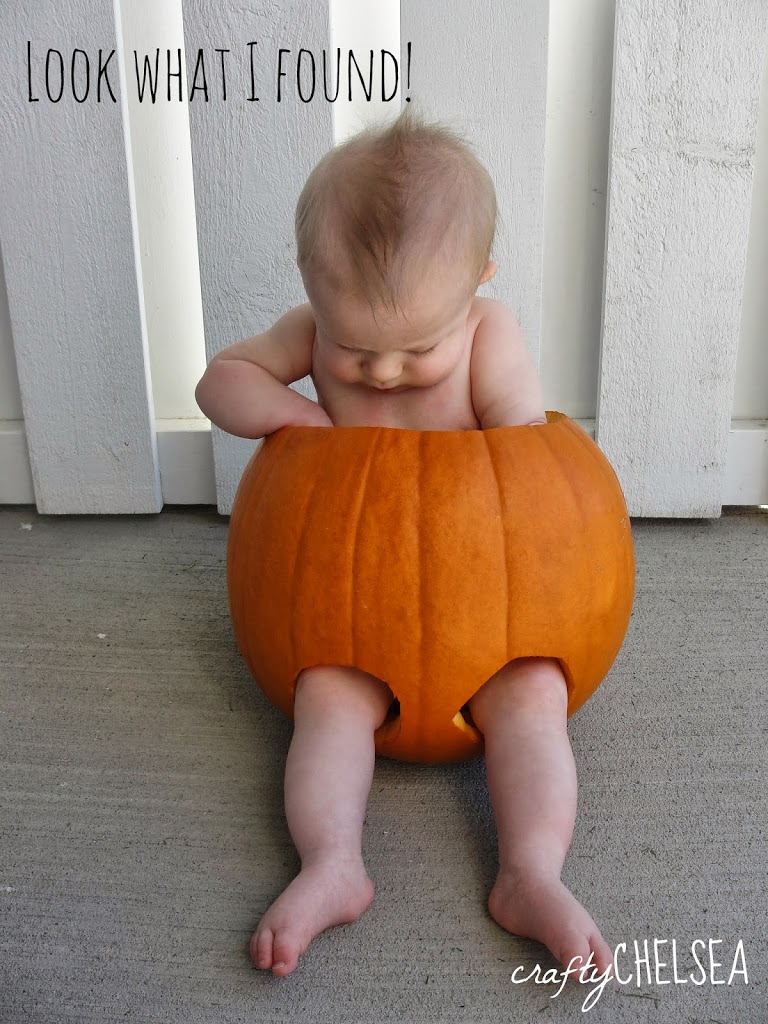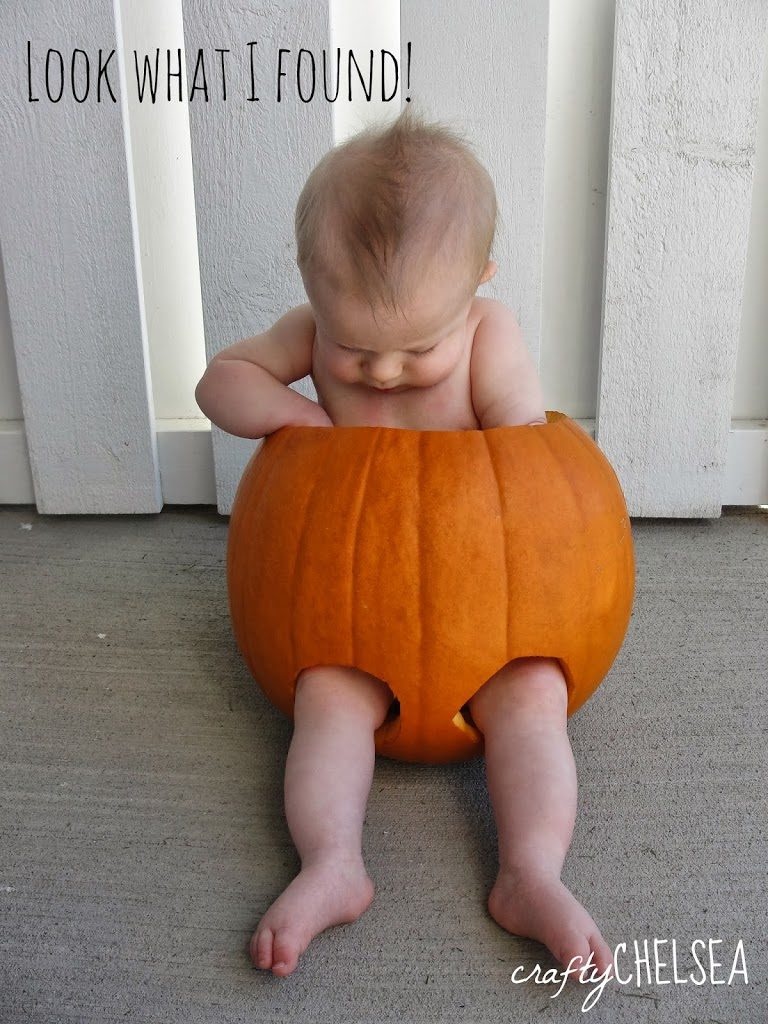 4. Clean out the inside well.
If your baby does end up realizing that there is a fun, slimy inside, you want to make sure that they aren't going to be able to grab and eat anything from it. If you clean the inside of your pumpkin out well and scrape all the icky out really good, then you won't have to worry about baby eating the nasty pumpkiny insides.
5. Wipe down the exterior of the pumpkin.
If you want to get a good picture, you want your pumpkin to look good, too. Make sure you wipe down all the dirt caked on the outside of the pumpkin. This was actually the first thing I did before I even brought the pumpkin in the house. And I also wiped it down after carving because I didn't want goop hanging over the edges of my pumpkin in the picture.
6. Place a towel inside and up the back of the pumpkin.
This was a tip my sister's friend gave us, and it was really helpful. I don't imagine the inside of a pumpkin is very comfy, and it is also wet and slippery. I took an old hand towel and just put it in the bottom and then up the back of the pumpkin. That way, Little J wouldn't get more pumpkin on him than he had to, he would be a little more stable, and it was probably more comfortable for him to sit on.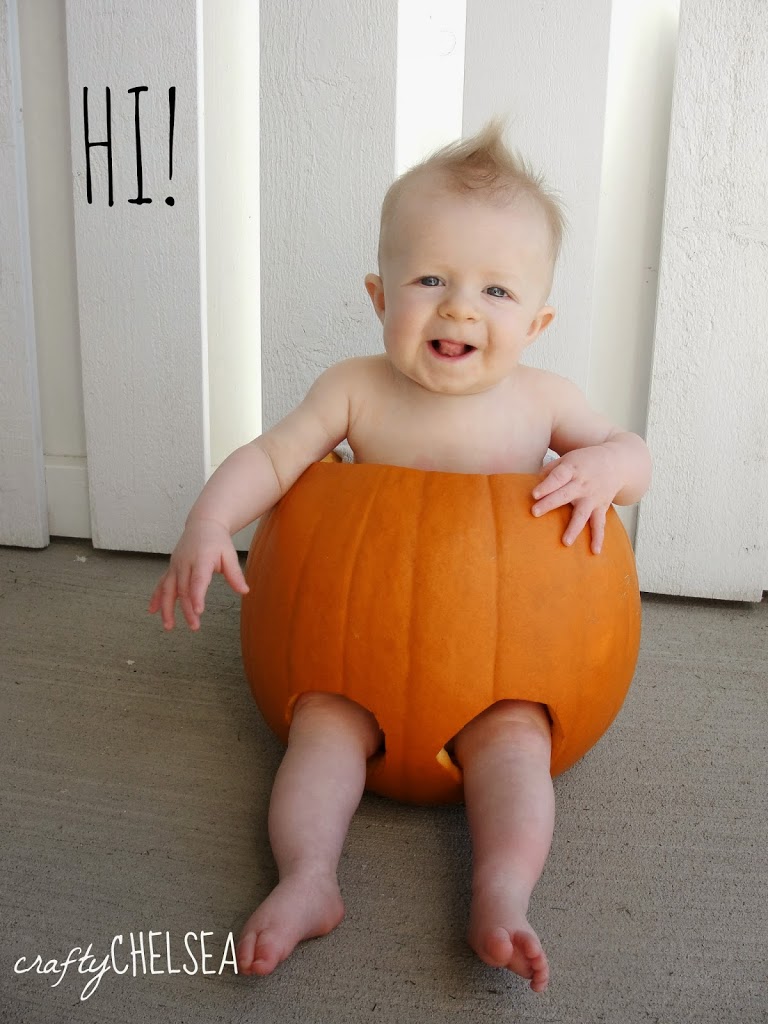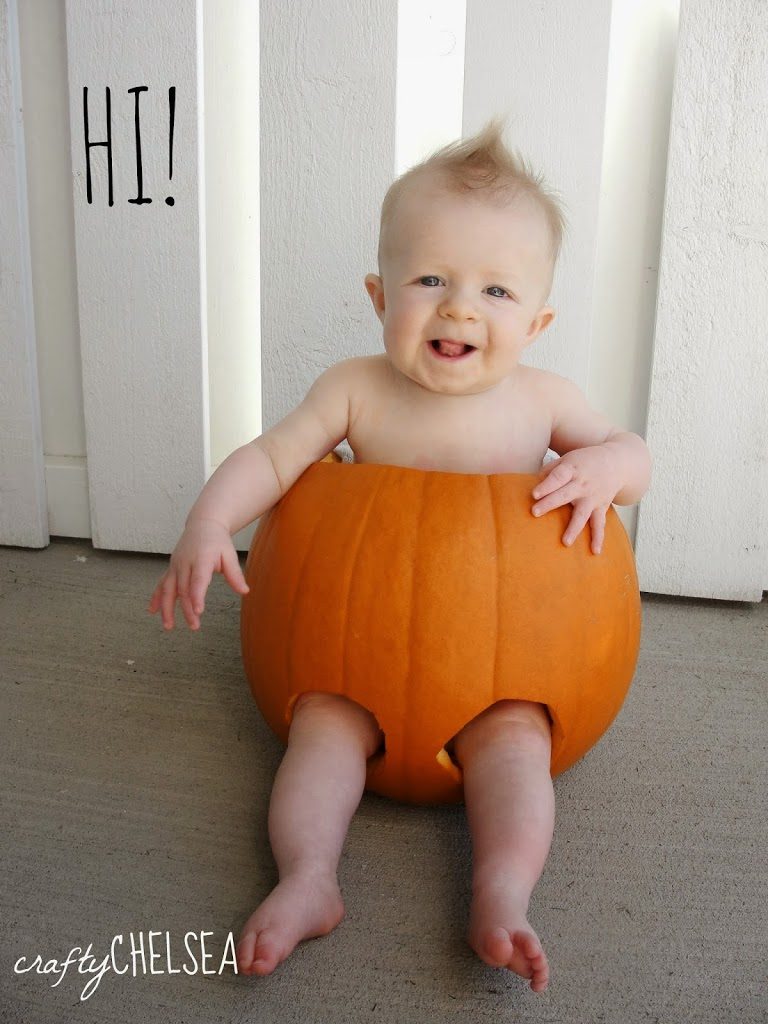 7. Make sure everything is ready before you put your baby inside.
This is important. I made the mistake of not choosing a location that I really liked, so we had to take my baby out and then move our setup and then put him back in again. I don't think he liked that very much.
Also, you want to make sure you have your camera charged and anything else you think you might need to get your baby's attention for the picture. Preparation is key to a good picture with a baby!
8. Make your baby happy before you put baby in a pumpkin.
Whether that be doing this picture right after a nap, a feeding, or a diaper change, do what makes your baby happy so that they will not have anything to cry about for the picture. Happy babies are always cuter.
9. Have baby wear only a diaper.
You don't want to try putting a baby that has clothes on into a pumpkin. You might stain the clothes (depending on the pumpkin), and it just looks cuter and is easier for clean-up if your baby only has a diaper on.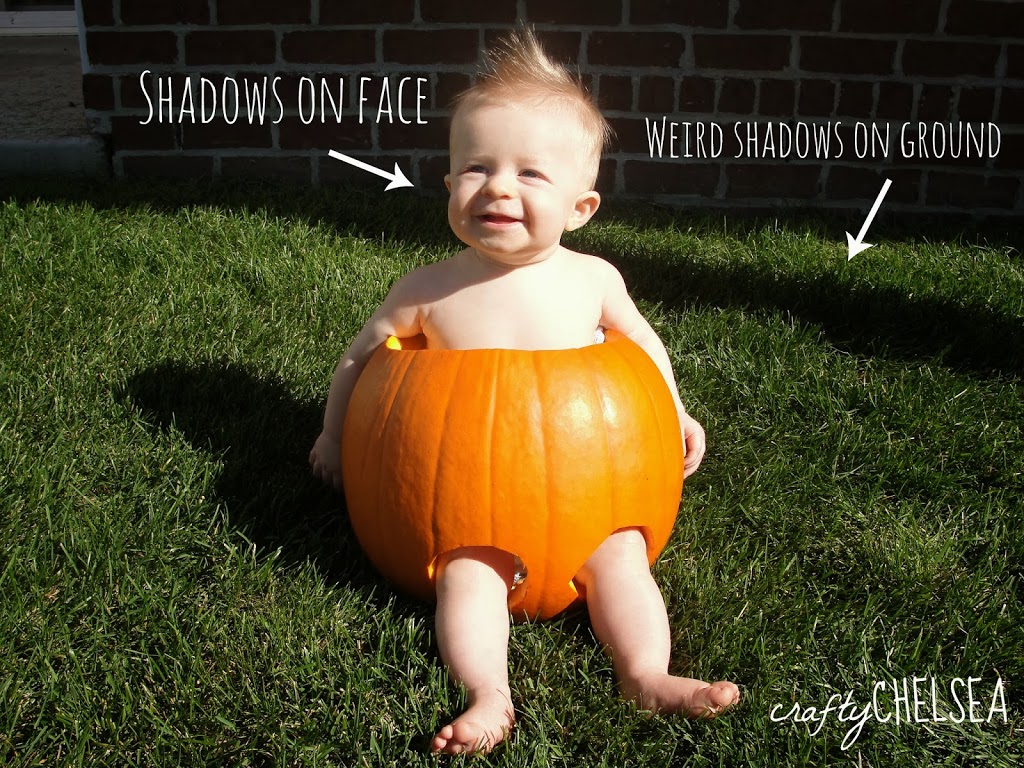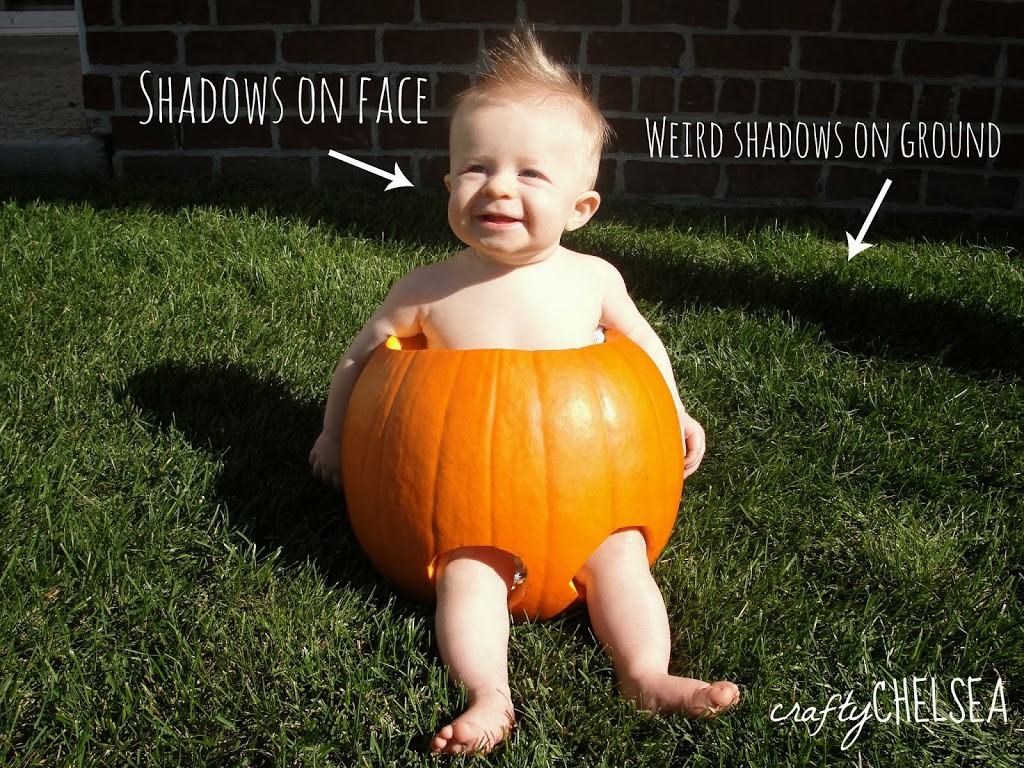 10. Be aware of the lighting before you put your baby inside the pumpkin.
This was part of the reason I had to move to a different location. Depending on the time of day, the sun might be right in your baby's eyes, making it hard to get a good picture. Choose a place that will get some good natural light and won't create weird shadows on and around your baby.
11. Enlist the help of another person.
While we were getting Little J in and out of the pumpkin, it was incredibly helpful to have my sister help me. When you lower your baby in, their feet do not automatically go into the two holes you have cut out. and you don't want to try and hold their body with one hand while getting the feet into the holes with your other.
Taking baby out would be hard by yourself too, because you sort of need to guide baby's legs and feet back out of the holes or the pumpkin gets stuck. Don't just lift him straight up. I would highly recommend having another person there to help.
12. Remember you only need one good picture.
If your baby cries most of the time they are in the pumpkin and then smiles for a tiny bit in the middle, that is okay! You only need to get one good picture of your baby in order for this to be a success. And sometimes a crying baby is still super cute in a pumpkin because they are in a pumpkin!
Work quickly to get that good picture before your baby realizes what they are sitting in, because even if you take a bunch of pictures in five minutes, you still are probably only going to end up sending one of them to your friends and family.
We had a lot of fun taking Little J's pictures inside of a pumpkin. Thanks to my sister for paying for the pumpkin since I forgot my wallet, and my friend Joni to letting us use her patio since mine had weird shadows. Good luck!
Update 2020: I have since taken pictures of each of my kiddos in a pumpkin, and each time was a learning experience! If your baby is pretty young, you may have a hard time getting a good photo, but it's still worth trying!