If you're still looking for a gift for your little engineer this Christmas, look no further! Thomas & Friends always makes the best Christmas gift for little boys!
This post post is sponsored by Fisher-Price.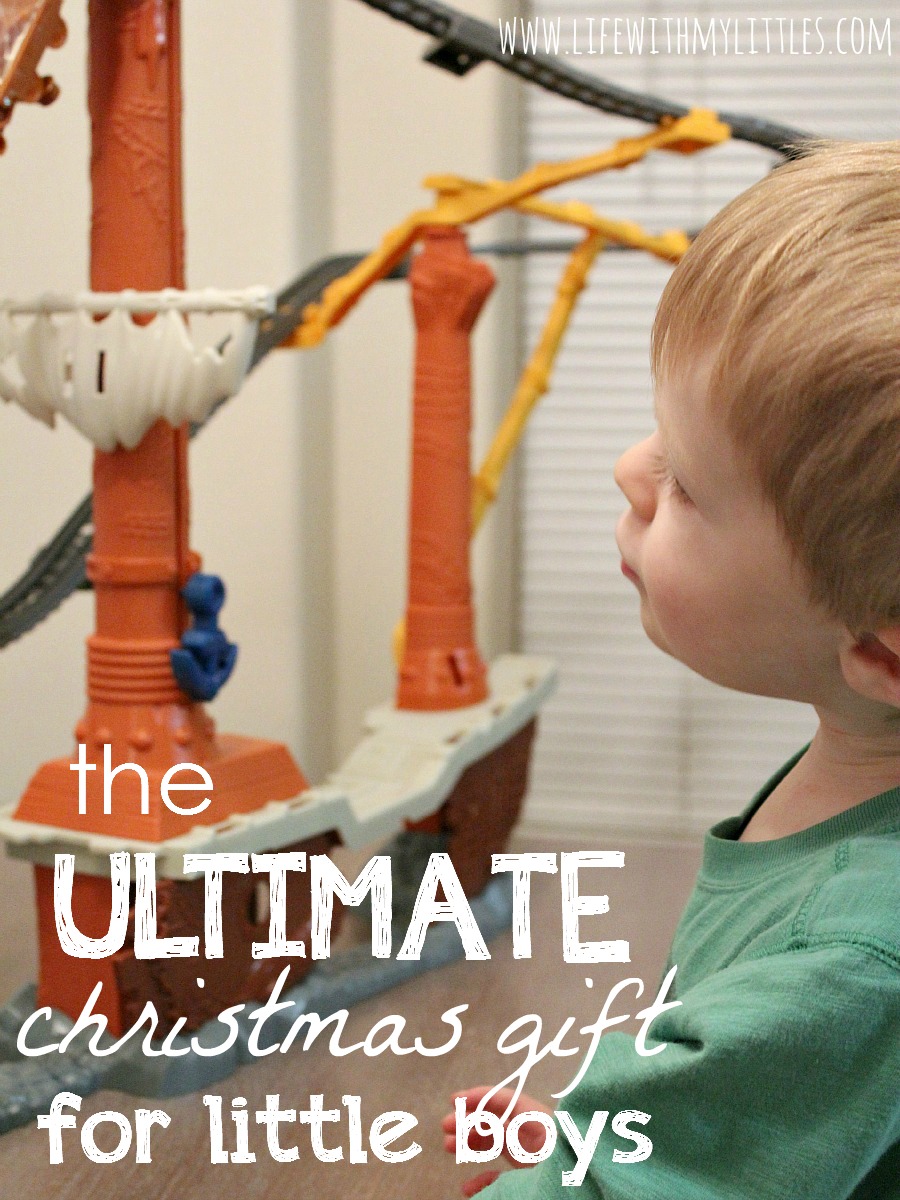 Last year when my parents came out to visit us, my mom bought my son his first train. And not just any train, either. She bought him his very first Thomas the Tank Engine wooden train. That one little train sparked an intense love for Thomas & Friends in our toddler, leading to a train birthday party, a train-themed bedroom, tons of Thomas & Friends toys and books in our playroom, and Thomas & Friends clothes and pajamas. Most bedtime routines end with us singing the theme song together. Little J LOVES Thomas.
It's been over a year since Little J got his first Thomas, and he pretty much asks for nothing else anymore. So when I saw the new Fisher-Price Thomas & Friends™ TrackMaster™ Shipwreck Rails Set and the movie that went with it, I knew it was the perfect gift for him for Christmas!
When it was dropped off at our house, I couldn't resist letting Little J open up the package. He was so excited that "his present" was here, and there was no way I was going to wrap it before letting him get some playtime in first! Just look at that face (and that post-naptime hair)!
As soon as he realized what it was, all Little J did was ask me to set it up, but we decided to watch the movie, Thomas & Friends DVD, Sodor's Legend of the Lost Treasure, first. I actually thought it was pretty cute!
Can you tell he loved watching it? He even held onto the Thomas that came with the TrackMaster set the whole movie! And after it was over, he kept asking me to sing him the "tiny engines" song
In Thomas & Friends: Sodor's Legend of the Lost Treasure – The Movie, Thomas and his friends unearth an old pirate ship! The hunt is on for the lost treasure, and when Thomas meets some new friends, trouble soon rushes in! I don't think Little J picked up on it in the beginning, but I knew Sailor John was bad from the start! And the movie also has voices from stars like Eddie Redmayne, Sir John Hurt, and Olivia Colman, so it was fun to try and figure out who was who while I was watching. It's always nice when you get into your kids' movies, right!?
He loved watching Thomas and his friends dig up their most daring adventure yet. And after the movie was over, I let Little J open his TrackMasters set and reenact all the fun with his track!
It looked intimidating, but the instructions were super clear and it didn't take me that long to put the track together. I love that everything was labeled!
My son kept trying to play with it before I was done, so I moved it to the kitchen table. Which was perfect, because it was just the right length for the track!
The Thomas & Friends™ TrackMaster™ Shipwreck Rails Set is definitely the coolest track set I've seen. We have another one that the Mister's aunt and uncle gave Little J, and this TrackMaster set is compatible with it (and all other TrackMaster sets) which is cool because Little J can just expand on and play with his Thomas & Friends TrackMaster sets for hours!
Little J's favorite part of the set was probably how Thomas plunges towards the deck of the pirate ship and completely turns upside-down as he speeds along the spiral track before getting the treasure dropped into his train car! And I loved that it resets itself every time so he can just let Thomas chug and chug!
I'm glad we watched the movie first because it was like Little J was reenacting Thomas' plunge into the pirate ship!
The TrackMaster set is filled with thrilling, jaw-dropping adventure for kids inspired by Sodor's Legend of the Lost Treasure.
The Thomas & Friends DVD and TrackMaster set make the perfect gift for any Thomas & Friends fan, or any little boy, really! Is it possible for a little boy not to like trains?
And both the DVD and TrackMaster set are available at Walmart, so they'll be easy to find in time for Christmas!
I can't wait to see Little J make this face again when he unwraps his Thomas & Friends set and DVD again on Christmas morning!
Seriously, moms, dads, grandparents, if you are still looking for a Christmas gift for the little boy in your life, this is it. I guarantee you won't be disappointed!