How busy moms get things done without losing their minds! The key to staying on top of everything is easier than you might think!
This post is sponsored by Life Organized.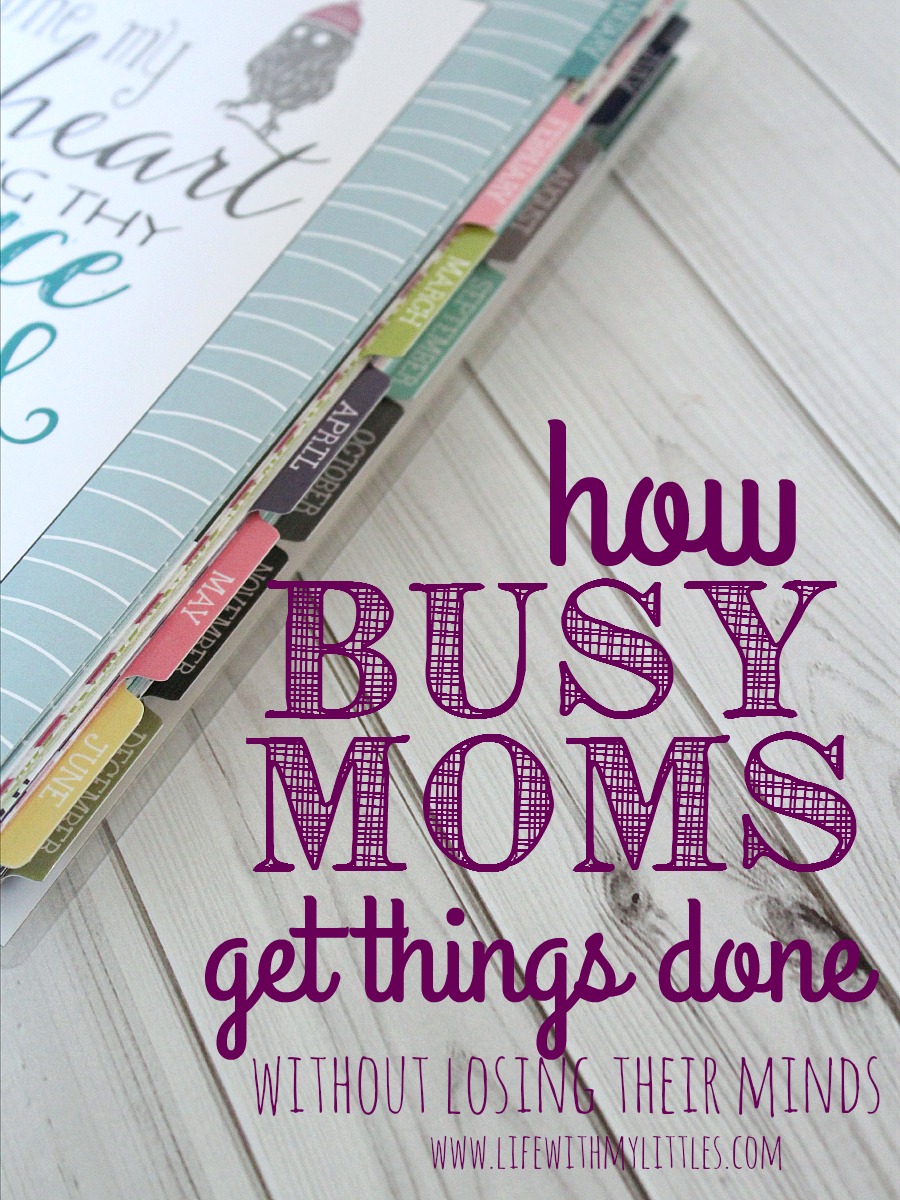 It makes sense that my kids are constantly moving and playing because I am the same way. I have a hard time just sitting still. I am always trying to get things done and stay on top of my schedule before it swallows me whole.
I am definitely not the busiest mom out there, especially since my kids aren't really involved in anything yet, but I think it's important to learn how to manage your schedule before things get out of control and you have basketball games and dance recitals and school meetings that take up all of your free time.
So what is my secret? How do I meal plan and keep track of appointments and schedule our tot school activities for the week without losing my mind? How do I get things done?
I use a planner! And not just any planner, either. The ones at Walmart just don't cut it for me. Last year I was introduced to Life Organized and their fabulous Mom-on-the-Go Planner.
I immediately fell in love with all the space for writing, the different worksheets and calendars, the pages to keep track of important information, and the beautiful bright colors and dividers. Plus the covers are laminated so it will hold up all year. It's like a busy mom's dream come true.
First I want to tell you about the pages I use the most. Every week is spread across two pages, giving you maximum writing space. I hate trying to cram everything into tiny spaces because I'm bound to forget something. There are three boxes for each day, so you can divide them according to what you want. I usually do appointments, tot school, and then menu. Here's a picture of my planner from 2015 so you can see it in action, all filled to the brim!
There's also a section for notes on the side, under each day, and then a few at the top. Seriously, you are not forgetting anything with this planner! Here's a shot of the first week of January. As you can see, it's pretty empty right now!
You can also get this adorable laminated planner bookmark to help you keep your place! It's especially helpful if you refer to your week a lot like me.
Like I said earlier, each month has a divider (plus there's a divider for Home and Family at the back with lots of helpful worksheets). And they all have beautiful song lyrics and pictures on them!
Each month has a calendar, weekly pages, and then a planning sheet, a budget sheet, and a planning matrix. You aren't going to miss anything with this planner, guys. It's the best!
In the back of the planner, there is a Home and Family section with family focus pages (for birthday planning, keeping track of sizes), and wants and needs), preparedness planning pages, daily tasks, vacation planning, and a spot for thank you card tracking.
There are also holiday pages spread throughout the planner with pages for helping you plan holiday meals, gifts, and activities.
Seriously guys, this is the best planner out there! If you're tired of using tiny little planners with no space to write things, or even using multiple planners to keep track of different things, then this is the solution. There are pages for keeping track of addresses, birthdays and anniversaries, and your favorite things, plus the quotes spread throughout help motivate and inspire you to keep going! I love it so much and I can't wait to fill it up with everything we have coming in 2016!
Guys, this is how busy moms get things done!
Okay, so now that you are also in love with the Mom-on-the-Go Planner, I'm going to make it easy for you and tell you some good news. I've teamed up with Life Organized and I'm giving away a 2016 Mom-on-the-Go Planner to one lucky Life With My Littles reader! And you can even choose what cover you want on your planner!
The contest runs from today, December 14th, until next Monday, December 21st at midnight MST (as soon as it turns into the 22nd). You must be 18 years or older to enter, and be a resident of the United States. Other than that, anyone can enter! Just complete the entries below and the winner will be chosen on December 22nd. What a fun Christmas present!
Good luck!