This free giant printable gratitude tree is such a great visual representation of gratitude for November! Print it off and count down the days to Thanksgiving! Perfect for kids of all ages and adults!
This post contains affiliate links.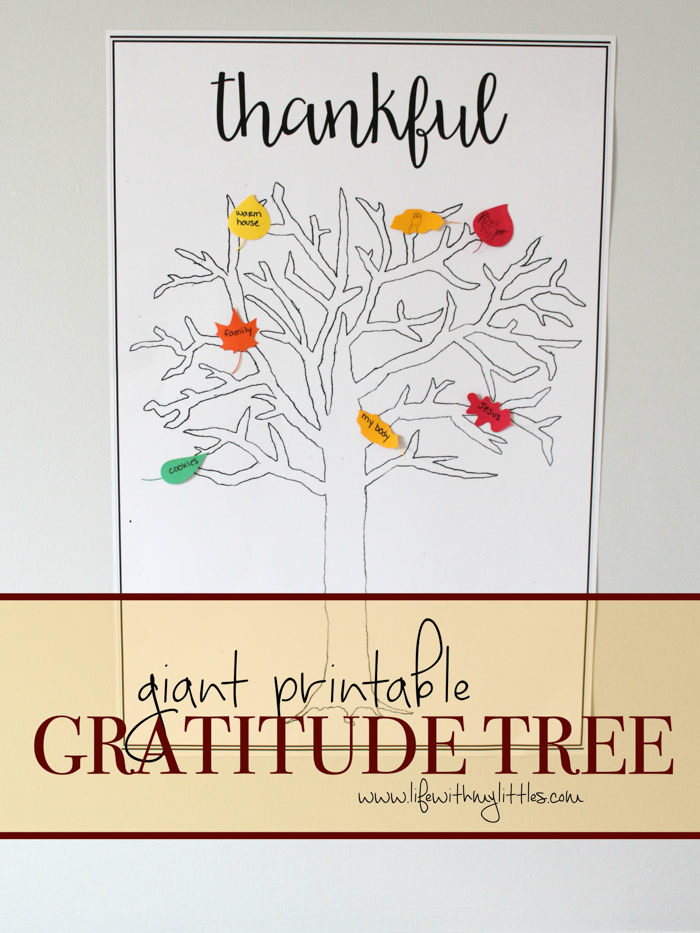 I've always wanted to find a meaningful way to show gratitude during November, but haven't ever found something that has actually turned into a tradition.
I once tried filling a jar with paper slips that had things we were grateful for on them, but that only lasted one year. I'm definitely not perfect.
I love the idea of doing a gratitude tree, but actually using real branches and hanging paper leaves on them isn't very kid-friendly. That would probably last a few days in our crazy house.
So instead, I decided to make a paper gratitude tree! But there was still the problem of making a tree big enough that we'd be able to add leaves to it until Thanksgiving. There's five of us (assuming our two-year-old participates), and a wimpy little tree printed on letter paper just won't cut it.
Last year I made a giant bucket list for December (instead of an advent calendar) I printed it on 18″x24″ poster paper at Office Depot. It was perfect!
So I sat down and drew my best tree, scanned it into my computer, and printed it off at Office Depot (I found a coupon code that made the price only $20), and voila! The cutest gratitude tree I ever did see!
I loved it so much that I wanted to share it with you all! I think it's a great visual representation for kids to see how much we have each to be grateful for.
You can download your own giant printable gratitude tree below. And please remember this is for personal use only.
Now as far as the leaves go, I used my Cricut to cut them all out. But I know not everyone has a Cricut, so I've also included a printable of leaves you can print on colored paper and cut out yourself. And if I was you, I probably would skip the stems if I was hand-cutting all of these!
I hung our poster up downstairs in the kitchen, and I can't wait to fill it all up over the course of November! I'll include a picture of our full tree after Thanksgiving (scroll down to see it!), but for now, enjoy our staged version!
One last little note. If your kids can't write yet, have them draw things they're grateful for! Gratitude has no age limit, so you can use this even if your kids just scribble!
Update: Our gratitude tree was a huge success! It was so fun to recognize all of our blessings each night and it certainly brightened up our kitchen!
I'm definitely going to do this again next year!