Let your kids have fun with this messy play activity! Edible mud for babies and toddlers. Super easy to make, and I love the construction theme!
This post is sponsored by Wet Ones.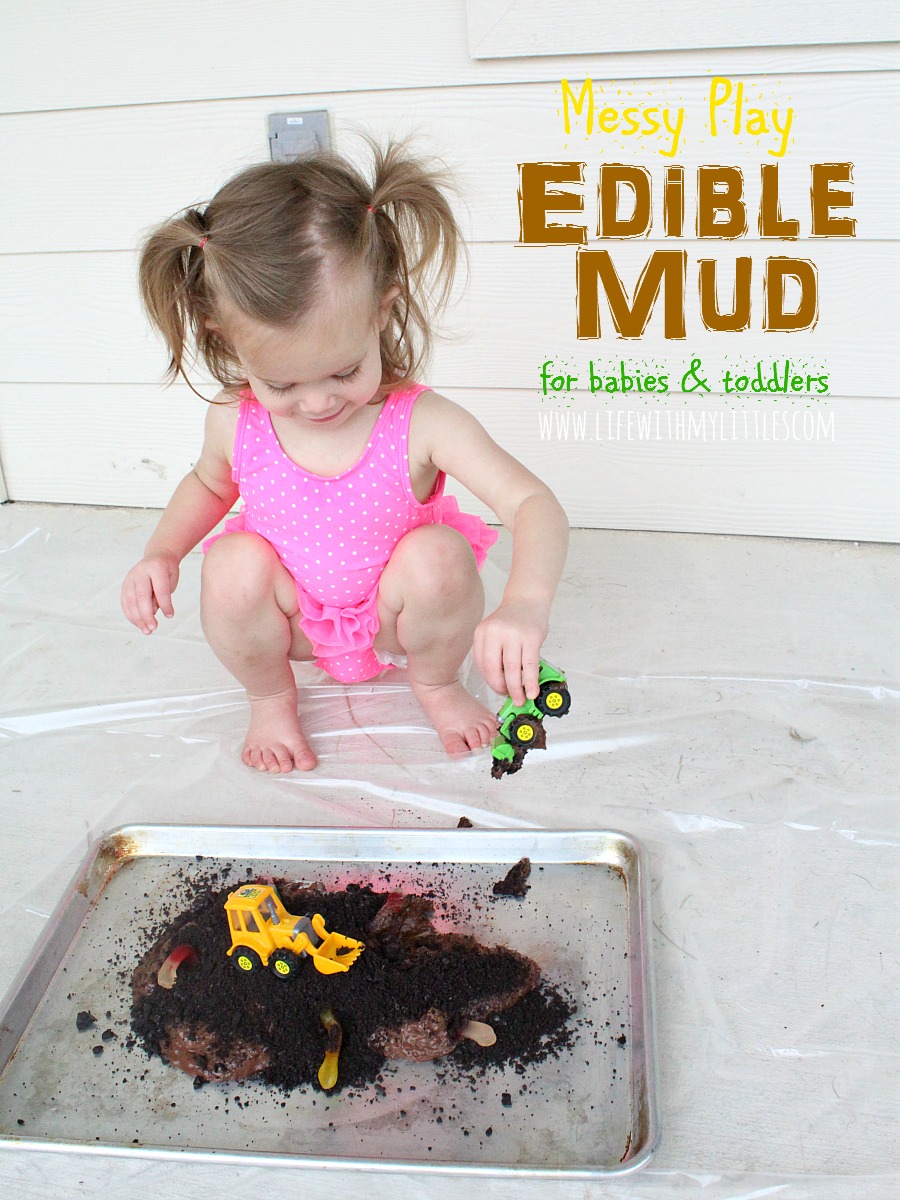 There are two kinds of kids: kids who love to get messy, and kids who don't. I am lucky enough to have one of each. My son doesn't like to have anything messy on his hands, and my daughter is a strong supporter of the belief "the messier the better."
I've done a few messy play activities with them, and usually whatever we are playing with goes in Little A's mouth. She's still in the eat everything stage, I guess (or maybe she's just always hungry). Because of this, it's hard to find a fun, safe activity for them where they can get messy without me freaking out over what she is putting in her mouth.
I want them to learn to have fun and make messes, so I teamed up with Wet Ones® Hand Wipes and came up with a way that they could both get messy and I wouldn't have to worry about what Little A is putting in her mouth! And since my son is obsessed with construction vehicles, I gave it a construction theme!
Introducing messy play with edible mud for babies and toddlers! It was so easy, and so much fun watching them play. And the best part was that I didn't even have to worry about them making a mess or eating the mud since it was 100% edible!
To set up your messy play with edible mud, prepare two boxes of instant chocolate pudding according to package directions. While the chocolate is setting, crush up 1 package of chocolate sandwich cookies in a food processor. When the pudding has set, spoon it onto two cookie sheets and sprinkle with lots of crushed cookies. Stick in a few gummy worms and top with construction trucks and you're all set!
We did our messy play outside with a big plastic shower curtain underneath to protect the patio. This is a very messy activity, so if you value your clean patio at all, you're going to want to follow suit. Plus it makes clean-up super easy.
Speaking of clean-up, my kids got MESSY. Especially my daughter. And I didn't want to bring her into the house covered in pudding and cookie crumbs, so I broke out my trusty Wet Ones® Hand Wipes. They are perfect to have around the house, in the diaper bag, and on-the-go, so I always have some around.
Wet Ones® Hand Wipes are the convenient 2-in-1 way to wipe out dirt and messes and kill 99.99% of germs when soap and water aren't readily available. Obviously I don't have a sink in my backyard, so using Wet Ones® Hand Wipes was perfect! They are hypoallergenic and have moisturizing aloe in each wipe, so they are perfect for even the littlest of hands!
We sure made a big mess in the backyard, but we all had a lot of fun (and I snagged a couple gummy worms, too!). I think it's important to let our kids be kids and get messy once in a while! Thanks to Wet Ones® Hand Wipes, you can!