The best way to make a felt Christmas tree for your little ones! Get in a group and all make multiples of an ornament. Then swap!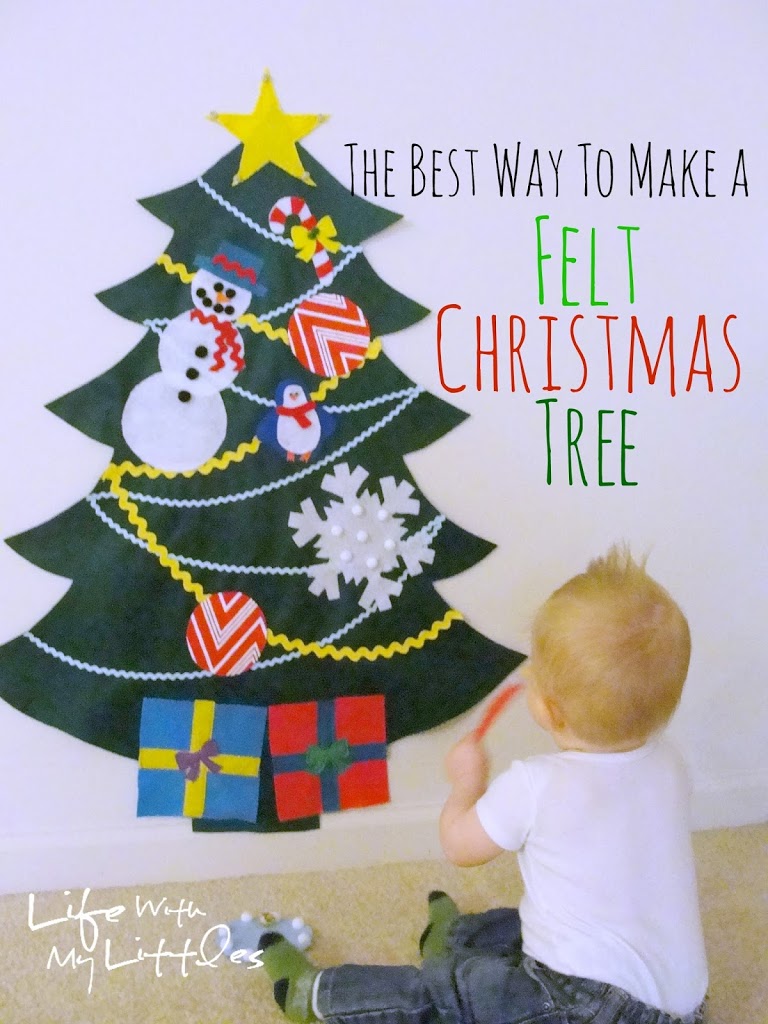 This is Little J's first Christmas, and we are so excited about it. Even though he isn't going to remember it, I think it is important to start Christmas traditions now so that we will have them established so he can grow up with them. This year, a bunch of friends and I got together and made felt Christmas trees for our kids! I will confess and say this wasn't my idea (thanks Nellena!), but it was a great way to make these trees and was really fun, too!
There were five of us, and each person made five versions of two things to put on the tree. There were five of us together, so if you have less people you might want to make more, and if you have more people you may want to split into groups, or all just make one item for each person.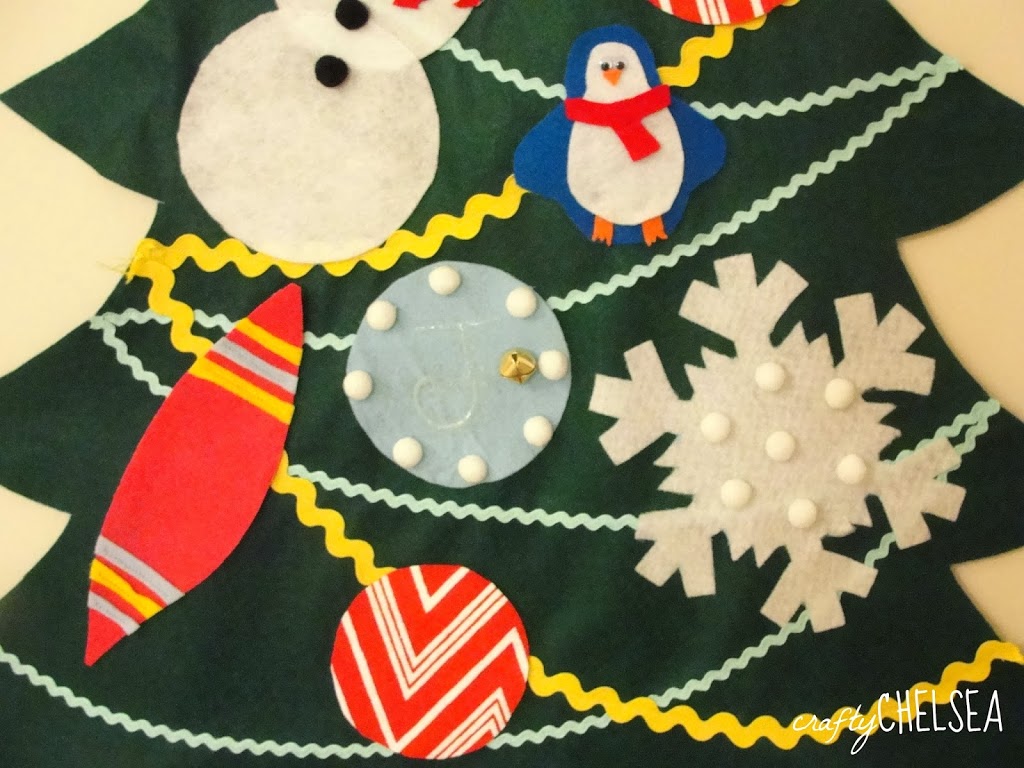 We all decided beforehand which things we would make for the tree. Two of us made presents, two of us made plain ornaments, one person made a star, and then we had five other decorations for the tree (a snowman, a snowflake, a candy cane, a penguin, and a jingle bell ornament with an initial on it. We bought materials and then all met up at night after our kids had gone to bed to craft! We brought sewing machines, hot glue guns, and candy, and we played Christmas music all night!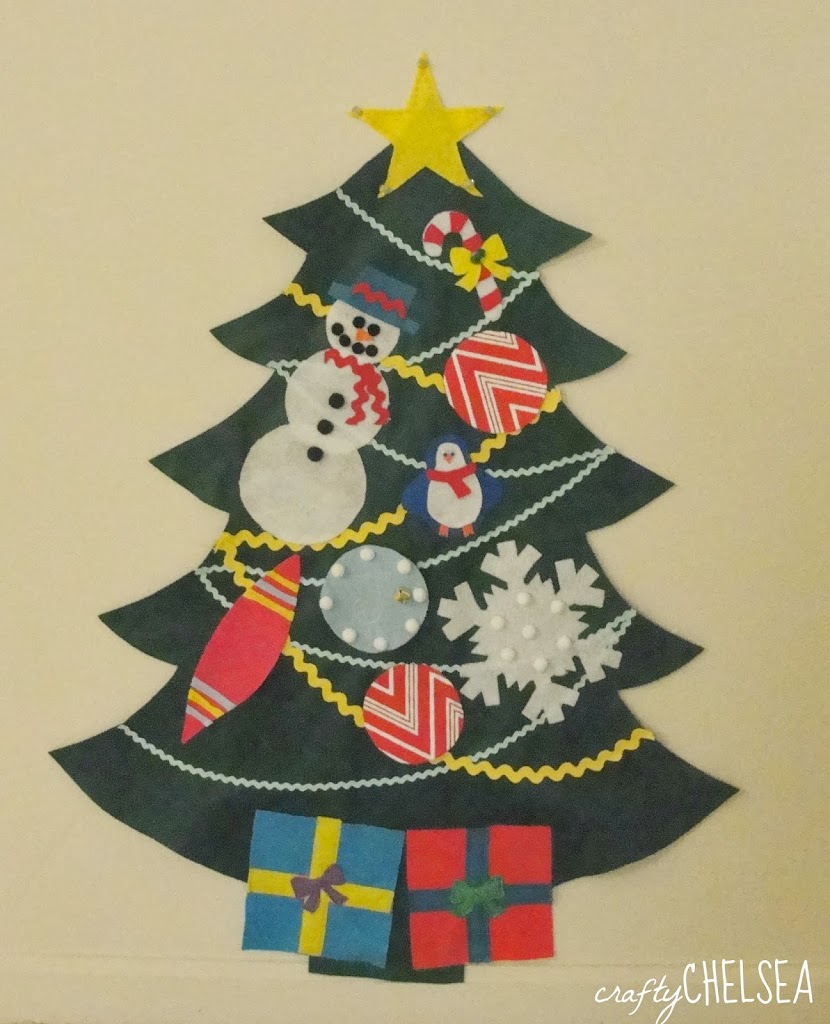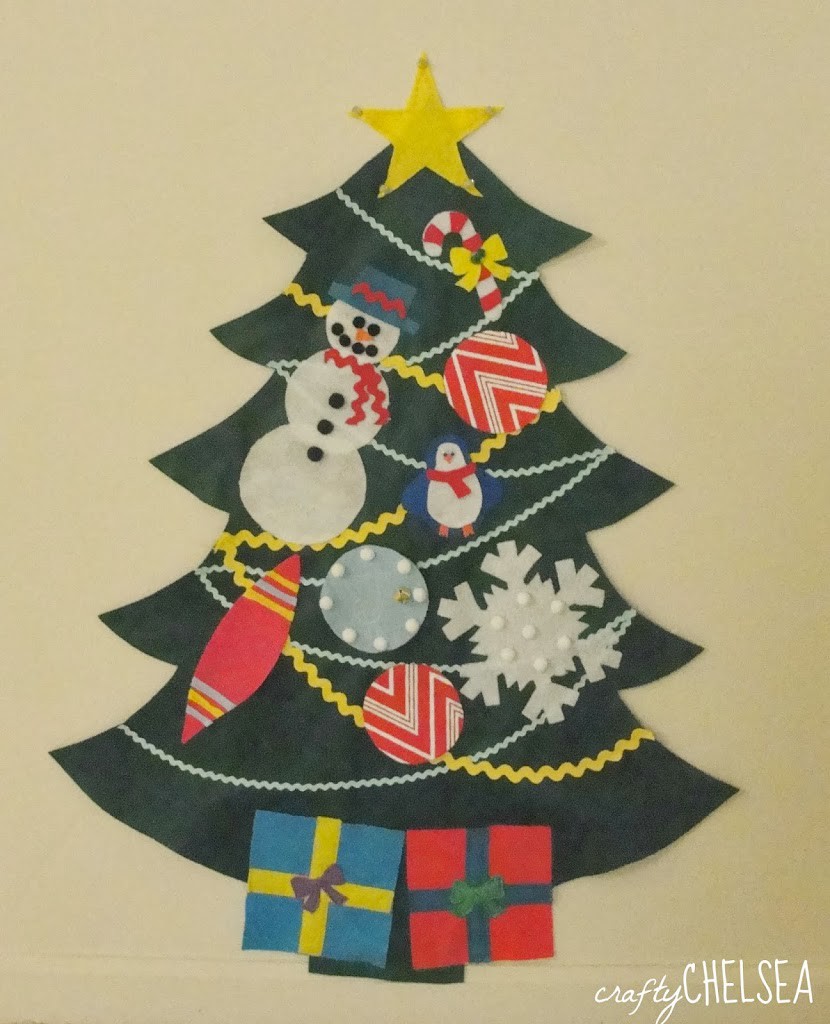 To make the tree, we found that it was easiest to fold it in half, and then cut free-hand starting at the top. You might not want to go free-hand, but if you are feeling bold or are particularly creative and artsy then go for it! How much green felt you need depends on where the fold is. Ours was like a 6 foot long rectangle folded in half hamburger style, so we bought it a yard wide and it was perfect. We did have enough to make two trees out of each person's felt, so if you want, you could just get one yard for every two people (but make sure the fold is in the right place or it won't work).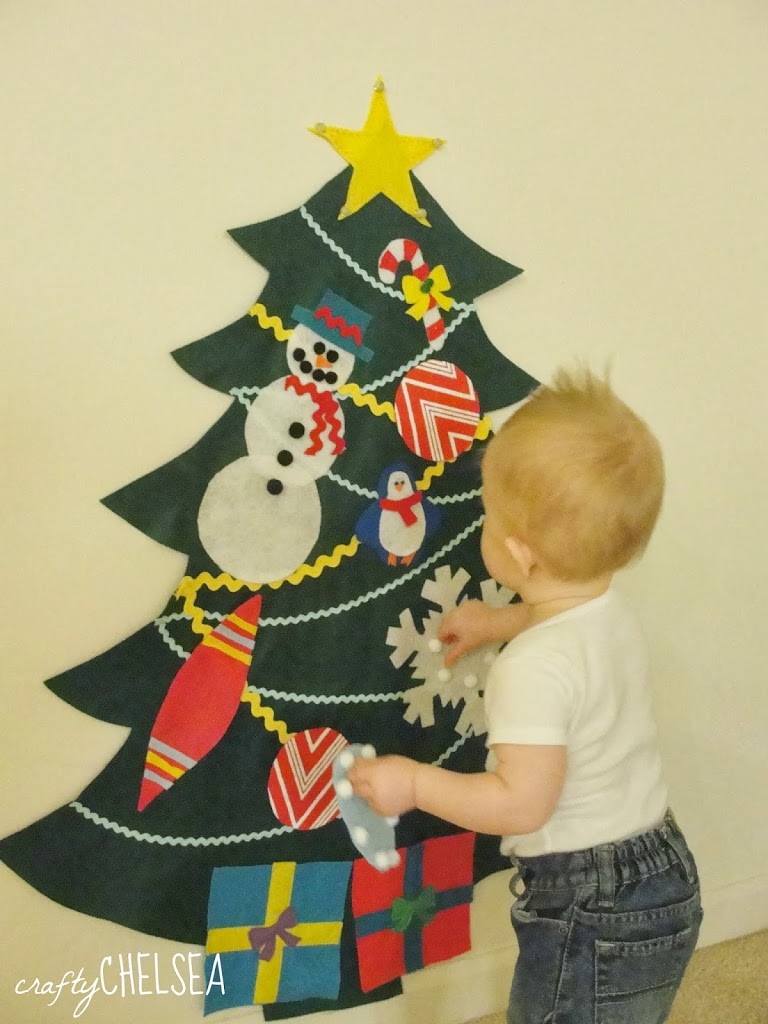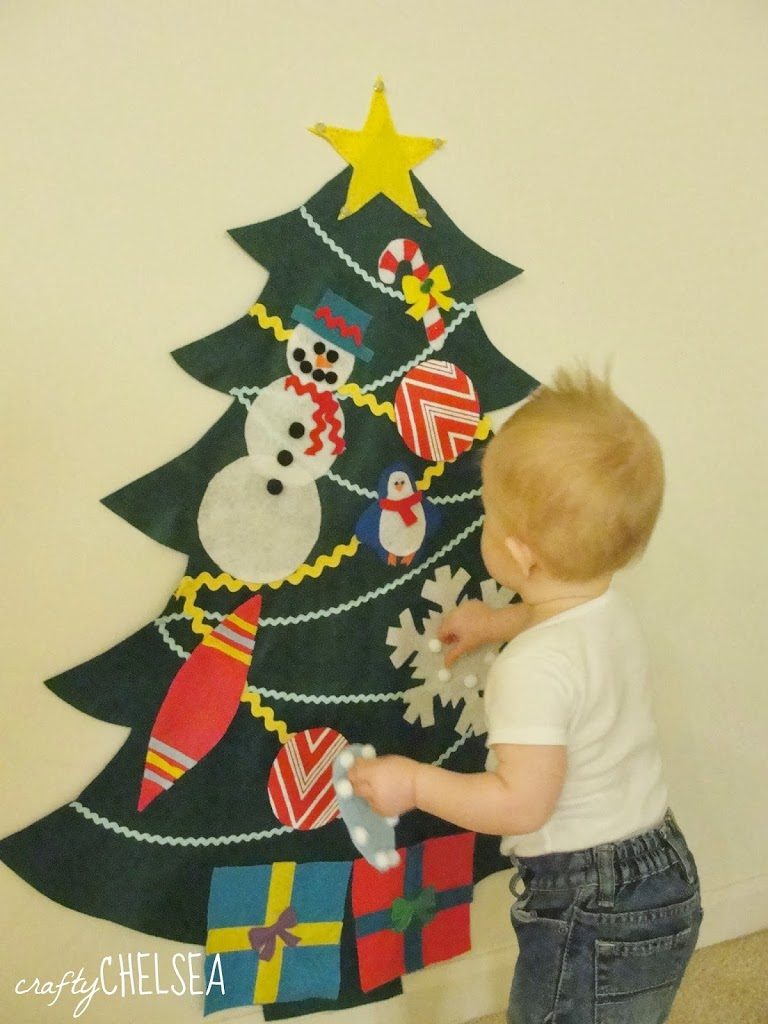 I also got some ric-rac and sewed it onto my tree to give it some more decoration.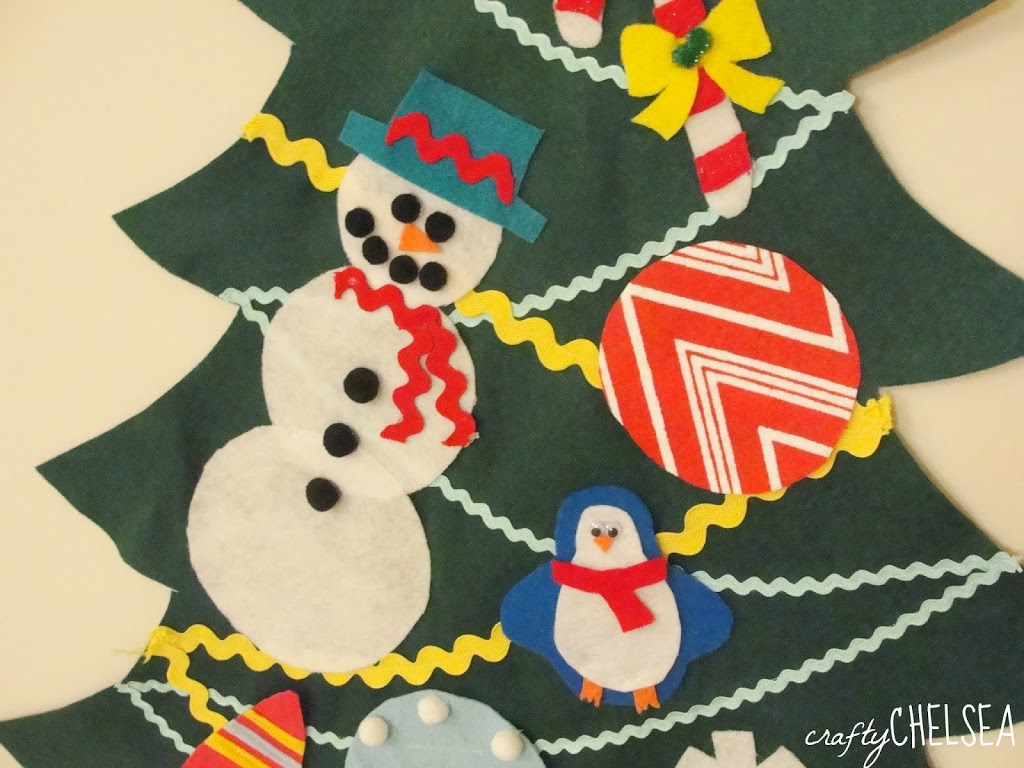 After we made all of our ornaments, we sprayed them with some adhesive to make them stick better to our trees when they were hanging up on the wall. It worked perfectly!
It was so much fun to make these trees, and I definitely think doing them in a group is the best way to make them.
Materials:
1 yard green felt
Felt for the ornaments and presents
Pom poms, googly eyes, ric-rac, and bells for extra decor on the ornaments
Ric-rac for the tree
Paper patterns (optional, depending on how complicated your ornaments are)
Instructions:
Figure out how many people want to participate, and then decide how many and what ornaments/presents each person will be making.
Buy your materials.
Gather together and make your trees! First, cut out your trees by folding the felt in half and cutting the trees starting at the top.
Sew ric-rac onto your tree in a decorative way.
Make your ornaments and presents.
Use spray adhesive on the backs of your ornaments and presents so they will stick to the tree.
Hang up your tree using tape or velcro and watch your child go crazy!
I'm really glad we were able to do this, because even though my son doesn't grasp the idea of decorating the tree right now, I will have it for the future!
If you want a more detailed tutorial, check out this post!