These simple firework poppers for kids are the perfect Fourth of July craft for toddlers or preschoolers!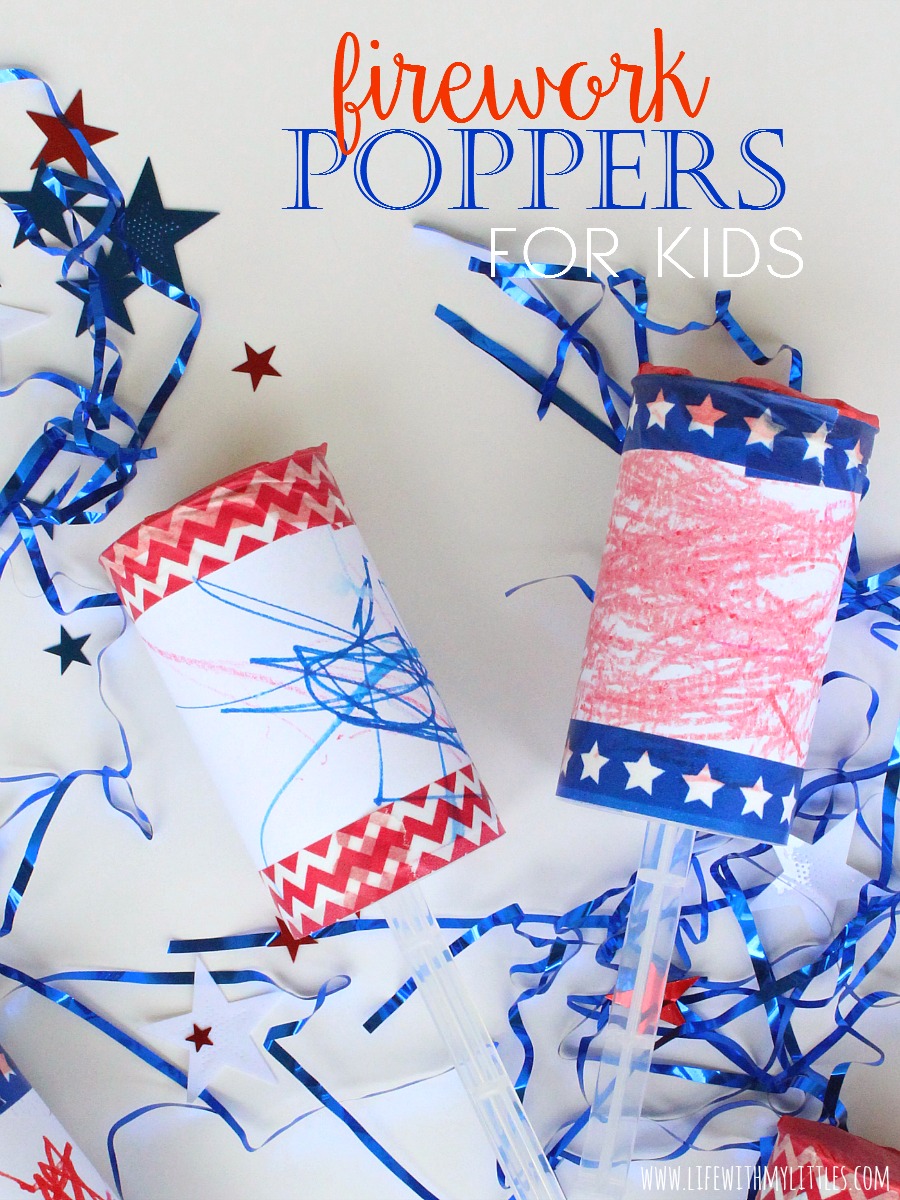 Growing up, fireworks were always my favorite part of the Fourth of July. I've always loved watching them light up the night sky, especially when paired with inspiring music.
Where we live in Texas, fireworks are legal and sold basically everywhere. I thought I had seen fireworks before, but last year I was completely blown away by the vast number of fireworks going off throughout our city. It was absolutely beautiful and blew my mind!
This year I fully plan on enjoying the fireworks displays again. I also came up with these easy little firework poppers that are the perfect Fourth of July activity for toddlers or preschoolers. I let my kids get involved where they could and then when it was time to pop them, they were thrilled! And the best part is that they are pretty simple to make.
Here's what you'll need:
4 plastic treat pop containers
4 3×6″ pieces of white cardstock
blue and red crayons and markers
patriotic confetti
washi tape
hot glue
tissue paper
First, let your kids color and decorate your white cardstock. We originally made these last year, and since my kids were 3 and 1, they mostly just scribbled on the papers (and the table), but if your kids are older I'm sure you'll get some fancier designs.
Next, glue your papers around the treat pops. I just wrapped them around and did one line of hot glue down the edge and pressed until it dried.
Now fill your treat pops with confetti. I used some red, white, and blue circles I cut with my Cricut (but you could also use your Silhouette or a circular hole punch),
some patriotic star confetti,
and some shiny basket filler. You are welcome to use only one kind of filler, but it was a lot more fun for us to use three kinds.
Now comes the tricky part. We are going to tape a piece of tissue paper over the top of the treat pop so that it holds everything in. First, cut a circle a little bit bigger than the hole. I would recommend maybe like 1/2″ bigger all around.
Take your tissue paper and hold it on top of your treat pop so it keeps all the confetti inside. Now slowly tape down the edges all the way around using your washi tape. I recommend going very slowly and making sure it all lines up. When you finish, put another piece of tape on the bottom of the treat pop so you have two cute little borders.
And hey, you're all done!
Don't be too hard on yourself if they aren't perfect because honestly, your kids are not going to care. They will love pushing the bottoms up and POPping their fireworks that they helped decorate!!