Mama Mary Dolan shares the hospital birth story of her daughter on the Honest Birth birth story series! After struggling with infertility for years, Mary got pregnant via donor egg IVF. She was induced at 40 weeks and had a quick, unmedicated birth in the hospital!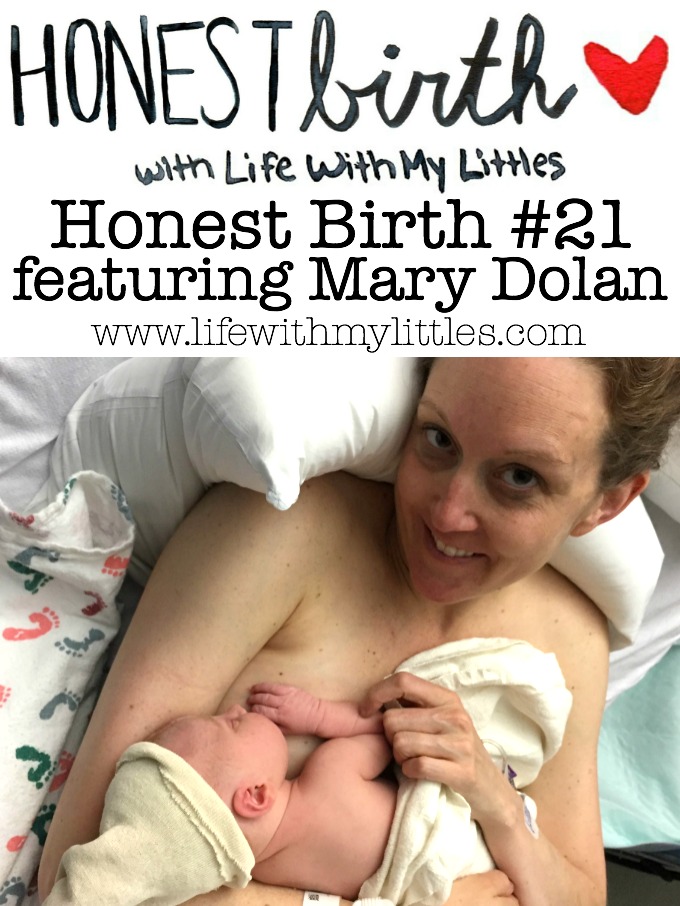 Hey mamas! Welcome to the twenty-first post in my Honest Birth series! I'm excited to share another real mama's birth story, because I think it's so important to share our childbirth experiences with each other. My goal with this series is to provide a place for women to share their birth stories without holding anything back, as well as compile stories for pregnant mamas to read in preparation for their own childbirth experiences. Every mama is different and every birth is different, and I believe that when we share our stories we help each other.
Today I am featuring Mary Dolan! Mary reached out to me and asked if she could share her daughter's birth story, and I of course said yes! Mary and her husband Brian live in Boulder, Colorado with their 17-month-old daughter, Everleigh (Evie), and their feisty kitty, Bristol. Mary is a Colorado native and has also lived in Upstate New York, Chicago, Virginia, and Australia. She has degrees in Psychology and Business Administration from the University of Richmond, and has worked in various fields including media/advertising, non-profits, management. Mary currently serves as the Director of Operations for an architecture firm specializing in animal care design. In her spare time, she teaches swim lessons and serves as Logistics Coordinator for TedXBoulder. She also loves adventuring anywhere outdoors, baking (and eating!), traveling, live music, and a good book. She's passionate about advocating for the infertility community and is in the process of starting a local support group chapter of Resolve. Today, Mary shares how she and Brian were able to grow their family through an egg donor and a successful round of IVF, and the unmedicated, induction hospital birth of her daughter, Everleigh.
Ready to read all about her daughter's hospital birth story? Here we go!
The Birth Story of Everleigh Dolan
My husband, Brian, and I spent the better part of five years trying to grow our family. I was diagnosed with premature ovarian failure at age 29 and our options looked bleak. After years of exhausting our resources trying everything we could to conceive naturally (acupuncture, herbs/supplements, strict dietary changes, fertility yoga, Ayurveda, Mayan abdominal massage, hypnotherapy, and more!), we decided to pursue third party reproduction. We were lucky to find a great donor for our family and she produced a significant number of beautiful embryos for us; we picked the "best" one and underwent a round of donor egg IVF in July 2016.
We were fortunate to get pregnant on that first round of IVF and everything else that happened afterwards felt like a well-deserved gift. Despite being a high-risk pregnancy (due to the fertility treatments and having turned 35 mid-way through), those 9 months were a breeze. I welcomed the mild nausea for the first 10ish weeks and even the hip pain was easy to manage (does ANY pregnant woman really sleep comfortably?!)
We felt so prepared to become parents. We hired a doula who armed us with all the tools we thought we needed (ironically, we weren't able to utilize most of them given the nature of my labor and she just barely made it to the hospital a few minutes before our daughter was born!), talked to dozens of moms and dads about what to expect, and read endless books and articles. But we had no idea what was in store!
At 40 weeks and 1 day, and with no obvious signs of labor, I had a regular visit with my OB. I was 3cm dilated but not feeling as much movement; an ultrasound confirmed that my amniotic fluid was low, so she sent us upstairs to be induced. I remember feeling so many conflicting emotions as we made our way to labor and delivery – excited and happy to finally (finally!) meet our girl but so nervous about what was yet to come.
As soon as one of the nurses hooked me up to the monitoring device she exclaimed "Wow! You're having really strong contractions about 2 minutes apart." I had no idea! I just though the baby was moving differently. Once the Pitocin drip was in, the nurse urged us to get some rest if we could. I was in zero pain, so we laid down for about 45 minutes. Eventually the contractions – still painless – were impossible to ignore, so we got up and started walking around the hall. The first lap was easy but as soon as we rounded the corner it was like someone flipped a switch and the pain became unbearable. We made it back to the room and tried various positions to ease the pain as the contractions continued, but it was an impossible feat. Nothing helped, and in addition to feeling like my body was going to split wide open, my chest felt so tight and constricted that it was hard to catch my breath. My birth plan was to do as much naturally as possible but with a willingness to accept medication if necessary. I told the nurse I was ready for something and she suggested trying a warm bath before an epidural but wanted to check my cervix first. Once I was on the table we all realized why the pain had been so intolerable – I had dilated from 3 to 10 cm in less than 30 minutes! My body wasn't ready, but we had no choice but to continue, unmedicated.
It felt like much longer, but I pushed for about 25 minutes and as soon as her shoulders cleared, our sweet girl came flying out. Combined with my super fast dilation, her quick entrance into the world resulted in fourth degree tearing. When they put our baby on my chest, I couldn't have cared less about any of it – my OB stitched me up right there (she usually takes mamas with tears that bad to the OR but I didn't want to leave) and we rested and cuddled as a new family of three!! The recovery from the
trauma was excruciating at times, but I had the best distraction in the world to help me refocus and get through it one day at a time.
Everleigh Ailish Dolan was born on March 20, 2017 at 5:25pm. She is a spitting image of her father and every bit as sassy 17 months after the day she was born. It feels cliché, but I know in my heart nothing else could be truer – this is the baby we needed. It took us a long time and we had to work our way through a lot of unforeseen obstacles to meet her, but she was worth the wait!
Wasn't that beautiful? We are so lucky to live in a time with so many options for women who need a little extra help to get pregnant! I loved the immediate connection she felt to her daughter, and I'm so amazed that she was induced and didn't get any pain medication! Thanks so much to Mary for sharing her story on the Honest Birth series! You can follow her on Facebook or Instagram if you want to get in touch with her! And don't forget to check back again next month because I'll have another Honest Birth post going up!