Currently October 2018: What's going on this month for Life With My Littles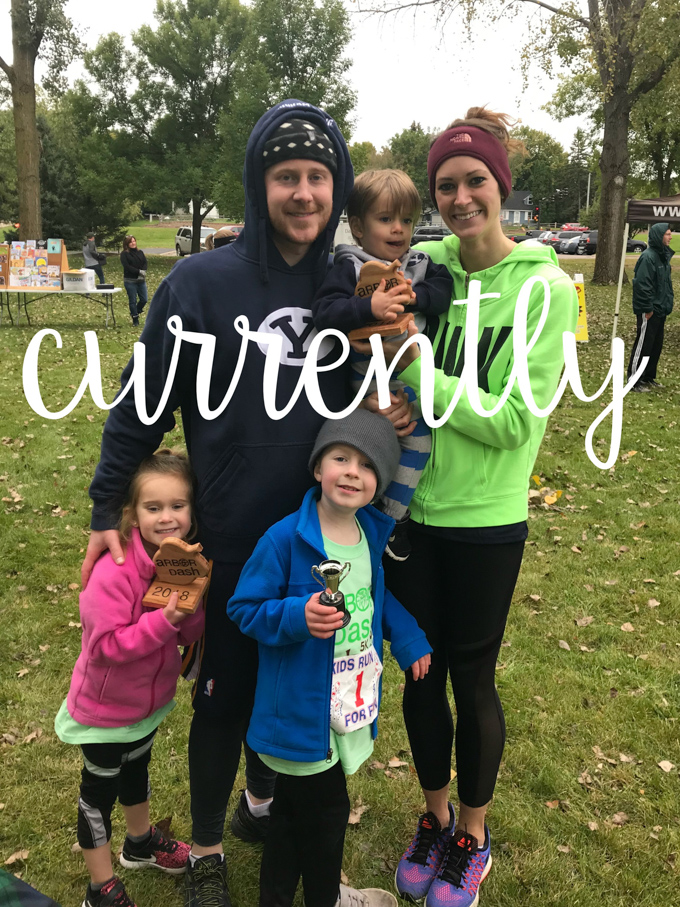 It's October! It's officially fall, the leaves are changing, and it's Halloween month! Hooray! I love October, so I am pumped! Last month my oldest son started kindergarten, my daughter turned four (and started preschool), and my youngest son finally stopped teething and has been so much happier! Seriously, it's been a lot better around here! We've figured out a routine for the school week that's working nicely (I go to the gym in the morning before school, then take Little J to school when we're done, come home and get ready, and then we have the rest of the day to do what we want!), and those two days a week that Little A goes to preschool and Little R naps the whole time have been bliss. I am SO productive when nobody is coming in asking for water or for me to wipe their bum. Who knew!? I also sprained my toe by stubbing it on the corner of our bed in the middle of the night, which has been super annoying because it is inhibiting my movement and my running routine. Stupid toe. Stupid bed. Stupid everything. But thank goodness for KT Tape and ibuprofen.
Aaaaanyway, here's what's currently going on for us this month!
Excited about Halloween. Halloween is one of my top three favorite holidays (it's tied with Christmas and the 4th of July) and we've been getting ready for weeks. We've got our costumes 100% complete (I'll be sharing the full details Wednesday) and I could not be more excited about them. I've also fully embraced Halloween candy (the Cookies and Scream M&Ms are my favorite) and I've started decorating for Halloween a little bit already. I'm also in charge of my son's "fall party" aka Halloween party at school, and I'm pumped about that! I love planning parties and it will be his first ever class party so I really hope I do a good job! Yay Halloween!
Growing pumpkins! Yay! Our pumpkins are doing awesome, and we even have two kinds! I hope they'll all be ready in time for Halloween, because how incredible would it be to be able to put pumpkins we grew ourselves on our front porch? One of the kinds we're growing are carving ones, and the others are pie pumpkins. I've never made anything pumpkin from scratch before, but I absolutely am going to try this year. I'm thinking definitely a pumpkin pie and hopefully some pumpkin chocolate chip cookies. Or maybe pumpkin chocolate chip bread. We'll see how much we get from them. I've have 4 1/2 cups of pumpkin puree from 2 we picked last week. And now we don't have to pay an outrageous amount to go to a pumpkin patch!
Running more regularly. Like I said, we've got a good routine going with the gym in the mornings before school, and I've been going 4x a week, with one of those days dedicated to strength training and the other three dedicated to running. I'm actually starting to get faster again, which is exciting because I was at a 10:30 pace for a while, and now I'm under 10 minutes again! At least I was until I sprained my toe (stupid toe, stupid bed, stupid everything). We actually did a 5k last weekend, which I really didn't want to sit out, so I manned up and pushed myself and just did it and actually got faster than my normal time. But seriously, it's such a lame, incredibly annoying injury. Plus I was limping because it hurt to walk on it, which makes me feel lamer, since it's not like a gruesome visible injury so I just looked dumb. And then I saw someone who had an actual visible leg injury who was limping and I felt dumb that my toe was making me limp. It's the worst. But I digress.
Printing our family pictures! My husband's friend did our family pictures last week and it was so much fun! I learned long ago not to put too much pressure on getting the "perfect" family photo, because it causes so much stress and anxiety. So we all got in coordinating outfits and did our best to look nice and went out and did a shoot down by the Mississippi River! The lighting was perfect, nobody had a meltdown, and there are so many that I just LOVE. I can't wait to print a bunch out of finally update the pictures we have hanging around our house!
Waiting on Barnes and Noble. Yup. Still. In case you were wondering. I'm still waiting for their response. And now I'm getting a little nervous that it's taking so long! I've decided that if I don't hear back by the end of the year, I'm going to send it in again. So at least I have a plan! Sales are pretty regular and I've got some new promotional ideas in the works, so hopefully I'll just keep getting the word out about my amazing book, Preggers!
Loving my Roomba! Yeah, my husband got me a Roomba. It's been such a game-changer. I used to be really worried about getting stuff on the hard floor in the kitchen and entryway because I HATE sweeping every day (or worse, multiple times a day), so my husband got me a Roomba. I set it to vacuum/sweep once a day in the kitchen and entryway, and it's been amazing. I just brush all the crumbs from the table and chairs on the floor and POOF! They're gone in an hour! It's a dream, and it really has been something that's helped me relax and not be so anxious when the kids are eating or when we're coming in and out of the house. And yes, I know that's totally a first world problem and you might think it's super lame, but my brain is constantly worrying about all that I have to do so to have one of those things taken care of for me is a relief. Also, in case you're wondering, his name is DJ Roomba (and if you can name that reference, I'll give you a virtual high five).
Well, that's it for us! We're super excited about October (I've already decorated for Halloween a little bit!) and I can't wait to share our costumes and family pictures with you guys! Check back again next month for a new currently post, and make sure you're following on Instagram for more of our daily life!