50+ stocking stuffers for toddlers! General ideas and some specifically for boys and girls. Definitely helps me know what to put in my toddler's stocking!
This post contains affiliate links.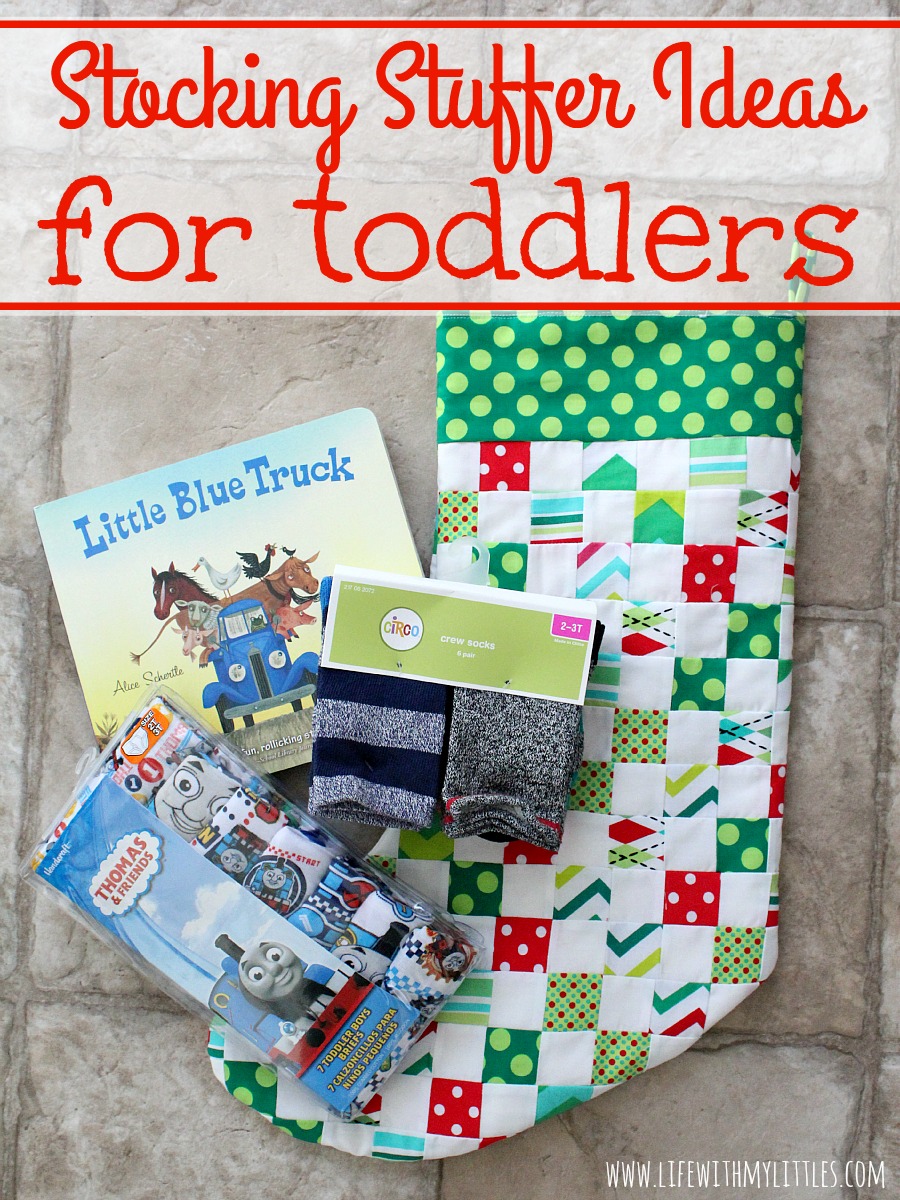 This year is our first year at home for Christmas. We've either visited my parents or the my husband's parents for Christmas ever since we got married. But now that we are staying home, I'm quickly realizing that there are a lot of responsibilities moms take on for the holidays!
One of my favorite traditions is filling the stocking on Christmas Eve so that when the kids wake up in the morning, it's like Santa filled their stocking. And this assignment has now fallen to me.
Now don't get me wrong, I am super excited! I even sewed our family a set of stockings (started last year, finished a few weeks ago). So this is a big deal to me.
But what to put in the stockings? Now that's a completely different subject. And since both of our kids are toddlers, it's a little bit tricky because I can't just fill them with candy and lotion.
But I've found a lot of great ideas specifically for toddlers, and I wanted to share them with you today, in case you're now in the "Santa" position like I am.
Now obviously you can't fit all of these things into your child's stocking, but hopefully with this many ideas you'll find some you like.
Stocking Stuffers for Toddlers
General Stocking Stuffers
1. Socks
2. Fruit snacks
3. Stickers
4. Board books
5. Undies
6. Toothbrush
7. Play food
8. Puzzle
9. Blocks
10. Bubbles
11. Bathtub crayons
12. Colored bath drops
13. Applesauce pouches
14. Crackers
15. Juice boxes
16. Play-Doh
17. Sidewalk chalk
18. Play phone
19. Crazy straws
20. Toddler silverware
21. Sippy cup
22. Stamps and ink
23. Magnetic letters and numbers
24. Finger paint
25. Temporary tattoos
26. Sunglasses
27. Mittens or hats
28. Shoes
29. Finger puppets
30. Do a dot markers
31. Crayons
32. Fisher-Price Little People
33. Slinky
34. Glow bracelets
35. Pocket Etch A Sketch
36. Plastic animals
37. Night light
Girl Stocking Stuffers
1. Bracelet (I got this one for Little A)
2. Headband
3. Hair ties
4. Bows (Etsy is a great place to look)
5. Stick-on earrings
6. Play jewelry
7. Leggings/tights
8. Nail polish
(Piggy Paint is perfect for toddlers!)
Boy Stocking Stuffers
1. Bowtie or tie
2. Cars
3. Trucks
4. Trains
(Little J keeps asking for this one)
5. Play tools
6. Small balls
7. Car road tape
8. Plastic dinosaurs
I hope you can find at least some things to put in your toddler's stocking from that list! I can't wait to see my toddlers' faces when they dump out their stockings on Christmas morning and see what Santa brought! Merry Christmas!! (And don't forget to check out this post of stocking stuffers for babies!)