These easy candy Santa Hat Sleighs are perfect for neighbor gifts, teachers, or anyone! And they are so easy that little kids can help! What a simple DIY Christmas craft for kids!
This post is sponsored by Hershey.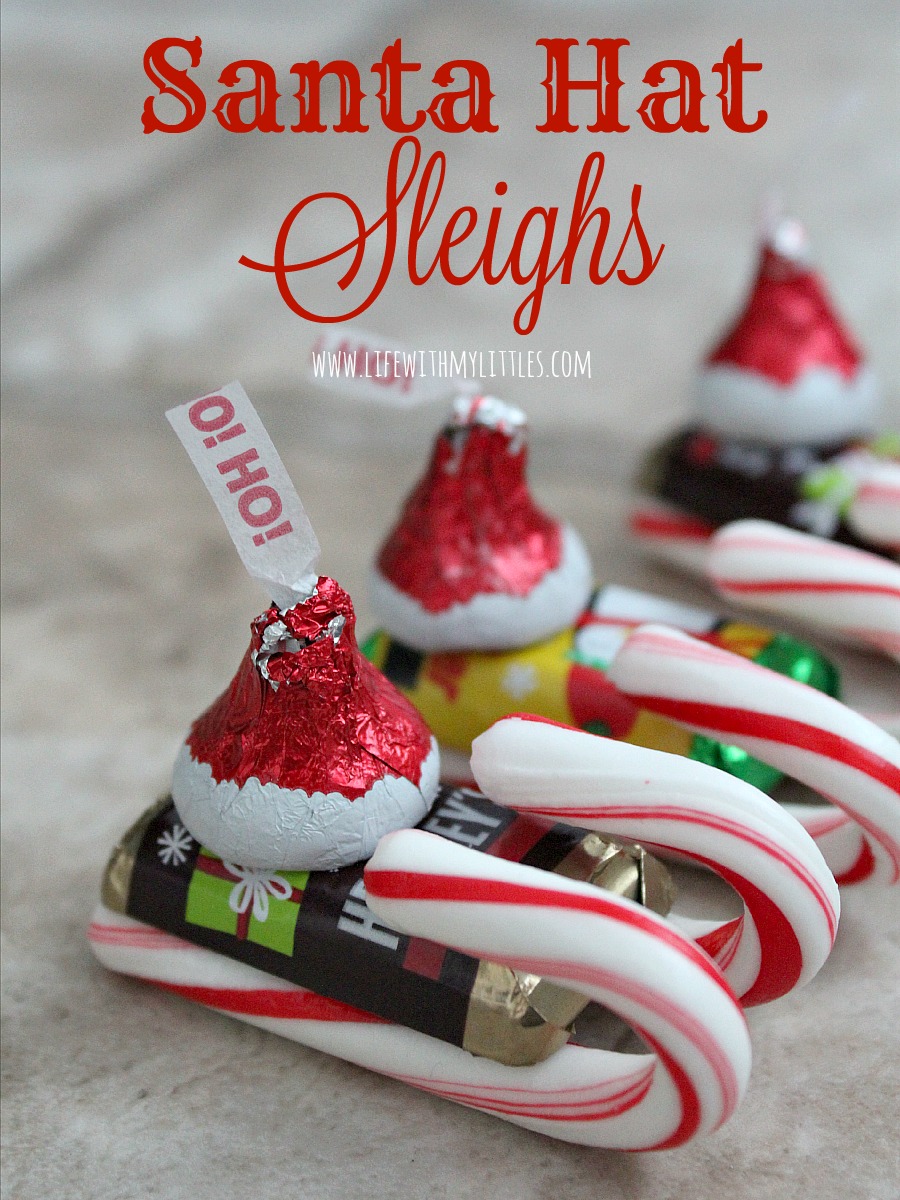 I love putting together fun treats for the holidays, and now that my son is old enough to help, I've been looking for easy treats that he can help with. Sometimes I see cute ideas, but they require a lot of materials or aren't realistic for toddlers. So sometimes, I come up with my own ideas!
I saw these adorable HERSHEY'S KISSES Santa Hat Chocolates at Target, and knew immediately that they would be perfect for a fun treat that would build new memories with my family this holiday season. I love the red and white foils and ho, ho, ho plumes!
I knew I didn't want it to be very complicated, and I knew I wanted them to only have a few pieces, so I came up with these easy Santa Hat Sleighs!
The HERSHEY'S KISSES Santa Hat Chocolates were perfect because duh, these are Santa's sleighs so you can't just have any old candy sitting on top! They had to be Santa Hats!
First I grabbed some mini candy canes, chocolate bars, and HERSHEY'S KISSES Santa Hat Chocolates. Little J and Little A were all too eager to help!
Then I showed Little J how we were going to make the sleighs. He was super good at helping me unwrap the candy canes!
The assembly is incredibly simple, and your toddler will definitely be able to help (with your assistance, of course!). First you just spread some glue on the bottom of your chocolate bar and hold your candy canes on until they dry. (I used hot glue in these pictures, but a reader [thanks Shirley!] commented that using royal icing would still make it edible!!).
Step one done!
Now just put a dab of glue on the bottom of your Santa Kisses,
and stick it onto the sleigh in Santa's position!
And you're done! See, I told you it was easy! These little sleighs make great gifts for your kids' friends, teachers, neighbors, or even the mail man!
These simple DIY candy Santa sleighs are perfect for spreading holiday cheer and making memories with your family. I mean, don't they just make you smile!?