We need to connect with other mamas to survive, so it makes sense that a big part of self-care for moms is connection! Here are six self-care ideas to improve the connections in your life.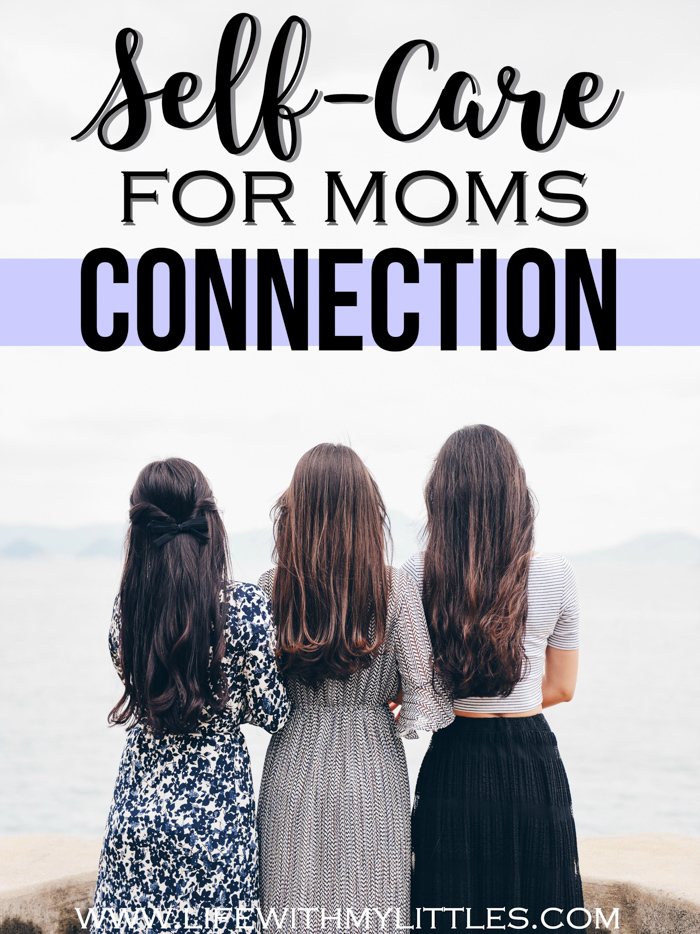 The phrase "It takes a village to raise a child" also applies to motherhood, and as moms, we need to connect with other moms to survive. Not only would we lose our sanity if we didn't ever get a chance to talk to other adults outside our homes, but we need each other to become the best mothers we can be.
I chose connection as one of the five parts of self-care for moms because I know how lonely motherhood can be. And when we feel alone, motherhood can become heavy and burdensome. Connection with other people is important for everyone, but especially moms. Connecting with other moms helps alleviate some of the weight of motherhood because it helps us see that we all struggle, we all mess up, and we're all constantly learning how to do better.
Self-care is all about taking care of our whole selves, being the best we can be, and enjoying our lives. There are lots of studies about how connection helps maintain our overall mental and physical health, makes us happier, lowers anxiety and depression, improves our immune systems, and leads to fewer health problems (source, source). Connection is an incredibly important part of self-care, both for extroverts and introverts! We all need connection in our lives!
Self-Care for Moms – Ideas for Finding Connection
Connect with other moms in person
There are so many ways to meet other mamas in person! As long as you are brave enough to actually say hi, making mom friends in person is absolutely possible! Some places to meet moms (besides the playground!) are MOMS clubs, MOPS groups, library classes, ECFE classes, baby/childbirth classes, PTA organizations, and neighborhood mom groups (City Mom Collective has a great network of these).
Connect with other moms online
You obviously have to be careful with this one, but let me tell you, mamas are online! Whether we're nursing babes or just trying to pass the time until bedtime, the internet is a great place to find other moms. There are so many great Facebook groups for moms where you can ask questions, find support, and just vent about the dumb things your kids do. My personal favorite way to connect with other moms online is on Instagram. I've made some great friends on Instagram, and I'm grateful that it's such an easy way to share struggles and support each other!
Get out of the house together
Playdates are great, but sometimes you just need to get out of the house. Grab your best mama friend and head to the zoo, the mall, on a walk, or to the library! You can still get some good conversation in when your kids are in tow!
Enjoy stories from other moms
You can try reading books by other moms (my favorite is The Magic of Motherhood) or listening to a podcast by moms just talking about life (I enjoy The Mamahood Podcast). The point here is you'll recognize that you're not alone in all the crazy things that happen when you have kids! Bonus points if you laugh out loud while reading or listening!
Keep in touch with long-distance friends
When you're a mom it's so easy to focus on what's right in front of you and easy to forget any friends who live far away. One way to feel connected is to keep in touch with them! I have a few good mom friends who live in other states, and I try to reach out and see how they are every once in a while. It sure helps me feel close to friends who live far away!
Join groups
There are so many different groups you can be a part of! Playgroups, luncheons, book clubs, craft nights, or girls' nights are great opportunities to feel connected. And if you can't find one of these in your area and want to participate, start one and start advertising it! You'll make new friends in no time!
Connecting to other moms is such an important part of self-care. It improves our lives, helps us realize we're all struggling and we've all had our moments, and gives us opportunities for a social life outside of our homes. I hope these self-care ideas for connection will inspire you to make some new friends and take care of your old ones, too. Mom friends really are important!
Check out the other posts in the Self-Care for Moms series: