S'mores Cake: Moist chocolate cake, gooey, melty marshmallows, crumbled graham crackers, and a drizzle of chocolate. It's the perfect summer dessert!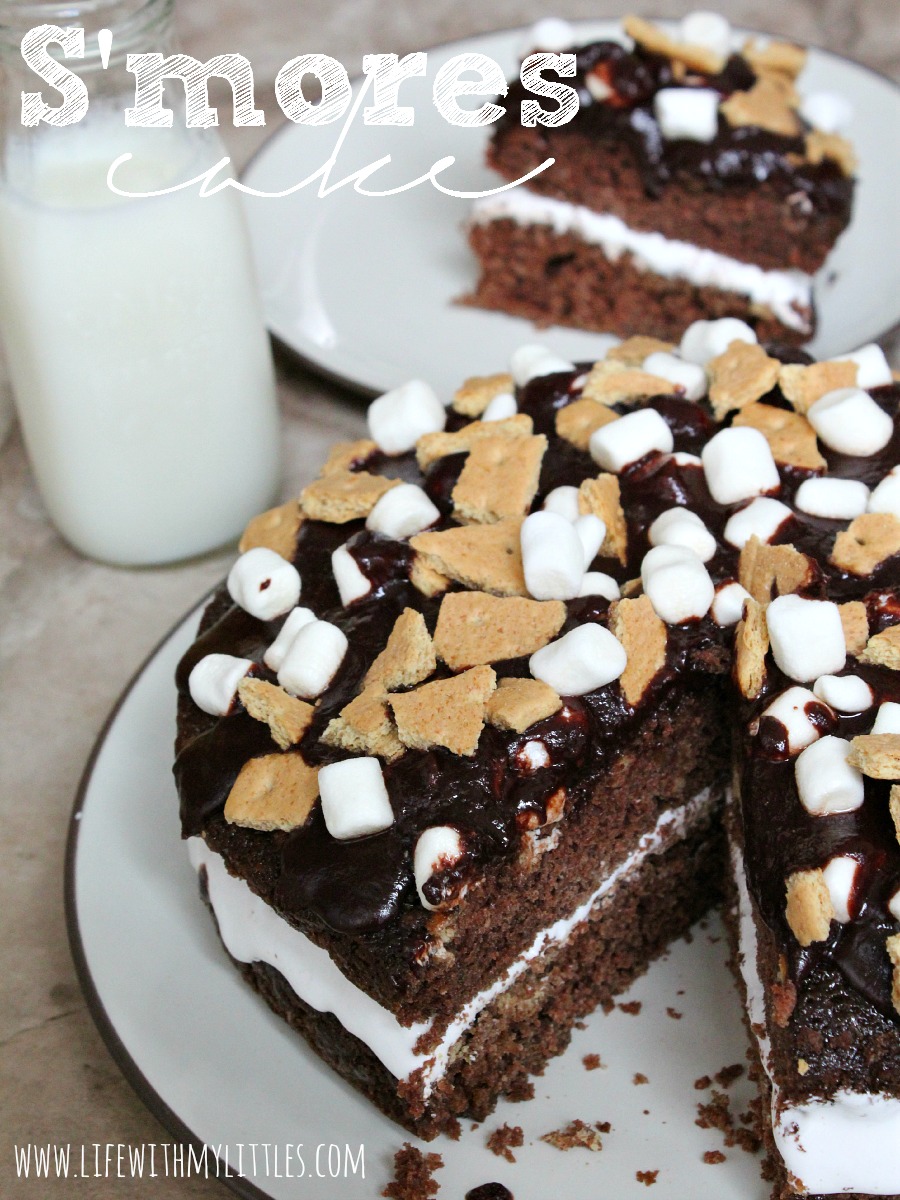 A few years ago I decided that I was going to start a cookie business called El Dorado Cookies. It still hasn't really happened, but I have a few delicious recipes that I taste-tested and made all my friends and co-workers taste-test to figure out what was the best. This is one of those recipes. Alright so it's not a cookie, but it is DELICIOUS. Meet the S'mores Cake.
Now this cake came about because of a recipe in The Ultimate Cookie Book that I got for Christmas many years ago. There is a recipe for some brownies with marshmallows on top that I tried once and thought was pretty good. Then one day, I was like "this could easily be a delicious s'mores recipe" so I made several batches with varying amounts of graham cracker inside and on top and then had everyone taste-test them. And then I turned it into a cake, because I could. This recipe is the result.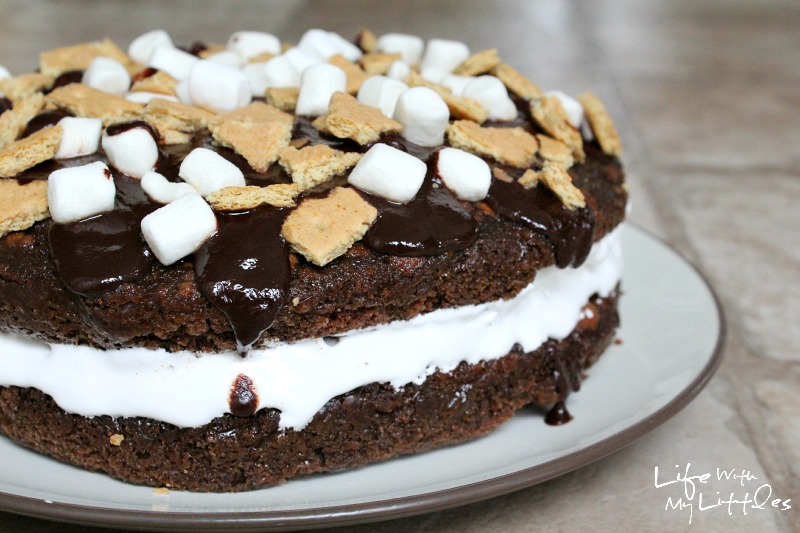 It is a dense, moist, gooey cake that can easily be cut into slices and served to all of your friends. It reminds me so much of s'mores (without the burned taste I so often accidentally get), and it is a perfect dessert for any party.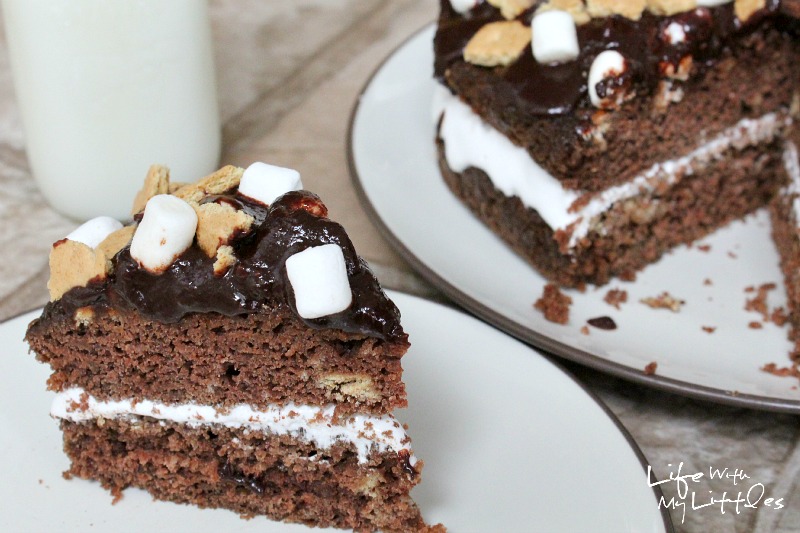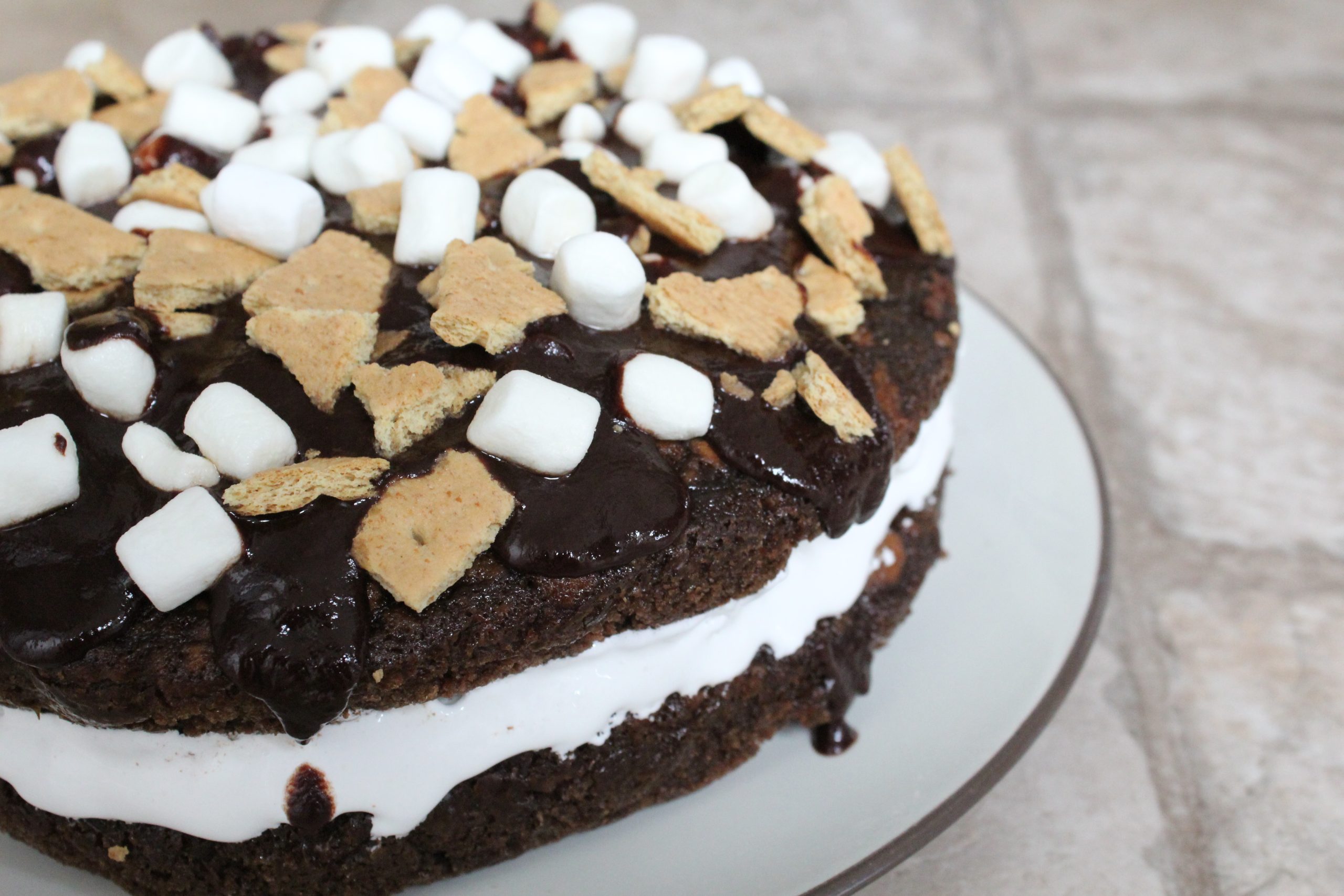 Yield: 1 cake, 8 servings
S'mores Cake
Prep Time: 20 minutes

Cook Time: 20 minutes

Total Time: 40 minutes

S'mores Cake: Moist chocolate cake, gooey, melty marshmallows, crumbled graham crackers, and a drizzle of chocolate. It's the perfect dessert for anything!
Ingredients
2 c. all-purpose flour
2 c. sugar
1 tsp. baking soda
1/4 tsp. salt
1 c. butter
1 c. water
1/3 c. unsweetened cocoa powder
2 eggs
1/2 c. buttermilk
1 1/2 tsp. vanilla
3/4 c. crushed graham crackers
1 jar marshmallow fluff
1 c. tiny marshmallows
1/4 c. crumbled graham crackers
1 c. semisweet chocolate chips
1/4 c. whipping cream
2 Tbsp. butter
Instructions
Preheat oven to 350 degrees. Line two round baking pans with foil, making sure all the insides are covered. Grease the foil and set aside (trust me, you want to use the foil. It makes layering these WAY easier!).
In a large bowl, stir together flour, sugar, baking soda, and salt.
In a medium saucepan, mix butter, water, and cocoa powder. Bring mixture just to boiling. Remove from heat and add to the dry ingredients. Beat with a mixer on medium until combined.
Add eggs, buttermilk, vanilla, and the crushed graham crackers. Beat for one more minute and pour equally into your two round pans. You will have what look like some chunks in the batter, but those are just graham crackers.
Bake for 20 minutes.
Let cool completely!
Lift out of cake pans using the edges of the foil. Spread jar of marshmallow fluff on top of one of the layers, and then top with the other layer.
Place 1/2 marshmallows and 1/2 crumbled graham crackers on the top of the cake.
In a small saucepan combine chocolate chips, whipping cream, and butter over medium-low heat until smooth. Drizzle over the cake and add the rest of the marshmallows and graham crackers.
Serve!

How delicious and easy does that sound? And if you haven't ever made brownies from scratch before, this will be a little new to you but it is so good! And the cake really does turn out so moist and gooey and perfect.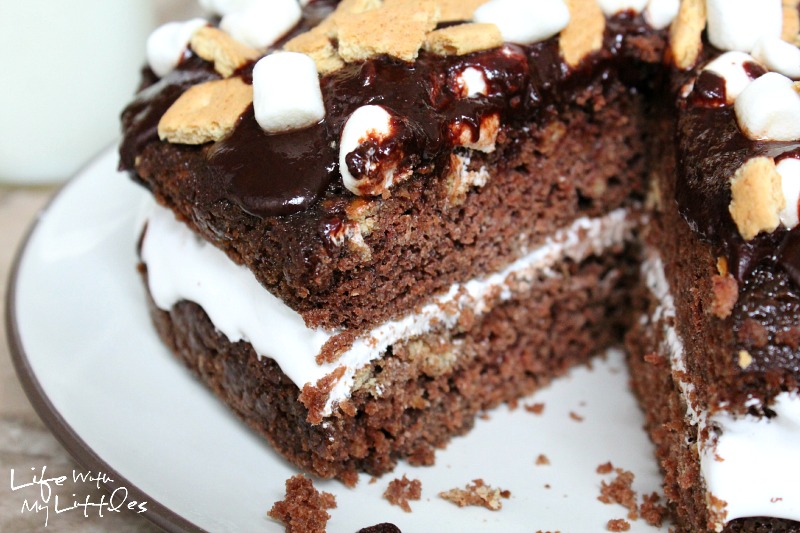 So please, go make this recipe. It is s'mores in a cake, and in the best way possible. Enjoy!