Here are six things you can do to prepare your family for cold and flu season! Such simple and easy ways to keep your family healthy!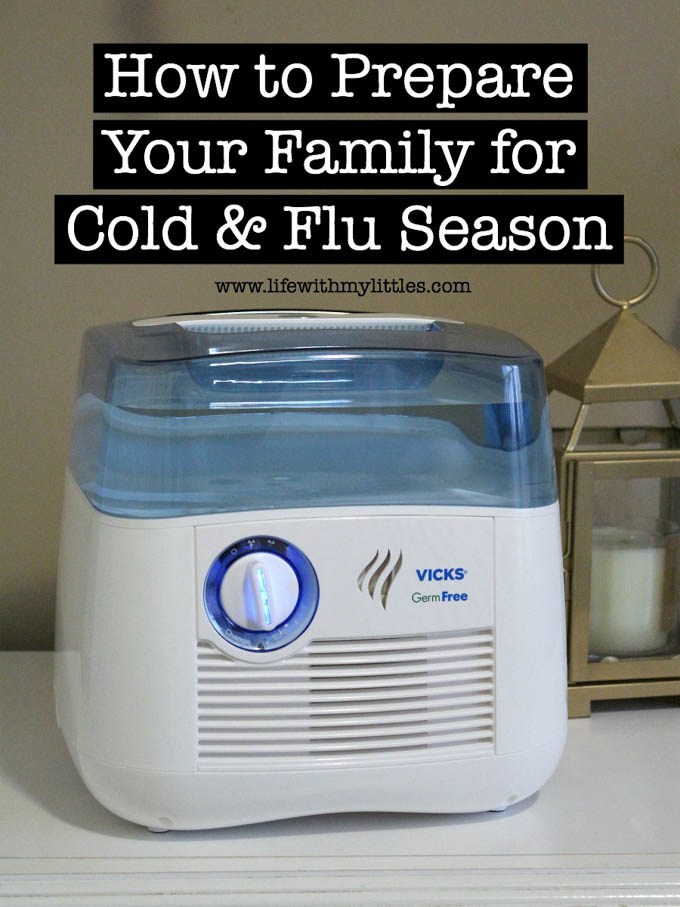 When you have three kids and you're married to a doctor who is around sick people all day, the chances of someone in your family getting sick are pretty high, especially during cold and flu season. And when you have five people in your family, the chances of getting that sickness passed around from family member to family member are also pretty high.
Not to mention that Little J goes to preschool, all three kids go to the gym childcare, and Little A goes to nursery at church, all of which are basically breeding grounds for germs. Our level of germ exposure is probably off the charts, so the mom in me has been doing my part to prevent cold and flu viruses from surviving in our house. I don't want my kids to miss out on playing with friends and outside in the snow because they get sick, and I definitely don't want my husband or me to get sick. Being sick as a parent is the absolute worst! So far we've been lucky and nobody has been hit, and I think a big part of that is because we've been preparing!
Today I'm going to share a few tips on how to prepare your family for cold and flu season that you can easily implement in your home to prevent your family from getting sick!
1. Flu shots. Of course this is the first tip! Everyone older than six-months-old can get a flu shot, and it's especially important for kids, elderly people, and people with compromised immune systems. We all had our flu shots two weeks ago, and while it doesn't guarantee that you won't get the flu, it definitely helps!
2. Make sure everyone stays hydrated and rested. We're more prone to getting sick when we don't drink enough or get enough rest, so make sure you always carry a water bottle around, and make sure your kids drink enough water when they are running around playing! And late nights are fun every once in a while, but try to go to bed on time and get between 7-9 hours yourself, and make sure your kids get around 10-13 hours (it depends on how old they are). And you'll all be happier if you aren't tired, too!
3. Use a cool moisture humidifier. We have the Vicks® Germ Free Cool Moisture Humidifier and we love it. Not only does having a humidifier help you have proper humidity levels in your home (between 40 and 60 percent), but humidifiers can reduce the survival of flu viruses on surfaces and in the air. The Vicks® Germ Free Cool Moisture Humidifier also has a patented germ-killing technology that kills up to 99.9% of viruses, fungus, bacteria, and mold in the unit's water, which means it emits a virtually germ-free mist.
We even have another Vicks® humidifier that we use in Little R's room so we don't have to move the humidifiers from room-to-room! And you can use Vicks® Menthol or Sleeptyime VapoPads to make the mist smell good and help you breathe and sleep easier.
The Vicks® Germ Free Cool Moisture Humidifier is available on rollback at Walmart for $49.86 from November 2017 to January 2018, so make sure you hurry in and grab one before we get deeper into cold and flu season! Using a cool moisture humidifier to keep your home at the proper humidity level is another great way to prepare your family for cold and flu season!
4. Use sanitizing wipes and cleaners on surfaces in your home. I always use sanitizing wipes and cleaners with bleach when I'm wiping counters or cleaning bathrooms. Those pesky germs like to hang around unless you kick them out, so kick them out! Kill them before they have a chance to make anyone sick.
5. Stay away from sick people. This is kind of an obvious one, but if someone has been sick, stay away from them for a while. Try to avoid shaking hands with people who have runny noses or are coughing. Don't let your kids go play with a kid who just barely had the flu. Give them a week or so before you let them play together. Stay as far away from those germs as possible!
6. Wash your hands. We do a lot of hand washing around here. We wash our hands when we get home from going places (like preschool, church, or the grocery store), before eating, and after using the bathroom (duh). Little A is currently potty training, and we have been trying to teach her good hand-washing habits. Washing your hands after you've been places where there are lots of germs is a great way to prevent those germs from coming back to your home and spreading!
Preparing for cold and flu season doesn't have to be hard, and it's something you can easily work into your everyday routine. Get your flu shot, wash your hands, use Vicks® cool moisture humidifiers in your home, keep the surfaces in your home clean, stay away from sick people, and stay hydrated and rested. And if you're lucky, all that you did to prepare your family for cold and flu season will pay off and you'll make it through winter without getting sick!
Now who wants to win their own Vicks® Germ Free Cool Moisture Humidifier? Just enter the giveaway below!
This is a sponsored conversation written by me on behalf of Vicks Humidifiers. The opinions and text are all mine.