Getting sick when you're pregnant is the worst. Here are some great tips on how to survive cold and flu season during pregnancy, including how to prevent sickness and treat symptoms!
This is a sponsored post written for Vicks Humidifiers. I was compensated and provided complimentary products for this post. All opinions are my own.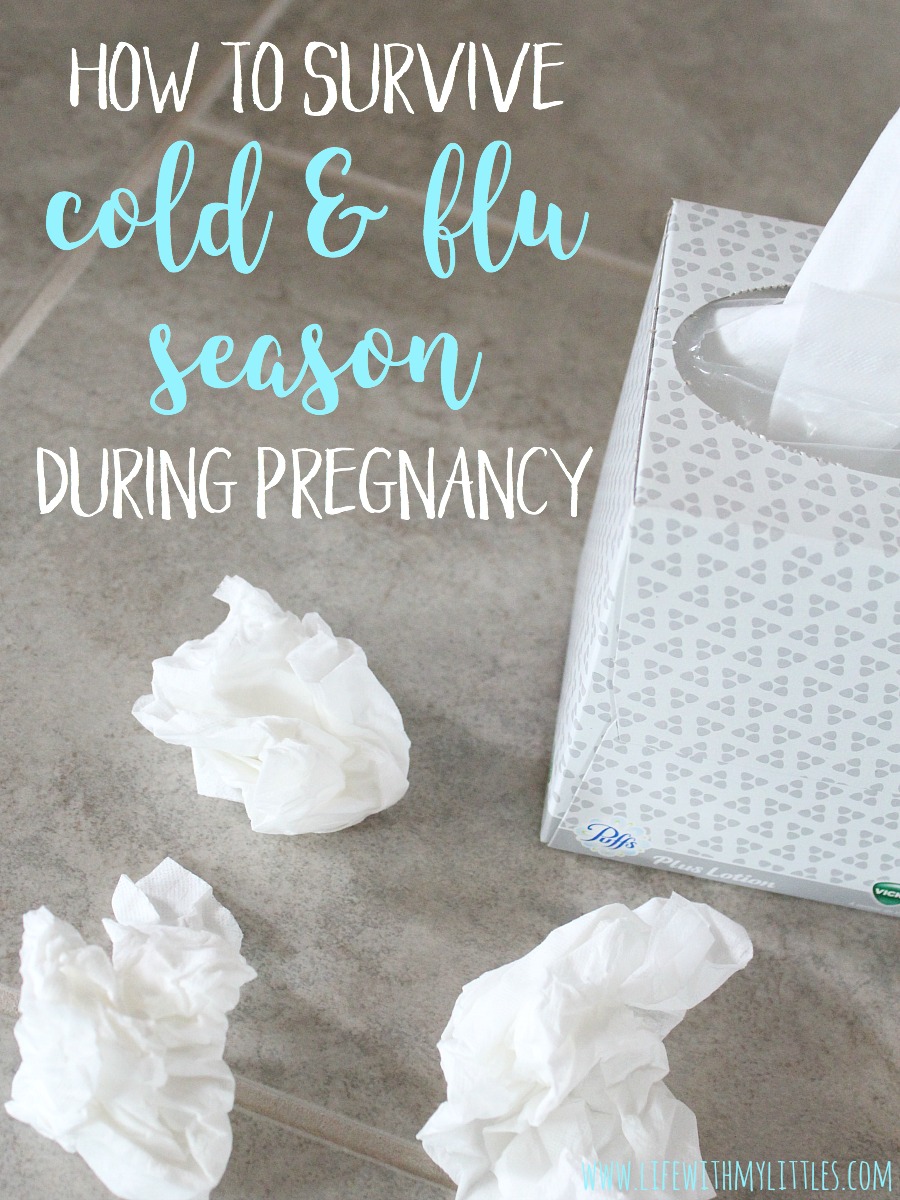 My family almost never gets sick. And when we do, it's very brief, symptoms are very mild, and the sickness usually doesn't spread to anyone else in the family.
But this winter has been a completely different story. It started with my kids getting sick, and then my husband, and then me. And it lasted for a few weeks before it finally went away. Cold and flu season can be rough, especially when you're pregnant. Since you can't use a lot of over-the-counter medications, it's harder to find comfort and relief from those awful sickness symptoms.
Luckily I've found a few amazing things that have seriously saved me, and now I want to pass that information on and tell you how to survive cold and flu season during pregnancy!
How to prevent the cold and flu when you're pregnant:
First of all, let's talk about how to prevent the cold and flu when you're pregnant. Since your immune system is lowered, you might be at a higher risk to get sick. So learning how to properly prevent catching a cold or the flu is a must. Wash your hands more, drink plenty of fluids, get enough sleep, and try to reduce stress. Definitely get a flu shot, and try using a humidity monitor in your home.
Never heard of a humidity monitor? I actually hadn't either until recently, but our Vicks® Humidity Monitor has been super helpful. In the winter, humidity levels can drop as low as 10%, which is actually drier than the Sahara Desert. Using a humidity monitor can help you maintain an indoor humidity level between 40-60%, and when you do, that can help reduce the survival of flu viruses on surfaces and in the air. Which in turn, helps prevent your pregnant sick from getting sick!
Now let's talk about those pesky sickness symptoms and how to deal with them once you do get sick.
How to deal with a stuffy, runny nose:
Since congestion is already a common symptom of pregnancy, when you're sick it will probably be worse. And because it's no fun having a dry, chapped nose, I make sure to use Puffs Plus® Lotion. That little dab of lotion helps a lot to calm the most sensitive skin through a cold, flu, or allergies (which are also worse during pregnancy, ugh!).
Another thing I rely on when dealing with a stuffy nose are nasal strips. They help open up your sinuses when you need it the most. Using a humidifier with Vicks® VapoPads is also super helpful to relieve a stuffy, runny nose. Not only do you get the benefits of the humidifier, but the soothing menthol and eucalyptus oil vapors from the VapoPads help provide relief from congestion.
How to deal with a sore throat:
When I was sick last month, the symptom that lasted the longest was my sore throat, so I got very good at figuring out how to treat it. One thing that really helped was using throat lozenges that had menthol in them. I always kept a few on my nightstand just in case I needed one in the middle of the night. Propping myself up with an extra pillow also helped since it helped my sinuses drain a little better. It was a little hard to get used to, but it did help with my sore throat at night. And as gross as this one sounds, gargling with warm salt water also helped because it helped kill germs in my throat. One more thing that helped was drinking hot water with honey and lemon in it. The lemon helps clear away mucus and the honey helps soothe your throat. Plus all of these are pregnancy-safe remedies and they really helped!
How to deal with a cough:
The biggest thing that helps when you're pregnant and have a cough is using a humidifier. We have the Vicks® Mini Filter Free Cool Mist Humidifier, and it really makes a difference. Because it helps raise the humidity levels in your home (or maintain them), it helps provide temporary relief from coughing (especially when combined with one of the VapoPads!). I love that you can actually see the mist coming out, and since it's a filter free humidifier, it is very easy to keep clean. The Vicks® Mini Filter Free Cool Mist Humidifier is available at Walmart.com here.
I also really like using Vicks® VapoRub™ Topical Ointment to help relieve cough symptoms. It has eucalyptus oil, menthol, and  camphor in it, which in my opinion is a fabulous combination when you are sick. The medicated vapors smell so good and help me breathe deeply, and when you put it on your chest and throat, it can temporarily relive your cough.
Of course being propped up and avoiding laying completely flat also helps when you have a cough! And if it gets really bad (like wheezy-sounding), sitting in the bathroom while the hot shower runs and creates steam also helps and is safe for pregnancy!
How to deal with a fever:
One thing my mom used to always do when we were little was put a cold, wet washcloth on our foreheads when we had fevers, and it's a great way to deal with a fever during pregnancy, too. Drinking lots of fluids, resting, and not wearing too many layers will also help reduce your fever.
We also use our Vicks® SmartTemp™ Wireless Thermometer to track our family's temperatures. It has a free downloadable app that goes with it and it makes it super easy to take and track temperatures. My favorite thing about it is that it only takes 8 seconds to read your temperature. It also has professional accuracy, so it's way better than a lot of basic thermometers we've used in the past. Tracking your temperature is important when you have aren't feeling well, and this thermometer definitely helps.
Hopefully now you know how to survive cold and flu season during pregnancy! Because those pesky sickness symptoms don't have to keep you down, even when you're pregnant. And thanks to Vicks, preventing them, treating them, and finding comfort is simple!