Struggling to manage your time and get everything done in your busy mom life? Here's the secret to getting things done and staying on top of your schedule! It's easier than you might think!
This post contains affiliate links.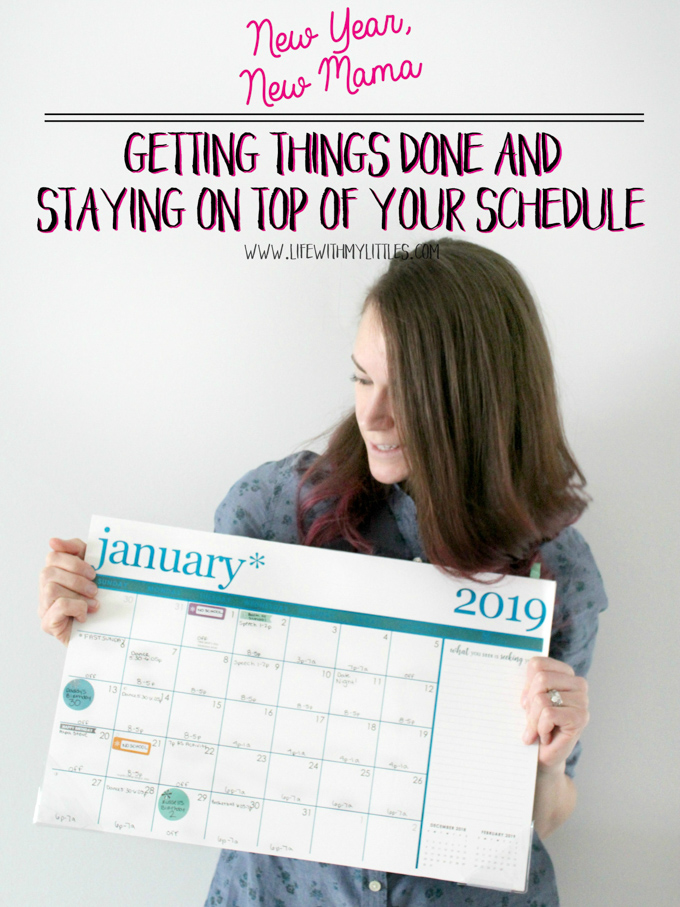 If there's one word I would use to describe moms, it's "busy." We are constantly on our feet doing things for our family, friends, and neighbors. We take care of our homes, we work, we buy groceries and cook dinners, we clean and do laundry, and we set up playdates, doctor's appointments, and extracurricular activities for our kids. Moms are BUSY.
In my last New Year, New Mama post, I talked all about finding balance in motherhood, that you can't do everything, and why it's necessary to let some things go.
But what if you've accepted that, you've set your priorities and dropped a few things from your life, and you're still struggling to keep up? What if you're still having a hard time getting things done and staying on top of your schedule?
First of all, you're not alone. So many of the responses I got to the questions I asked about what the hardest part of motherhood is and where you want to improve involved getting things done and time management. So many. This is a very common struggle among moms in all stages of motherhood. We're all trying to manage everything we have going on in a way that works for us and our families. Luckily, the solution isn't as complicated as you might think.
Getting things done and staying on top of your schedule really boils down to two things: writing things down and using a planner.
But Chelsea, how can it be that simple? I know, right? It sounds so easy, but these two little things have made all the difference in my life. (Mostly) gone are the days when I forget to do something my husband asks or I miss a doctor's appointment because I didn't know what day it was. Writing things down and using a planner have really changed how I manage my life.
Now I know that everybody is different. You might have tried one of these tips before and found it wasn't for you. Well guess what? You're going to try it again. Why? Because maybe the way you tried it before wasn't for you, not the actual tip itself. Maybe you tried a digital planner and hated it. Maybe you tried using reminders on your phone and things never got done. Well lucky for you, there are as many ways to write things down and types of planners as there are kinds of people, so there's really something for everyone (even if you aren't the planning type!). So please keep reading, try something new, and I am positive you'll find the best way for you personally to get things done and stay on top of your schedule!
Write Things Down
The key to getting things done is really quite simple. I've found that with my increasingly forgetful mommy brain, writing things down has been the only way that I can remember and feel motivated to check things off my to-do list. This is especially important for mamas with a lot to do (pretty much all of us, right?). Writing things down not only helps me calm my mind because I know I won't forget something, but it helps me be able to focus on what's in front of me (whether that be my family, work, or even an individual task I'm working on) and live a better life. And when I do sit down and look at my list, it helps me stay focused on what I need to do and helps me feel like I have a plan and there's an end in sight. It's clear what you need to do when you've written things down, and having those tasks or reminders written down in front of you will motivate you to get them done. Even if your list ends up being long, working through it one step at a time will help you get things done and achieve more.
Here are seven places to write things down:
1. The reminders app in your phone. I write things here all the time. It's perfect for people who have their phone on them all the time or don't like to physically write things down, or for people who like to physically write things down but aren't near a pen and paper. I like to write things down in my reminders that pop into my head and then transfer them to my paper list later. Plus, it's super easy to check them off!
2. This awesome Done is Fun notepad. One of my favorite boss babe geniuses is Alison Faulkner. If you don't listen to her podcast, you're missing out (and you should check it out here). Anyway, this notepad (pictured above) breaks down projects into tasks. It's awesome for big jobs or projects or goals that you're working on that have little steps within them. I use it to make sure I have everything ready for my blog posts!
3. A Scribble and Jot pocket notebook. Scribble and Jot is my favorite place to get notebooks (you can see a few of them here). They're handmade, coptic stitch notebooks that are absolutely gorgeous. They lay flat and come in all different sizes. The pocket ones are 3 3/4″ x 5″ and are perfect for fitting into a diaper bag and not taking up much space. They are so high quality and if you're a lover of notebooks, this is the way to go. You can break down your lists into daily tasks or just make general to-do lists in these little babies.
4. Sticky notes. Sticky notes are great because they're super easy. You can stick them anywhere to remind you to do things, they come in all different sizes (depending on how big your lists are), and you can easily crumple them up and toss them in the trash when you're done with them (which is very satisfying). I use sticky-notes for quick reminders of things I need to do the next day (like take chicken out of the freezer), and because they're so bright and colorful, I don't ever forget to do the things they tell me to!
5. Any kind of little notebook or notepad. I know I already mentioned the Scribble and Jot notebooks, but honestly any little boring notebook from Walmart or Target works, too. Spiral-bound notebooks, Moleskine notebooks, or lined, yellow notepads. You don't have to get fancy or spend a lot of money. Just somewhere you can write things down that you'll see every day. You get a lot more done when you write things down!
6. A small planner where you can write tasks for each day. If you like to break things up into daily tasks (for example Monday, groceries, Tuesday, laundry, Wednesday, clean bathrooms, etc.), a small planner with a few lines for each day is a great idea. Yes, you could use a regular, full-size planner for this, but I like to keep my schedule separate from little tasks like these. And maybe you will, too!
7. A dry-erase board or magnetic notepad on the fridge. Aren't you almost always in the kitchen when you remember things you have to buy at the store? Instead of running around the house to write it down in your notebook every time, try keeping a dry-erase board or magnetic notepad on your refrigerator! If you spend a lot of time in the kitchen, this is also a good place to write things down.
When you write things down, it's easy to see exactly what you need to spend your time on. You get more done because you're focused, your tasks are clear, and you'll do things you would've forgotten otherwise! Writing things down is the key to getting things done!
Use a Planner
Now let's talk about staying on top of your schedule. Just like writing things down helps you get more done, using a planner helps you stay on top of your schedule. Managing your time can be hard without one because even though you think you know what you've got coming up, you can't see it physically laid out in front of you. When you use a planner and schedule out your time (and include activities and appointments for your kids, your husband's work schedule, and even meal planning), you can plan ahead, you'll always know what's going on and what's coming up, and things won't slip through the cracks.
Write down birthdays, highlight days your kids have off of school, schedule date nights and time at the gym, and mark upcoming deadlines or important dates you need to be aware of. If it's something you need to know, putting it in your planner is going to help you stay on top of it!
Here are eleven planner ideas that I use or that were recommended to me by friends:
1. Erin Condren LifePlanner. This is what I use, and it's incredible. There are like 100 covers to choose from, you get a monthly spread and weekly layouts (and you can choose between vertical, horizontal, or hourly like I have), and there are places for goals, inspirational quotes, note pages, and coordinating stickers in the back. I love it so much. There are also a bunch of cool add-ons you can get like the snap-in menu planner, bill tracker, fitness tracker, grocery list, to-do list, or even a party planning page. I am on my second LifePlanner, and it has literally helped me plan my life and stay on top of my schedule. It's like the Cadillac of planners (people still say that, right?).
2. Erin Condren Monthly Deskpad. I know this is more of a calendar than a planner, but we have one on our fridge and it's where I keep track of our family's monthly schedule. It has dance class, doctor's appointments, birthdays, my husband's work schedule, and anything else that my husband and I both need to be aware of. It's kind of our way of sharing our schedules with each other so we can be on the same page and nobody can use the excuse "well I didn't know about that." I put a magnet on the back and it works great on our fridge!
3. Passion Planner. I haven't personally used these, but I've heard great things about them. There's a spot in the beginning for you to map out your goals and how to achieve them, plus monthly and weekly layouts. Each week has an hourly layout, a space for both personal to-dos and work to-dos, the focus for the week, and a blank space for whatever you want. At the end of each month there's a spot to reflect back and see your progress and how you can improve the next month. If you're very goal oriented or you have something you want to work on throughout your year, this might be for you!
4. PowerSheets Intentional Goal Planner. Another goal-focused planner for those who have big dreams! I haven't seen one of these in person but they have amazing reviews. I think they're similar to the Passion Planners, but a lot more colorful and with more of a focus on achieving goals.
5. Day Designer for Blue Sky Planner. Several people recommended these to me (one friend said she'd been using them for three years, another for seven!), you can get them from Target or Amazon, and they look awesome! They're more affordable than Erin Condren planners and they come in several different sizes. They also have a four-part goal setting section!
6. Google Calendar. Lots of people have recommended Google Calendar to me (including my husband), but I just have to have a hard copy of my schedule! If you want to sync your schedules with your husband or older kids, this is a great option. If you always have your phone on you and you're tech-savvy, this might be the one for you!
7. Spaces Planner. These are great planners for list-makers. If I wasn't so in love with my LifePlanner, I might try these out! They have 52 weekly layouts with boxed spaces for all your lists. There are seven pre-labeled spaces (personal, housework, errands, shopping list, notes, health goals, and relationships) and six empty spaces for you to fill in whatever else you want to write down (menu, priorities, appointments). If you want to combine your planner and your lists in one place, this is the planner for you.
8. Kate Spade Planner. These are beautiful and great for the diaper bag because they have a little stretchy band to keep them closed. They're pretty simple, so if you're a minimalist, check these out!
9. Bullet Journal. I tried bullet journaling when my third son was born and it wasn't for me, but if you want to fully customize your planner, bullet journaling is great! When I was getting into it a lot of people recommended using a Moleskine notebook, so you can start there (and there are TONS of ideas on Instagram, too!).
10. Commit 30 Planner. The thing I like about these is that they're small and they have one day per page. It has a few spots for to-do lists and one section per day titled "Today I commit to…" that you fill in each day. It looks like a great motivator!
11. Happy Planner. If you're the creative type, this is the planner for you. There are several different layouts, they're all super bright and colorful, and the stickers are just amazing! There are tons of add-ons and extension packs so you can fully customize your planner and make it exactly what you want. They're also sold at an affordable price, too!
Using a planner will absolutely help you stay on top of your schedule. It's so helpful to see your week or month planned out, and it's a great way to manage your time and know what's coming up. Using a planner is the key to staying on top of your schedule!
So now that you know the two almost-too-simple keys to getting things done and staying on top of your schedule, it's time to take action! I challenge you to pick one of these from each list to try out this week. If you're already writing things down and using a planner, AWESOME. Keep doing it. Try doing it even better and more often. It really will help you manage your time and feel a little more together in your busy, full life! You've got this, Mama, and you're doing a great job!
New Year, New Mama Posts Up So Far:
How to Start Living Your Best Mom Life
Getting (and Staying) Organized