Part of being a mom is dealing with the feelings of being nervous yet hopeful. Here's how that feeling led me to want what's best for my kids, and to choose new Pampers Pure!
This is a sponsored conversation written by me on behalf of Pampers Pure at Walmart. The opinions and text are all mine.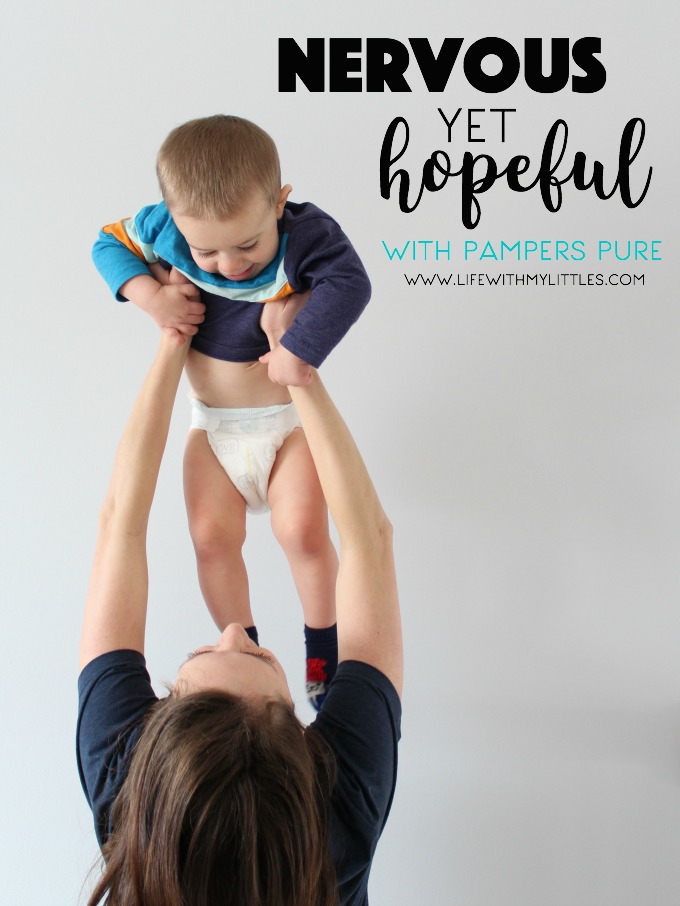 Even before our first baby was born, I wanted him to have the best. I wanted him to have the safest car seat, the cutest clothes, the most gentle blanket, and the most enriching toys. I wanted to protect him from getting hurt, getting sick, or any bad thing that might ever happen to him. And then he was born and those feelings magnified times a thousand.
Every time I've become a parent, my heart has grown, making room to love another tiny person that I have so many hopes and dreams for. These sweet, perfect babies that we bring into the world make us so nervous, yet so hopeful, too. It's part of being a mom, and that feeling never really goes away because each day something new comes along that we weren't expecting the day before. Being a mom is scary and wonderful and has caused me to grow in so many amazing ways. I am truly a better person because of my kids.
But every day I worry about what my children hear, say, do, and play with. I want to give them what's best and do right by them. I'm nervous about my role in raising them to be good people, but also hopeful because I frequently get to see how truly kind and thoughtful they already are. I'm nervous about the negative influences they'll inevitably come up against in their lives, but hopeful that they will make good decisions and always choose what's right.
I think it's pretty universal that all moms feel nervous yet hopeful when it comes to their kids. That's part of why we worry so much about being good parents and giving them what's best.
The desire to give my children the best has led me to try new products that are better for them and the world around us. Last month Pampers came out with their new Pampers Pure line of diapers and wipes, and since we are basically a Pampers-only family, I knew I had to try them. When Little J was a baby I tried two different kinds of natural diapers, and neither of them were very absorbent, so I had pretty much given up hope of finding a diaper that was plant-based and eco-conscious, but didn't skimp on quality. So even though I love Pampers, I tried to keep my expectations low.
But mamas, the Pampers Pure line is fabulous. Like, shut the front door fabulous.
The Pampers Pure diapers offer parents a diaper with plant-based and other thoughtfully selected materials, stylish prints, and Pampers performance. I usually put Little R in Pampers Baby Dry diapers because he never leaks in them, and I honestly think that the new Pampers Pure diapers perform just as well as the Pampers Baby Dry diapers! Plus, they're clinically proven hypoallergenic, they are free of fragrance, parabens, latex (natural rubber), lotion, and chlorine bleaching, and they are made using 100% certified renewable electricity. Unlike other eco-conscious diapers, they are super soft because they're made with cotton and soft, plant-based fibers other thoughtfully selected materials. Hands-down, they are my new favorite way to give my son what's best! Not to mention the prints are ADORABLE and feature llamas, corgis, and cute word bubbles!
The Pampers Pure line also features new Pampers Aqua Pure baby wipes that are made with 99% water and are free of alcohol, parabens, dyes and fragrance. I've tried a lot of different wipes before too, and I genuinely love the Pampers Aqua Pure wipes. They don't leave your baby feeling wet and even though they're soft, they are tough and get the job done!
Using Pampers Pure diapers and Pampers Aqua Pure baby wipes is one way that I know I can give my baby the best, even though he's 14 months old and not technically a baby anymore (cue ugly mom crying). And since we almost never go to the store with three kids in tow, I was super excited when I heard that both the Pampers Pure diapers and the Pampers Aqua Pure wipes can be found at Walmart.com! They even qualify for free two day shipping if you spend $35 (which is one box of diapers and one 6-count box of wipes!). Hooray for easy, fast ordering!
Of course if you actually go to Walmart, select sizes of Pampers Pure diapers are also available in stores! I'm just not brave enough to go to the store with all three most days!
Being a mom is filled with moments where you feel nervous yet hopeful. If there was an official job description of motherhood, it would definitely be in there. With the new Pampers Pure line, mamas can feel a little less nervous and a little more hopeful that they are giving their baby the best, without compromising quality!
This is a sponsored conversation written by me on behalf of Pampers Pure at Walmart. The opinions and text are all mine.