Just because you have kids doesn't mean you can't date your husband at home! Here are ten easy and fun at home date night ideas for after the kids go to bed!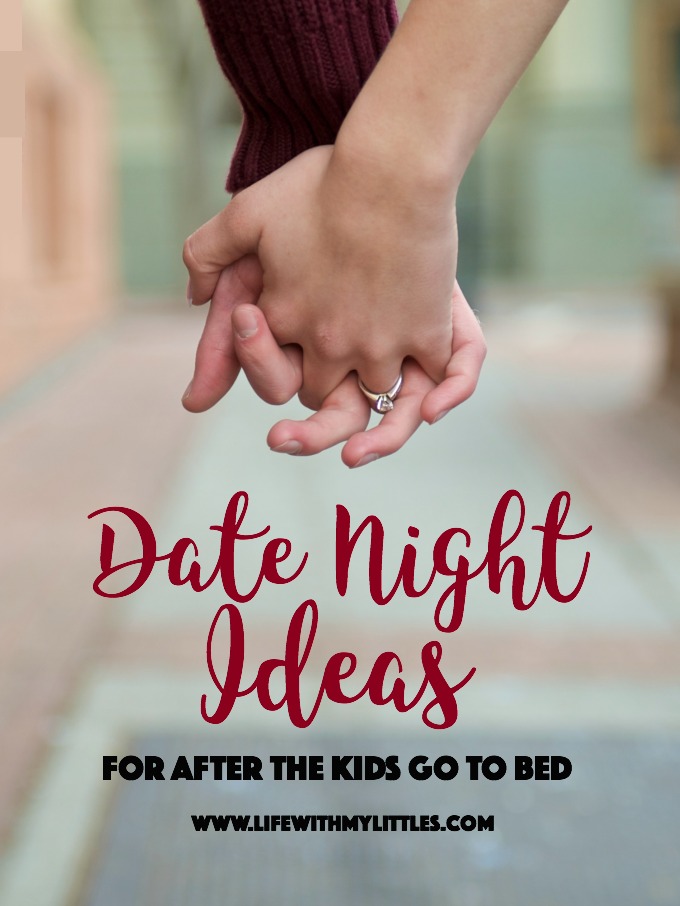 Guess what! Today is our eighth wedding anniversary! Hooray! It feels like forever ago that we got married, but at the same time it feels like it's gone by so fast! Time is so weird, you guys.
To celebrate, I thought it would be fun to do a post all about marriage post-kids! My husband and I have gotten really good at maximizing the time we spend together after the kids go to bed (because we kind of have to be!). Here are some date night ideas for after the kids go to bed:
1. Play board games. One of our favorite things to do is play board games together. My husband's favorite is a game called Dominion, but he's also incredibly good at Monopoly. Our friends introduced us to the game Agricola (which is a farming game so we love it), and that's a fun one for couples. Just Google "board games for couples" and you'll find tons of good ones!
2. Have fun with apps. One of the best $2 I've ever spent was for Face Swap Live. My husband and I have spent hours on this app, swapping out our faces for each other's, with pictures in our house, and even with toys. It's just so dang funny! We also recently discovered a karaoke app and had a lot of fun doing karaoke together ("Love Is An Open Door" anyone?) and taking turns singing, too. When you find a good one, it can provide hours of entertainment!
3. Try out a date in a box. There are a lot of different "date night in a box" options out there, so there's bound to be one out there that's perfect for you! My husband and I tried Unbox Love a few months ago and that was a pretty fun one. They are perfect for after the kids go to bed because they usually provide everything you need and it's something new and exciting to try!
4. Order food in. One thing that I really like doing is picking up food (or having it delivered) after the kids are in bed. That way, you don't have to buy them food, and you can get whatever type of food you want! We love getting Indian food, but it's not one cuisine that our kids particularly enjoy, so we usually get it after they are in bed and eat it while watching a TV show or movie. Plus, if you get dessert, you don't have to share with your kids!
5. Have a theme night. I planned a fun "Italian night" once where we ate Italian food, had cannolis and Italian sodas, and watched the movie "The Italian Job." It was super easy to plan and my husband appreciated the time I put into planning it. You can try a theme based on a movie ("Harry Potter" night would definitely be a winner in our house!), a country, or even the spa!
6. Lay on the grass and look at the stars outside. Obviously you can't really do this when it's cold out, but if you live somewhere where you can see the stars clearly (aka, not a giant city), then this one can be really romantic!
7. Read a book together. This one probably isn't for everybody, but my husband and I read a book together for a class in college once and it was kind of fun! Pick a short book or a long book and then talk about it! It's like your own little book club!
8. Do a puzzle. It might make you feel like you're 100 years old, but doing a puzzle together can be a fun, relaxing activity. Pick one you can finish in a night, or one that you can do over a few nights. Either way, choose it together and have fun putting it together.
9. Cook together or have a cooking competition. You can either make a nice dinner together from the same recipe, or make it a little more interesting and do something like Iron Chef or Cupcake Wars. You can even have one of you make dinner and the other made dessert and then enjoy them together. The possibilities are endless!
10. Paint. We don't do this very often, but it's fun when we do! I have a nice watercolor set and painting together can be really calming. And it's fun to see what the other person paints! My husband painted Minnesota and we still have it hanging on the fridge!
Just because you have kids and don't get to go out as often doesn't mean you can't have quality time together at home! There are a lot of fun things you can do at home together to make it feel like you're on a date. There's more to life than just Netflix and chill, friends! So choose one of these date night ideas for after the kids go to bed and surprise your hubby with a nice night in. You'll both be so glad you did!
And happy anniversary to my husband!