This list of must-haves for baby's first 100 days is super helpful! Everything you need and nothing you don't. If you're wondering what do newborns need, this is the post for you!
This post is sponsored by Babies R Us, P&G, and Pampers.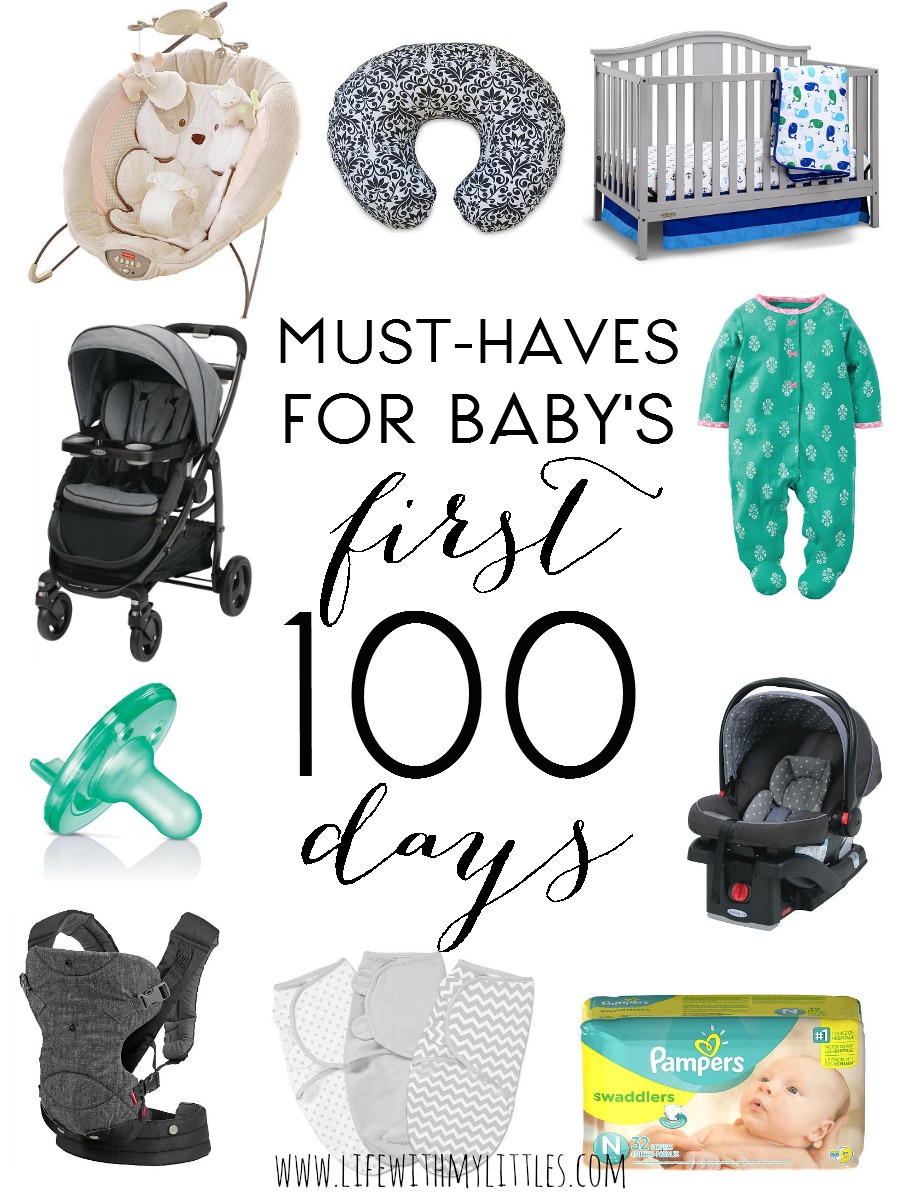 Every parent wants what's best for their child, so it can be overwhelming to walk into a baby store without preparing beforehand. One of the biggest tips I would give a new mom is to do research on what babies really need BEFORE buying anything! If you don't, you're going to have no idea what to buy to help you survive life with baby!
Today I want to share my must-haves for baby's first 100 days. I wish I had a list like this when I was a new mama because it would've saved me from some silly purchases!!
1. Boppy pillow. Whether you are nursing or formula-feeding your baby, I highly recommend investing in a Boppy pillow. It's going to save your back when you're feeding your baby, and it works great for tummy time, too!
2. Pacifier. Having a pacifier is absolutely a must. Anytime your baby cries, a pacifier will save you! Having had a baby who loved a pacifier and a baby who hated it, I definitely would say that if you can use a pacifier, do it. It helps your baby sleep better and cry less.
3. Swaddle blanket. Learning how to swaddle your baby right will help them sleep so much better. I seriously don't think I could've survived the newborn stage without a swaddle. Anytime your baby cries, swaddle them and give them a pacifier. It's like the magic combination!
4. Pampers Swaddlers. As a first-time mom who hadn't changed a lot of diapers before, having that wetness indicator on the diaper to tell me when my baby was wet or dirty helped a lot (especially when he was wet). They are also super soft, and what we were given in the hospital. I seriously love Pampers.
5. Diaper cream. You might not use this at first, but you definitely want to have some on hand. When you do need it, you're not going to want to have to run to the store to go get some!
6. Car seat. Obviously a car seat is 100% a must-have. I was recently asked if I would recommend an infant car seat or a convertible car seat, and for the first (at least half) of baby's first year, I would without a doubt say you need a convertible car seat. You can keep baby buckled in when you go places (especially important if he's asleep!), and if it's cold, you don't have to expose him to the elements by bringing him outside before putting him in the car!
7. Burp rags. Even if your baby isn't a huge spitter (neither of mine were), having burp rags to help dry their little milky mouths is huge. Babies are messy eaters whether it's from breast or bottle, and having a burp rag to help clean up is really helpful. (Check out this post for an easy DIY burp rag!)
8. Notebook. Mommy brain is so real, and having a notebook on hand to take notes and track feedings was a huge lifesaver for me during baby's first 100 days. You can write down anything they tell you at the hospital when you go home, you can write down questions you might want to ask your pediatrician, and you can write down how long your baby eats each time. It's super, super helpful.
9. Baby mittens and socks. When babies are first born, they basically have tiny little claws. And you are going to want to keep mittens and socks on them (even if it's summer) to prevent little scratches from getting on their faces. Plus, you want to make sure you keep them warm when they are little so keeping socks and mittens on them really helps.
10. Button-up pajamas. When my son was born, he had some button-up jammies and some zipper jammies. I washed them all with Dreft before he was born and they smelled so good! Anyway, I highly recommend using button-up pajamas for baby's first 100 days because when you have to change their diaper in the middle of the night, it's way easier to just unbutton the bottom buttons and not have to unzip them completely when they are all sleepy.
11. Changing pad for going out. I like having a changing pad at home, but I think having a changing pad in your diaper bag for when you go places is a must-have. You never know when you're going to need a changing pad in the park or in a gas station! I've even used mine in the car on the side of the road before! (Check out this post for an easy DIY changing pad!)
12. Swing or bouncer. We had a swing with our son and it helped him fall asleep several times when nothing else worked. We also had a vibrating bouncer that was perfect for mid-day naps, too. Having a place you can buckle baby up and let them sleep that moves or vibrates is super helpful!
13. Crib, bassinet, or pack n' play. Obviously, baby will need somewhere safe to sleep. When our babies first came home from the hospital, they both slept in a little bassinet by the side of the bed, and then a few weeks later moved to the crib. A pack n' play works great for this too, if you don't want to spend as much on a crib and want to be able to move it around a lot.
14. Stroller. Just like a car seat, having a stroller is a must for baby's first 100 days. I have yet to find a favorite stroller, but ask other moms and look at reviews online and you can find one that works for you! You're going to want to walk, whether it's at the mall, the park, or the zoo. I haven't met any mom who doesn't have a stroller!
15. Baby carrier. Whether it's a wrap or a fancy chest carrier, baby wearing during the first 100 days is the best! My husband loves our chest carrier and I love my wrap, so it sort of just is up to you and your preference! But when you are trying to do things around the house and your baby just wants to be held, having a carrier is a life saver.
So those are my must-haves for baby's first 100 days! Some of them are kind of obvious (like a car seat and a crib), but I hope some of the other things are helpful for you! Every mom and baby is different, so don't stress out if something I recommended doesn't work out for you. Like I said, my daughter refused to take a pacifier, so we didn't use them at all with her. But try things out, talk to other moms, and you'll get the hang of it!