Currently: What's going on this month for Life With My Littles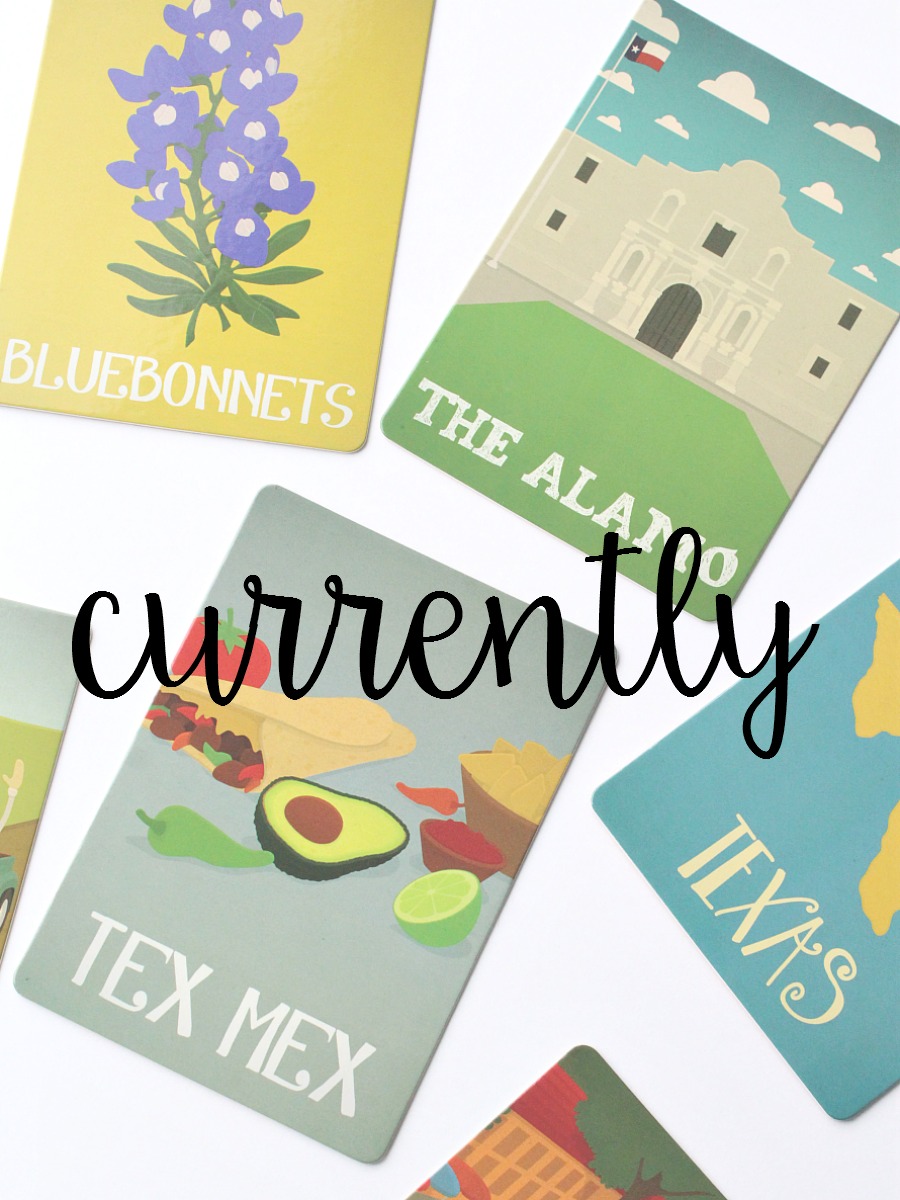 Happy April, mamas! Can you believe we are already in the fourth month of the year? Goodness, this year is going by so fast! March was full of exciting things, and if you follow me on Instagram, you may already know our big news!
Excited about MATCHING IN SAN ANTONIO! Yes! My husband matched in his first choice and we are moving to Texas! He is going to be a Physical Medicine and Rehabilitation doctor, and I couldn't be more proud of him. Graduation is next month, and you can bet I'm going to be calling him "Dr. Johnson" every single day haha. The last four years have been hard and we have had a lot of changes in our lives, so to be able to be moving to the city we had hoped for in the specialty my husband wanted is something I am beyond grateful for. Plus, SEA WORLD! (And how cute are those Bright Eyed Baby Texas cards in the photo above? I'll be sharing more pictures of them on my Instagram soon!)
Anticipating our trip to Disneyland! We are spending a few days of my husband's time off to go to Disneyland with our kids, my parents, and my sister and brother-in-law. SO EXCITED! We promised Little J that if he was potty trained before he turned three (last month) that we would go to Disneyland. It was a good motivator. I have several Disney-themed blog posts coming up this month so keep an eye out!
Accomplishing my goals! Last month my goals were to start doing preschool with Little J and tot school with Little A, to declutter and get rid of things we don't use as we get closer to moving day, and to start writing my book. Check, check, and check. I got a preschool activity book for my son and it has been fun to start working on prewriting skills and recognizing the alphabet with him. We also took a weekend to go through our storage unit and closets and got rid of a few bags of things. I'm going to get rid of a few more things before we move, but we did what I wanted to! And MY BOOK! I don't know if I will ever be able to not write it all in caps! I wrote the introduction and started the first chapter, and I just have so many thoughts in my head I can't wait to get them all down. It's going to be a lot of work, but I feel so optimistic about it.
Planning to slow down. You may have noticed but the last two weeks I've only posted twice instead of three times. I had started to feel pretty stressed out and like I was spreading myself too thin, so I decided to cut back for a while and only focus on two posts a week. I want to write quality posts for you guys, and I didn't feel like I was doing that. I only work on my blog when my kids nap and sometimes in the evenings after they go to bed, so that's not a ton of time to get everything done on my to-do list. So it's going to be just two posts a week for a while. I'm also going to be taking a few breaks the next few months as we go to Disneyland, move, and take a trip to Iowa for graduation. Even in the last two weeks as I've slowed down I feel a lot better. And I'm sure once we are all settled and my husband starts work in July, I'll pick back up and start writing three posts again, but we'll talk about that then!
Dreaming about our new house. Ever since we got married six years ago we've lived in apartments. No bueno. And now that we know we are going to be somewhere for at least four years, we have decided to take a big step and purchase our first house. I am SUPER excited and as I decorate everything I'll post about it on the blog, but for now, it's basically all I can think about.
Learning about all the fancy features on my new car. Our 2006 Odyssey was having some serious problems and we have had to pay for several expensive repairs the last few months. We found out it needed ANOTHER repair while we were visiting my mother-in-law, so we decided to just go look at new cars. We found a used Odyssey that was newer than the one we had, and in a TON better condition. So we got lucky and things worked out and we were able to trade in our old car and get the new one. The biggest thing I have to adjust to is the hands-free phone. Never had one of those and it feels oh-so-fancy! I'm pretty sure we named him Albus Dumbledore, but I'm still open to suggestions.
We have so much exciting stuff coming up in the next few months, and I really am so giddy and excited about it all. I feel like we are finally seeing the payoff of the hard work we've put into our undergraduate degrees and my husband's medical degree. It's going to be nice for him to have a job and actually start getting paid. I guess you could say we are finally adults haha.
I can't wait for all the fun things we have this month and next, and don't forget to follow me on Instagram to see pictures from our Disney trip!