If you're looking for a unique, clever, and easy baby shower theme, try this! Here's how to throw a fiesta-themed baby shower, complete with nacho bar and Mexican-inspired desserts!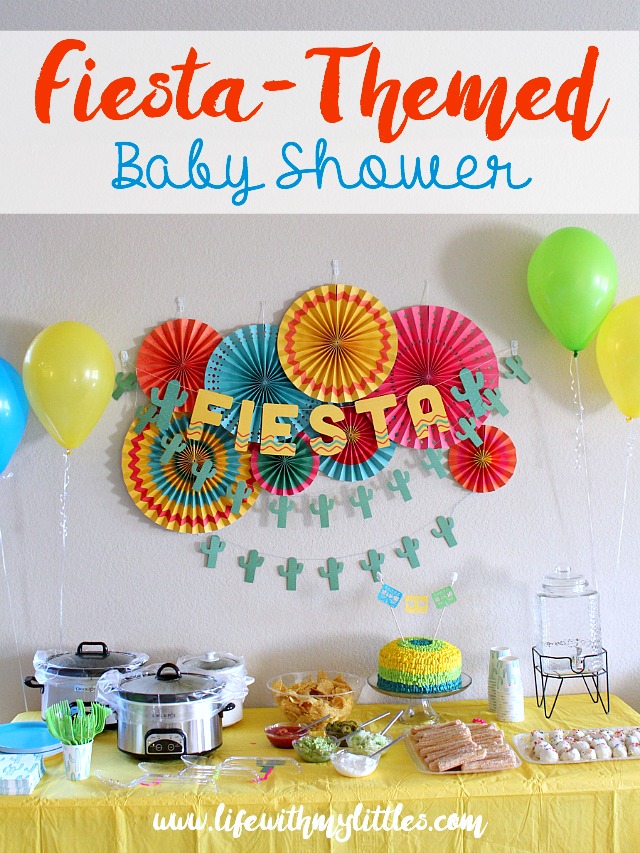 A few weeks ago I had the chance to throw a baby shower for one of my best friends here in Texas. Marianne was the very first person I met after we moved in, and she has kids just a few months apart from mine. She is due with her third baby, a boy, in just a few weeks, and I was so thrilled to be able to host a little get-together and help her celebrate! Since we live in Texas, I thought it would be fun to have a fiesta-themed baby shower!
I hung up some cute decorations from Witty Bash above our fabulous food table that was filled with fiesta-inspired foods. I loved how bright and colorful the fans were and the cactus and fiesta banners really made the theme pop!
For food I set up a nacho bar complete with taco meat, white queso cheese sauce, and refried beans, along with traditional nacho toppings like salsa, jalapenos, guacamole, and sour cream.
The dessert was my favorite part, though. We had churros and tres leches cake balls along with a Mexican chocolate cake with cinnamon frosting. I loved the way the cake turned out, even if decorating it did make my hand cramp up something fierce! And the "It's a Boy" cake topper from Lula Flora was perfect!
I served it all with some teal plates, green forks, and these adorable cactus napkins and cups from Cranky Cakes Shop.
When all of our lovely guests arrived, we ended up sitting around the table, eating, and talking the whole time. It was so much fun celebrating Marianne and getting to have a moms' night out away from the kiddos!
I also was able to give Marianne a new VTech VM342 Video Monitor with Wide-Angle Lens and Standard Lens. When you're on your third baby, a lot of things you use have been used a few times already, so a new monitor was exactly what she needed! And since every family approaches parenting differently, VTech has an assortment of baby monitors that allow parents to choose the best unit for their style. Whether they want a simple audio monitor or would prefer an option with audio, video and soothing lullabies, VTech offers the product versatility they need.
We've used VTech monitors since Little A was little, and I have always been impressed. The VTech VM342 video baby monitor has a standard lens and an attachable wide-angle lens so you can switch back and forth between regular and panoramic view to see the whole nursery at once. The 4.3-inch LCD video screen is full-color and has automatic night vision, so parents always have the most vivid image of their little one, day or night.
The VTech VM342 monitor also has a two-way, talk-back intercom, a temperature sensor, built-in lullabies and soothing sounds, and has up to 1,000 feet of range. You can even add up to four cameras (only one is included) if you want to keep an eye on children in different rooms! And digital transmission ensures all videos are private and secure, while cutting down on background noise. I was so happy to give Marianne a VTech VM342 video baby monitor. I think having a good baby monitor is a must!
Marianne's fiesta-themed baby shower was a hit, and I loved being able to throw it for her and help her celebrate her new little boy. We all had so much fun getting together, and I definitely enjoyed the leftover food we had at our house the next day! If you're looking for a unique, easy baby shower theme, definitely try this one out. It was a big hit!
I was selected for this opportunity as a member of CLEVER and the content and opinions expressed here are all my own.