Love this amazing list of the best places to buy baby clothes! If you're wondering where to buy cute baby clothes that aren't expensive, check out this post!
This post contains affiliate links.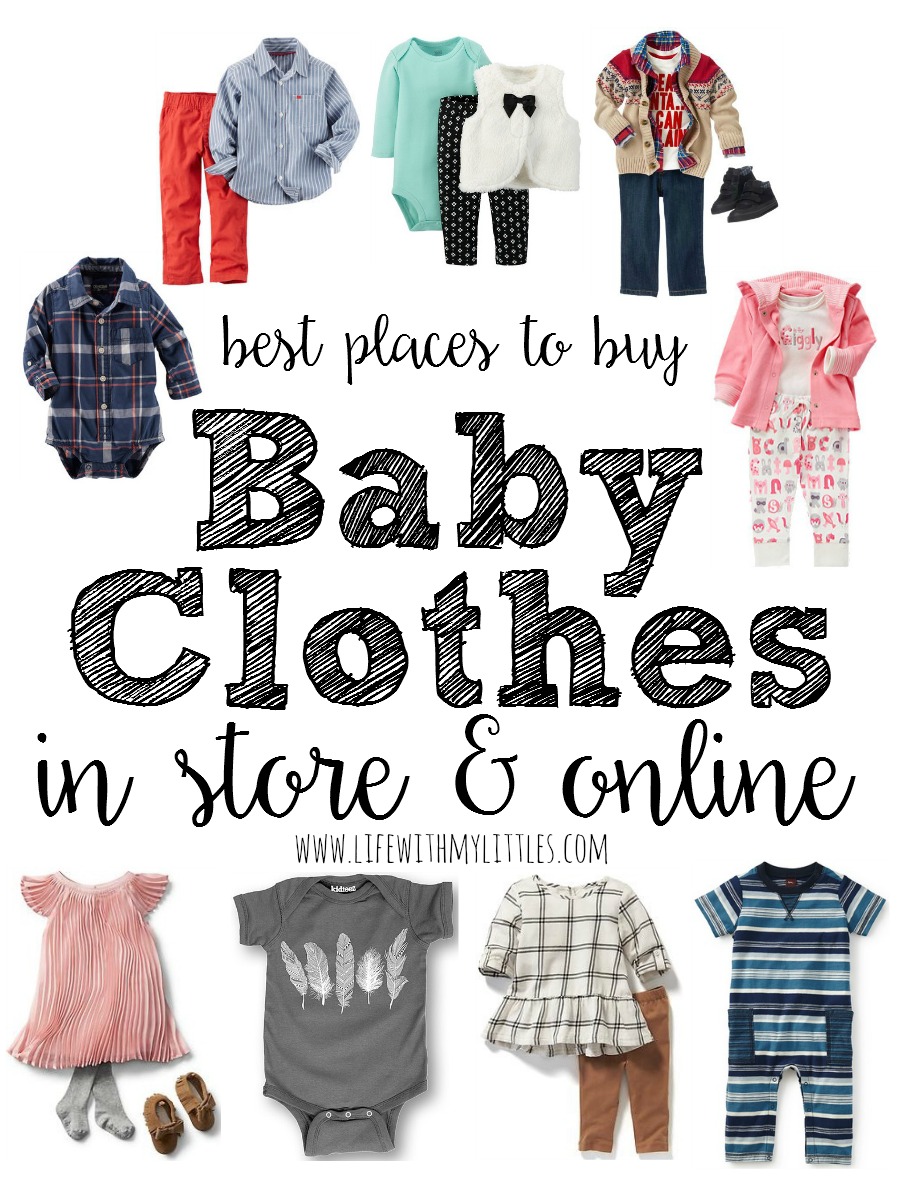 When you have abnormally long arms and legs, shopping is not fun. Finding clothes that I actually like that fit is hard, so shopping for myself just isn't my jam.
But I LOVE shopping for my kids, especially when they are babies! Picking out tiny little cardigans for my son and tiny little dresses for my daughter is seriously such a blast. Plus, they look cute in anything so it's pretty much impossible to be bad at shopping for a baby.
Today I want to tell you what I think are the best places to buy baby clothes, both in store and online. Sometimes you want to see things in person, and sometimes it's just easier to shop online, so I want to share great places that are actual stores and ones that are online only.
I challenge you not to want to go on a baby shopping spree by the end of this post. Because seriously, these clothes are adorable!
Carter's  has super adorable baby and toddler clothes, and they are almost always on sale. They have lots of my favorite dress-your-child-like-a-tiny-adult clothes, but they also have some cute graphic tees and cutesy character outfits. You know the kind with the puppy faces on the booty? Yeah. Carter's is the place for those!
Oshkosh is one you probably know for their overalls, but they are so much more than that! And if you're into the lumberjack look for your little man, they have tons of adorable plaid and flannel clothes! And their denim is awesome, too!
Baby Gap might be my all-time favorite place for baby clothes, but they are on the pricier end of the scale. But watch for sales and check the clearance section, and you can't go wrong. Also, they always have the cutest baby girl dresses! Can I get one in my size, please?
Old Navy and Gap are owned by the same company, but Old Navy is less expensive, so you know you're going to find cute clothes there. I love their pajamas and sweaters for my kids. And that peplum top on the right up there? Again, can I have one in my size, please!? Adorbs.
Target. I'm going to go all white girl on you now and confess that I love Target (does anyone not love Target, though?). They always have super cute baby clothes that are inexpensive, and I love that they have been doing lines based on books. Super cute idea!
Gymboree is probably my mom's favorite place to buy baby clothes, and that is completely fine with me because they always have adorable outfits! There always seems to be a color-theme for the boys and girls each season, and I always love it. They had black and white and red during Christmas, and it was so classic and cute for babies!
Crazy 8 is a company I discovered while living in Iowa, and I am so glad I did because they have super cute baby clothes, and everything is very affordable. I mean just look at those outfits!
Zulily is perfect if you're slightly hipster or looking for funny graphic tees or vintagey-looking items for your baby. My son has a shirt that reads "I still live with my parents" that I got from Zulily, and I think it's straight up hilarious. They have new products every day from unique brands that you probably haven't heard of (and some that you have) and they are usually at discounted prices, so that's a bonus!
Tea Collection brings worldwide culture and modern designs to children's fashion, and it's the perfect combination. Little A has those leggings on the right, and they are my fave! They aren't super cheap, but they have some great pieces and I really do love them.
Amazon
is one place that people don't realize has a great selection of baby clothes, especially SHOES. Which is why my picture is all about shoes. They are super affordable and come in all styles, colors, and sizes, and are perfect since you don't want to blow a ton of money on a shoe they're not even going to walk in. It's great, guys.
So that's it! I love all of those stores and have shopped at all of them for my babies' clothes. I hope that at least one of them was new to you, and I hope that you are now on your way to getting adorable, affordable baby clothes for your littles!
And if you haven't already checked out my popular post about where to buy maternity clothes, click here!