Not sure what to expect during the first trimester? Here's a great list of what to expect in the beginning of pregnancy. #3 is so true!! A must read if you are pregnant!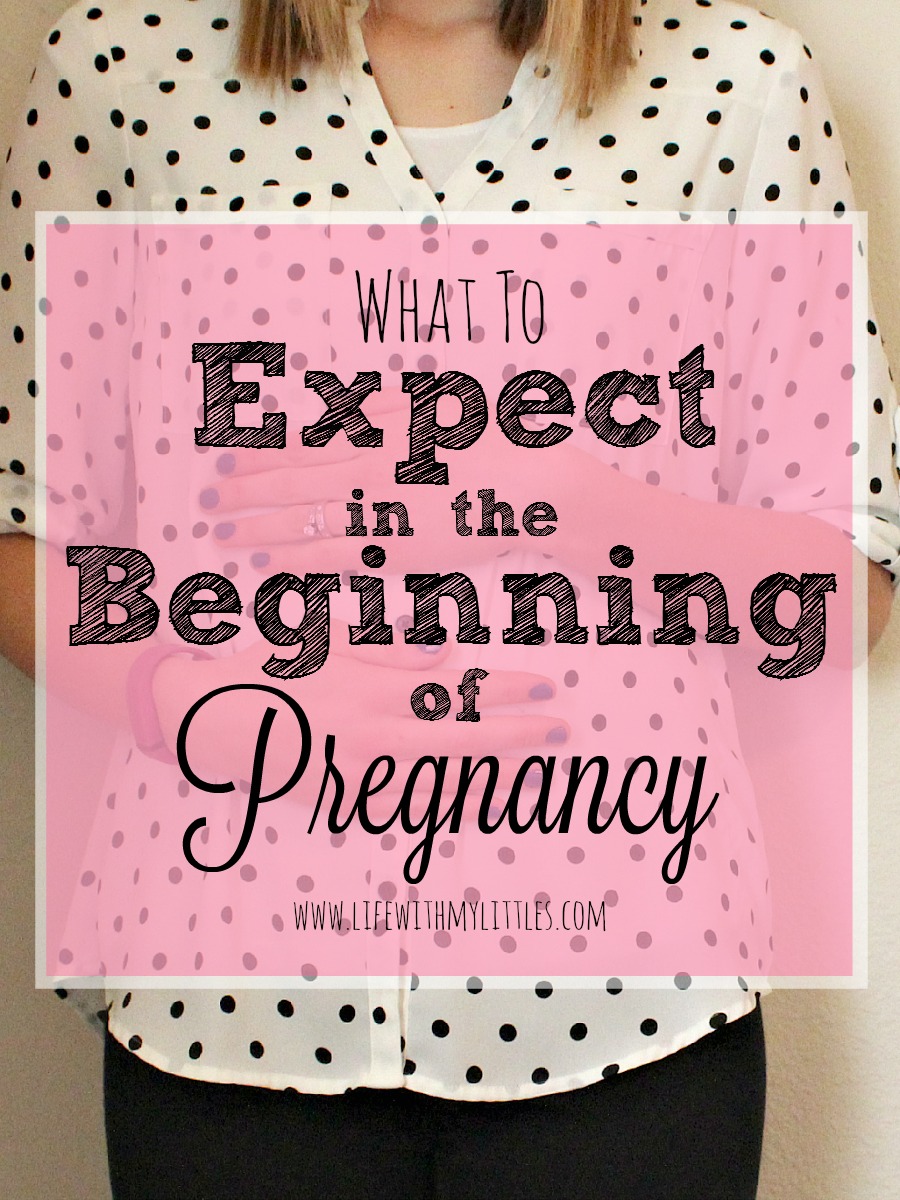 I never thought I could feel tired, achy, sick, emotional, and bloated all at the same time. It seems unfair, right? How could one person possibly deal with all of those things, and have to pee constantly?
This, my friends, is what we call pregnancy. It's an amazing time in a woman's life when she feels lots of feelings, her body goes through insane changes that shouldn't be possible, and she makes a human being inside her belly.
If you've just found out you're pregnant, you might be wondering what kinds of things you should expect in the beginning of your pregnancy. Besides the wonderful knowledge that there is a tiny human life inside of you, it's kind of rough. Here's what to prepare yourself for:
1. Nausea. The severity will vary for every woman (and every pregnancy), but most likely you're going to get at least a little bit. And it's going to suck. While it might not send you to the toilet, it's not fun trying to do normal things when you feel nauseous all the time. (Here are some helpful ways to deal with morning sickness!)
2. Lots of peeing. Thanks to those wonderful hormones, you're going to have to pee a lot. If you haven't told people you're pregnant, this one might give it away.
3. So many feelings. Feelings of joy that you're pregnant, feelings of fear that you're going to be a parent, feelings of worry that you won't be able to afford it, feelings of excitement sharing the news, and feelings that you absolutely cannot explain, simply because you are pregnant. Get prepared for the roller coaster ride of your life.
4. Bloating. You might look down one day and think that you are starting to show, but guys, it's just bloating. And when your skinny jeans won't fit today when you wore them fine yesterday, it's likely because you're bloated. SO MUCH FUN.
5. Food aversions. When I was pregnant with my son, anything red velvet made me feel so sick. I didn't even want to think about anything red velvet. And it's weird because red velvet is good. My pregnant self just decided that was one thing I wasn't going to like when I was pregnant. Super weird.
6. Tender breasts. Be careful bumping up against things, because it's going to hurt. Even if your breasts haven't started getting bigger yet, they are definitely going to be sore. So wear a super padded bra and just be careful in tight places.
7. Fatigue. Making a baby is tiring, even from day one. You're going to want to sleep more and sit down more. And things that didn't tire you out before you got pregnant are going to leave you feeling exhausted. It's rough, but at least you have an excuse to sleep in and take naps!
8. Mood swings. I sort of already mentioned this, but you are definitely going to experience some mood swings. You might be super happy one minute and the next feel incredibly sad. Or you might snap at people when they weren't even trying to be mean. Thank you, hormones, for making me feel crazy.
9. Super smelling. If there's something stinky in the trash in the next room, you'll know. We had to start double bagging all of Little J's diapers when I was pregnant with Little A, because the smells really got to me. But at least the good smells also smell extra strong!
Adjusting to being pregnant is just that, an adjustment. There are a lot of weird things that start to happen, and some go away and some stay for a whole nine months. It's hard being pregnant, but it's also such a blessing. So try to enjoy that tenth trip to the bathroom and being able to smell the roast cooking three houses down. Nine months might seem like a long time, but it goes by very fast.