How to relax at the end of the day with Keurig 2.0. Tips to help you calm down and take time for yourself at the end of a long day. Plus win a Keurig 2.0
This shop has been compensated by Collective Bias, Inc. and its advertiser. All opinions are mine alone.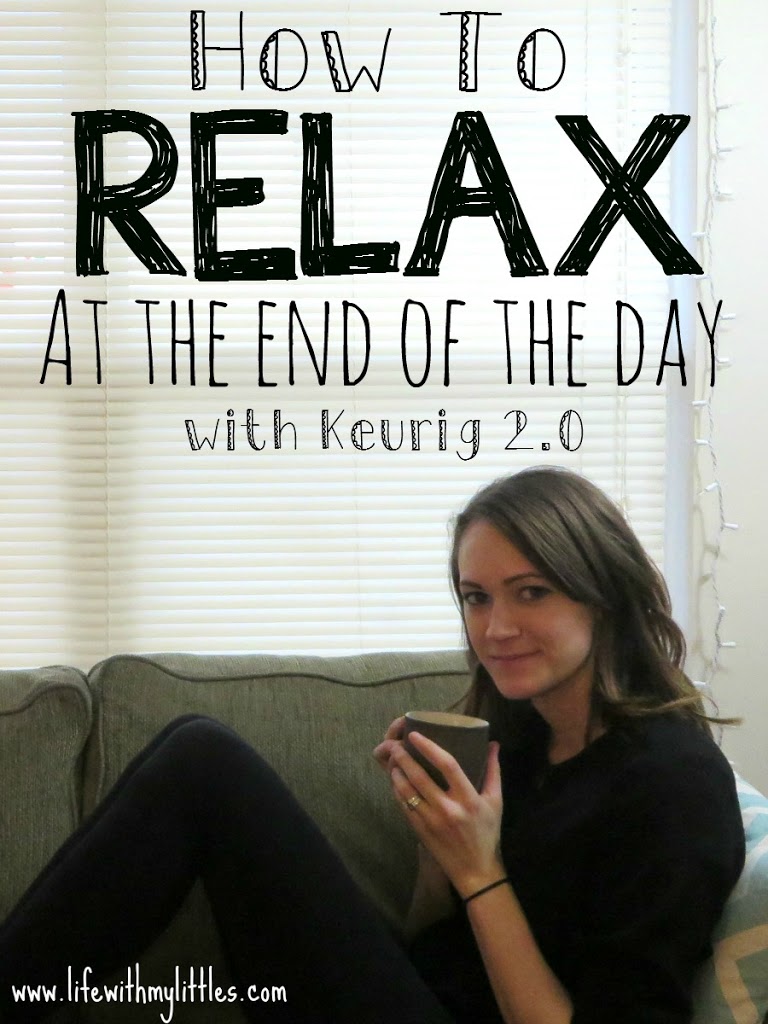 Ever have one of those days where you are in go-mode the whole day and by the end of the day, you can't remember sitting down except for when you ate? I definitely have a "get things done" mentality, so at the end of the day, sometimes I really need to make myself relax.  I just got a new Keurig 2.0, and it has helped me take time for myself every night. I think it important to take time for yourself every day, and my Keurig helps me do that!
I really think it is incredibly important to take time for yourself EVERY DAY, no matter what your life is like. And yes, I do actually need help in this area (just ask my husband)! So here are 5 Keurig-inspired tips to help you relax at the end of the day.
1. Set aside time if you have to. If you like to jam-pack your day doing things around the house, you may need to actually make time at the end of the day to relax. If you plan on going to bed at 10:30, make a rule that you will be ready for bed by 10 so you can relax and calm down! This is something I struggle with, but I am working on it!
2. Sit down. Sure, you could say that finishing up your laundry or showering is taking time for yourself, but let's be honest. That isn't really relaxing. Sit down and put your feel up! You've earned it! Just sit down somewhere in your home that is comforting and try to rest. It will make a big difference.
3. Think of everything you did that day instead of things you have to do tomorrow. This is a big one for me. Since I like to have checklists of things to do, at the end of the day I like to make lists of what I need to do tomorrow. And while that might increase your productivity tomorrow, it's not going to help you relax today. So instead thing of the things you got done. It will make you feel a lot better about your day and help you to calm down.

4. Do something you love. If you love reading, read at the end of the day. If you have a favorite show, watch an episode before bed. If you love to just sit and do nothing, do it! Just do something you love that will help you feel peaceful and calm your mind. My biggest problem at night is that I can't get my mind to relax, and doing something I love helps me to take my mind of things that don't really matter.
5. Enjoy a relaxing treat. I feel like I can't have treats during the day because I always end up sharing them with Little J. So recently I have been making myself a nice cup of hot chocolate at the end of the day using my Keurig 2.0. It is super easy, super fast, and I am able to relax and drink it without anyone trying to sneak a sip. This is definitely my favorite tip. There's just something about a steamy cup of sweet chocolate to make me feel comfortable and relaxed!