DIY Gold, Mint, and Pink Nursery: A simple, cheap baby girl nursery using a cute color scheme and lots of DIY projects!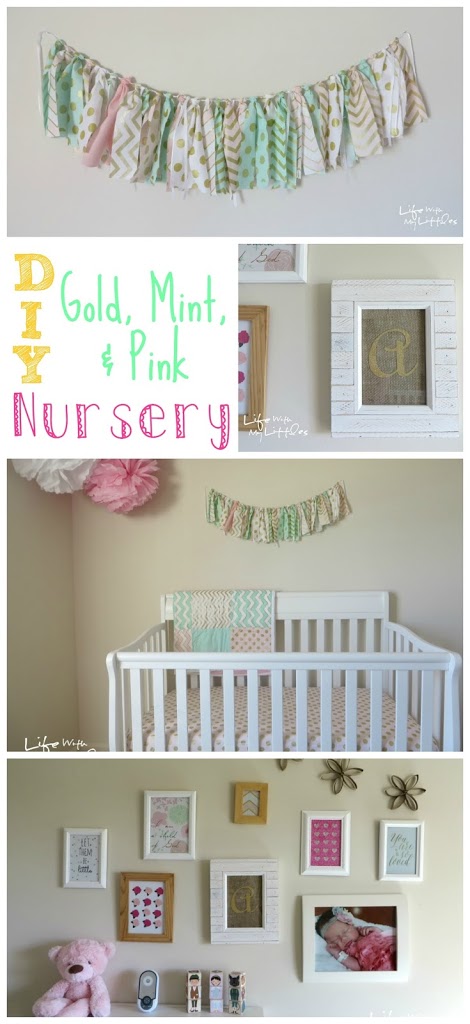 Before I even started looking at nursery ideas, I knew I wanted to use Glitz by Michael Miller Fabrics as my inspiration. If you follow me on Pinterest, you will know that is the very first thing I pinned to her nursery inspiration board. And it proved to be wonderful, because I absolutely love everything about her nursery. And since my husband is in medical school and we didn't have a lot of money to spend on decorating her room, a lot of what I did was simple DIY! So now I want to share her gold, mint, and pink nursery with you, along with where I found each project and where you can buy the few things we did!
Little A's crib is the same white Graco crib we used in Little J's room when he had it (he conveniently decided to learn how to climb out of it one week before Little A was born, so we had to transfer him to an actual bed).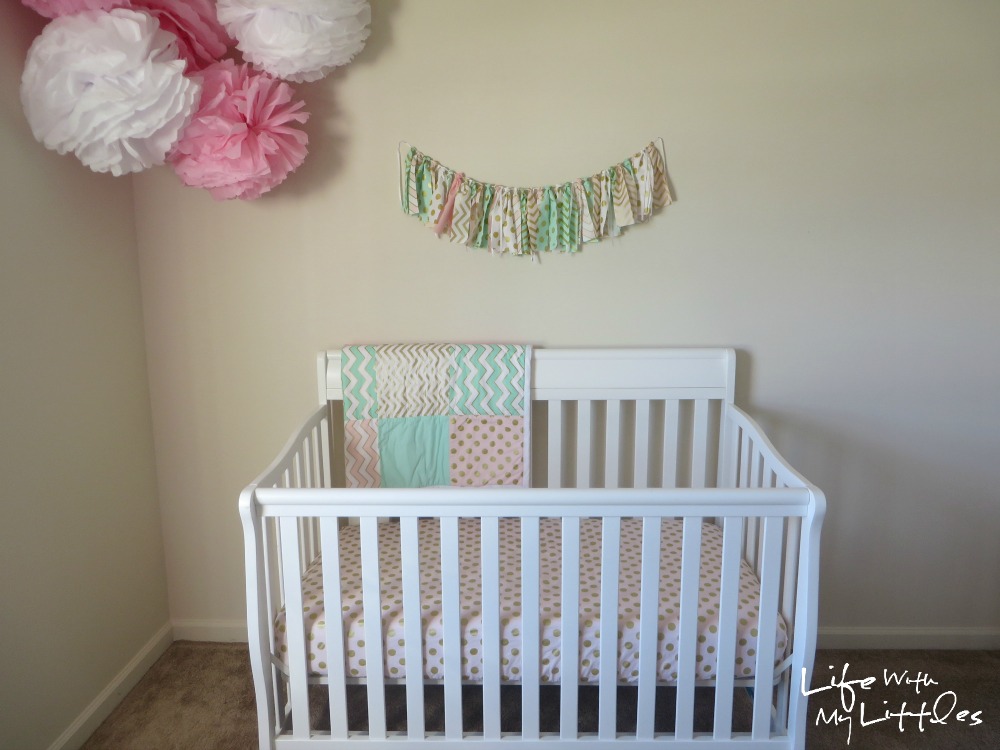 I sewed her quilt out of the Glitz collection, and her crib sheet is also from that collection. I didn't use a tutorial for the quilt, but the crib sheet tutorial I used was from MADE.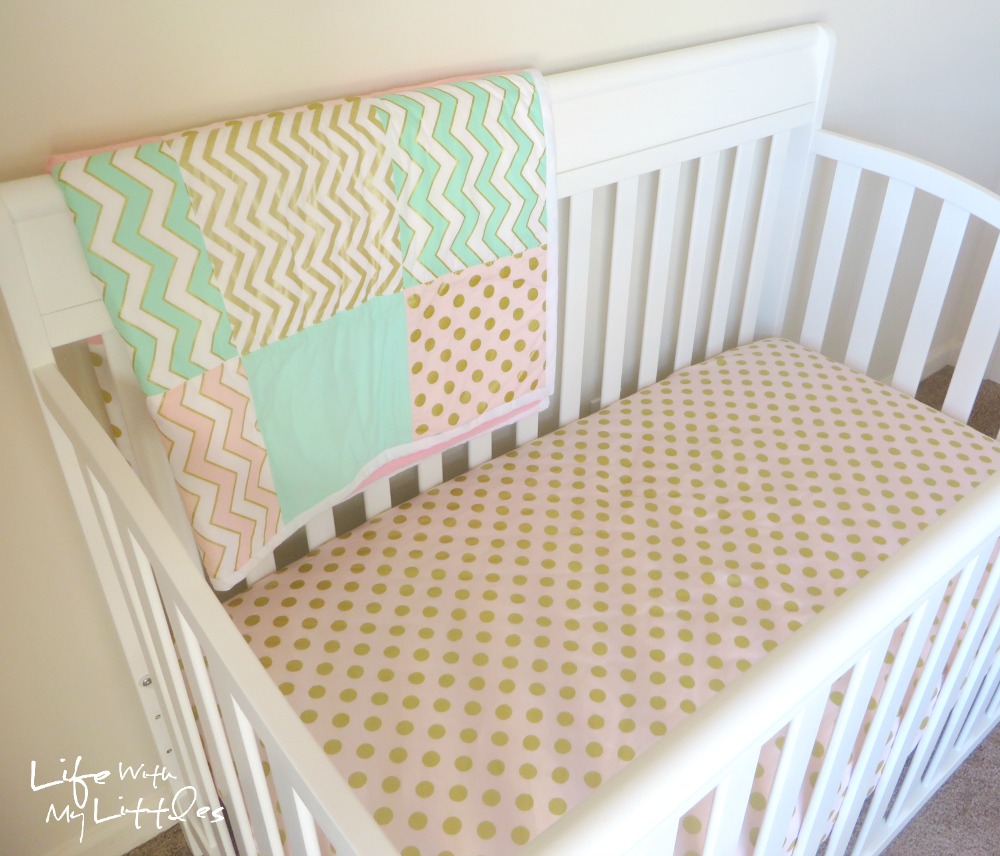 It is gold, white, mint, and two different shades of pink. Absolutely perfect.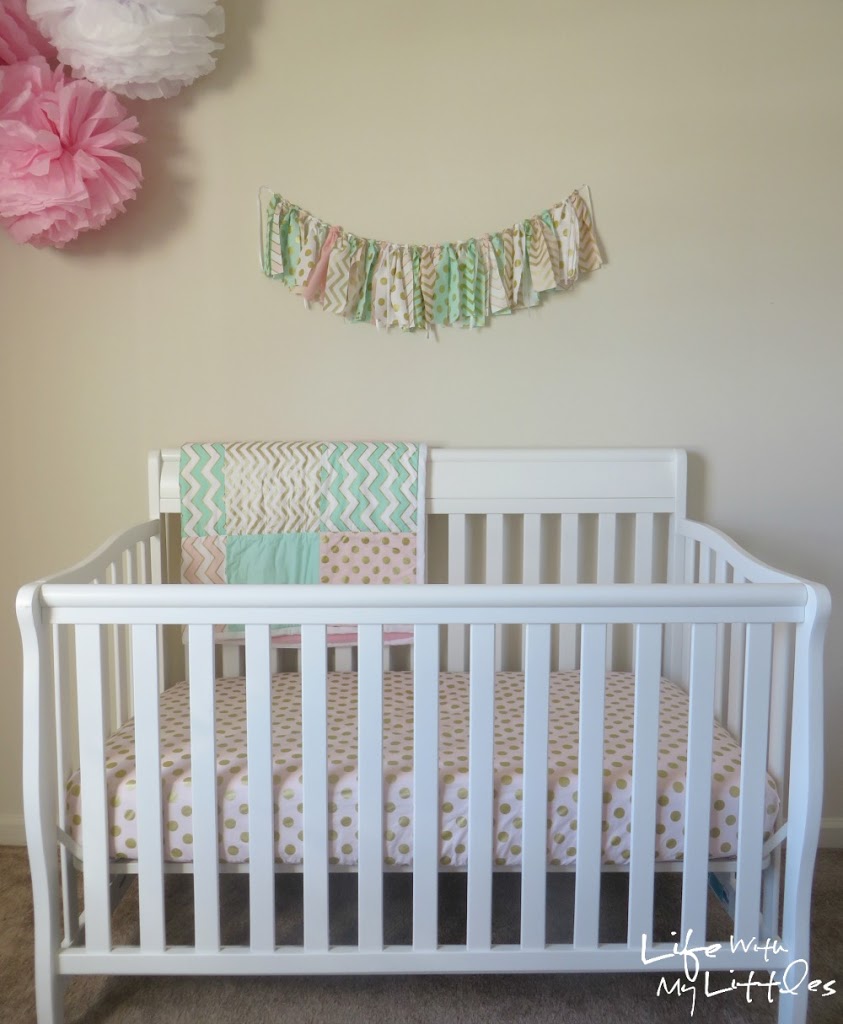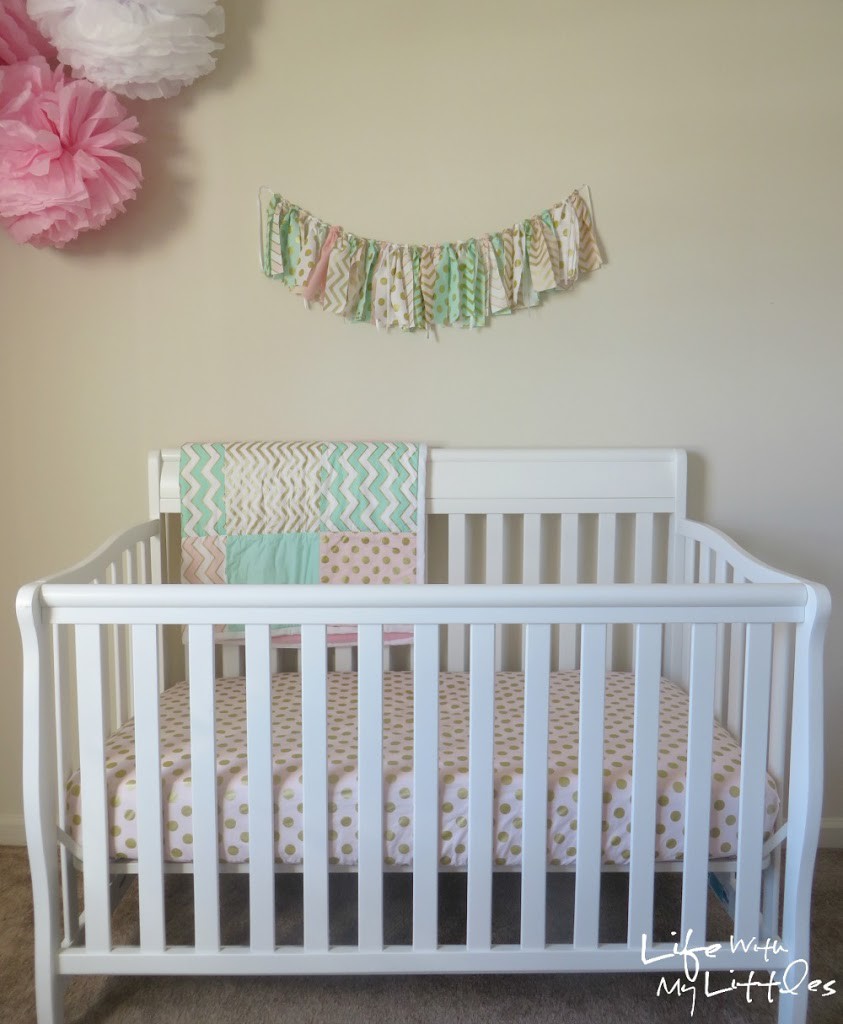 I used the scraps from the quilt and some white ribbon I had to make this adorable fabric banner. It was really easy and you can learn how to do it here. I think it adds the perfect simple touch above her crib.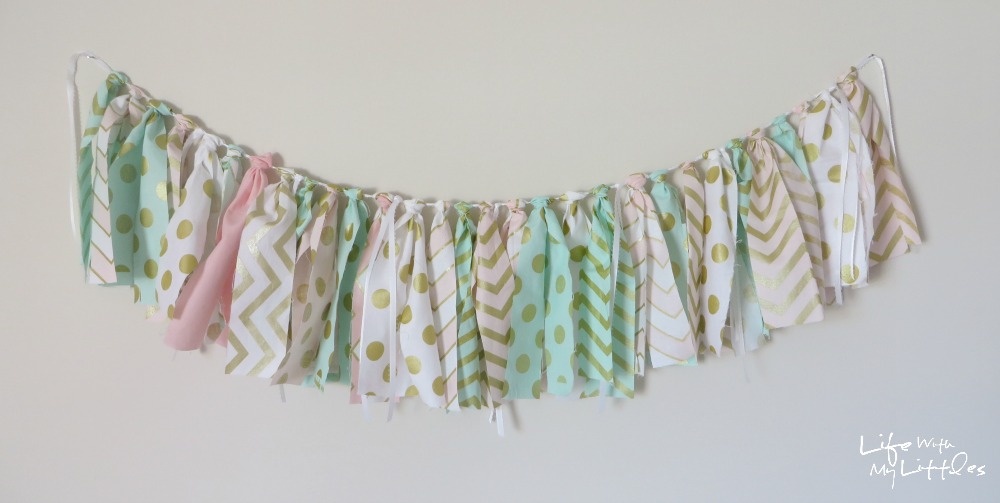 The tissue paper pom-poms were really easy, too. I recommend getting the paper for these from a party store, because you can get a big jumbo pack for the same price as the small packs at the grocery store. I hung them up with thread and push-pins. You can get the tutorial for these here.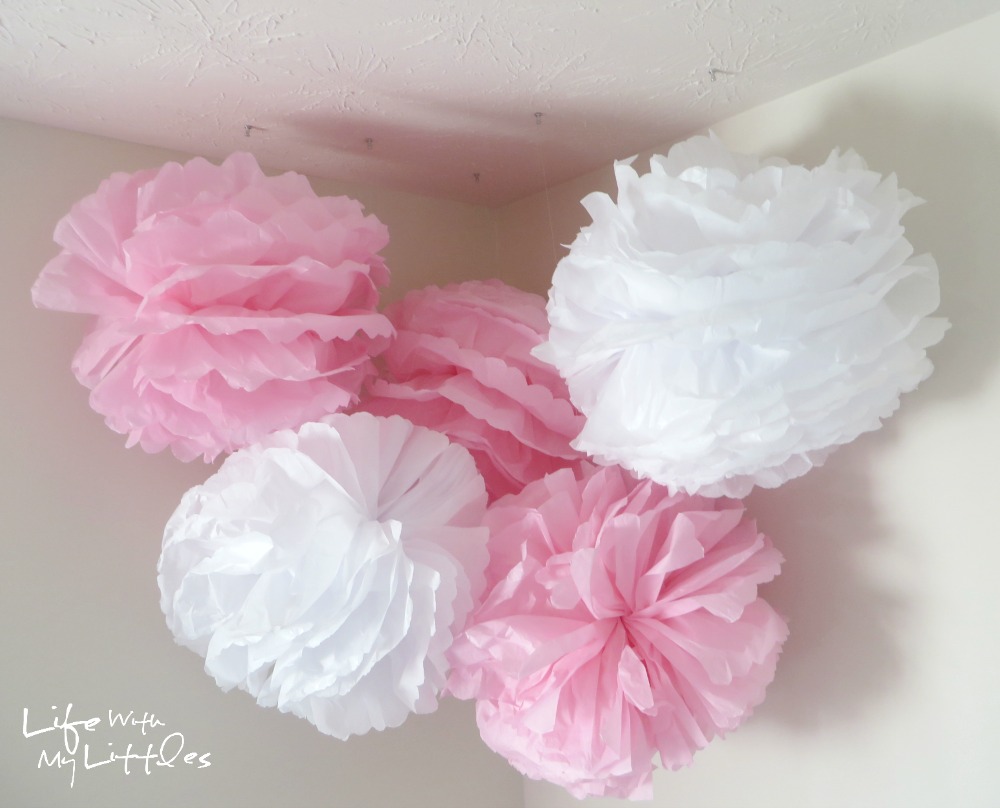 I love how this wall turned out!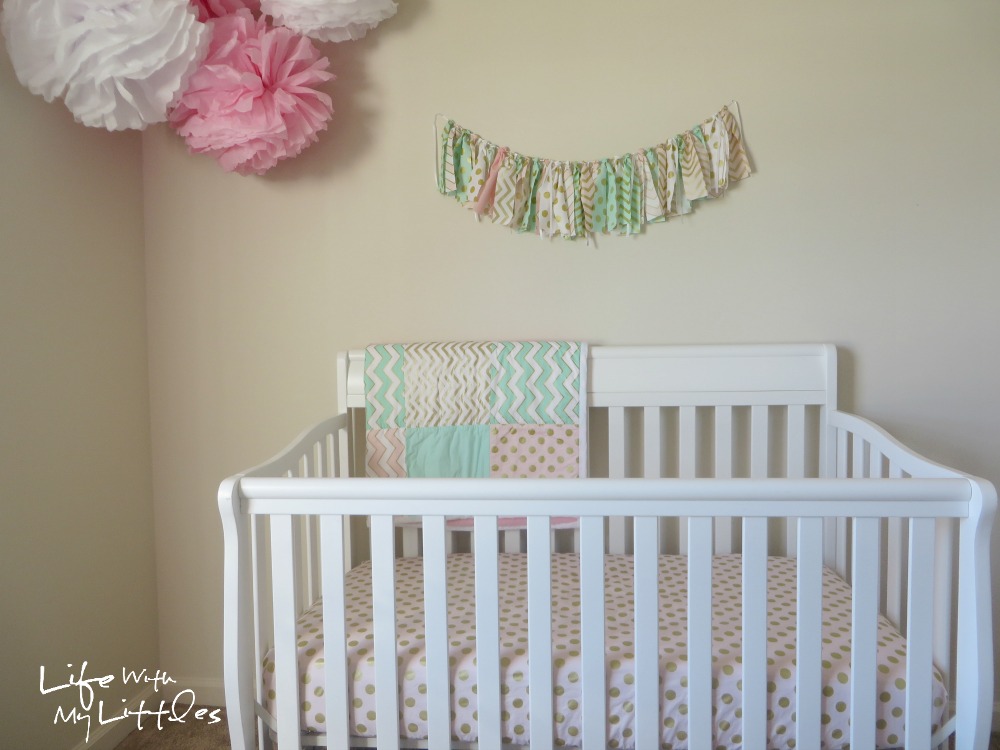 On the other side of the room, I have my super comfy rocking chair, her gallery wall, and the dresser/changing table.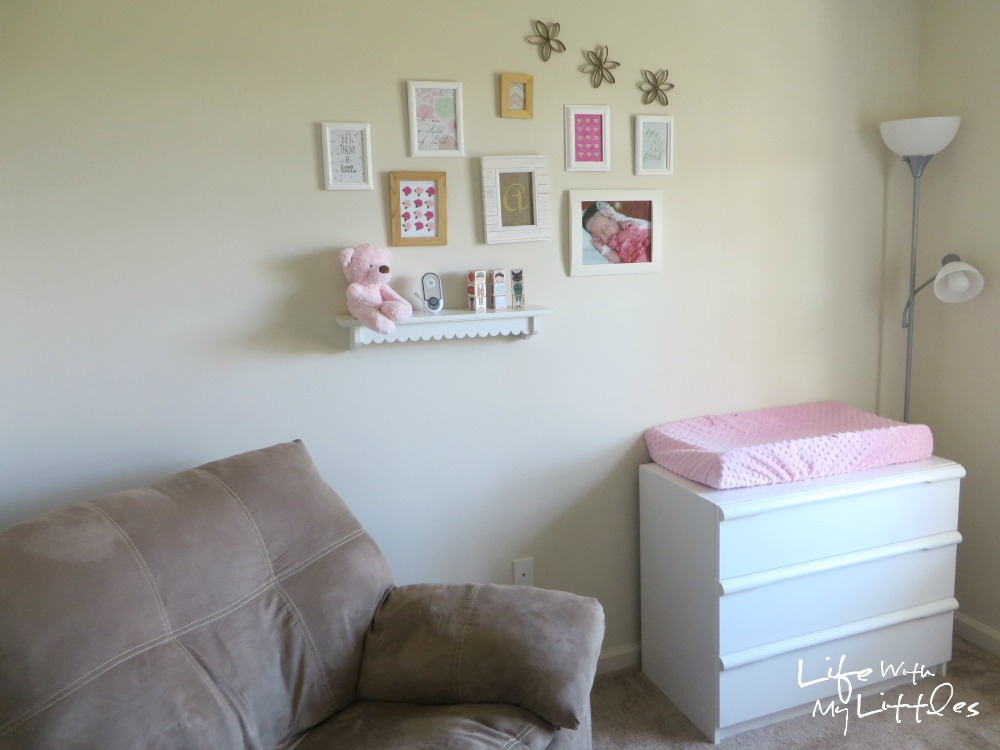 The gallery wall is my second favorite thing about her room (besides her bedding). I made all but one of the pictures, and got all but one of the frames at goodwill. Super easy to just paint or spray paint them the color you want.
The shelf I found at my parents' house, and I'm sure you could find one at goodwill. Little J picked out the bear and gave it to Little A at the hospital, it's the perfect place for our baby monitor, and we have adorable Olliblocks that my friend Shalie made for her daughters and then gave to me.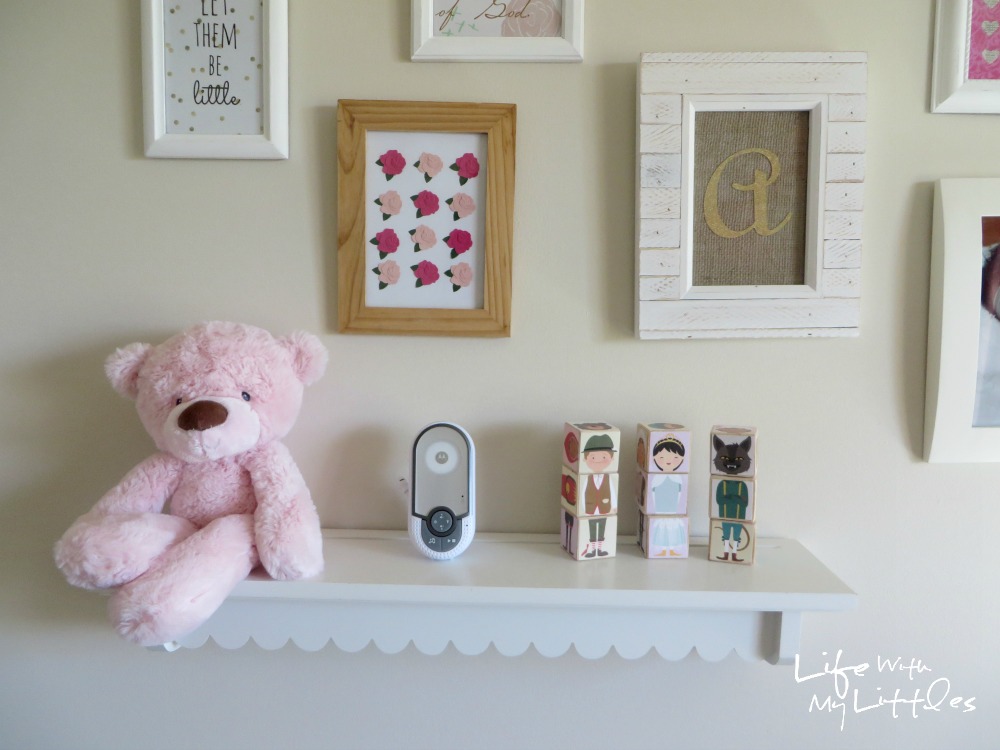 I also framed my favorite newborn picture of Little A, put a small piece of scrap fabric in a tiny frame, and then made some simple toilet paper roll flowers. I just left them the brown color.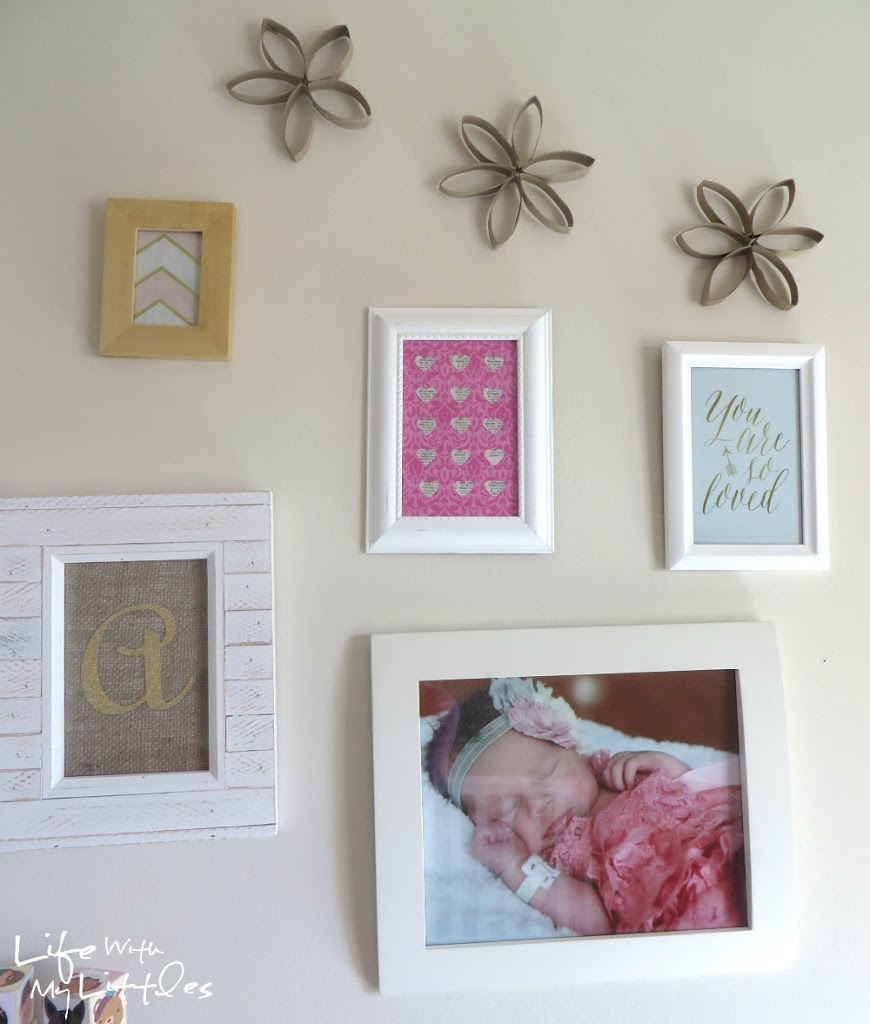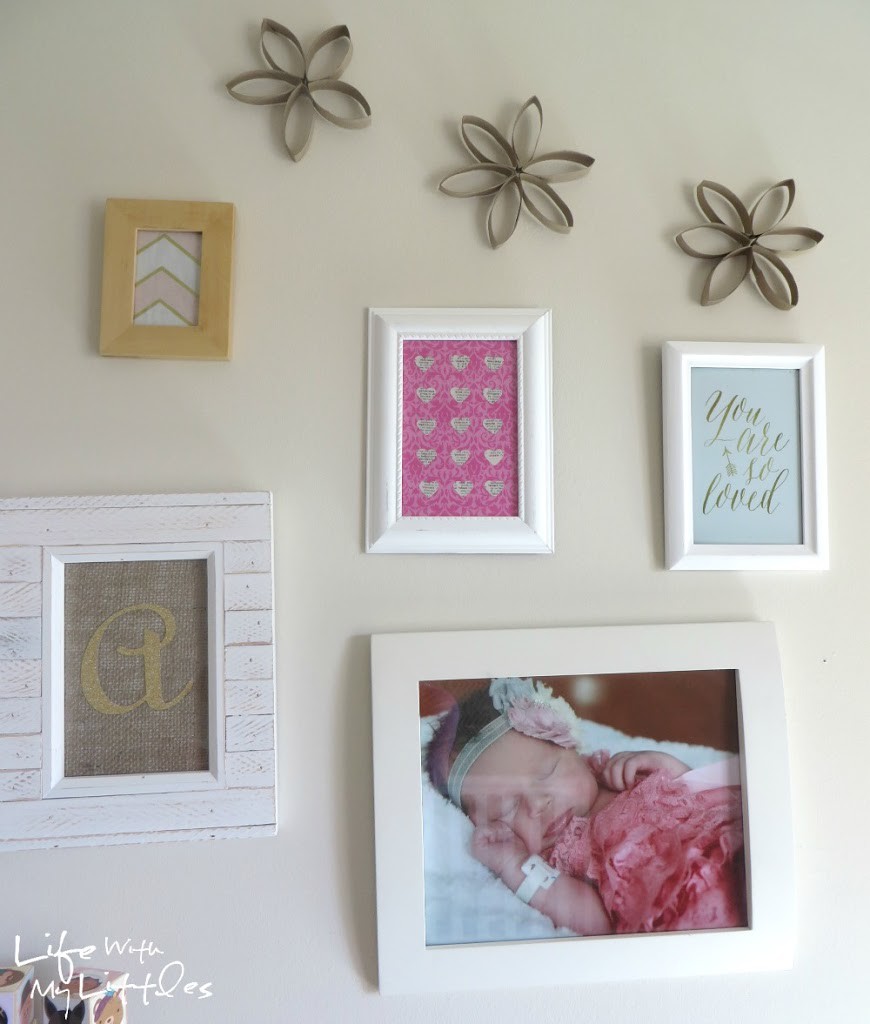 The pink frame has heart cut-outs of words from the dictionary that I want Little A to be. You can find the tutorial for that here. The "You are so loved" print is the only one I bought. I found it on Etsy from Sweet Peony Press. You can't really tell in the picture, but it is gold and sparkly-looking.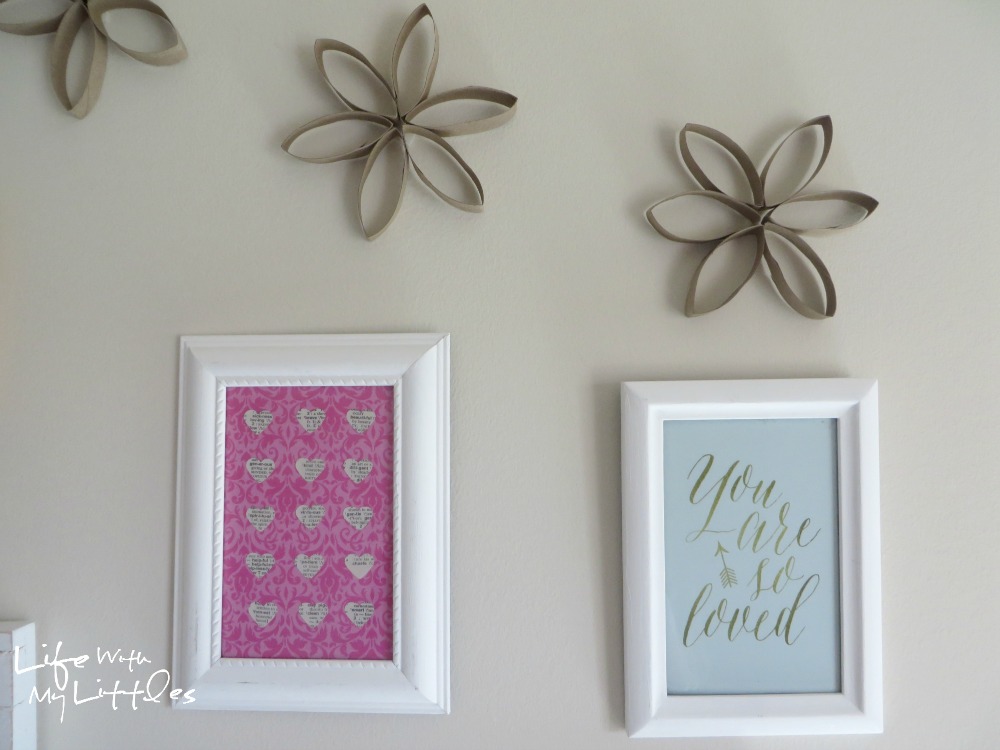 The gold "A" on the burlap was really easy, too. I just got some sparkly gold paper and burlap and then using my Cricut, I cut out a script "A" and then put it in the frame. The frame is the only one I got from Michael's, but I actually got it for free because it was a BOGO deal and I bought the same frame for a wedding gift for my sister.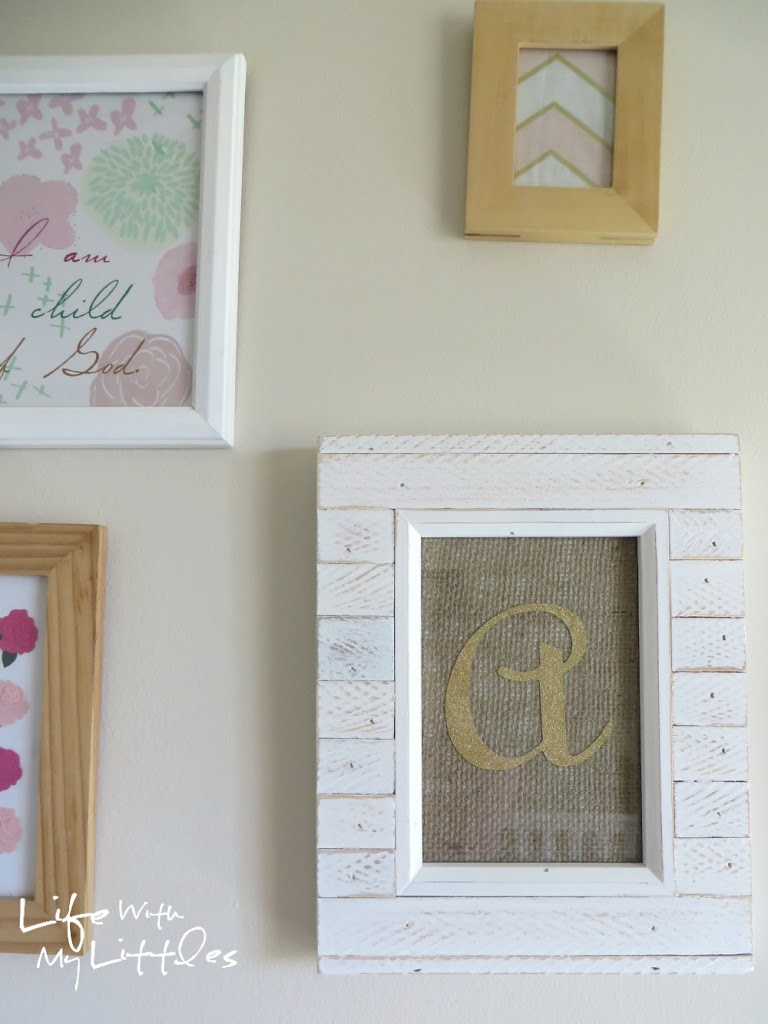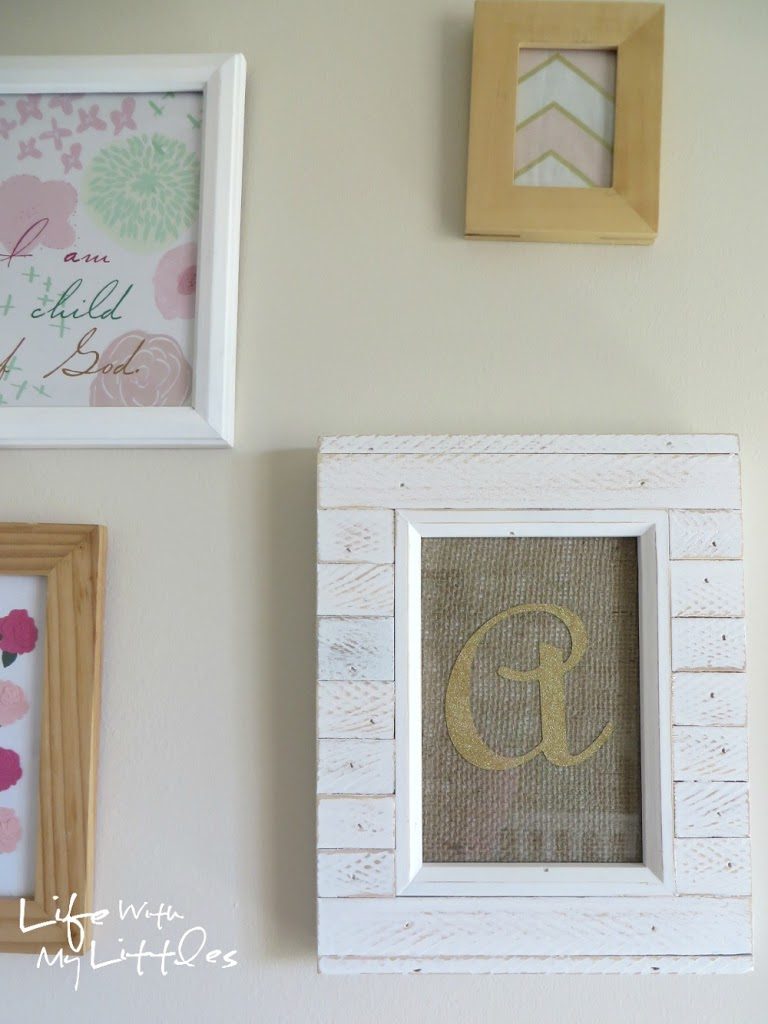 On the other side, I have two prints that I designed myself. The "Let them be little" print is based off of one by Hello Maypole. I designed the "I am a child of God" print using some flower clip art I had. The rose one is actually just some Martha Stewart stickers I found at TJ Maxx. I found them on Etsy if you want to buy them. I just put them on white cardstock and then in a frame. So easy.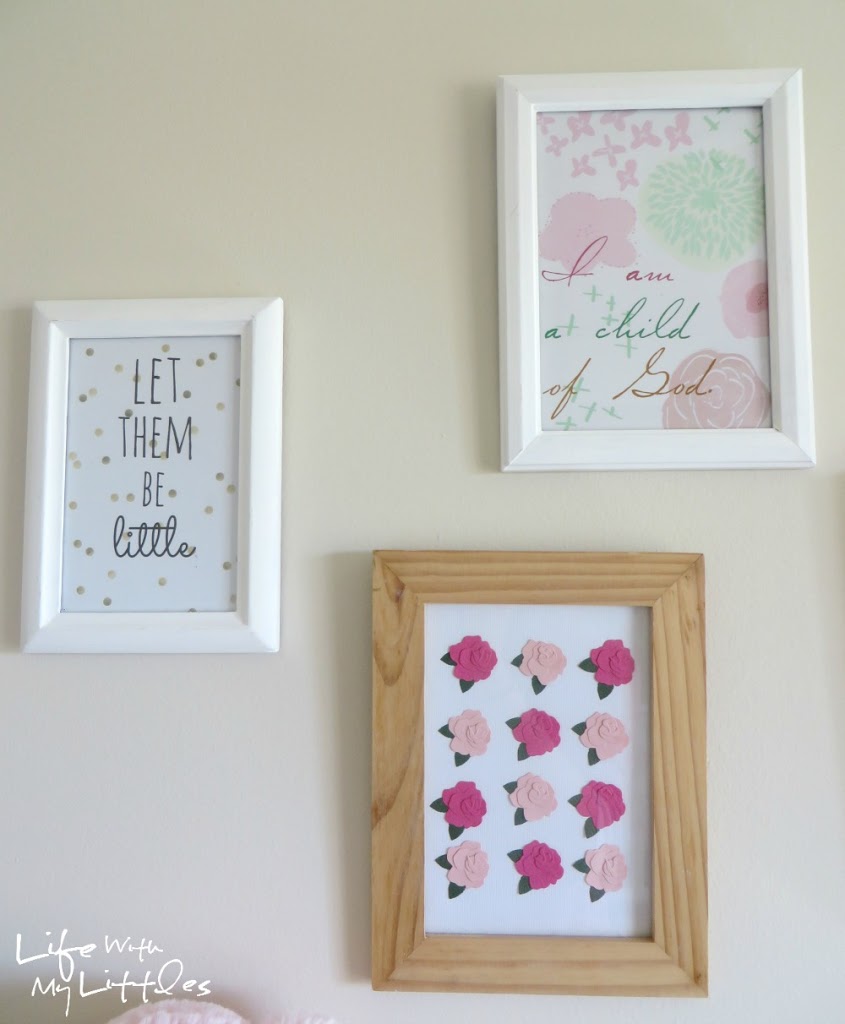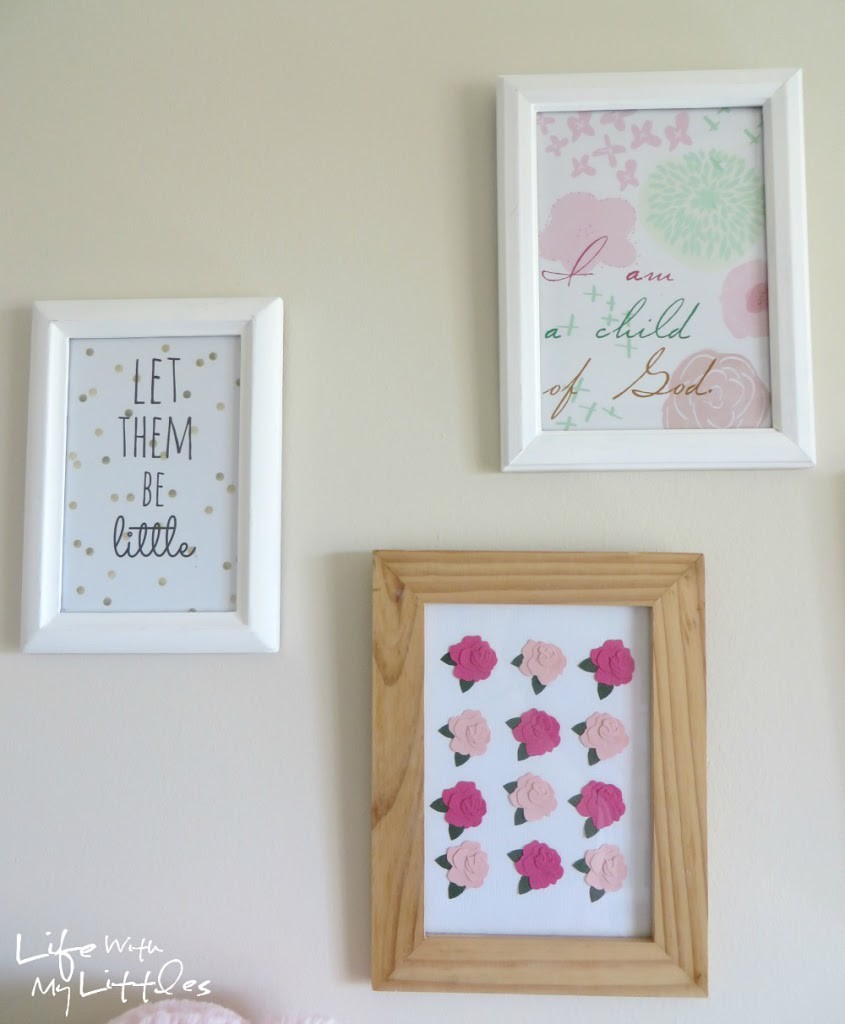 The rocking chair/recliner is SUPER COMFY and easily the most expensive item in the room. We got it with our couch as a set before Little J was born. I highly recommend getting a recliner over a rocker because it is way comfier and having cushy arms on the chair helps a lot. It's from Homemakers if you are curious.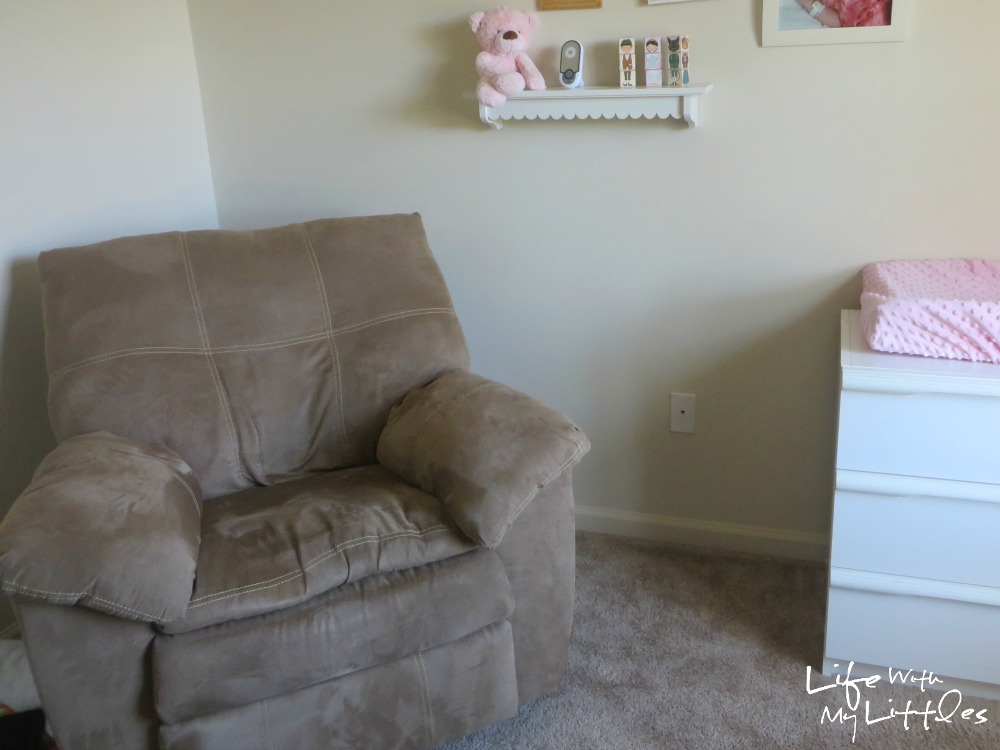 The changing table is actually a dresser that I have had since I was 3. It is just white with three drawers, and I have started wanting to upcycle it, but who knows if that will happen. I just put our changing pad on top, and a light next to it (because our apartments don't have ceiling lights in the bedrooms…). Her changing pad cover is a pinky minky one. The light is a cheap $10 one from Walmart.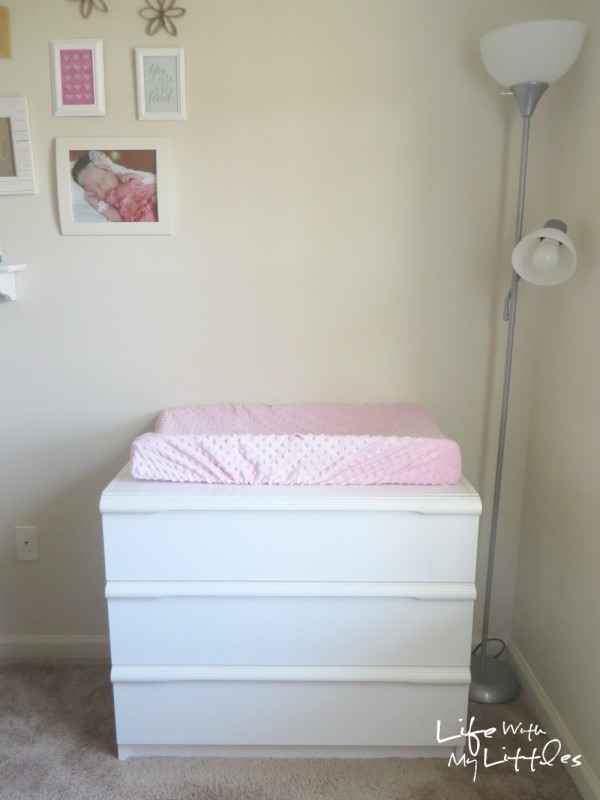 So that is Little A's gold, pink, and mint nursery! It is absolutely perfect for her, and I am glad I got to share it with you!!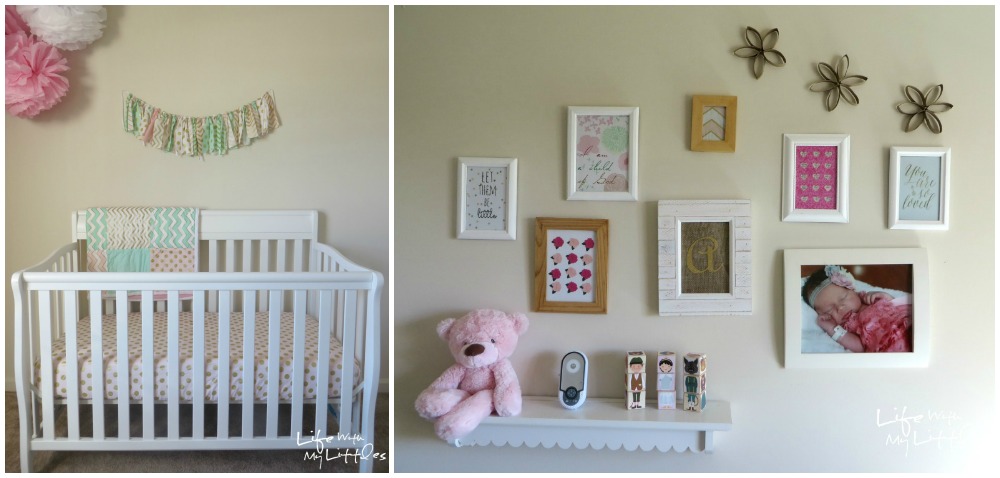 Here's a list of everything so you can DIY, too!
Graco Stanton Crib
Glitz by Michael Miller
Crib Sheet Tutorial by MADE
Fabric Scrap Banner by I Heart Naptime
Tissue Paper Flowers by Two Twenty One
Fairy Tales Olliblocks
Toilet Paper Roll Flowers
Heart-Punched Dictionary Wall Art by Life With My Littles
"You are so loved" Print by Sweet Peony Press
Martha Stewart Pink Rose Stickers