This morning sickness survival kit is full of things to help any pregnant woman treat morning sickness! It makes a great gift, or just buy everything for yourself!
This post contains affiliate links.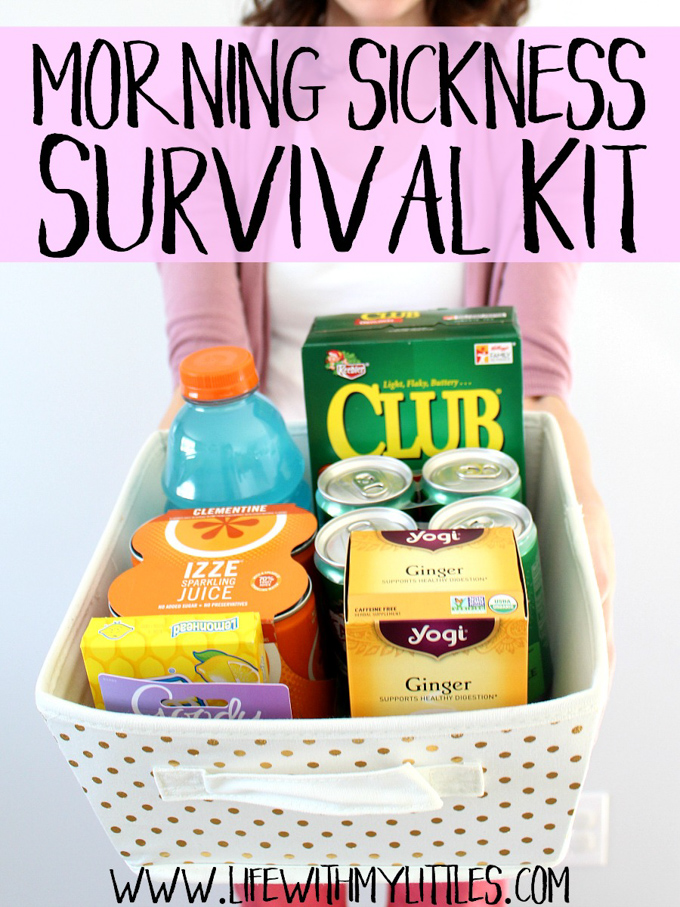 Morning sickness: two words guaranteed to make any pregnant woman groan. Even if you're lucky and you never actually throw up during pregnancy, chances are you've at least felt nauseous during the first trimester, or even during the second.
Morning sickness makes it hard to function normally, and if you don't know how to manage it, you're going to struggle! Today I put together a helpful morning sickness survival kit for a friend of mine, and I wanted to share it with you! It makes a great gift, or if you're the one suffering from morning sickness, just add everything to your grocery list!
1. Gatorade
. I don't know if color matters a ton, but I've heard not to try red Gatorade, and I've also heard that the blue Gatorade is like magic (my mom swears it helps her migraines). Gatorade will help replenish electrolytes and keep you hydrated. Taking small sips of it really helps when you can't keep anything else down!
2. An ice cube tray
. Another thing I tried when I was pregnant was making Gatorade ice cubes. I've also heard you can try making ice cubes with lemon juice!
3. Lemon drops
. Sucking on lemons can help soothe your stomach, and lemon drops always worked for me!
4. Ginger ale
. Ginger is another food that can help soothe your stomach, so try drinking small sips of ginger ale! I always had some on hand with my third pregnancy!
5. Ginger
or peppermint tea
. Again, ginger helps soothe your stomach, and so does peppermint. If you're having a hard time keeping anything in your stomach you want to make sure you don't get dehydrated, so drinking these flavors as tea can help!
6. Crackers
. I always kept crackers on my nightstand and would have a few bites before going to bed at night, and then a few bites before getting out of bed in the morning. That way my stomach had a little something in it and it helped me not get nauseous immediately after waking up.
7. Mints
. Another easy way to soothe a queasy stomach.
8. IZZE Sparkling Clementine
. Since citrus can help ease your stomach, drink some citrus-flavored sparkling juice. I love Izze Sparkling Clementine flavor! Again, small sips!
9. Hair ties
. As much as you hope that you're not going to throw up, sometimes you will, and you don't want your hair getting in the way!
Having the right things on hand to help you treat morning sickness is super important in the beginning of pregnancy. Hopefully this post was helpful if you're the one dealing with morning sickness, and if not, hopefully it will help you put together a thoughtful gift for a mama-to-be!