It's hard to know how to help someone who has had a miscarriage. Here are seven things you can do to help lift up and be a friend to someone who has had a miscarriage.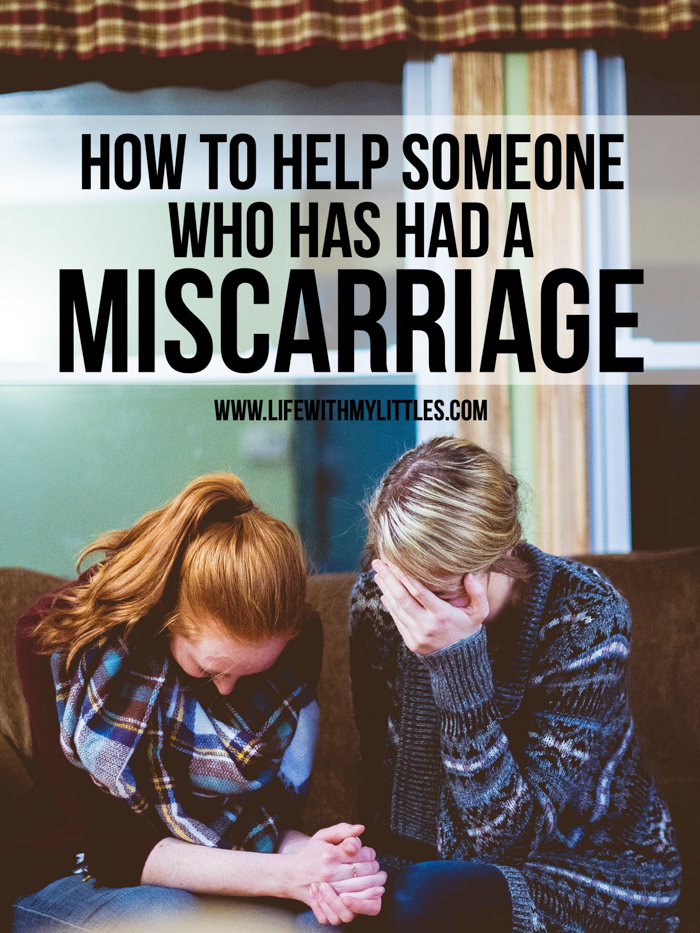 I want to start this post by saying that I have never had a miscarriage. I don't pretend to understand what it feels like, or what someone who has had one must go through. But I have had a lot of friends who have, and I know that it is not talked about nearly as much as it should be. My husband and I struggled with infertility, and I felt so alone in that journey. My goal with this post is not only to give advice on how to help someone who has had a miscarriage, but to create awareness at how common miscarriages and infertility are.
In the last few years, two of my best friends have had miscarriages. Each time, I was absolutely heartbroken for them. One of my biggest fears is to lose a baby, and I couldn't imagine what they went through. The first time I felt like I had no idea how to help her, and even though I wanted to do what I could, I didn't know what to do. The second time, I was able to reach out in a few different ways to help care for and comfort her. I know that I was able to help lighten her burden, even just a little bit.
When I first started doing research for this post, I posted on Facebook asking my friends to message me if they felt comfortable sharing their story and what was helpful for them when they had a miscarriage. I had so many people send me messages telling me what it was like for them and what people did that helped them get through it. Miscarriages are so much more common than you might think. Between 10-20% of all known pregnancies end in miscarriage (source). So even though it's not something people openly talk about, miscarriages happen at least in 1 out of ten pregnancies. I don't tell you that to scare you, only to make you realize that they aren't as rare as you might think.
So what do you do when your friend or sister who was so excited to finally be pregnant tells you that they lost the baby? I talked to eight different women who gave me advice on what helped them the most to come up with this list. I am so grateful for their openness with me and that they were willing to talk and share their experiences. If it wasn't for them, I wouldn't have been able to write this post.
How to help someone who has had a miscarriage
1. Acknowledge that you don't know what to say
If you haven't had a miscarriage, you might not know what to say. And you definitely aren't going to know how they feel. So say that. One of my friends said that when someone told her "I wish I knew what to say," it was exactly the right thing for her because she was acknowledging that she hadn't gone through it and she didn't know what her feelings were like at that time. Which is completely true. Don't pretend like you know what they are going through. You don't. And letting them know that will really help.
2. Give them a gift
Another friend told me that she heard of a girl giving someone a flower to plant that would bloom every year so she could remember her lost baby. Something physical to represent the baby that was lost that can be displayed is a great way for them to remember the baby. People who have miscarriages don't want to forget their baby, no matter how early they lost their baby. It was still theirs. Even making a fleece tie blanket she can wrap herself up in is a simple thing that can make a difference. Other more simple gifts could be a condolence card if you are far away, or even sending flowers can help lift someone's spirits. Making an effort to try and help can mean the world to someone who has had a miscarriage.
3. Give them a hug
Several of my friends said that receiving hugs really helped them out. Even if you aren't a huggy person, sometimes just being held can really help. So just stop by and give your friend a hug. Honestly you might not need to do much more than that.
4. Just listen
Don't try to fix their problem, don't try and get them to be grateful for their other kids, don't try to give advice. Just listen to them. Let them talk about how they are feeling, and then be there so they can cry on your shoulder. Husbands are great, but sometimes you need a third party for support. Be that person for someone.
5. Let them know you are thinking about them
Whether you are close or far away, send them a text, give them a call, or just do something to let them know that you are thinking about them. Knowing that people care is going to help them feel loved, and a lot of my friends said that that was what they needed most. So reach out, tell them you are thinking about them, and that will mean a lot to them.
6. Give them some alone time
They might just want to be alone, so ask if you can take their kids for a few hours so they can nap or pay for them to go get pampered somewhere. Sometimes they might just want to think about it by themselves, so let them. Give them a chance to do something for themselves without worrying about anything else. And if you offer and they say no, that's fine, too. This might not be for everyone, but give them that chance because it might be what they need.
7. Take them out so they can do something normal
Some people might want to distract themselves for a few hours so they can take a break from the pain they are going through. So go out with the girls for ice cream or for hot chocolate. Go get your nails done together. Do something you might do on a girls' night out. Just be around friends and have fun doing something together.
Losing a baby is not something I would ever wish upon anyone. To those who have gone through one (or several), I am so, so sorry. Always remember that you are not alone, and you are loved.
I want this post to help others know what to do for someone who has had a miscarriage. My heart breaks for everyone who has ever had one. I can't imagine the pain that accompanies it, and I think it must be even worse because women don't always feel like they can tell people. We need to take away the stigma that comes with miscarriages, and be more open and supportive. A baby is a baby, whether it is born or not. Please help me share this message by sharing this post. We need to help women who have had a miscarriage know that they are not alone.
Again, I want to say thank you to all of my friends who talked to me for this post. I couldn't have written this without you.
This post was originally published May 11, 2015.