Mama Susie of Busy Toddler shares the C-section birth story of her son on the Honest Birth birth story series! Susie had planned on a natural birth, but ended up with a scheduled C-section at 39 weeks because of a big baby!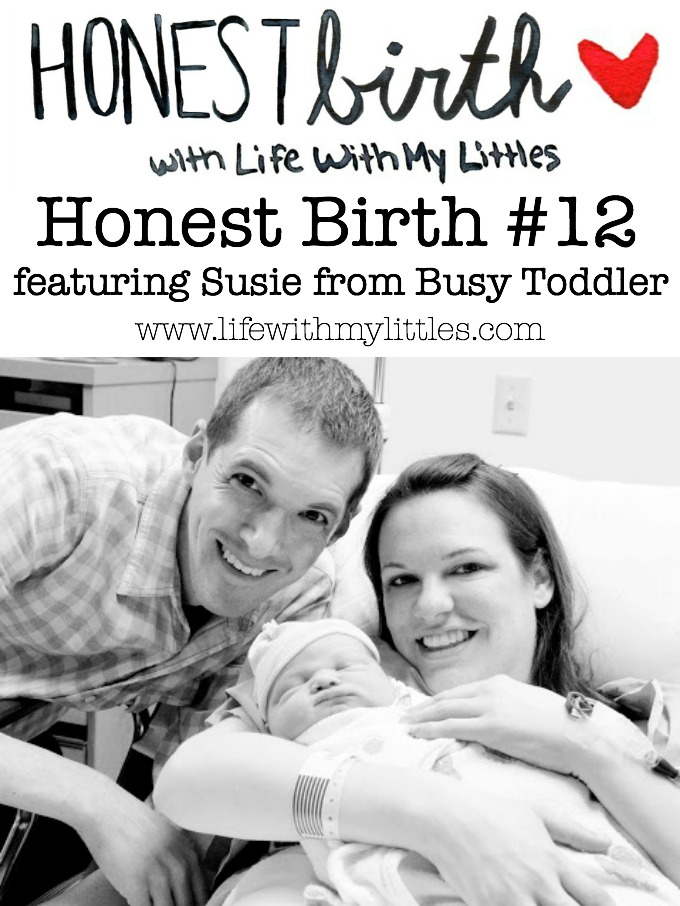 Hey mamas! Welcome to the twelfth post in my Honest Birth series! I'm excited to share another real mama's birth story, because I think it's so important to share our childbirth experiences with each other. My goal with this series is to provide a place for women to share their birth stories without holding anything back, as well as compile stories for pregnant mamas to read in preparation for their own childbirth experiences. Every mama is different and every birth is different, and I believe that when we share our stories we help each other.
Today I am featuring my friend Susie! I discovered Susie's blog, Busy Toddler, a few years ago when I was doing Tot School with the kids. She started it as an Instagram account to share quick, easy, and free activities to do with toddlers that required very little set-up and prep. Eventually that led to her blog! It's seriously a fabulous resource for any mom who stays at home with her kids. Susie shares indoor and outdoor activities, messy and sensory activities, and you can even browse activities based on subject or gross or fine motor skills. She used to be a teacher, so it makes sense that she has fabulous ideas! She and her husband have three adorable kids (all born via C-section), and today, she's going to be sharing the C-section of her son Sam!
Ready to read all about Susie's C-section? Let's do it!
The Birth Story of Sam

It was a miracle that I got pregnant in the first place.
I was 26, we'd bought our first home, and we were ready to start a family. And so we did…Of course, by the time I had that "ready to start a family" baby, I was 30. Just a short 4 years after we started trying.
The road to pregnancy was a bumpy one for us, with lots of twists and turns, but a happy ending. Thankfully, a very happy ending. After 5 rounds of IVF, 100s of shots, surgery, and prayers, we were finally having a baby.
I decided I wanted to at least attempt a natural childbirth. Most of that decision had to do with the very UNnatural way that I got pregnant. I figured, since I hadn't gotten myself into this the natural way, I'd try to get myself OUT of it the natural way (wink wink).
So, we planned on that. And we prepared for that. And at 38 weeks pregnant we knew our long wait for
parenthood was finally coming to an end.
It was the most joy-filled time.
At 38 weeks, I went in for a routine check on baby. I was enormous. Planet sized. If you didn't know we were an IVF couple, you would have been sure our dates were wrong.
Just to make sure all was okay in my giant body, the doctor ordered up a quick ultrasound. I asked questions like "What will this ultrasound show? Will I be induced? Will I need a C-section?"
The doctor laughed and said, "No no, you won't need a C-section unless the baby measures more than 11 pounds, and don't worry. That doesn't happen."
So I started calling it the "Fat Baby Ultrasound." I'm sure it has an actual medical name, but I'm sticking with that. They were going to check on how fat my baby was.
The tech said nothing. She did the exam, left, came back, and said, "Do you want to know what the estimate is?" Obviously, we nodded. "11 pounds, 3 oz."
I don't remember much about the car ride home. I remember being surprised but also not surprised. My belly was measuring 42 weeks. My husband weighed 10 lbs 8 oz at birth. My mom had big babies too. The signs were all there: we were going to have a giant baby.
The problem with this giant baby is that the measurement of his head to shoulders to chest was even more off balanced than his weight and the likelihood of him "fitting out" was low. Maybe if his collarbone broke during delivery he'd fit, but who wants that?
The next day, the woman, who would be my doctor for the next three years, called to say it was a must-do C-section. It was a no-brainer for baby safety and mom safety.
I cried a lot that day because I had this picture in my head of what birth would be like and though it is a painful experience, it is what women do. I had already missed out on so many other experiences by coming to this pregnancy through IVF–I lost another piece of normal that day.
But then I slapped myself in the face, and remembered that I was pregnant, with my biological child, fulfilling a dream that nearly escaped me and has escaped so many others. How lucky was I to be having a baby!
We scheduled the C-section for 4 days later, on what was exactly 39 weeks.
At 39 weeks pregnant, I walked down a long hallway in a dressing gown, lifted my giant body onto an operating table, and willingly gave myself over to being sliced open while awake.
Now if that isn't guts, I don't know what is.
Sam was born on a Saturday, almost 4 years to the date of when we first decided to have a baby. He was enormous.
He peed just as they weighed him and still came in at a whopping 11 lbs. They were right. He never would have fit. My doctor later said it was the easiest C-section she'd ever called for.
I didn't get to do an immediate skin to skin with Sam, but my husband did–which seemed fair since I'd held Sam for 39 weeks and it was his turn now.
Our miracle boy turned out to be just that…a miracle. His pregnancy changed my hormones and we were able to naturally conceived his sister and brother. Both born via c-section and both enormous.
But mostly Sam healed me. In that instant when he came into our world, all the pain and all the hurt and all the agony of IVF and a scheduled C-section washed away. None of it mattered.
I had my boy and he had me.
Didn't you love that!? I loved reading Susie's story! I loved how she ended her story so positively, even though a C-section wasn't what she initially wanted! The most important thing in any birth is a healthy mom and baby, no matter how that happens! Make sure you check out Susie's blog, Busy Toddler, and follow her on Facebook, Pinterest, Twitter, and Instagram. Thanks to Susie for sharing Sam's birth story and thanks to all of you mamas for coming to read it! Check back in two weeks for another Honest Birth post!