Mama's Monthly Faves: a series all about the best mama and baby products!
I received free product in exchange for this post. This post contains affiliate links.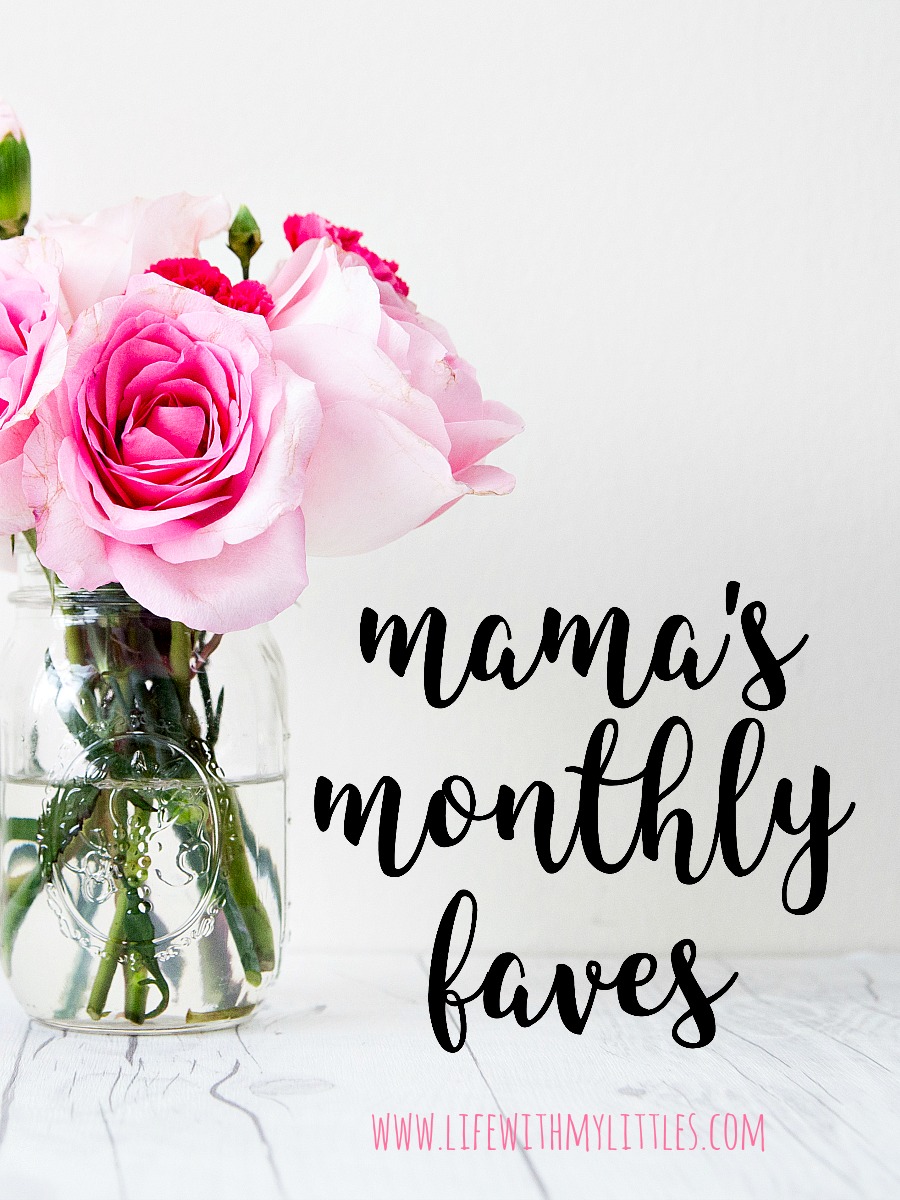 Yay! I am so excited to be back and ready to share another Mama's Monthly Faves post with you this month! I know I skipped December and February because I was taking time off for the holidays and little man's birth, but I am planning on posting again every month and I have some awesome stuff to share with you! Let's get to it!
1. Made by Mary initial disc necklace. I mentioned this in another post, but I used to have an initial disc necklace that I loved, but the chain wasn't very strong and it broke a few times so I stopped fixing it. A few months before Little R was born, I asked some friends what their favorite place for a similar necklace was, and six of my friends told me to check out Made by Mary. And guys, they do not disappoint! I got the Triple Disc Necklace in silver and I got all three of my kids' initials stamped on the discs. I know it's hard to see the initials in the picture here, but I love it so much! It is the perfect necklace if you are a minimalist when it comes to jewelry, and I seriously wear it every day. I got the shorter 16″ chain and love where it hits me. If you're looking for a necklace like this, they are the ones you want to buy from!
2. The People v. OJ Simpson on Netflix. I binge watched this in like four days while feeding Little R and after all the kids were in bed (the woes of having a husband working the night shift). Even if you don't like law or court shows (I don't), this is such a good watch. There were so many things I had no idea about (did you know OJ is Kim Kardashian's godfather??), and there were surprises in every episode. I was only 5 when OJ had his infamous car chase down the freeway, but this was super interesting to me nonetheless. If you're looking for a show to watch on Netflix, I recommend it, but caution, the f word is used a few times. Also, I for sure think he did it, but I also think some of the evidence was planted to make sure he was convicted.
3. Peeps Oreos
. I love Oreos and I love Peeps, so it makes sense that I would love these. They taste like golden Oreos with marshmallow filling, with a tiny bit of a sugary crunch. Oh man, they are good. I made a milkshake with them and it did not disappoint. I highly recommend trying these out.
4. Owlet Baby Monitor. I love this product SO MUCH. If you haven't heard of Owlet yet, it's a little monitor that you put on your baby's foot each night and it tracks your baby's heart rate and oxygen and is designed to notify you if your baby's heart rate or oxygen levels fall outside of preset zones. No matter how many babies you have, you never stop worrying about them during the night. Having this device has given us peace of mind that I wish we would've had with Little J and Little A. It helps my husband and I both sleep better because we don't feel like we have to go check on Little R every ten minutes to make sure he's breathing. It's the best, and easily one of the best baby items we've ever had.
5. Our new Rainbow Play Systems playground. A few weeks ago we bought a new playground from Rainbow Play Systems at their display sale in our area. It was a great price, the playground was amazing, and we have wanted to get something bigger for the kids ever since we moved in. Last week it was delivered and set up, and WE LOVE IT. The kids are outside every day playing and having fun, and I seriously feel so blessed to have been able to get it for them. I have lots of memories of the playground I had growing up, and I can't wait for my kids to make memories on this playground. I'm going to talk more about it in another post in a few weeks, but I couldn't do a monthly faves post and not include it!
Well I hope I helped you discover some great new things this month, because I love sharing my favorite things with you guys! I really do love all of these things and want to help spread the word about how awesome they are!