Not sure what kind of baby monitor is right for you? Or even how to choose a baby monitor? Here's a breakdown at the pros and cons of audio monitors, video monitors, and Owlet monitors, plus favorites, best rated, splurges, and steals (and an honest review of the Owlet Smart Sock and Owlet Cam!).
This post contains affiliate links. I received free product in exchange for this post.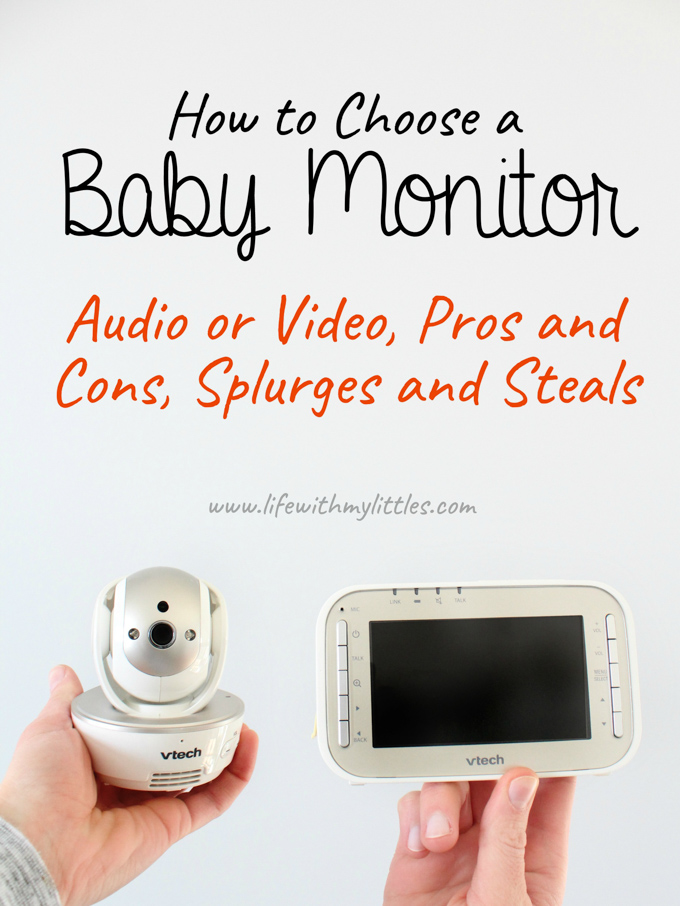 When our first baby was born six years ago I was overwhelmed by all the different kinds of baby monitors. It seemed like there were so many brands and they all had different options and features. How could I even choose?
Flash forward to today when there are even MORE brands, MORE options, and MORE features! Knowing how to choose a baby monitor is no small feat!
There's definitely something for everyone and every budget, and it's absolutely worth it to go through and sort out what features are actually useful and which you could do without (because even though some are cool, they aren't really necessary!).
Today, I wanted to talk all about how to choose a baby monitor so you can make the best decision for your family!
Audio-Only Baby Monitors
Audio-only baby monitors are monitors that, you guessed it, only provide audio. No video screen, basic features, and they're generally the cheapest kind of baby monitor. If you are pretty low-key and don't feel like you need to see your baby on the screen when you could just go open their door and check on them, an audio-only monitor might be for you. We used an audio-only monitor with our firstborn and for about the half the time with our second, and it was just what we needed.
Pros: Usually cheaper, can provide features like temperature in baby's room, walkie-talkie communication, night light, or music
Cons: You obviously can't see your baby, very basic
Favorite model: Motorola MBP16-2 Digital Audio Baby Monitor
– $42.95 on Amazon – We used this with our first two babies. It showed the temperature in our baby's room, let us talk to our baby, had a night light, and played a few different songs. It reached up to 300 meters and we brought it on vacation a few times. It actually wasn't working when we got it out to use again with our second baby, and Motorola sent us a replacement because it was still under warranty. It was sweet!
Best rated on Amazon: VTech DM221 Audio Baby Monitor
– $34.99 on Amazon – This monitor currently has over 5,700 reviews and still has four stars. Impressive! It has your typical audio-only baby monitor features like talkback from the parent monitor, a belt clip on the parent unit, a night light, and you can buy a second parent unit.
Splurge: Philips Avent SCD570/10 Dect Baby Monitor
– $111.07 on Amazon – This audio-only monitor has tons of features, like a night light, music, the temperature in baby's room, talkback from the parent monitor, works up to 330 meters, it's very sensitive, and has a vibrating feature so it doesn't always have to beep when sound is picked up, it has a night mode on the parent monitor, and it has good battery life.
Steal: VTech DM111 Audio Baby Monitor
– $18.59 on Amazon – Another highly rated audio-only monitor, this one is similar to the VTech DM221, but with a less features. It's pretty much only an audio monitor, and it doesn't have the talkback feature. So if you want a very inexpensive audio-only monitor, this is a steal!
Video Baby Monitors
The main difference between audio-only baby monitors and video baby monitors are that the video baby monitors also have video. They often have the same features as the audio-only monitors, but they provide a little more peace of mind for new parents because not only can you hear your baby, you can also see them. They come in black and white or color (which honestly, doesn't really matter that much), and range a lot in price.
Pros: You can see your baby, sometimes they come with two monitors so you can have cameras in two rooms connected to one parent unit, you can zoom in or out and usually move the camera from the parent unit, come with mounting equipment so you can mount onto the wall above baby's bed if you want, some have the option to view the video on your phone
Cons: More expensive, not really necessary (although they are nice to have)
Favorite model: VTech Safe&Sound VM343 Pan & Tilt Full-color Video Monitor
– $179.95 on Amazon – We got this monitor when our daughter was about six months, and we've used it ever since (about 4 years). One thing I love about it is that you can buy an extra camera for it and have them in multiple rooms. We have one in our youngest son's room and one in our older two's room. It has a talkback feature, you can move it from the parent unit, the screen is pretty big, you can zoom in or out, it can mount on the wall, and it can move 270 degrees side-to-side and tilts as far as 120 degrees up and down. We LOVE this bad boy.
Best rated on Amazon: Infant Optics DXR-8 Video Baby Monitor
– $165.99 on Amazon – This fancy little thing has 4.4 stars out of 28,100 reviews! If that's not an incredible rating, I don't know what is! It has an interchangeable optic lens, can also move 270 degrees side-to-side and 120 degrees up and down, shows the temperature, the camera is high-resolution, has a night mode and a day mode, and it won several awards in 2018 for best baby monitor.
Splurge: Motorola Halo+ Over-The-Crib Baby Monitor
– $299.99 on Amazon – I love the way this one looks, and it's no doubt you'll have the best view of your baby with this monitor! It goes over the crib to monitor your baby, and when your child is older, you can detach it and set it on a dresser or something out of their reach. It has a talkback feature, works on WiFi so you can view your baby on the parent unit or through an app on your phone (wherever you are), comes preloaded with a selection of soothing sounds, audio books and classical lullabies (and you can download more), and it also has a color changing LED nightlight and light show projector. This is the splurge of all splurges, in my opinion! But it'd be awesome to have if you can afford it!
Steal: Hello Baby Wireless Video Baby Monitor
– $64.99 on Amazon – This monitor has night vision, temperature display, a talkback feature, can be used with up to 4 cameras, has pan and tilt, an audio-only feature, camera zoom, music, and alarms. It has tons of features for an affordable price. It's currently the #21 best-selling baby monitor on Amazon (with 1,692 reviews and 3.7 stars).
Owlet Baby Monitors
Of course the newest innovation in baby monitors comes from the company Owlet. If you aren't familiar with Owlet, they sell a Smart Sock that tracks heart rate, oxygen levels and sleep. They also just came out with the Owlet Cam, that can be used in combination with the Smart Sock, or on its own as a video monitor.
Smart Sock
The Owlet Smart Sock was one of my two favorite "new" baby items we got with our youngest baby. Even though he was our third baby, I still worried about him when he was in his own room down the hall. The Smart Sock comfortably wraps around your baby's foot to track heart rate, oxygen levels and sleep using clinically-proven pulse oximetry. The base station glows green to let you know everything is okay but notifies with lights and sounds if heart rate or oxygen levels leave preset zones. You use an app on your phone to read everything, and the
Pros: You can use it from newborn-18 months, the peace of mind is unmatched in a baby monitor, helps you (the parent) sleep better, the sock itself is machine washable, easy to use, you can buy it via a payment plan, or you can buy it refurbished (when they're available), they sometimes have cute limited edition socks, you can return it within 45 days of purchase if you aren't satisfied and get your money back
Cons: It's expensive (definitely an investment), the range isn't amazing (up to 100 feet), false alarms can cause you to panic, requires WiFi (not sure if this is a con, but I guess it could be if your signal isn't strong)
The Owlet Smart Sock retails for $299.99 on their website, but you can do a payment plan and pay $25 a month for 12 months, $50 a month for 6 months, or $100 a month for 3 months.
Personally, I LOVED my Owlet Smart Sock. As far as baby monitors go, it's the top of the line.
Owlet Cam
Last year, Owlet announced they were coming out with a video baby monitor called the Owlet Cam. I got mine in January, and it's awesome. I'll be honest and tell you that I don't think I love it quite as much as our other video baby monitor, but it is very chic and has some awesome features.
Pros: Easy to mount on the wall, cord has a plastic box to stay wrapped up and discreet, also comes with cord covers so you can cover the cord on the wall and keep it out of baby's reach, the camera itself is magnetic and easy to hand up, works even when you aren't on the same WiFi connection (so you can check in on your baby while you're out on date night), can be used in conjunction with the Smart Sock, displays the temperature, clear image, night vision, talkback feature, secure, encrypted connection to WiFi, 130 degrees lens, also has the 45-Day Peace of Mind guarantee
Cons: Difficult to set up (it works through a different app than just the Smart Sock, and even after I figured that out it took me two days to set it up and pair it, even though we have a very strong internet connection), can't zoom, can't move it once you're out of the room, keeping the video on on your phone drains your phone's battery fast
The Owlet Cam retails for $149.00 on their website, but there's a payment plan available for this, too. Or you can buy the bundle and get both the Smart Sock and the Cam for $399.99 on their website. I think it would be awesome to use them together, but my son is now too big for the Smart Sock so I can't!
Choosing a baby monitor can be stressful and overwhelming. Hopefully, you feel a little more confident and know how to choose a baby monitor now (or at least know what type of monitor you want!). And no matter what you get, you can always just go in and peek on your baby, right? Because what new mama (or even old mama) doesn't do that anyway!?