Welcome to Honest Birth, a series where women share their birth stories without holding anything back. Perfect for pregnant mamas to read in preparation for their own childbirth experiences. Every mama is different and every birth is different, and when we share our stories we help each other!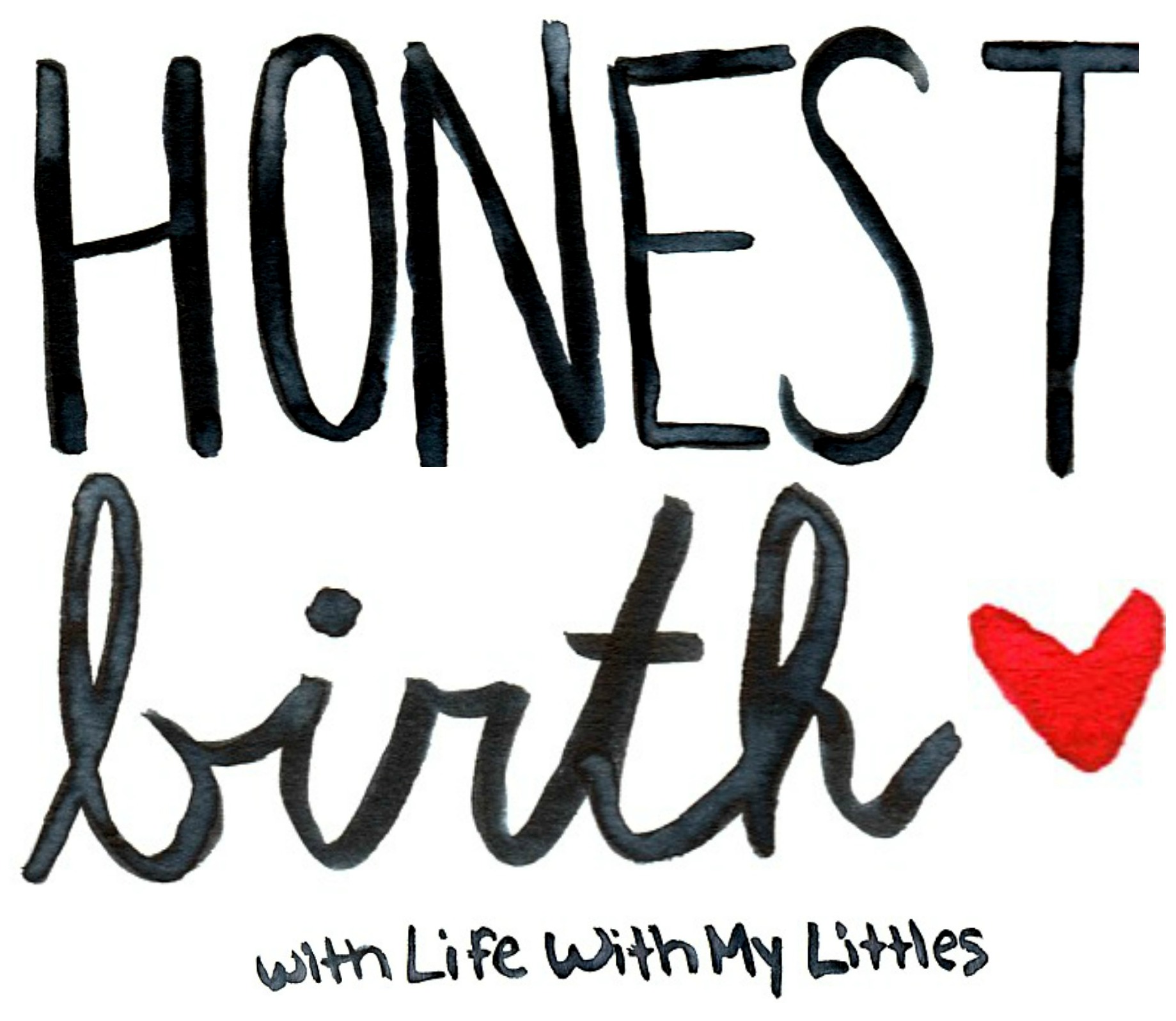 Hey mamas!! Welcome to the first post in my new Honest Birth series. My goal with this series is to provide a place for women to share their birth stories without holding anything back, as well as compile stories for pregnant mamas to read in preparation for their own childbirth experiences. Every mama is different and every birth is different, and I believe that when we share our stories we help each other.
These stories are going to be honest, real, and raw. I wish I had read more honest birth stories when I was pregnant with my first because there were a lot of things I wasn't prepared for that I wish I had known about. I want to provide a place for women to share their stories to help inform and educate other mamas about the different options out there, as well as things they may not know about childbirth. For example, when my first was born I had no idea there were going to be so many people in the room, and I wish I had been prepared for that.
I'm excited to feature different mamas and their birth stories each month, and I hope that you'll follow along and join me in making each woman feel welcome and appreciated here!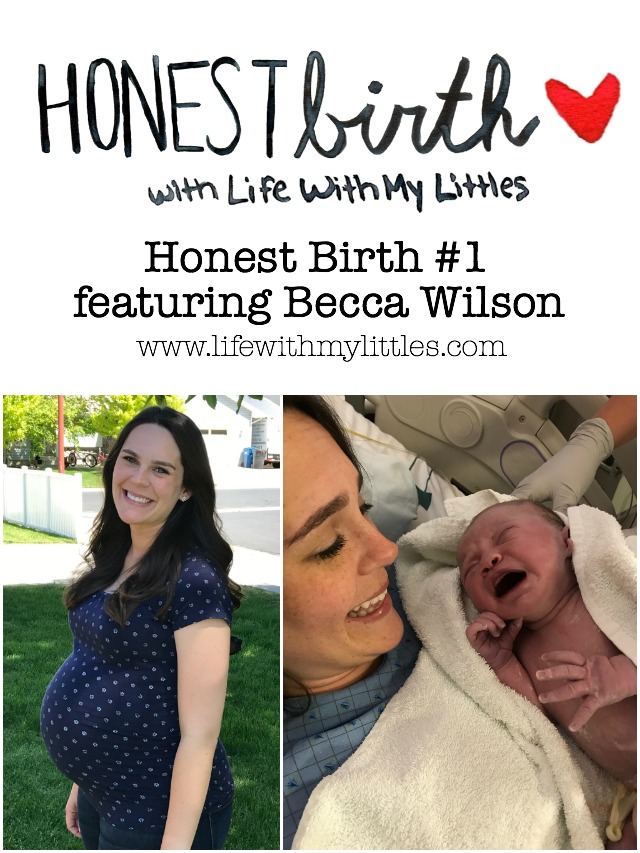 Today I'm featuring the birth story of my nephew, Brooks. I am thrilled that my little sister agreed to be my first guest, because I actually hadn't heard her birth story in full until she sent this to me! Crazy, right?
Anyway, my sister Becca and I are two years apart, best friends, and had always wanted to be pregnant together. When my husband and I found out we were pregnant with our third baby, I had a really hard time being happy about it because my sister had been trying for so long to get pregnant. We flew out to visit her and her husband when I was about halfway through pregnancy and she shared the happy news that she was pregnant, too (of course I immediately started sobbing). It was fun to be pregnant at the same time, even if it was just for a few months.
Becca teaches fourth grade and she and her husband Brad live in Utah. Brooks is their first child.
The Birth Story of Brooks Bradley Wilson
When my due date came around, I was more than ready to have my sweet baby. Honestly, I was ready three years ago. Having tried for 22 months to get pregnant, I already felt like I had been waiting forever. My ankles were huge, I had heartburn every time my head hit the pillow, and I hadn't slept a full night in six months because my bladder mistakenly thought it was the size of a peanut. Needless to say, my patience was wearing thin.
I kept telling myself that I would definitely have a baby in a week. Somehow that made me feel hopeful and helped make the last week of my pregnancy a little more bearable. Even my husband asked me every day "Can you have the baby today?" We were both going crazy!
The night before I hit 41 weeks, I got a phone call from the hospital. The nurse on the other end politely told me to be there at 6 am, and they would induce me. One word popped into my head: HALL-E-LU-JAH. The second words that came were, "HOLY CRAP." I couldn't believe we were finally going to meet our baby boy tomorrow! I was so excited, it took me three hours to fall asleep… and then I blinked and it was time to wake up.
We left for the hospital way too early, and got there at 5:45 am. We checked in, filled out our paperwork and sat in the waiting room. I think my foot was tapping 80 miles an hour.
By 6:30 am, we were set up in our Labor and Delivery room with Pitocin at 4 mL going in through my wrist. Even though it hurt super bad, nothing was going to put a damper on my mood. We were having a baby today! My incredible nurse, Mindy, told me I was already having contractions even before the induction drugs went in, even though I couldn't feel a thing. She strapped a belly band to my stomach and our baby's heartbeat made my heart soar. She checked me and said I was dilated to a three and 80% defaced. I couldn't stop smiling.
The nurse checked me hourly to see how I was progressing, and things were moving slooooow. After about 3 hours, I was finally at a four and a half, and my contractions were getting worse. My goal going into labor was that I would try for as long as I could to not get the epidural, but if I needed it, no sweat. I'm not against them by any means, but honestly, I wanted to test my own strength. I knew if I could go without it, my husband would think I was a boss and that was appealing to me; but with the Pitocin up to 10 mL now, my contractions were getting worse and boy did it suck. Thankfully I had my sweet husband and Law & Order SVU to keep me sane. (Yes, we were watching Law & Order while we were waiting to have our baby. Literally the whole day. That's all that was on!)
With things moving slowly, the doctor came in and broke my water. That was my least favorite part of the whole day. I felt like I had peed my pants, but instead of emptying the contents of my bladder, it was buckets and buckets of fluid. Brad was worried because there was a little bit of blood, but the doctor assured us that was completely normal and moved on. For the next couple hours, the liquid kept peeing out of me. It was seriously disgusting and made me so uncomfortable, but it brought us one step closer to our baby boy, so I sucked it up.
Between noon and 2 in the afternoon, I jumped from a 4.5 to a 6.5. With the jump in dilation, also came a jump in pain. I decided then that I needed the epidural. Suddenly, I realized that there was no point of me struggling or being in pain when there was this miracle drug that would take it all away. I didn't care anymore about being awesome, because, let's face it, I was about to push a baby out of me, and no matter HOW you decide to do that, it makes you a freaking superhero.
The day had already felt SO long, and we were more than ready to meet our baby, so this little triumph gave us a boost. Brad watched the epidural go in, and it didn't hurt either of us at all. I thought for sure it would make him pass out, but he was a champ. The anesthesiologist was super nice and made me feel so comfortable, along with the rest of the hospital staff. The epidural made me extremely tired, so as soon as the room was clear, I fell asleep.
I woke up to Olivia and Elliot saving a little girl who lived under the floor boards. Yikes. I also woke up to lots of pain. My body had already burned through the dose of epidural my doctor gave me and no matter how many times I pushed that tiny little button, the pain kept getting worse. Mindy came in to check me and I was somewhere between a 6.5 and 7. UGH. It was 3:30 ish now and I WANTED TO MEET MY BABY. Brad and I were both getting super antsy, and I think the nurse could tell. She went to get the anesthesiologist and suggested bringing in a peanut ball to help the baby descend and help me dilate. When Mindy said peanut ball I pictured a small peanut shaped ball, which explains the burst of laughter when she walked in holding a GIANT peanut.
The anesthesiologist (I wish I could remember his name) came in a gave me a straight shot of more epidural medicine (also don't know what that's actually called). This made my legs go COMPLETELY numb. I literally couldn't feel anything, and I hated it. It was like my legs weren't even a part of my body. I couldn't move them and I couldn't lift them. I couldn't even turn over. I kept pushing on my leg trying to see if it was wearing off, but no dice. When I wanted to move to my other side, Brad and Mindy had to help me turn. It was awful. A small part of me regretted it, but I knew it was helping me so I just took another nap and waited for time to pass.
Around 5:30 pm, Mindy came in for the last time and checked me. I was at a 9! I squealed! I felt SO happy! I had been telling myself all day that today was the day we were having a baby, but it had been moving so slow, I was starting to lose hope. My optimistic, happy, forward-looking self had been getting frustrated. But now, I was at a 9!! We were getting closer! I still couldn't even wiggle my toes, so I left my magic button alone and hoped by the time I was ready to push, the epidural would wear off a little.
My second nurse, Heather, came in around 6:45 pm and checked me. I was super sad to have to say goodbye to Mindy, because she had been so warm and sweet, but Heather was pretty cool, too, considering she was the one who told me it was TIME. TO. PUSH. WOO! Ten centimeters dilated and suddenly the whole day had gone by in a snap.
The doctor came in and explained what the next little while would look like. Brad would be on one side, Heather on the other, and he would be down South ready to catch the baby. After a couple pushes, he explained that our baby boy was posterior. He wasn't in any danger, he was just face-up, and apparently it's a lot harder to deliver if the baby is face-up. Every time I pushed, the doctor would be hands-in trying to turn baby boy. He was so kind and made Brad and I both comfortable, despite the fact that his hands were in a very awkward place. One thing I learned about the hospital: there's absolutely zero privacy or modesty when you are lying in a hospital bed. But, hey, the more the merrier!
After almost two hours of pushing, using the mirror to help me visualize what was happening, after finally being able to feel myself pushing, because the epidural was wearing off, our baby boy was here. I felt immense relief, joy, pride, and love. I looked over at Brad and we both had tears in our eyes as we heard our baby boy cry for the first time. He jumped up and went to take pictures while the doctor helped me deliver my placenta and stitched up my second-degree tear. There was probably a lot more pain than I realized, but my adrenaline was rushing, and my heart had just grown like the Grinch in Whoville.
When they brought him over to me for skin-to-skin, I realized how much I loved this little person, how much I loved my husband, and the rush of love overwhelmed me. I had no idea I was capable of loving anyone that much. He felt so tiny in my arms, and so beautiful. As I cried tears of joy, all the months of infertility, the months of pregnancy, the hours spent in the hospital, were worth it. I would do it all again and again if it meant getting to hold my brand new baby like that. When Brad's turn came, it all happened again, and I thought my heart was going to explode. I was sore, starving, exhausted, and so insanely happy. We named him Brooks, then Cooper, then Brooks again and it finally stuck. Brooks Bradley Wilson, 7 pounds 4 ounces, 19 inches long, and so incredibly beautiful.
My whole life had been waiting for this moment when my dream of becoming a mom would come true. I couldn't believe it was finally here.
Thanks to my sister Becca for sharing her story! You can follow her on Instagram at @wilson.becca. Make sure you check back next month for another Honest Birth story! I can hardly wait to share another!