This DIY Bubblegum Machine maternity costume is the perfect Hallloween costume for pregnancy! Such a cute, easy idea and it doesn't involve any sewing! If you're looking for a pregnant Halloween costume, this is the one!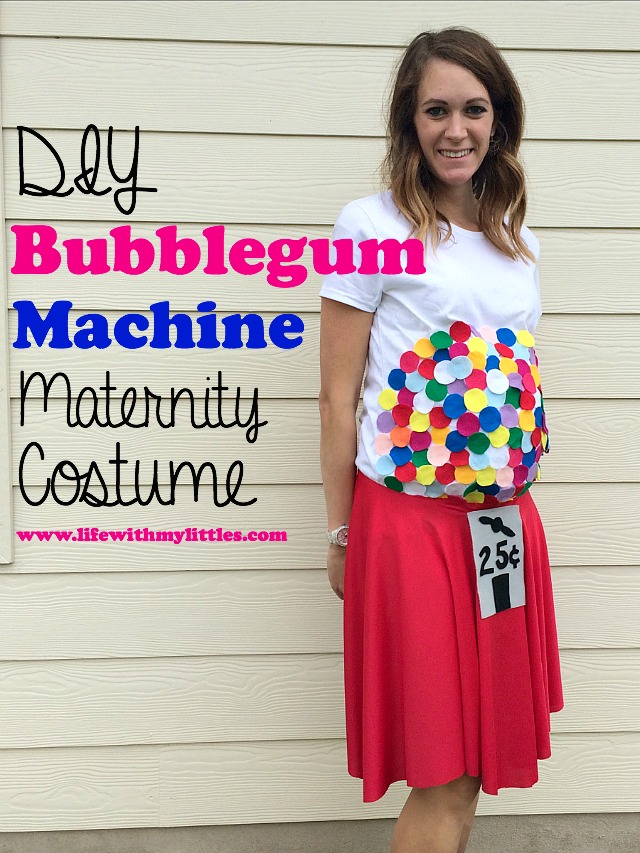 Last year when I was pregnant I spent a lot of time trying to decide what I wanted to be for Halloween. I knew I wanted to incorporate my bump, but there were so many cute options! I eventually ended up choosing a bubblegum machine, and it turned out so cute! It was fast and easy to put together, and I got lots of compliments. Today I want to share the tutorial for this DIY bubblegum machine maternity costume with you guys!!
Like I said, it's super easy, you don't have to do any sewing, and you can put it together in an afternoon! All you need is 1 yard of red knit fabric, a white t-shirt, several sheets of different colored felt, one sheet of grey felt, one sheet of black felt, and some hot glue.
First, let's start with the t-shirt. Put it on and kind of feel where your bump is. Take a pencil and trace around it lightly so you know where to add the bubblegum circles when you take it off. Now take it off and make sure it's round!
Now it's time to cut a bunch of circles. I cut one circle out of cardstock and used that as my template. Then I just cut a ton of circles out of all my different colored felts.
Next, glue them on! Start with the outline of your bump and then go from there. Overlap them slightly so there aren't very many white spaces.
Now you have a bubblegum machine top!
Time for the skirt! Start by cutting your yard of red knit fabric into a square. Then fold it into a triangle once, twice, three times. Trim the top so there's a little circle left, and then trim the bottom so it's round. You're basically making a donut. If it's too long for you then you can trim some more off the bottom, but I wanted mine to my knees.
Now let's make the gumball/quarter slot! Cut a rectangle out of grey felt, then a smaller one out of black felt for the opening. Then cut a 2, a 5, and a ¢ out of the black felt. You also need to cut a little propeller-like shape for the turn wheel. Glue them on!
Now you want to open up your skirt and glue the gumball/quarter slot on.
Guess what!? You're done! So easy, no sewing involved, and you're going to look so cute on Halloween!