This DIY Lightning McQueen costume is amazing! Great step-by-step tutorial for anyone wondering how to build a Lightning McQueen Halloween costume!
This post contains affiliate links.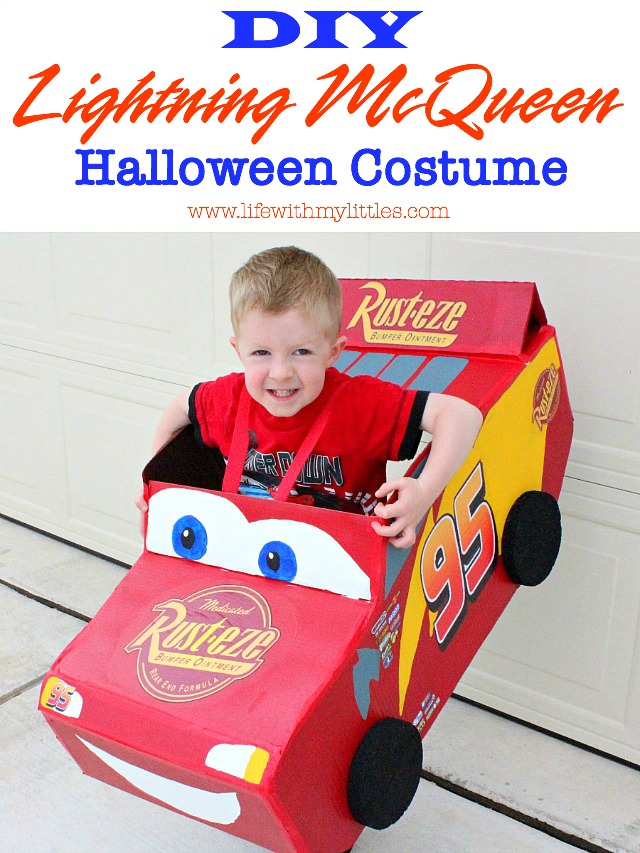 In December 2015 my son watched Cars for the first time. He was hooked (and still is). About a week after he watched it, he started telling me he wanted to be Lightning McQueen for Halloween. For the next ten months he was insistent that he be Lightning McQueen. So last year for Halloween, I made him a DIY Lightning McQueen costume. Guys, it was AMAZING. I was super proud of that thing. Even more importantly, he was super proud of that thing. Seeing how excited he was to wear his Lightning costume was my favorite part of Halloween last year. He ran around shouting "Kachow!" and wore the costume all trick-or-treating and the whole time we were at our church Halloween party.
I couldn't find a good tutorial online for how to make a costume, so I sort of just did it myself looking at my son's Lightning McQueen diecast car
. I made sure to take tons of pictures, and today, I'm going to share how I did it! If there are any mamas out there trying to figure out how the heck they're going to build their child a Lightning McQueen costume for Halloween this year (especially with the release of the AMAZING Cars 3!), this one's for you!
First, let's talk about the body. The first step is to cut out the body of the car from sturdy cardboard. I used the box that my husband's lawnmower came in. Unfortunately I don't have pictures of that process, but I looked at pictures of Lightning and used a pencil to draw the sides first, and then once I cut those out, I was able to cut out pieces that fit in between the sides. You'll need a front (for the mouth), a thin front (for the headlights), a front top (for the circular Rusteze logo), a front windshield, a piece for the very back, a piece for the back hood behind the opening, and then two thin pieces for the spoiler.
Next, I taped them all together using thick masking tape and duct tape. I did a nice job on the outside taping them, being careful to make the joints flat, and then on the inside I reinforced it with lots of smaller pieces.
After the body is all taped up, it's time for red spray paint!! I had to do a few coats to get the red I wanted, but it turned out great. (Also, this is the only in-process picture I have!)
Now it's time to add the tires I used styrofoam circles and spray-painted them black. I wish I would have used a little bigger circles because if you look at Lightning, his tires take up a little more of the body, but it was still okay. I used gorilla glue
to glue them on because it's durable!
The next thing I did was to paint on the windows, back windshield, mouth, headlights and taillights, the lines on the back of the spoiler, lightning bolts on the sides (the small silver and large yellow ones), and his eyes. I drew what I wanted in pencil first and then painted. Look at a picture of Lightning when you're doing it so you can get the right shapes.
Next comes the logos! I found all my logos and stuff online, and I conveniently saved them all so I can share them with you! You can download them all here. Print them out, cut them out, and use mod podge
with a matte finish to glue them on. That way you can do a layer under the pictures to adhere them and a layer on top to seal them on. I used my son's diecast Lightning McQueen to figure out where all the pictures went. There are logos on the sides, the top, the spoiler, the back, and the headlights and taillights.
The last part is to put on straps so your child can wear his costume! I used thick red straps that were in the ribbon section of the fabric store, but they were more like flat, rope (just look at the pictures). To attach them, I first glued them onto the underside of the front opening (using gorilla glue
again). Once they were completely dry, I had my son get in the car and then I tried to see how long I wanted them to be. Once I figured that out, I cut them to length and glued them to the underside of the back. And a quick tip, the straps kept falling off my son's shoulders because I didn't glue them close enough together in the back. So lesson learned (and passed on to you!).
That's the last step! Now take a step back and admire your work! If your son is anything like mine, he'll be thanking you for days. It was seriously the best Halloween costume I've ever made, and I'm sure I'll be proud of it for years to come! Good luck making yours, mamas!