Not sure what you enjoy anymore? Looking for a new hobby to try? Here's a great list of 25 hobbies for moms!
This post contains affiliate links.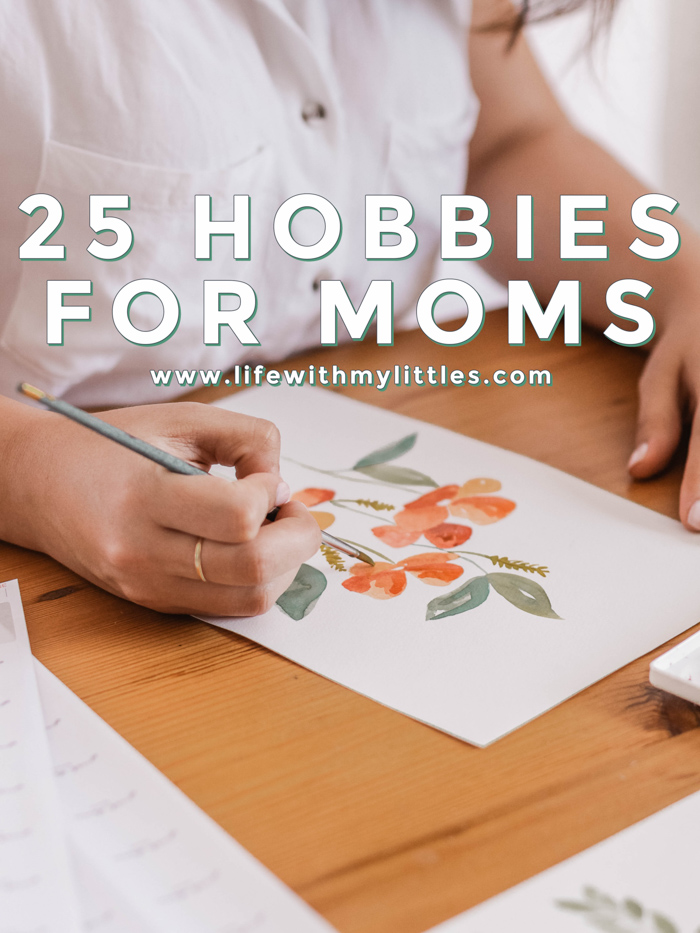 Over the last year, I've kind of lost myself. I've been on survival mode homeschooling the kids, having very little time to myself, running the house at a very basic level, and only doing the essentials to keep my blog up and running.
Unfortunately, I know I'm not alone. This last year has taken a toll on everyone, especially moms. We've had it dang hard, with navigating distance learning, staying home with kids all day, and even working from home.
DANG HARD.
Moms always have a lot on their plates, and it's easy to put yourself last and forget to do things you enjoy. And if you've been mommin' hard for a few years (or more), you may not even be sure what that is anymore.
If you've been wanting to pick up a hobby but aren't sure what kind of hobby you want to try, this post is for you. I talked to some friends and have put together some ideas that make great hobbies for moms. Bonus: they're all pretty easy to pick up!
25 Hobbies for Moms
Houseplants
Every heard of a plant mom? Well I have fully become one over the last year. And I'm planning on writing a post with some of the easiest houseplants for beginning mamas, too!
Brush Lettering/Calligraphy
I'm lumping these two together, but I know there are slight differences. Learning how to do brush lettering has always been on my to-do list, and I may have to actually take it up some time! You can do so much with it!
Crafting
This is a pretty general term, and it can include so many different things. You could even start selling your own little crafties!
Journaling
If you're not a frequent journaler, you may not thing this can be considered a hobby, but I assure you, it can. Journaling doesn't just mean writing "Dear Diary" and recording your latest crush. Promptly has great journals for beginning journals, and if you already know what kind of journaling you want to do, a blank one from Scribble & Jot is my favorite. You can even keep memory journals for your kids!
Yoga
This one's not for me, but if fitness is your thing and you want a hobby that helps you stay healthy, yoga is perfect! There are tons of free videos on YouTube to get you started.
Baking
I do love this one. There are so many different things you can bake, and if you bake a lot, you can share your treats with neighbors and friends! Everyone loves the friend who brings them treats!
Cake Decorating
Cake decorating is a great hobby for moms. It's a great artistic outlet that has a bonus of being delicious. You can do it from home and even make your kids' birthday cakes if you want. I love Cake by Courtney for cake recipes, and I get lots of my decorating inspiration from Instagram accounts.
Gardening
If indoor houseplants aren't your thing, maybe try gardening! Fresh vegetables from the garden are the best way to eat vegetables, and there are lots of things you can grow that are pretty foolproof and hard to kill. We used to have a huge garden at our old house, and now we have three garden boxes with cute little garden markers I made myself. Even if you just start small with one tomato plant, it's so satisfying to harvest food and flowers you grew yourself!
Watercolor
Another one of my favorite hobbies is watercolor. If it sounds intimidating, it's not. I'm mostly into abstract paintings, and I've got several things I've done hanging in our house. It's a pretty forgiving art form, and it's a lot of fun to try! I have a set of Prima tropical watercolors and I love them.
Embroidery
This is a great hobby for moms because you can just sit wherever you are and work on it! Plus, supplies are pretty cheap (embroidery hoop, fabric, embroidery floss). I embroidered one of my favorite quotes a few years ago and I still love it.
Quilting
Quilting isn't just a grandma hobby! You can make quilts for your family and friends, or even donate them to shelters or hospitals.
Card Making
I know this also sounds like a hobby your grandma might do, but it can be so fun to make and send handmade cards in the mail! And who doesn't love getting a handmade, handwritten card in the mail? (Side note, the Cricut Joy & card mat make card making SO EASY)
Pilates
Another healthy hobby, pilates is great for moms who want to work on strengthening their muscles and looking good! I was really into pilates after my first son was born, and it was great for me!
Running
Remember when I was really into running and then there was this pandemic and everything came crashing down? Me too. Anyway, running is a great hobby, even if you're super slow and not in it for the competition. You can even listen to podcasts or audiobooks while you run!
Knitting
Another hobby that I've never learned, but I know some people love it! And since it has minimal materials you can do it on-the-go!
Crochet
Crocheting is pretty easy to pick up, and also different than knitting! But another great one to take on-the-go.
Sourdough Bread
If you haven't tried to make your own sourdough starter yet, now's the time! Since the pandemic, sourdough has risen in popularity, and the internet is flooded with delicious sourdough recipes!
Reading
One of my newly-renewed hobbies that I forgot I loved so much is reading. I love reading and being pulled into a story. And it can be a free hobby if you get a library card!
Paint by Sticker (or Number)
Paint by Sticker is one of our family's newer favorite activities. It's basically like painting by number, but instead of actual painting, it comes with stickers for each spot. The pictures turn out amazing, and it's kind of soothing! Or you could always go with the classic paint by number, too.
Coloring Books
There's a reason adult coloring books have risen in popularity, too. They're an easy, calming hobby and something you can do while listening to a podcast, music, or an audiobook.
Procreate
I'm not very artistic, but I think Procreate is so cool. You can create all kinds of digital art, and when I asked my Facebook friends what their favorite hobbies were, several mentioned Procreate!
Diamond Painting
Another hobby that a few mama friends mentioned was diamond painting. It's described as a mix between cross-stitch and paint-by-number. I saw someone doing it at the rec center last month and it really did look cool!
Stamp Collecting
One of my secret hobbies is stamp collecting. I don't have very many, but I think it's so fun to track down stamps that have a special meaning or tie to somewhere I've been or something I like. One of my favorites I have is an old Walt Disney stamp from the 1968.
Puzzles
Puzzles are another pandemic hobby that's taken off the last few months. We've done a few, and my kids have even helped a few times. If you can make a space in your home to set up a puzzle spot, it's worth it! Even a small little card table works.
Lego Sets
My kids love Legos, and it wasn't until one of my best friends showed me the Lego set she had gotten for Christmas that I realized Legos can be a hobby for adults, too! I even got my own set (Harry Potter Legos, what else?) for Valentine's Day, and it was a blast to put together. If you have somewhere you can keep them up, Legos make a great hobby!
Being a mom is a busy, full-time job, with no breaks, no holidays, and no weekends, and this last year has been ROUGH. But despite all that we have on our schedules, it's important to find things to do for ourselves.
Hobbies allow us to do things we enjoy, just because we want to, which is something we don't often get with all the little people in our lives.
Pick one or two of these hobbies for moms, try them out, and if they aren't for you, try something else. You may even find something you're passionate about and can enjoy for years to come!