Have a unique or clever idea idea for a baby shower gift? Make sure it's not on this list of gifts not to give at a baby shower first! Avoid these 9 gifts and you'll make the mama-to-be very happy!
DISCLAIMER: I've been getting a lot of mean comments on this post telling me how cynical or awful this post is. Guys, chill. Yes, I think some of these gifts are lame, but all gifts are good when they come from the heart.
This post contains affiliate links.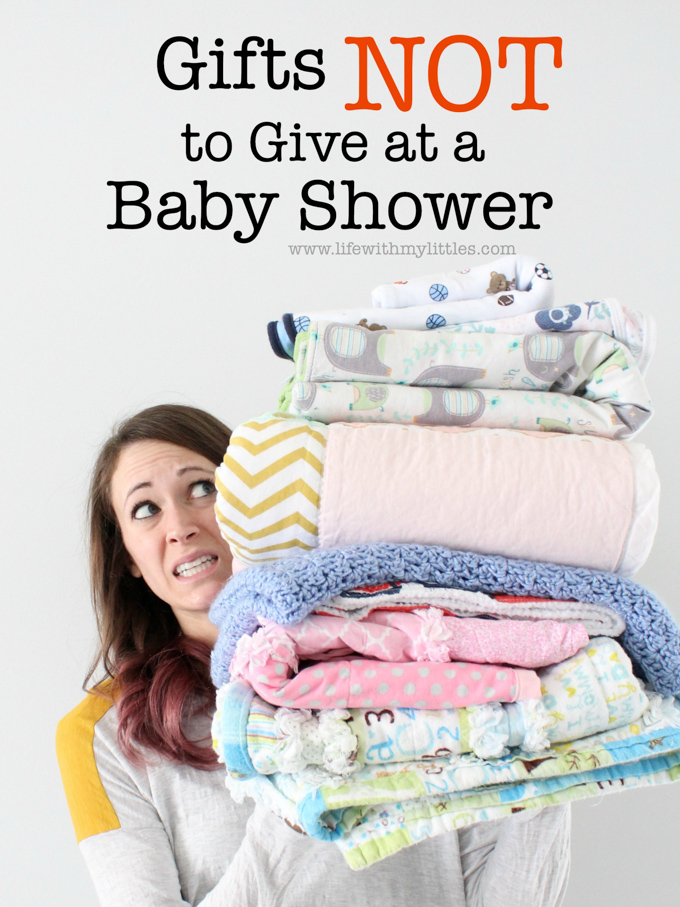 If you've had a baby shower, I guarantee this has happened to you.
You're sitting in front of your guests opening presents when you open one that's just awful. You fake a smile and pretend it's the cutest thing in the world while mentally making a note to return it or donate it as soon as the party is over. You graciously thank the gift-giver and set the present with the rest, happy to move on to the next one.
Am I right?
For some reason, there's always one or two people who just don't know how to give gifts at a baby shower. It might be your elderly neighbor, your childless friend from high school, or your aunt who you've only met a few times, but there's one at every baby shower, and sometimes, it can make you feel pretty awkward.
Today I've written a post filled with gifts NOT to give at a baby shower, and hopefully it will spread around enough that some of these common (and unwanted) gift ideas will stop being given to pregnant moms. Please. Just stop.
Here are some gifts not to give at a baby shower:
1. Quilts. Unless you're a grandma or great-grandma, please don't sew the baby a quilt or other handmade blanket. New moms get so many blankets (receiving blankets, swaddle blankets, stroller blankets) and honestly, babies don't even use quilts until they're over a year old. Nobody has room to store a bunch of quilts until then. And nobody wants to save a quilt from someone they barely know to use later in their lives. So just stop with the quilts.
2. Decorations or art for the nursery. New moms usually have a very specific idea in mind for how they want to decorate their baby's nursery. And it's usually already done by the time they have a baby shower (especially for first-time moms!). I guarantee that whatever decor or art you gift them probably won't match, and they'll probably end up getting rid of it. The rare exception is if you found it on their baby registry. Otherwise, no.
3. Anything homemade. You might've seen a cute homemade drool bib or a no-sew bow or even a pair of baby booties you could crochet. But people don't throw baby showers to get handmade gifts. They throw baby showers to get gifts from their registries. And just because they have baby mittens on their registry doesn't mean you should make them baby mittens. Just buy them. They registered for those for a reason.
4. A music box. You might be thinking "Who would give a baby a music box?" but I can assure you, it's happened. A music box is not a practical gift for a baby and it will just take up shelf or closet space. Babies don't need music boxes, they need diapers. Be sensible.
5. Clothes that are bigger than 12 months. Gifting clothes can be a tricky one, but I'll just say don't give the new mama any baby clothes that are for babies older than a year. She'll forget about them! This has happened to me more than once, and while yes, it's a good idea to give the new mom clothes for a size other than newborn or 0-3 months, they'll get put in a box or on a shelf and then they won't be found until the baby (or toddler, by then) has already outgrown them. Try to stick to 0-3 months or 3-6 months.
6. Something they won't use for years. In an effort to get something helpful that nobody else will get you and your baby, some people go so far as to get them things for the future, like a strider bike or pull-ups. Again, people don't have unlimited storage for these things, so please don't get them things that won't be helpful or needed for years.
7. Stuffed animals. Stuffed animals are the worst. Babies honestly don't need them at all (they can't even cuddle with them until they're older) and even then they only need one or two. But somehow, we always end up with like 1,000 stuffed animals per kid. We're basically drowning in them. Please don't gift stuffed animals. No more teddy bears, puppies, or kitties. NO MORE.
8. Toddler toys. You know how every year on the anniversary of their birth, people celebrate birthdays and they're given gifts? Well THAT is the appropriate time for a child to receive toddler toys, not at the mom's baby shower when the baby isn't even born yet. If they won't use it within 6-9 months of the shower, it's not a good gift.
9. Anything used. It's thoughtful and kind to give a new mama a gently-used high chair or Bumbo seat that your baby didn't destroy, but save that for another day. Don't gift her something that's been used. Go buy some pacifiers or a pack of diapers, and give her the high chair after the party's over. Be classy, guys. Be classy.
I know this post of gifts not to give at a baby shower might be a little harsh and hard to hear (the truth hurts), but it's time someone spoke up for mamas-to-be!
If you really are having a hard time trying to decide what to get someone for their baby shower, just get them something off of their registry (Amazon Baby Registry is my favorite!). They put it together for a reason (it's full of things they actually want!), and they'll be thrilled when they see your gift!
Happy gifting, friends!