What to do when you get a negative pregnancy test. Five ways to keep going when you just want to give up trying.
This is a sponsored conversation written by me on behalf of e.p.t. The opinions and text are all mine.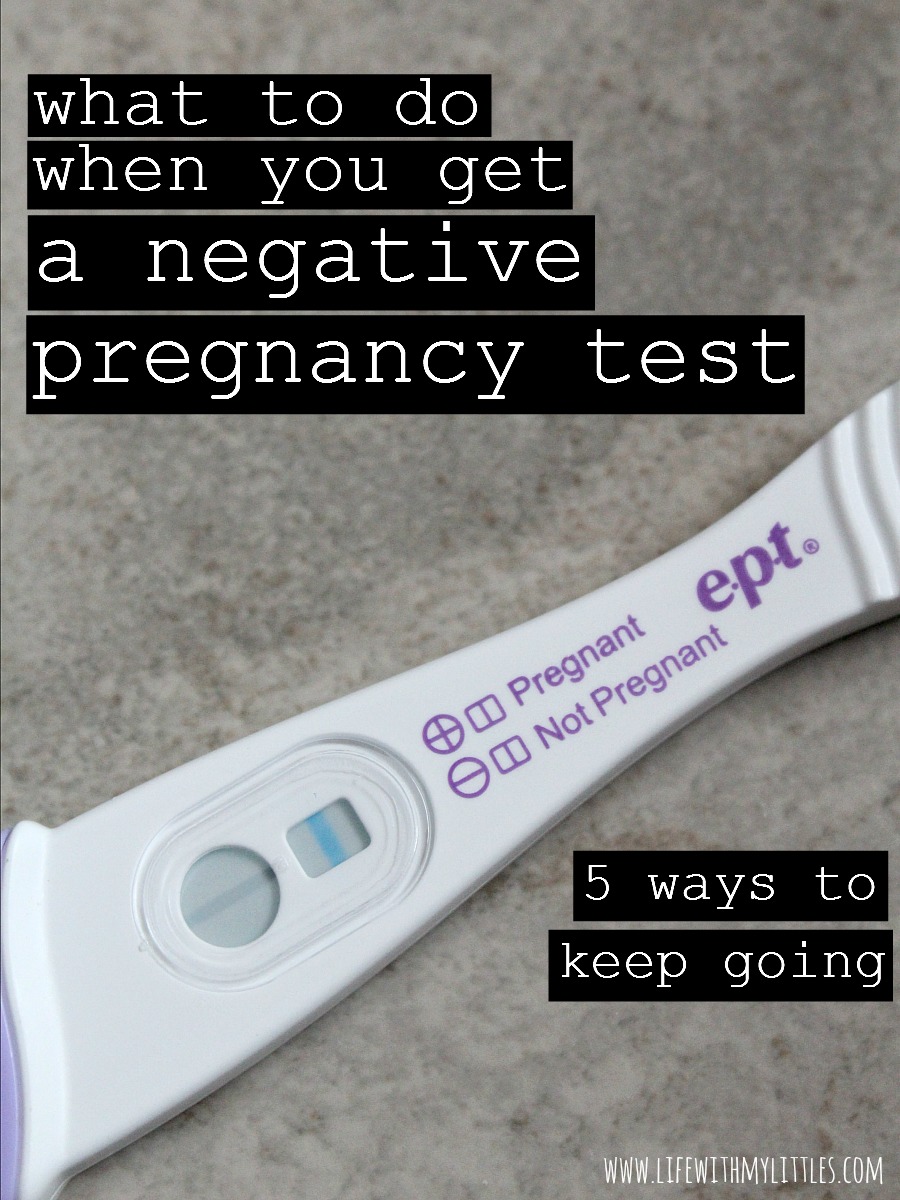 Getting pregnant is not as easy as the movies make it seem.
In my life, I have gotten way more negative pregnancy tests than positive ones. In fact, it's not even close.
A few months after my husband and I got married, we decided we wanted to start our family. We tried for months to get pregnant, but each cycle kept ending with negative pregnancy tests in the trash. We went to doctors and they couldn't find anything wrong, and told us that there was nothing they could do until we had been trying for a full year.
Twelve months and many more negative pregnancy tests later, I still wasn't pregnant. We went to the doctor again and they did some more tests to try and see what was going on. Medically, it didn't look like anything was wrong. I think we both just wanted them to find something to explain why I wasn't getting pregnant. I was tired of all the negative test, disappointment, and tears. I just wanted to be a mother.
Any woman struggling to get pregnant might be familiar with this scenario. We finally got our positive test after 15 months and some infertility treatments. But lots of women don't get that test for much longer. It can be incredibly hard to go through infertility, and unless you've been there yourself, you really don't know what it's like.
While we were struggling, I didn't feel like I had anyone to talk to besides my husband, and it was especially hard for me to deal with it when it felt like everyone around me was getting pregnant so easily.
Today I want to talk about what to do when you get a negative pregnancy test, because when I was facing the long months of negative tests, I wish I would've had a resource to help me know what to do.
1. Cry. I think it's important to let out the feelings you have instead of bottling them up. We can't move on and keep trying if we are drowning in negative emotions. So cry, let it all out, and breathe when you are done. Sometimes that's all you need to feel better.
2. Tell people. It's okay to tell people and to talk about it. Every person is different, but I really do wish I had had more people to talk to about what I was feeling. Yes, I had my husband and he was great, but infertility is a big deal and sometimes you need a little bigger support system, whether it's online or in your community, or even just your best friend. Don't feel like you need to hide what you are going through because I guarantee you know people going through the exact same thing.
3. Know you're not alone. You are absolutely not alone. One in ten women struggles with infertility, so think about all the women you know and then remember that 1/10th of them are going through or have gone through what you are. It sucks and it's so hard, but you don't have to do it alone. I really do wish people would talk about it more because we need all the support we can get.
4. Try again. Please don't give up. It's okay to take a month or two off of "trying" and just relax and not worry, but don't give up. Have faith and try again. Some months are going to be harder than others, but don't let infertility and those negative pregnancy tests define you.
5. Stay positive. This is probably the hardest thing to do, but it is also one of the most important. It's okay to cry and feel sad, and I'm not saying you should pretend you aren't upset when you get that negative test. But try and stay positive and don't stress out about it. Things happen when they are supposed to (don't you hate that?) and while you are waiting for your positive test, try and enjoy other people's children. Ask to babysit, throw baby showers for friends, and read uplifting books and talks. It will make a difference and help you be able to go through the journey stronger and with more confidence.
All of those negative tests were hard, but I finally got a positive one 15 months later. The joy canceled out all of the heartbreak I had felt, and I felt so lucky to finally be pregnant.