These Jurassic World family Halloween costumes are amazing! Owen, Claire, and the raptor pack! Such a fun idea, and it includes links to where she bought everything! If you're looking for Jurassic World costumes for your family, this is such a great resource!
This post contains affiliate links.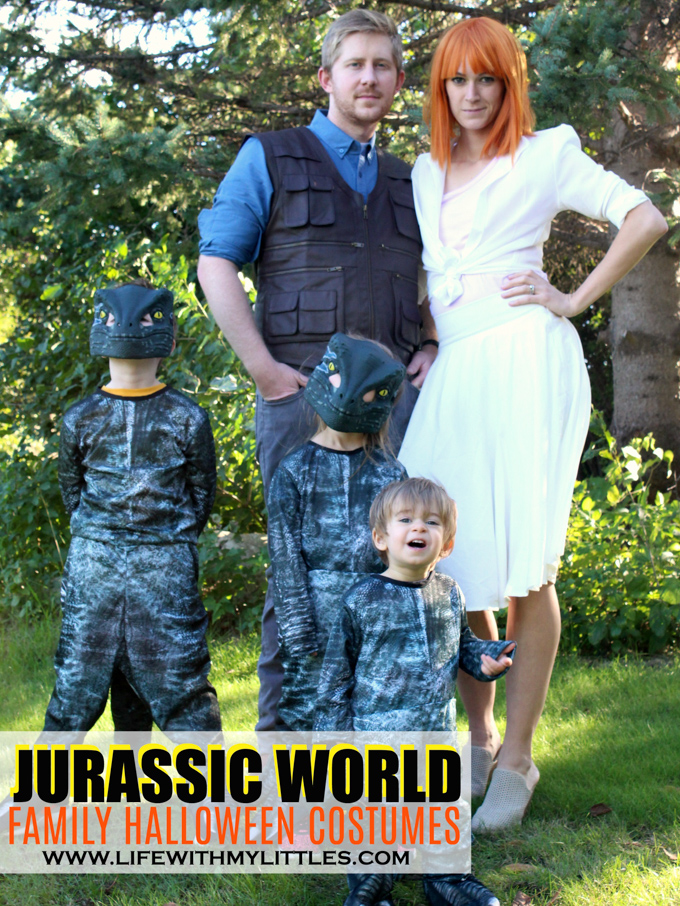 When our kids get into something, they really get into something. Thank goodness they have good taste, because our lives become consumed by the things they get into. First it was Cars, then Star Wars, and now Jurassic World.
Before I go any further, let me tell you something about myself. I love dinosaurs. In first grade we had a dinosaur program and sang songs all about dinosaurs. We made shirts and sang about T-rexes, brontosauruses, pterodactyls, and stegosauruses (which happen to be my favorite dinosaur). I even took a dinosaur class in college (it was super hard) and any time we go to a museum, I love looking at the dinosaur bones. Most importantly of all, my favorite movie of all time is Jurassic World.
So you can imagine my excitement when my daughter (who just turned four) decided she wanted to be Blue (the raptor from Jurassic World) from Halloween, and my oldest son (who is five) was on board to also be a raptor. Hence, JURASSIC WORLD FAMILY HALLOWEEN COSTUMES!
Guys, these were super easy, so fun, and I seriously cannot wait to show them off. We've been planning it for months, and honestly the hardest part about the costumes was snagging the raptor costumes from the store. The preorders were sold out for a long time and I had to go to two different stores to get them. So if you're planning on doing this as your family costume this year, I highly recommend going and grabbing the raptor costumes from Target or Walmart or wherever right now. Seriously, there's going to be a lot of little raptors running around this year.
Okay, so let's get down to the details!
My husband is Owen, I'm Claire, and the kids are the raptor pack (obviously). I got everything for my costume and my husband's costumes from Amazon (except his pants and our shoes), and the kids' costumes are from Target (they're also on Amazon here
). I had to sew Little A and Little R's costumes because the smalls were too big (especially on Little R!), but it was easy to just fold them and sew them to make them shorter. They also have the cutest tails! I filled them with batting and they turned out awesome.
For my husband's costume, he got this shirt
and this vest
, plus he used some dark greyish/blue jeans from Costco and his boots are his dad's old boots. I did a lot of searching for the perfect vest, and I really like the one that we got. It's PERFECT you guys. I made him grow his beard out for these pictures, and of course he's going to be growing it out for Halloween, too. My daughter especially loves "playing Jurassic World" with him in his costume and pretending he's Owen training her as Blue. My husband keeps joking that he needs a motorcycle to finish off his costume, but that's not going to happen.
For my costume, I got this blouse
, this tank top
, this skirt
, and this wig
. I know my tank looks pink, but it's actually purple in person. Darn lighting. My shoes are from Target, and even though they aren't the exact ones she wears in the movie, they are the same color and that worked for me! Full disclosure, I had to rip the seams open down the front of the blouse to tie it like she does in the movie, but it was worth it. But if you want to wear your shirt again as an actual blouse, maybe find one with buttons!
This year for Little A's birthday, she asked for a "Blue mask" and "Blue claws." Like seriously, that's all she asked for, and she didn't change her mind for about three months. We got them at Target, but they also have them on Amazon here
and here
. They're perfect for your little raptors if you want to go above and beyond (you can see them on her with the costume on my Instagram here). The mask is also super cool, too! Of course she didn't want to wear them for the pictures, but if you want to get them, there they are!
So that's it! I can hardly wait to wear these together. At church we also do a "trunk or treat" where kids go around to people's trunks and trick or treat in the parking lot, and I am already planning to do the gates of Jurassic World in the back of our car, complete with some giant leaves and maybe a volcano (we'll see!). I'm having a lot of fun with the theme so I thought I'd go all in!
Let me know what family costumes you're doing this year (if it's different from ours!). Family costumes are my favorite and I'm so glad we got our kids to do them for another year! Happy (almost) Halloween!