Currently October 2017: What's going on this month for Life With My Littles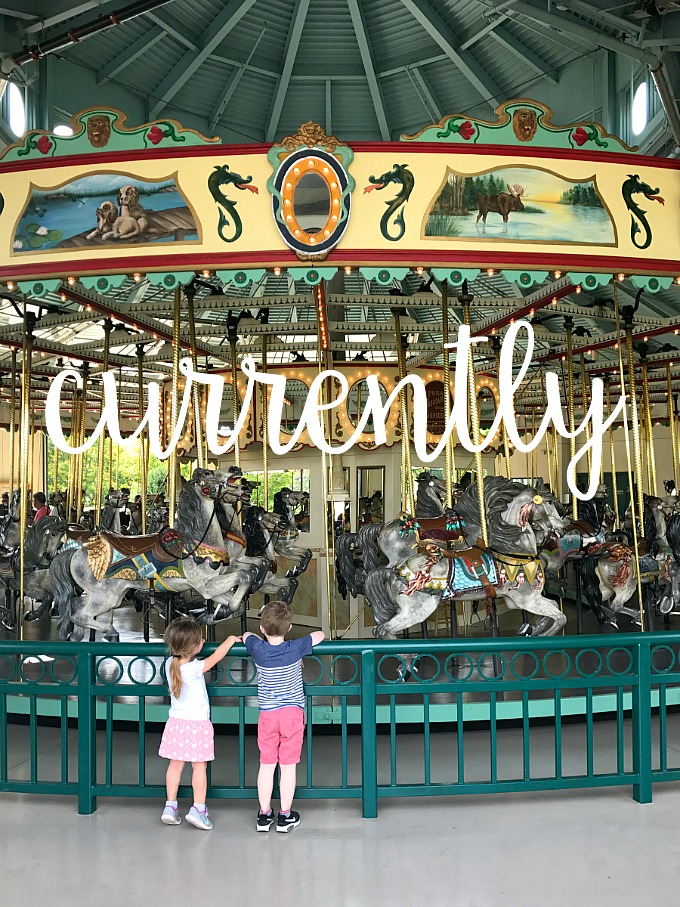 What a big month September was! You guys! So many fun things happened. Also, several of those fun things tore at my little heart strings. Not only did Little A turn three, but we celebrated her birthday with a Moana/Cruz Ramirez party! We just had a few friends over (since she still doesn't really have a best friend or anything) and had some food and let the kids go crazy on a massive slip 'n slide my husband set up in our yard. She had fun, so I'd say it was a success! Little J also started preschool. He loves it, his best friend is in his class, and he already has two girlfriends (that kid!). Little A also started dance, which is about the cutest thing I've ever seen! They do a big recital in the spring so I'm excited to see how she grows and improves throughout the year! I also ran another 5k (with my husband this time!) and Little J did a 1k fun run because that kid loves running. My husband and I both got second place in our age divisions (20-29) and Little J won the 2-4 division in the 1k!! And Little R can FINALLY roll both ways and is always rolling around, and he is constantly babbling in the cutest little voice. We gave him a haircut last month and it made him look about 6 months older!
We also have been embracing fall here, since we didn't really get a fall in Texas last year. The leaves have been changing color and it has been absolutely gorgeous. My husband got a sweeper for the lawnmower so he doesn't have to rake, so that's been nice because we have hundreds of big trees on the property we live on. We got to go to an apple orchard last month, too, and that was so cool. I've always wanted to go, and it was really fun!
Another thing that was SUPER COOL was that on Saturday we went to the Mall of America because it was the grand opening of Carlo's Bakery! Buddy Vallastro was there all day and after waiting in line almost 6 hours, we got a box of cannolis, a box of lobster tails, and I GOT TO MEET AND TAKE A PICTURE WITH BUDDY! He was super nice and even picked up Little A and said she had beautiful eyes. It was super, super cool!
In terms of my blog, September was a big month, too! I started doing a weekly Facebook Live (Tuesdays at 2pm CST) and it has been fun! I was nervous at first but I feel better about it now that I've done a few. And I started my birth story series, Honest Birth! I am excited to share more birth stories in the coming months! I also made a few new videos for my most popular posts (this one and this one), and am planning on doing a few more in the coming months!
Here's what's going on this month:
Training for a 10k. I think I mentioned this before, but I'm running a 10k in November. I've never run that far before, so I'm a little nervous (okay, a lot!). I do a 5k or more 3 days a week, and every other Saturday I go a little farther. I still have another month, and the most I've done is 5 miles, so I can for sure get there. I'm proud of myself for going for it and I am excited to do it!!!
Enjoying pumpkin everything. I am very white in that I love all things pumpkin. Pumpkin cookies, pumpkin bread, pumpkin candles, and pumpkin patches. I don't drink coffee, but I love mixing pumpkin spice coffee creamer into hot milk, so that's my equivalent of a PSL. I am definitely one of those people who will eat pumpkin stuff all year long, but now is the time that it's acceptable so that's fun!
Recovering from mastitis. I somehow managed to not get mastitis until breastfeeding my third baby, which is great, but at the same time it still sucks. At first we thought maybe I was getting sick because I had cut my hand open earlier that day doing dishes and my husband had to give me stitches, but then we realized that it was the mastitis making me fever super bad. It was super painful, kicked my butt, and made me pretty useless. My husband was amazing taking care of everything since he was home when it was the worst, but man! I feel for any other mama out there going through it. Ouch, ouch, ouch. Let's hope I don't get it again!
Changing our Halloween costumes. I know last month I said we were going to be the Incredibles, but plans have changed. Little A really wants to be Moana and since Little J is on board with being Maui, we're going to do that instead. I'm going to be Te Fiti, Little R is going to be Pua, and my husband may be Te Ka (he wants to be Bill Clinton, so who knows). I am excited to get working on the costumes, though!
Reminding myself of my 2017 goals. You know how if you don't keep your goals and resolutions somewhere you can see them you forget them super fast? That's me. I wrote them in my journal, and while I write in my journal often, I don't go back and look at things I've written. So I basically have forgotten my goals for the year. So the next three months I'm going to really try! One of my goals was to have meaningful 1-on-1 time with each kid every day, and that's one I'm really working hard on!
Visiting the library again! When we lived in Idaho we went to the library every week and checked out books. I wanted to keep doing that in Texas, but the libraries in San Antonio were poop compared to the one in Idaho Falls (yes, I just used the word poop). So we never went. We just went to the library here last week and it was so nice! The kids and I all got library cards, and we even checked out a few chapter books that I'm going to start reading with Little J. I'm so excited to have a nice library again!
So that's what's going on this month! Make sure you watch my Facebook Live tomorrow at 2pm CST! The kids and I are going to be making Halloween slime! We're doing an edible baby version and one for older kids! It's going to be FUNNNNN!