Currently October 2016: What's going on this month for Life With My Littles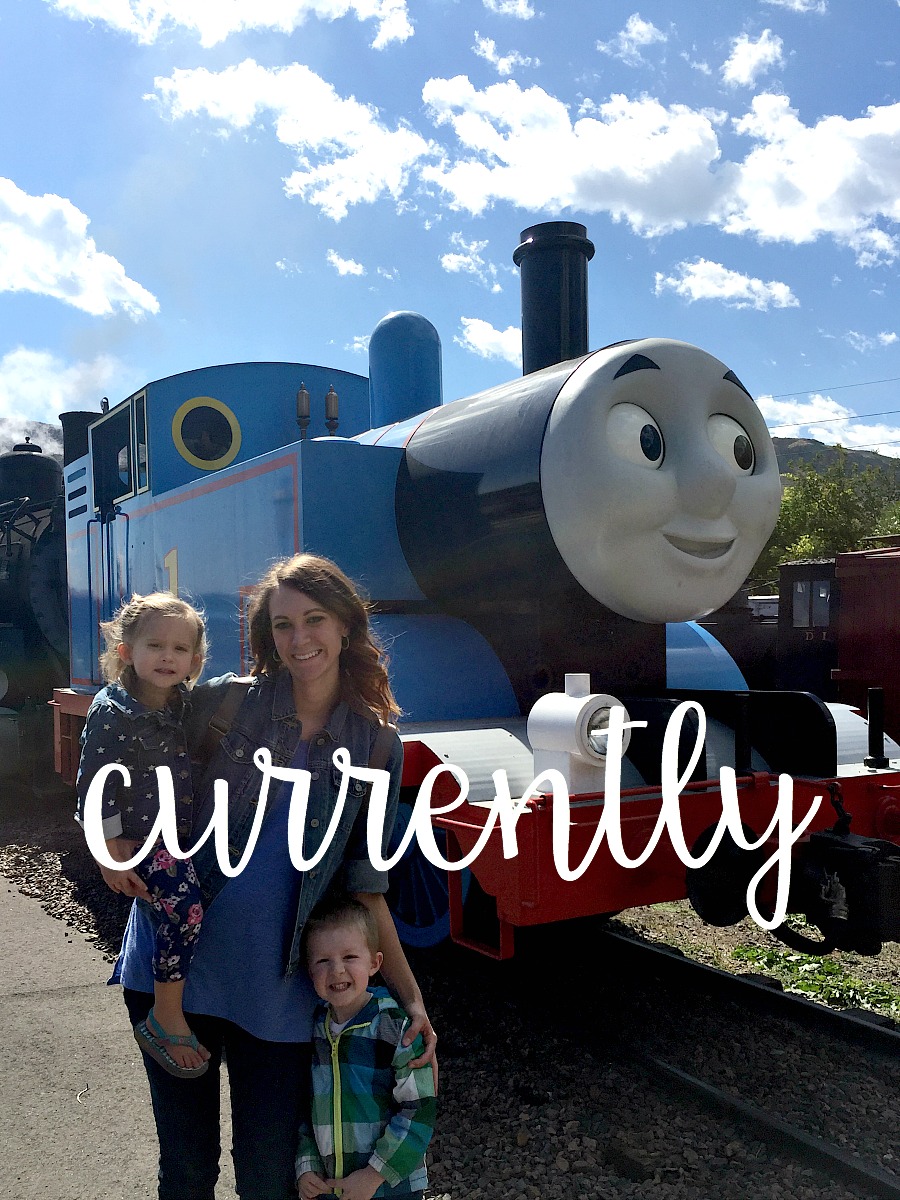 Hey mamas! Happy October! Yeah, it's October! The 10th month of the year! Ah, it's so crazy. September was a fun month for us. We celebrated Little A's second birthday with lots of Sofia the First stuff and a trip to Galveston and Houston. The kids and I traveled to Colorado to visit my parents and we got to go to the zoo, the mountains, and Day Out With Thomas (which was a blast for everyone!). And we found out that we are having a baby BOY and revealed it to the kids with some filled Krispy Kreme donuts. Little J also started soccer, and let me tell you, I have all the feelings about that. It was a fun, exciting month and I can't believe it's over already!
Here's what's going on for us this month:
Playing Zelda! Yeah, I know. But my husband and I bought an N64 and found a copy of Zelda: The Ocarina of Time on eBay, and we've been playing it a ton. It's been our thing to do together after the kids go to bed. We play almost every night, and we switch back and forth so we both get to play. We've only had to cheat and look up guides twice, because duh the water temple is insane and impossible, so I think we're doing pretty well! It's super nerdy but it's been a lot of fun to have a thing together.
Anticipating Halloween! I just love Halloween. Besides Christmas, it's my favorite. I dressed up all throughout high school, and we've been dressing up ever since we got married. This is the first year we aren't doing a family costume which is a little bit of a bummer for me, but I'm excited about what we are going to be. I'll be revealing my costume on the blog in a few weeks, so keep an eye out for that! And I also am excited to decorate the exterior of our home a little bit!
Writing in my journal. Or rather all of my journals. The first episode of my new favorite podcast Mama Bear at Home was all about journaling, and I was just so inspired to get back to journaling. I used to journal growing up a lot, especially during my emo teen years, and then I kind of stopped a few months after graduating from high school. Until recently, I would only write when something big happened. But I decided that I really want to do better and I want to spread my love of writing to journaling. I just got my new memory journal for baby #3 so I wrote a little in that, and then I'm keeping up with Little J and Little A's memory journals, plus I am starting a spiritual/church journal that I write in every Sunday, and I am going to try and write a gratitude journal as well. Plus I have my regular journal and I am going to write more frequently in that. So yeah, I'm writing in my journal.
Feeling like time is going by so fast. Seriously, though. I don't know if it's just me (please say it's not), but how the heck is it already October? I feel like we just moved to Texas and like my husband just started residency, but then I realize that we've been here five months and he's been working for three already. I'm already more than halfway through this pregnancy and I'm sure before I know it, we'll be prepping for baby boy's arrival. It's crazy and stressful but I'm trying to just relax and enjoy the time I have right now.
Planning the quilt, crib sheet, and changing pad cover for baby's nursery. I'm using Mama's Monthly Faves post I mentioned in my Mama's Monthly Faves post as my inspiration, focusing on the yellow, blue, and green colors. I went into Jo-Ann the other day just to see if I could get some ideas for fabric, and in the very first aisle I found a whole set that I fell in love with. It has the exact colors I want, a tribal feel, and it's just gorgeous. I'm super excited to get to work, but I realized I actually need a bit more material before I can start, so that's the first step!
Creating a Lightning McQueen costume for Little J. Yeah, I know. But he has been saying he wants to be Lightning McQueen for months, and I feel like I can't let him down. My plan is to build him a car out of cardboard I saved that's in the garage, but I'm not super crafty and if it turns out awful, I'll just buy him this Lightning McQueen jumpsuit I saw a few weeks ago from JCPenney. But I'm really going to try to make it cool for him first. Wish me luck!
That's all that's going on over here. We're settled into our new home, we've got our fall garden planted and growing, and we're enjoying the cooler temperatures (and by cooler, I mean 80s instead of 100s) that fall has brought us. Even though there's no changing leaves and no sweaters or boots for us here, I am still going to live up fall and eat as many pumpkin-flavored treats as I can get!