Currently March 2018: What's going on this month for Life With My Littles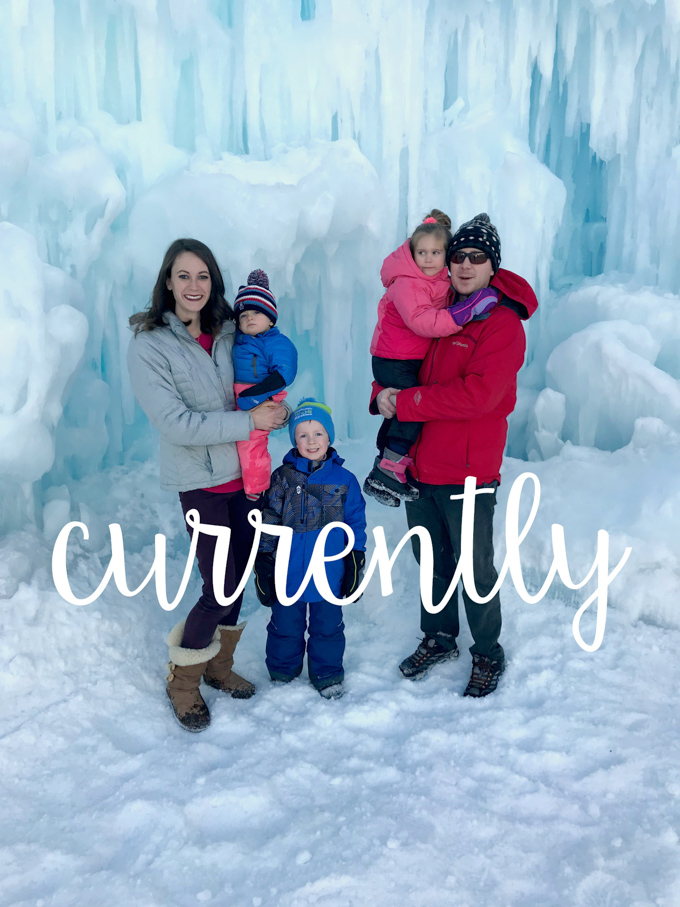 GUYS! The best thing happened last month! LITTLE A IS POTTY TRAINED! Oh my goodness, there are a lot of cool milestones kids go through, but this one is the BEST. No more poopy diapers from her! WOO!
February was a good month for us. We got to go to the Ice Castles (that's the picture above!) and it was amazing! If you ever have a chance to go to one of the Ice Castles location, jump on it. It was seriously super cool. My mother-in-law also came to visit so we got to have a lot of fun showing her around! I also was able to participate in a Pampers Giveback (which, if you haven't seen, go check it out here). We also watched the Olympics basically the whole time they were on because I LOVE them! The best thing that happened this month (besides the potty training situation) was that I got my big shipment of books and had my dream come true (that I've been dreaming about basically ever since I started writing) where I open up a big box full of copies of my book. It was amazing. I cried a ton, obviously (those feelers, man). Anyway, February was a great month, and March only promises to be even better!
Here's what's currently going on:
Planning Little J's fifth birthday party. My oldest turns five tomorrow. FIVE. I can't even. But I have to. Anyway, he requested to have a birthday party at Home Depot, and our local Home Depot has kindly agreed to host a bunch of little 5-year-olds! He keeps changing what theme he wants (Cars, Star Wars, builders) so we'll see what kind of cake and decor we end up doing. I can't believe he's going to be FIVE, and I'm so proud of the little man he's becoming!
Publishing "Preggers" TOMORROW! Not only is tomorrow Little J's birthday, but it's the release of my book, "Preggers!" I have a big stack of books all ready to ship out (thanks to everyone who pre-ordered!) and I could not be more excited! I have a HUGE giveaway happening on Wednesday. If you haven't ordered your copy yet, make sure you do it today because tomorrow the price goes up to the MSRP of $19.95 instead of my pre-order sale price of $9.95. Anyway, the next step is to get my book in Barnes and Noble (on shelves, not just online), so wish me luck! It's terrifying and so exciting!
Planting our garden. Okay so not quite yet, but in the next few weeks we'll be planting a few of our plants in an indoor greenhouse to give them a head start! We're going to build a huge garden (like 6 garden boxes) and I'm dedicating one whole box to flowers, which I am so excited about. We planted three rounds of plants in Texas and haven't had a garden since we moved to Minnesota, so we are really excited to get things going. I'm also planning on planting a bunch of peonies, hydrangeas, roses, and lilacs in all of our flower beds around our deck and the front of the house (once the snow melts and I get a good look at what our beds look like!). Yay for gardening and growing your own food!
Dating my husband! It's been forever since we've regularly gone on dates, but recently we've made a deal with our best friends to trade off babysitting one night every other week, and it's been awesome! So far we've gone to two movies and it has been fun to get out without the kids and have it just be us. If you haven't gone on a date in a while, do it!
Weaning Little R. I only nursed Little J until he was 8 months, and Little A stopped nursing at 6 months, so to be nursing Little R at 13 months is a big deal to me! I love the time I get with him because nursing him is the only time that I get to hold him and cuddle him. He's got a SERIOUS attachment problem though, so I think it's time to finish. I'm going to have him completely weaned in the next few weeks, but our breastfeeding journey has been great and I'm really grateful for that!
Thanks, mamas! Make sure you check out the big giveaway on Wednesday on Instagram! I promise you won't want to miss it!