Not sure how to choose the perfect baby name? Check out this list of helpful tips and resources for choosing a baby name!
This post is sponsored by Pampers. I am a proud member of the Pampers Baby Board.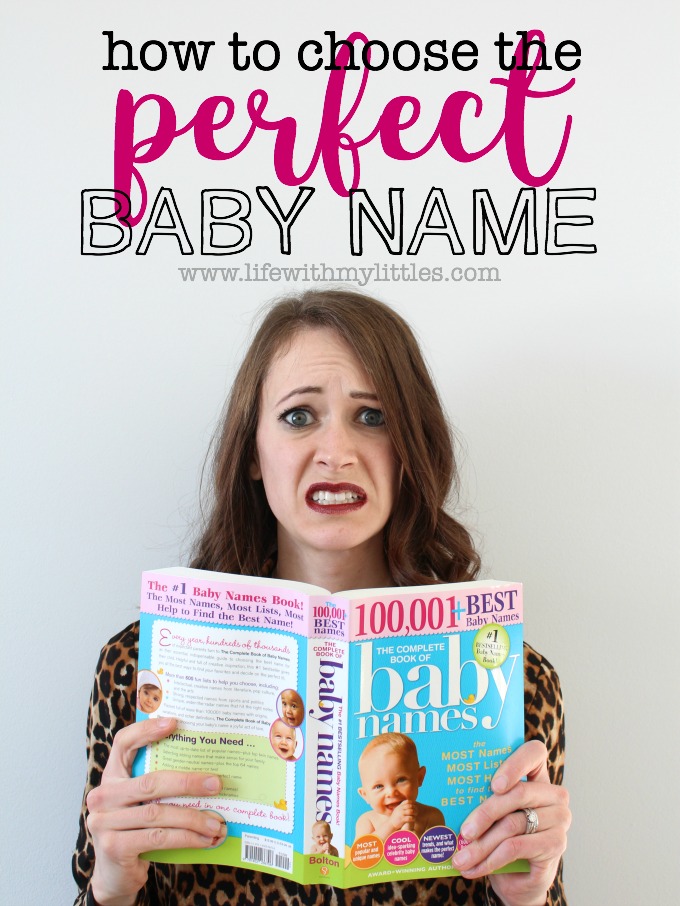 One of the hardest parts about having a baby is naming them. From the day you announce your pregnancy, people start asking you what you're going to name your baby. And no pressure, but the name you pick is going to follow them around for their entire lives. Yikes! You want it to be timeless, original, and unique, and you want it to be a name that means something. People are going to call them by their name for their entire life, and you definitely don't want to give them a name that doesn't fit!
So now you're probably wondering how to choose the perfect baby name, right? I've definitely felt the pressure each time I've been pregnant! I mean it's a big decision! Fortunately there are a lot of resources and helpful tips to make sure that the name you pick is going to be one you won't regret choosing! Here are some of my favorite to help you out:
1. Use the Pampers Baby Name Generator. This is an AMAZING resource! The generator allows you to sort names by gender, first letter, origin, name length, and theme (royal, mythology, flowers, etc.). It also provides fun facts and information about each name, plus meanings, pronunciations, and popularity rankings! To access all the features you have to sign up for a free Pampers account (which you should have anyway so you can take advantage of their loyalty program), and it's so worth trying out! I even had fun looking up my kids' names! It's awesome whether you have no ideas for your baby's name or if you're trying to narrow it down from a few top choices!
2. Flip through a baby name book. I know it's sounds old fashioned, but there are seriously so many names in those books! It's a great place to start if you have no idea. Sometimes baby name books also have lists like popularity by country, lists of famous names, lists of literary names, and lists of historical names, as well as names listed alphabetically, which can be helpful if you want it to be a name from a certain time period or start with a specific letter. If you can't find a baby name in a baby name book, you might be in trouble!
3. Check popular baby name lists. I remember growing up and only ever meeting one other Chelsea in school. It was amazing. My husband on the other hand has such a common name that I think I had a kid with his same name in almost every class growing up. If you want your child's name to be unique, make sure you check out popular baby name lists!
4. Check ancestry.com for family names you might like. If you are thinking about using a family name but don't know where to start, check ancestry.com. You can quickly and easily find genealogical records and learn about ancestors you might not have known. If you want a family name or a more old-fashioned name, this is a great resource!
5. Make sure baby's initials won't spell something bad. This might sound kind of silly, but it's definitely something you'll want to think about. If your last name is Smith, don't name your baby Amelia Sue. Just don't.
6. Don't tell people what you're planning on naming your baby unless you're ready for honest feedback. No matter what, some people just aren't going to like your baby's name. If you think that might bother you, just keep it a secret until your baby is born!
7. Think about possible nicknames. If you don't like nicknames, don't give your baby a name that people will shorten. My sister is named "Rebecca" but goes by "Becca," which is what my parents had planned on. You may love the name "Samuel" but not like the nickname "Sam." Think about what people might shorten your baby's name to because if you don't like the nickname, you may want to pick a different name.
8. Narrow your list down to two or three. Of course it's okay to have a favorite, but it's good to have a backup name, too. We had planned on a name for Little A before she was born, but when she was born, it took me a day to feel like that was the right name for her. Sometimes you just need to see your baby before you make an official decision!
9. Make sure the first name and middle name sound good together. Some names just don't go together. When you're choosing your baby's middle name, make sure it sounds good with your baby's first name!
Choosing your baby's name can be overwhelming at first, but it's a really fun part of having a baby, too! Luckily you've got a few months to narrow it down, and luckily you can use all these tips so you'll know how to choose the perfect baby name! Make sure you check out the Pampers Baby Name Generator, and good luck, mamas!