Currently July 2018: What's going on this month for Life With My Littles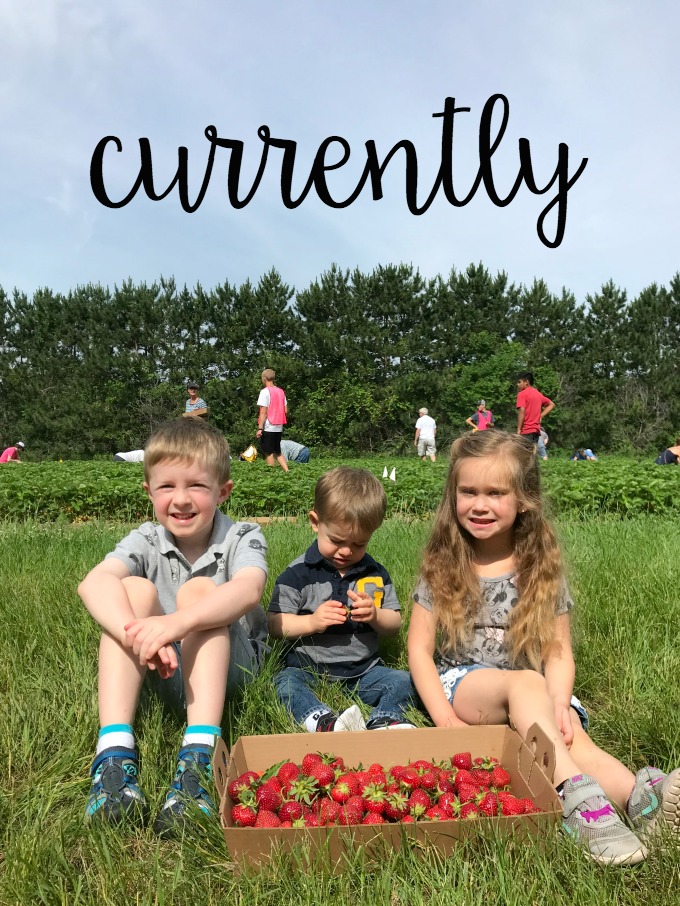 Happy July! How is your summer going? Last month Little J finished preschool, so we've been trying to have as much fun as possible before he starts kindergarten in September. We've been to the zoo, mudding (basically driving through puddles on a trail in my husband's truck), berry picking, to the movies, and to a few splash pads and parks! So I think we're doing good so far! Little J also took a soccer class, which he loved, and we also did a 5k for our city's yearly festival. There was supposed to be a kids' fun run, but it started raining super hard in the middle of the 5k, so they cancelled the kids' race. Little J was super bummed, but our friends hosted a kids' run a few days later and he and Little A had a lot of fun. And then a few days ago I did another 5k that was a bubble run, and that was fun, too! Also (drum roll please)…..LITTLE R IS WALKING! Finally! I know all kids progress at their own pace, but I was starting to get a little worried. He's walking now, though, and it's so fun! My husband also had two weeks of working nights last month, which made the nights long, but he got to sleep at the hospital most nights so we got to spend time with him during the day, which was also fun! And the 4th of July is in two days, which is one of my top three favorite holidays (along with Halloween and Christmas) so we're super pumped about that! I love parades and fireworks and flags and sparklers! Fun, fun, fun! Yay July!!
Here's what's currently going on this month:
Turning 29! I'm one of those people who really enjoys celebrating my birthday. My husband doesn't understand why, because to him it's just another day, but I've always loved my birthday. Last year I swam with dolphins for my birthday, so we'll see if I can top that this year! It's my last year in my twenties and I am planning on enjoying it!
Reading Girl Wash Your Face by Rachel Hollis. I'm not super far in because I'm reading a chapter at a time and letting it sink in, because it's actually kind of deep, you guys! I love it and it's amazing and it really has the potential to actually change your life if you apply it in your life. She self-published her first book, too, and her RISE conference is coming to Minneapolis next summer, so I'm all aboard the Rachel Hollis train these days!
Working through my 101 things in 1001 days list. I forgot to mention this last month but last June I posted a list of 101 things I wanted to accomplish in 1001 days. It's now been a little over a year, and I've accomplished 32 things so far, so that's a good start! It's fun because I picked things that I actually wanted to do that I thought I could do, even if some of them take a little time to do. It's going well so far! You're never too old to start improving yourself!
Rethinking my focus. I couldn't quite figure out how to phrase this one, but that's what I came up with. Basically, I've been trying to kind of rethink my personal life goals, my business goals, and pretty much make sure what I'm doing has purpose and that I'm happy with the choices I make. For example, I realized I was wasting a lot of time on Instagram, so I've been trying to cut back. I've also realized that since the center of my business is right here, my blog, I want to make sure that everything I do leads back to it. So far it's making me happier and helping me enjoy my life more, so that's good!
Taking some time off. When you work from home and own your own business, you basically never get time off unless you give it to yourself. Every year I take time off at the end of the year for Christmas, and I decided this year I'm going to take a week and a half off in July to just be with my family and not have to worry about taking pictures or posting on my blog or anything business-related. But I've got some super good posts coming your way this month and I promise I'll be back! And I'll still be sending out my weekly Mamadvice email, so if you really are going to miss me, make sure you're subscribed to that little gem!
That's it for me today! Thanks for being loyal mama friends! You guys are the best!