A hilarious post all about bra shopping after breastfeeding and how humiliating it can be! A great read if you've recently stopped nursing!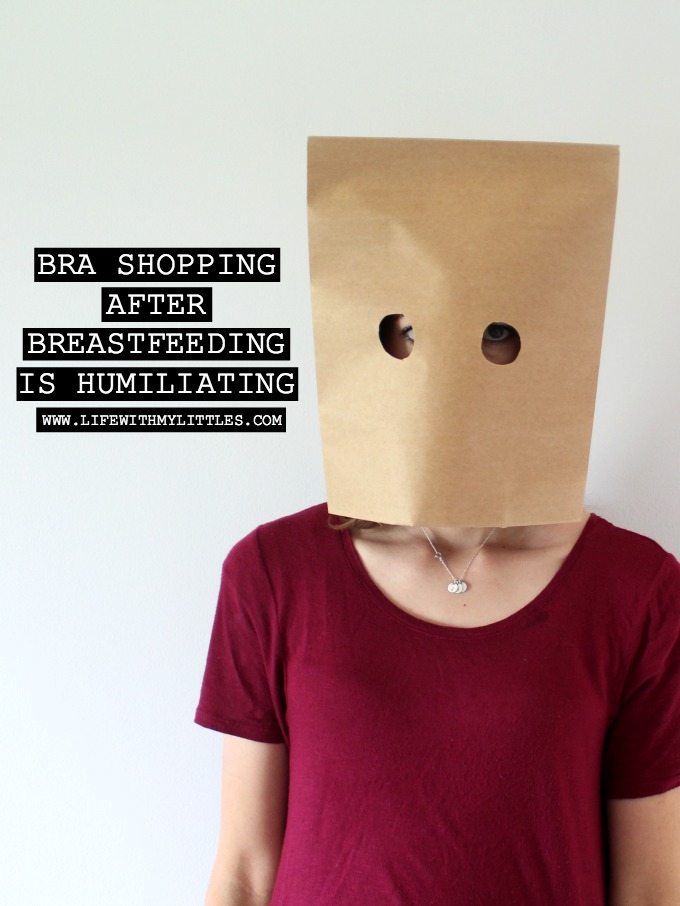 Remember how exciting bra shopping was as a teenager? It seemed so adventurous and almost a little risqué. So many styles, so many different colors. Lacy bras, push-up bras, strapless bras, and even bras that zipped in the front. There were so many options and it felt like each one could transform you into a new, more empowered woman.
Flash forward to a few weeks ago. A store at the mall was having their annual sale and I thought I would venture in to get a bra that actually fit. And by a bra that actually fit, I mean an A cup bra, because my B cup bra is basically empty now that I've stopped breastfeeding.
I walked into the store and was surrounded by gorgeous young women with their gorgeous young friends picking out skimpy lacy bras in bright neon colors and sexy push-up bras that are very obviously meant to impress someone else. I cautiously approached one of the bins marked 34A, trying to hide the size from the group of women next to me. I dug through the bin for a minute, became incredibly self-conscious and overwhelmed by a need to explain why I had to look in the bin meant for thirteen-year-olds, and before I knew what was happening, I was walking out of the store, empty-handed.
It was humiliating.
Growing up, my little sister nicknamed me "Tiny." I'm almost 5′ 10″, so you know the nickname didn't come from my height. Two years my junior, she was much more well-endowed than I was, so she had every right to call me that. And when I was pregnant, I barely fit into a C cup bra. A mere few days after I was done nursing, my boobs seemed to vanish in a mysterious magic act, as if they had never even existed.
Which is why I found myself venturing into the aforementioned bra store. I didn't need something provocative or colorful or with a fancy closure in the front. I was hoping to find something neutral and snug and with a little bit of a lift that will remind me I'm an adult woman and not a pre-pubescent teenage girl. What I found instead was shame.
I know I shouldn't compare my body to those gorgeous young women's bodies, because I've birthed and nursed three healthy babies, and my body is a boss. And yes, I'm confident and I have grown to love my body as I've gotten older. But that doesn't make it any less humiliating to have to shop for smaller bras than the girls who babysit my kids on date night.
So next time you go to the mall, if you happen to see an almost flat-chested someone with a paper bag on her head sorting through the 34A bin, don't be alarmed. It's just me and my deflated boobs.