Currently January 2019: What's going on this month for Life With My Littles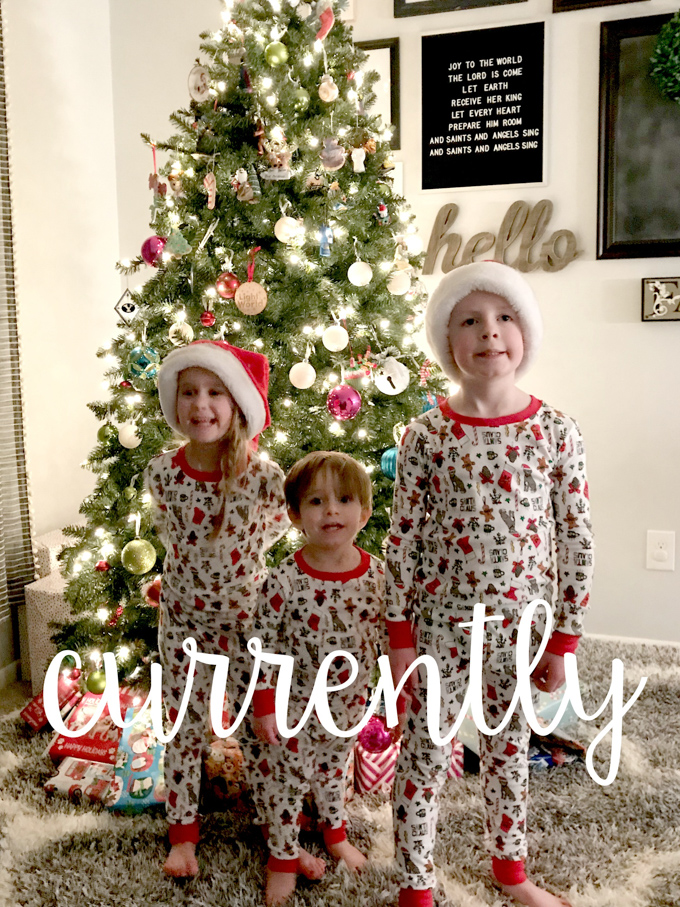 Happy New Year! I am PUMPED about 2019! But first, let's quickly recap December! It was a good, busy month filled with fun, family, and holiday traditions! I surprised my husband with a date to Monster Jam (basically a super cool monster truck rally), and that was super fun. We did a bunch of activities on our Christmas Bucket List (although we didn't have much snow and what we had MELTED before Christmas so we couldn't do some of them). We made lots of cookies and treats and caramels, which is always a lot of fun. We also got to have my mother-in-law and brother-in-law come stay with us for a few days over Christmas, which was so good! The kids had a week and a half off of school, plus all three kids got pink eye in December (BOOOO), and I got to help in my son's kindergarten winter class party. December was a lot of fun and 2018 certainly went out with a bang!
Here's what's currently going on:
Rethinking my business plan. I recently sat down and calculated where most of my money comes from, where my traffic comes from, and what I was spending the most time on, and it was so eye-opening! I was spending SO MUCH TIME trying to grow my Instagram and seeing no return. And when I say no return, I mean less than 1% of my blog traffic was coming from Instagram, and less than 5% of my income was coming from sponsored Instagram posts. Want to know how much time I was spending liking and commenting and taking pictures and writing captions? At least an hour a day. I know there are great things about Instagram and I'm going to continue posting a few times a week, but I'm not going to waste the time on it that I was before. Likewise, I am going to put more effort and energy to improving and growing my actual blog that you're reading right now. This space right here is my baby, and it's the body and the head of my business. And I know that if you aren't a blogger yourself this little rant might be boring, but my little assessment really changed where I'm going with my business in 2019, so it definitely warranted a paragraph here!
Sharing a new series. Yay! I mentioned this in last month's currently post, but I want to tell you what the series is since it's starting next week! It's called "New Year, New Mama" and it's an eight-part series with ideas to help you live your best life. I'm going to talk about why we feel mom guilt and how to get rid of it, how to balance everything you have going on in your life, how to stay on top of your schedule and get things done off your to-do list, how to get and stay organized in your life and your home, why and how to take time for yourself, and how to be a "fun" mom for your kids. I'm SO EXCITED because it's based on answers you guys gave me to questions I asked a few months ago about stresses in your lives. For reals, it's going to be amazing.
Studying the New Testament. I'm a member of The Church of Jesus Christ of Latter-day Saints, and this year we are studying the New Testament. I'm so excited because we just got these incredible manuals with ideas for personal and family study and ways to apply what you're learning to family nights. And everyone, no matter how old you are, is going to be studying the same thing each week, so it will be fun to actually know what the kids are learning about because I'll be learning about it, too! And who doesn't want to read the New Testament and learn more about Jesus Christ!? Anyway, I'm stoked to be starting it. (Also, fun fact, my husband and I met in a New Testament class in college.)
Setting my goals for 2019. I don't like calling them resolutions, because I'm not really trying to change anything. It's more that I'm setting goals for things I'd like to accomplish. Things like run 500 miles in 2019, have quarterly dates with each of my kids, monthly dates with my husband, (finally) finish going through my hard drive and cleaning it up, and simple things like that. Nothing too big, but I have a few areas of my life I want to work harder to improve in.
Learning how to parent three very different kids. Guys, I could say this one every month but the last month I have really felt the magnitude of this. My kids are all so incredible and wonderful in their own ways, and they are all so different! Going to speech therapy with R, trying to help A be more positive and not talk down on herself, and figuring out how to help J when he has emotional breakdowns is exhausting. What works for one isn't going to work for the others, and they all have different challenges. It's crazy and hard but also worth it and amazing. Doesn't seem to make sense but it does!
That's what's going on for us this month! I also wanted to share how I did on my 2018 goals and my new goals for 2019!
Update pins. CHECK. I got all of those bad boys done (except for like three of them I still want to do) and it took about six months!
Get book in national bookstore (AKA Barnes and Noble). Not check yet. But I am still waiting! I did hear from someone in the Small Press Department at the end of October and she told me that they have my book, but there were a lot of submissions this year so it's taking longer than normal. But they have it! Crossing my fingers I hear from them soon! This is still a huge dream!
Maintain income. CHECK. I actually earned more this year, but that wasn't something I was actively trying to do.
Continue posting twice a week. CHECK.
Make 5 videos. Not check. I made three (four if you count me making a video for Instagram TV). But I am going to work on that this year (see below!).
2019 Goals
Make 1 video a month. This will be a challenge but they're fun to do and I'd like to do it!
Film "You're Welcome" video. I have been wanting to do a parody video to the song from Moana pretty much ever since I heard it. So I'm making it a goal to finally do it!
Post twice a week. That seems to be my sweet spot.
Learn more about and improve SEO. Most of my traffic comes from Pinterest, but my second source is from search engines like Google. I want to work on improving my SEO and get more people over here!
Reach out and get at least 1 sponsored post a month. This will be hard, but I want to try.
Focus on quality posts. I want every post to be QUALITY!
Get more Pinterest traffic. I know, I already said most of my traffic comes from Pinterest, but there's always room for improvement!
Well there you have it! My monthly currently post and my goals! Make sure you check back on Monday for the start of my New Year, New Mama series!!! Yay! Happy New Year, mamas!